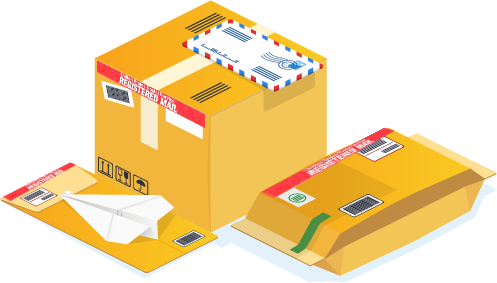 Registered Mail: What is it and How to Send It
Modern-day businesses that rely predominantly on digital channels for their marketing and communication purposes often underestimate the significance of using feasible communication channels like direct mail. Despite our heavy dependence on digital channels for our everyday communication, it is not always ideal for business communications. This is why many companies still employ direct mail as one of their major marketing and communication tools.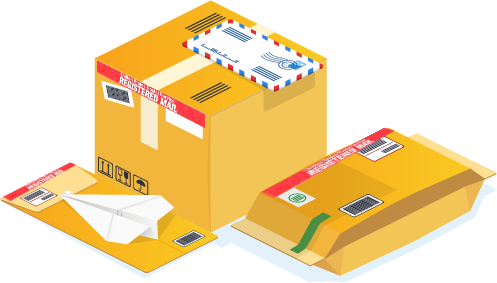 Nearly half of the world's postal mail is delivered by none other than the US Postal Service (USPS). This is roughly 150 billion mailpieces per year. This is further indication that direct mails are more popular in the US than elsewhere.
Although businesses use different types of mails, Registered mail is one of the most prominent ones. This is because the registered mails are typically used for sending important documents, or packages are considered more secure than regular mail.
USPS provides certified and registered mail service that allows their business or private customers to send original documents, including contracts and legal notices via snail mail, and ensure they receive them. However, registered mail is not the same as certified mail, and it is important to understand the finer difference between them so that you use the ideal one for your business's unique requirements. Recognizing the unique aspects of registered mail is important for your direct mail campaigns.
This article takes you through everything that you need to know about registered mail. Starting from the basics, we explain what Registered mail is and what are the situations in which they are used. We even discuss the cost of sending registered mail for your business and define its standard dimensions too.
The article further explains how you can send registered mail and track them. We take a look at the different types of mail classes to get a better understanding of registered mail and its relevance for businesses.
What is Registered Mail?
Registered mail is a mail service that enables the sender to receive proof of mail delivery by means of a mailing receipt. This is a mail service offered by almost all postal services across the world, although it is not necessary that it goes by the same name everywhere.
Furthermore, this type of mail also allows you to receive an electronic verification when a package is delivered or a delivery attempt is made upon your request.
Depending on the country you reside in, the additional services rendered for registered mail may vary.
For example, registered mails may have a chain of custody, which implies that the details of a posted package or mail are recorded in a register. This register further allows you to track the location of your postal mail. Sometimes you may even have access to insurance for these postal mails or packages that would cover any loss if the package contains something expensive.
Apart from the register for tracking the mail, you also get access to return receipts, also known as Avis de réception. This return receipt gives you a postcard or an electronic notification that contains the delivery date of the mail or package you sent along with the recipient's signature.
The registered mail offered by the USPS provides your valuable or important mails with an added layer of protection. As far as USPS registered mail is concerned, the tracking begins as soon as the mail is presented to them.
USPS ensures the security of registered mail by ensuring that a control log is prepared by the intermediary office every time the mailpiece changes hands. This means an authorized individual must sign for the registered mail piece at every point the mailpiece changes hands. Apart from this, USPS also requires their registered mails to adhere to their specified packaging and sealing methods. Moreover, when the registered mails are not in transit, they have to be separated from the regular mails and stored in a locked safe or room.
What Can You Send Using Registered Mail?
Essentially, the registered mail can be used by anyone who wishes to have access to advanced tracking of their mailpiece for themselves or for the addressee so that they may track the post or package. This means that both the sender and addressee can benefit from the registered mail. While the sender gets proof that the mail has been delivered to the addressee, the latter is able to track important posts or packages sent to them.
The addressee can track their mail via the online system of USPS after going to their website. The tracking requires a tracking number that can be provided by the mailer. Registered mail is typically used for sending valuable documents or packages. This may include classified materials or even secret classified documents. Any document that contains sensitive data is better protected if you use registered mail.
The security features of registered mail make it ideal for businesses that want to send classified documents. This could mean an invoice, plans for a new project, tenders, and other such documents.
Registered mail is also ideal for business communications that want to keep their customers in the loop and let them know when a specific mail will reach them with tracking information. By the end of the day, any communication that prioritizes transparency and security can make use of registered mail.
What is The Cost of Sending a Registered Mail?
USPS is perhaps the most cost-effective postal service provider in the country, and rest assured that they do everything they can to cut down on registered mail costs. Rest assured that effort is clearly visible in the registered mail costs levied by the USPS that some might even consider the registered mail costs as inexpensive. Typically, a registered mail will cost you about $12.10 for a mail whose declared value falls between $100 and $500.
Although it may seem a bit expensive if you were to compare it with the cost of a stamp that you usually pay for first-class mail, on the other hand, you are provided with several benefits that more than make up for the extra money you pay. You get tracking abilities for the sender as well as the addressee, you even get proof of delivery, and it guarantees much greater security than regular postal mails. So if security and transparency are what you are looking for, then this is a small price to pay.
That being said, it is also noticeable that the registered mail costs tend to escalate every year, and this is evident if you examine the cost over the past few years. Furthermore, the registered mail cost may vary depending on the declared value of the post, and you can find a detailed list of the costs here. However, if you want to have the extra security of insurance protection, then it is best that you talk directly with the postmaster at the local USPS office.
You must understand that there are different levels of insurance and different pricing structures based on the declared values of the mail you are sending. USPS provides maximum insurance of $50,000, but, as stated before, it depends on what you are shipping through USPS. All things considered, the registered mail costs should by no means be a hindrance for people choosing USPS registered mail. If what you need is a safe and secure way to send sensitive mail, you can't go wrong with USPS registered mail.
What Are The Right Dimensions For a Registered Mail?
Different countries and different postal service providers have different dimensions guidelines for their registered mail. When it comes to USPS, only mailpieces that are prepaid with postage, the same as that of First-Class mail, can be registered. So it is in your best interest to ensure that you have the relevant postage along with the mailpiece dimensions because that is enough to make your mailpiece ineligible for registered mail.
As we move to the dimensional requirements of a mailpiece to be eligible for registered mail, you should start by examining the address side or face of the mailpiece. Make sure that the face or address side of the mailpiece or registered article is at least five inches long. Similarly, the address side must be 3-1/2 inches high, and this is regardless of the thickness of the mailpiece. It is also worth noting that any item returned under merchandise return service need not have postage prepayment to be registered.
How Do You Send a Registered Mail?
Now that we have discussed the cost and dimensional requirements of registered mail, it is time to know how you can send a registered mail. Unlike regular mail, the registered mail can not be dropped off at the nearest post box. The registered mail package must be handed over to a retail employee. This can be done at a post office, station, or branch. You may also go to a rural carrier on their route, in which case you do have the option to leave the item and the fee in a rural mailbox. You can even go to a rural carrier at a non-personnel rural unit for posting your registered mail.
Owing to the secure nature maintained for the registered mails, the USPS employees are not permitted to handle your registered mail unnecessarily. This means that a USPS employee can not help you prepare or seal your registered mail even if they just want to be a good samaritan. As you may have already figured, the USPS does not take any responsibility for your registered mail unless and until a receipt is issued for it. This is true for all registered mail, regardless of whether it is a regular article or cash. Similarly, the USPS does not assume any responsibility for the change a carrier may leave in the box either.
What Is The Delivery Time of a Registered Mail?
The delivery time is an important consideration when it comes to sending registered mail, regardless of whether it is for business or personal purposes. Registered mail is used for sending important documents that may be time-sensitive in nature. For example, the document sent via registered mail could be an invoice that needs to be paid immediately, and such situations require the speedy delivery of the mail.
Although USPS does make it a point to deliver their mail as quickly as they can, the Registered mail is not built for making the quickest delivery. The whole point of registered mail is to provide secure transportation for your postal mail and ensure its deliverability. This means ensuring that each Registered mail sent via is guaranteed to get secure transportation, signature from the recipient, and anyone who hands over the mail during transportation.
The delivery time for registered mail is usually between 10 -14 days. If you opt for the Collect on Delivery option for registered mail, then the delivery period can be as high as 45 days. You also have the option of choosing certified mail, which is very similar to registered mail but has the same delivery time as First Class or Priority Mail. We will discuss the similarities and differences between registered mail and certified mail as we move further in the article.
Secure transportation and processes like the ones used in registered mail are bound to take more time than the typical postal mail. However, if super fast delivery is what you are looking for, then you could always go for the USPS mailing services like Express and Priority Mail. Before choosing the mail delivery option, the important thing is to consider your unique requirements and determine what your priority is. For example, is it security or speed? Answering this question will help you choose the right option for you.
How Can You Track Registered Mail?
The tracking of registered mail is actually pretty simple and convenient, and there are a couple of ways you can go about it. Yet another advantage of tracking registered mail sent through USPS is that the tracking process is the same for postal mail sent within the US and abroad. The only thing you will need to track your registered mail is the tracking number. The tracking number is readily available to the sender from the receipt they get from USPS, which they can then share with the addressee if needed.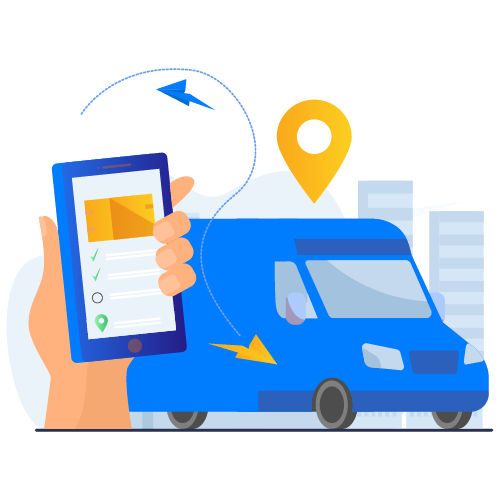 It is worth noting that the data of registered mail is stored for two years. Most people are not aware of this, and it actually acts as an extra layer of security for the registered mail. It also means that if there is any issue regarding a registered mail you sent, you can access this data from USPS as proof of delivery. For instance, you sent a legal document to someone, and if they were to claim that they did not receive an important document after months, you could still find the proof for delivery from the USPS database.
You can retrieve the registered mail status for the mail you send using bulk electronic file transfers if your company or business provides an electronic manifest to the USPS. There are four ways you can track your registered mail sent via USPS, and below, we discuss these four registered mail tracking. Most businesses, as well as individuals, use one of the four ways discussed below for tracking their registered mail, including international registered mail.
USPS Website
The most frequently used method for tracking registered mail sent via USPS is through their website usps.com, which most of us are familiar with. Visit the USPS website, and you can select the "USPS Tracking" option from the site. You can't miss it as it occupies a prominent part of the website.
Once you see the tracking option, all that's left to do is type your tracking number from the receipt you received from USPS. After you type in the tracking number and hit enter, you will be taken to a webpage that will tell you the delivery status of your registered mail.
Call USPS Customer Service
Another convenient way to track your registered mail is to directly call the USPS customer service. You can reach the USPS customer service via phone at 1-800-222-1811. Once you have reached customer service, you can then tell them your tracking number, and the USPS personnel will provide you with the tracking details you request.
Although this method is not as popular as the USPS website for tracking, it is convenient in many ways the USPS website is not. You don't need a smart device or access to the internet for tracking your registered mail. You can even track your registered mail from a public telephone.
Tracking Via Text
Apart from online and telephone tracking, the USPS also has a tracking method using text messages. All you have to do is send a text to 2USPS or 28777 with your tracking number as the content, and the required details will be sent to you.
Having the ability to track your registered mail via text messages on top of online and telephone (call) tracking is more about convenience than anything else. The diversity of tracking options available from the USPS enables you to track your important registered mail regardless of your situation.
USPS App
Another tracking method that is fast gaining popularity, especially among businesses that regularly send registered mail, is the USPS App. As compared to the other tracking methods, the dedicated USPS App is relatively new. As with the other tracking methods, USPS has ensured that this one is also convenient for their customers by making it available for both Google Play Store and Apple Store.
Furthermore, the USPS App is supported on multiple devices, including smartphones and tablets. Since you always have your phone with you, tracking becomes even easier as all you have to do is enter the tracking number in the app, and you don't even have to type in the USPS website URL to navigate to the tracking page.
Different Type of Mail Classes From USPS
As we mentioned above, and as you may all already be aware, USPS offers different mail classes with unique characteristics. Businesses and even individuals need to understand the differences between the mail classes and choose the one that works best for their unique needs. Below we discuss some of the major mail classes of USPS that you can consider using other than registered mail.
First-Class Mail
First-Class mail is more frequently used by individuals rather than businesses. They offer a convenient and affordable way to send lightweight packages and envelopes. Typically, a First-Class Mail Forever is used for first-class mail as it ensures adequate postage for pretty much anywhere you want the mail to be sent, and it costs just $0.55 for postage weighing 1 oz. Additionally, these postage stamps NEVER expire.
Even if the First-Class postage rate eventually goes up, you can still use your old First-Class Mail Forever stamp for sending the mail. This means the forever part in their name is not just namesake. However, if you are sending a package, the prices will start at $4.00 for packages that weigh up to 13 oz. When it comes to delivery time, the First-Class mail takes only 1-3 business days to reach its destination. The quick delivery time makes it better suited for time-sensitive communication.
First-Class mail is often considered to be a best-priced service from the USPS, especially for mails that weigh up to 13 oz. Furthermore, it even has insurance for loss or damage up to $5000, similar to the ones we discussed for Registered Mail, but it is limited to merchandise only. It is also worth noting that the First-Class Mails are eligible for delivery confirmation services from the USPS like the Certified or Registered Mails.
Priority Mail
Priority Mail is similar to the First-Class Mail in many ways but is often considered superior in most aspects. Priority Mail service from USPS enables you to track the mail similar to Registered Mail. But, unlike the Registered Mail, it does not take ten days to reach the recipient as they are delivered within 1-3 business days. Furthermore, you even have the option to check the estimated delivery time of the mail through the Priority Mail Delivery Map.
Another significant advantage of Priority Mail is their flat rate delivery which lets you ship packages to any state in the US as long as the package weighs not more than 70 lbs. Additionally, you also have access to the Click-N-Ship service, which gives you the option to ship from post office locations or from your home/business location, and you can avail of this service starting at $7.70. You may even be eligible for a free package pickup service at your home or office.
Apart from having USPS tracking capability, the Priority Mail has up to $50 of insurance which is applicable for most shipments. Another thing you should know about Priority Mail is that there are no surcharges for fuel even though they make resident and rural deliveries and even Saturday deliveries. Many people often choose Priority Mail, not because of their fast delivery time but because of the flat rate and its regional/prepaid pricing.
Priority Mail Express
As you can guess from the name, the Priority Mail Express is a more refined or, rather, a faster mailing class than the Priority mails. Priority Mail Express can deliver your mail the next day or at most in just two days, making it the best option for time-sensitive or emergency deliveries. USPS is so confident in its ability to deliver your mail on time that they give you a money-back guarantee if the mail is not delivered by 6 PM on the second day after you send the mail.
The competitive prices and super fast delivery offered by Priority Mail Express are consistent and have very few exceptions. This means you can use them to send postal mail to almost every US address or PO Boxes. Furthermore, Priority Mail Express Flat Rate enables you to ship a package to anywhere in the US, provided that the package does not exceed 70 lbs. Like Priority Mail, Express mails also offer the Click-N-Ship service, and their prices start at $26.35.
Priority Mail Express is without question the fastest delivery service offered by USPS, and it is near impossible to beat it in terms of speed. What makes it even more enticing for people or businesses that often send out emergency postal mails is that they do offer a Sunday and holiday delivery provided that you are willing to pay an additional fee. Apart from all this, you also get free package pickup services at your home or office address.
Certified Mail
The Certified mail is very similar to registered mail, and some might even call it a lite version or registered mail. These are often used for sending important documents like tax returns and legal notices. Similar to Registered mail, this type of mails also provides the sender with a mailing receipt as well as electronic verification once the mail is delivered or the USPS makes a delivery attempt. In other words, it ensures that your mail is delivered so long as the said address exists.
Certified Mails are often confused with Registered Mail because both of them give you proof of delivery. But the real difference between Certified and Registered mail lies in the security aspect where registered mail has superior security, as we have discussed above, most of which is absent in Certified Mail. However, Certified Mails are an effective way for sending time-sensitive postal mails as they take only around five business days to be delivered, and you still get the delivery receipt as well.
However, there is no point in delivering mail to an address that is non-existent according to the USPS address database, which is true for all mail classes, including Certified and Registered Mail. Businesses often bypass this problem by employing an advanced address validation tool like PostGrid. Using a CASS-certified tool like PostGrid ensures that the address data you have is accurate, real, and deliverable by USPS.
Conclusion
Registered mail offers the most secure way of sending and receiving postal mails via USPS. With superior security features like lockers, special handling, compulsory signatures while handing over the mail at every touchpoint, there is little to no doubt about its reliability. There is no better way to send important documents than Registered Mail, provided they are not time-sensitive. However, it is even more vital that you ensure that you have accurate addresses while sending such important documents.
Businesses must always ensure that they have accurate address data before sending vital documents via postal mail. The best way to ensure this is by using an advanced address validation tool like PostGrid. Tools like PostGrid enables you to make sure that the address you want to send any type of mail, including Registered Mail, is real and deliverable by the USPS. This further ensures that you do not waste your valuable time and effort on sending important postal mails to an undeliverable address which ultimately saves you from unnecessary losses.
Ready to Get Started?
Start transforming and automating your offline communications with PostGrid
SIGN UP
REQUEST A DEMO