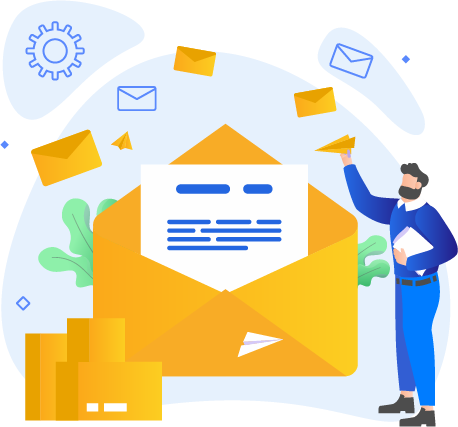 Everything About the USPS Informed Delivery Service
How convenient would it be to get updates regarding incoming mail to your address? Perhaps, every one of us would like to avail of such a service. Fortunately, USPS already considered it and introduced the Informed Delivery service in 2014.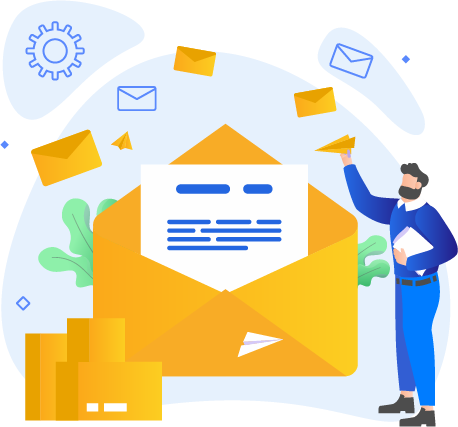 Today, millions of people in the US can get mail notifications through this service—which is available for free!
The USPS Informed Delivery feature offers personal PO boxes and residential customers a digital preview of their incoming mail items.
It also gives business owners an opportunity to engage with their prospects and customers. They can tie their direct mail items with Informed Delivery campaigns, wherein users get an online view of their mail and additional links, offers, and details.
Hence, this USPS service is beneficial for both users and businesses. This blog will discuss everything you need to know about this service.
Keep reading to know more.
What Is Informed Delivery?
Informed Delivery is an optional and free USPS service that allows customers to view scanned images of their letter-size mailpieces online. 
Apart from being able to see their mail, they also get regular notifications regarding it. This way, they can be available to collect their mail or reschedule it if needed.
Customers can keep a track of their incoming mail from anywhere, even while traveling—through their mobile device, tablet, or computer. Informed Delivery benefits all household members as they can view their mail and package delivery details each day.
It also offers mailers the chance to engage users via synchronized digital and direct mail marketing campaigns.
The United States Postal Service Informed Delivery feature is available for eligible PO box and residential customers across most of the ZIP codes in the country. Click here to sign up for this service for free and check if your address is eligible for this unique feature.
PO Box customers may be asked for in-person identity verification to sign up for Informed Delivery. In addition to that, they might also need to produce the PS form 1093 and or an online payment record.
Everyone, who opts for this kind of delivery comes across questions like Everyone, who opts for this kind of delivery comes across questions like What time does informed delivery update?
Informed Delivery is a service from the U.S. Postal Service that sends you updates about your mail every day before 9 a.m. If you have any mail due, it will send you an update once a day, the updates will occur on Fridays and not on the weekends. However, the mail is expected to be updated on the relevant days.
How Can I Sign Up For the Informed Delivery Service?
To sign up for an Informed Delivery account, you should first have a USPS account. If you don't already have one, click here to register. Once you make your USPS account, follow the steps below:
Visit

https://informeddelivery.usps.com/

.

Click 'Sign Up For Free.'

Enter your mailing address to see if it's eligible to activate the service. 

If yes, click 'Informed Delivery' on the top-right side of your profile page. 

Next, select the 'Enroll' option and click on the Informed Delivery box to expand it. 

Tick all the appropriate boxes to certify your address and agree to the terms and conditions. Then, click on the 'Enroll in Informed Delivery' button to continue. 

Answer all the identity verification questions.

Fill out your username, contact information, security questions, and password to create your profile. And you are all done!
Below are some FAQs that can help clear any doubts you may have:
How long does it take for Informed Delivery to start? 
The activation time varies, but you will typically start getting your mail updates within three business days. 
Why is my address not eligible for Informed Delivery? 
There are some ZIP codes where the Informed Delivery feature is still not available. If your address falls under one of such ZIP codes, your address will show up as ineligible. 
However, sometimes, your address is ineligible for this service even when you reside in a serviceable ZIP code location. The problem is that each multi-unit building on every delivery route should be coded at the unit level. Most of the coding process is still in progress, especially if you live in a high-density area. Therefore, if your address is not coded yet, it will show up as ineligible. 
Also, the feature is not available for business addresses and PO boxes. 
What to do if the USPS is not able to verify my identity online?
If you cannot complete your identity verification process online, visit one of the USPS offices that can do it offline. However, remember to register for in-person verification online before visiting the office.
How Does Informed Delivery Work for Its Users?
You can do several things with the help of the Informed Delivery option, like:
Check Incoming Mail
Users can view the address side of the letter-size mailpieces scheduled to arrive soon. Please note that these images are grayscale and only offer a preview of how the mailpiece looks from the outside(unless the mailer has opted for an interactive campaign).
These images are available through your online dashboard, mobile app, or email notifications. The mobile app is available for all iOS and Android users via the Google Play Store or Apple App Store.
Get Updates About Incoming Packages
The USPS does not provide any scanned images of flats and parcels. Yet, you can still track all your incoming packages and know when they are arriving.
Sometimes, the email may not show the details of a package arriving at your mailing address.
Thus, you can head over to your Informed Delivery dashboard to get details on your incoming packages.
Select 'Packages' to get the list of arriving and delivered packages. You can click on the right arrow towards the right of your package details to view the scan history, schedule redelivery, or leave any delivery instructions.
Sometimes, both mail and packages are on their way to you on the same day. In such cases, you will get the following details on your dashboard and at the bottom of your Informed Delivery email:
Tracking number
Estimated arrival date
Customer name
Users should be able to track most of their domestic packages directly through the online dashboard or email. But, you can also enter the USPS tracking number manually and add packages to the dashboard.
Plus, there are no limitations on the number of arriving packages on your dashboard.
Leave Delivery Instructions
If you aren't going to be home to receive a mailpiece or package, you can leave delivery instructions. It makes the delivery process easy and time-saving for you and the postal workers both.
To leave delivery instructions, follow the steps below:
Go to your Informed Delivery dashboard and select and head over to the 'Package' tab. Select the mailpiece for which you want to leave instructions.
Now, click on 'Add USPS Delivery Instructions' and select a delivery option (where you want the item to be left) from the drop-down menu.
Confirm your mailing address and tick on the 'Terms and Conditions' checkbox.
Please remember that these instructions are overruled if the mailpiece can fit in your mailbox. Also, you cannot leave delivery instructions for:
Items insured for more than $500.
Items that need your signature.
Items marked for 'Collect on Delivery.'
Registered Mail items.
Items that are delivered or are already out for delivery.
Items marked as 'Unable to Forward' or 'Not Deliverable as Addressed.'
Mailpieces with 'active forwarding' requests.
Intercepted items.
Items with a 'hold for pickup' request.
Mailing addresses that have an active USPS Hold Mail request.
Schedule Redelivery
Missed your mail delivery? You can now reschedule deliveries with just a few clicks.
However, sometimes you won't see the redelivery option for a specific tracking number. It might happen because it is only available after a delivery attempt has failed, and you cannot opt for redelivery if the initial attempt is yet to happen.
Also, after the final delivery attempt fails, the item is sent back to the sender within a set timeframe. Hence, you need to collect the item from the post office or arrange for redelivery before this happens.
At times, you may also need to cancel or change your redelivery requests. To do that, you can follow the steps below:
Sign in to your Informed Delivery account and go to your name on the navigation bar at the top.
Click on 'My Profile' and select 'Activity History.'
Look for the redelivery option in the list of all previous orders and select 'View Details.'
Then, you should be able to see the redelivery information on the page. Click 'Edit,' and it will take you to an editable Redelivery page.
Modify the type of mail, article number, when and how you want your mail to be delivered, additional delivery instructions, etc.
Scroll down and click 'Make the Changes' and then 'Yes' to verify.
You will get a confirmation email, and you can view the update at any time in your account's Activity History.
The redelivery option is helpful for people who are not home very often and are likely to miss their deliveries. They can complete the above steps in less than five minutes and prevent their items from being sent back to the sender.
Manage Notifications
Users get the Informed Delivery notifications in the following ways:
Daily Digest email (an email streak sent to you every day containing your mail status and other news from the neighborhood)
Informed Delivery dashboard
USPS mobile application
You can open your dashboard by visiting this website. From there, you can set up text and email notifications as per your needs.
Mail updates are only available for items sorted by the USPS automated equipment like postcards and letters. Large mailpieces like flats, magazines, parcels, etc., are not available for preview on your Informed Delivery dashboard.
Please note that the Informed Delivery standalone mobile application is no longer in use. Instead, you can use the USPS application to get the Informed Delivery notifications and access other USPS tools.
You can get Informed Delivery notifications on only one email address. If you wish, you can change your email address at any time by logging into your account.
A lot of people ask what time does informed delivery updates. Well, Informed Delivery emails are sent every day from Monday to Saturday before 9 am. You won't receive any updates on Sundays and federal holidays as the USPS does not deliver mail on those days.
At times, you may receive updates for your roommate's/housemate's mail as currently, there is no way to separate mail pieces sent to the same address.
How Can Informed Delivery Help Businesses Boost their ROI?
Informed Delivery can help businesses add a digital touchpoint to their direct mail campaigns. 
Below are some ways how this service can be helpful to improve your campaign ROI:
Increase customer engagement by generating multiple responses from the same mailpiece. 

Motivate prospects to react to your mailpiece by providing them with interactive content, different discount offers, coupons, etc. 

Use physical addresses to reach out to people digitally.

Informed Delivery for business

can help you reach out to people whom you are unable to connect digitally. 

Informed Delivery also allows you to target new markets and connect with potential customers. 
Informed Delivery Interactive Campaigns
To get a better understanding of Informed Delivery benefits for businesses, you should know about interactive campaigns. They help companies tap into the database of all the Informed Delivery users.
If you participate in Informed Delivery interactive campaigns, you may show advertising content for letters or flats. These campaigns include your business URL and custom images that enable you to engage the users digitally.
It is very simple to conduct such campaigns. Start by building your mailing list and getting your items ready to be mailed. Then, feed in your campaign details such as the mailing dates, IMBs, a target URL, and some custom images.
The USPS will show these images and URLs to all the users from your mailing list that are signed up for Informed Delivery. After the campaign, you can analyze your campaign results by accessing the click-through and email open rates.
Find below the key difference in what a user sees if and if not you apply for an interactive campaign: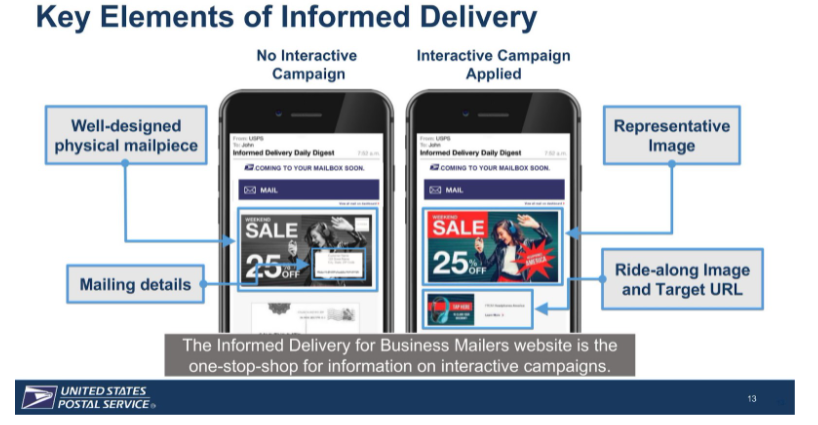 Wrapping Up
Informed Delivery is quite a beneficial USPS service that helps users stay informed on their incoming mail items. It allows them to direct their mail on a specific date and time suitable as per their availability. Also, they can view the scanned images of their envelopes before their arrival and take the necessary action.
PostGrid's direct mail API can also help businesses take advantage of Informed Delivery. Our API allows them to create, print, and mail their marketing materials without any effort.
Plus, you can tie these items to your digital marketing campaigns with the help of USPS Informed Delivery interactive campaigns.
Hence, Informed Delivery is a win-win situation for both users and businesses. PostGrid can help companies get the best out of their direct mail campaigns and engage with more and more prospects.
Ready to Get Started?
Start transforming and automating your offline communications with PostGrid
SIGN UP
REQUEST A DEMO