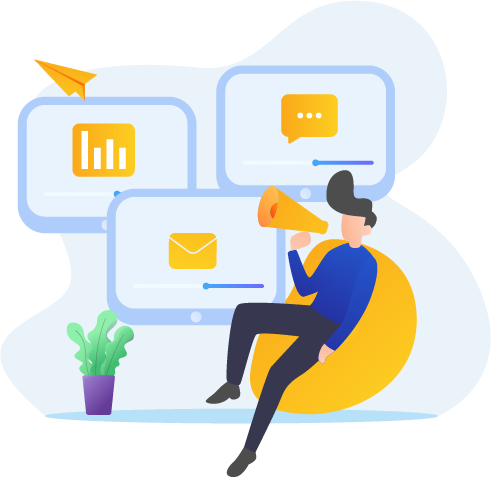 Triggered Direct Mail: A Complete 2023 Guide
Even in today's digital age, direct mail marketing is one of the best options for marketers to increase their response rate. It offers an increase in response up to 30%.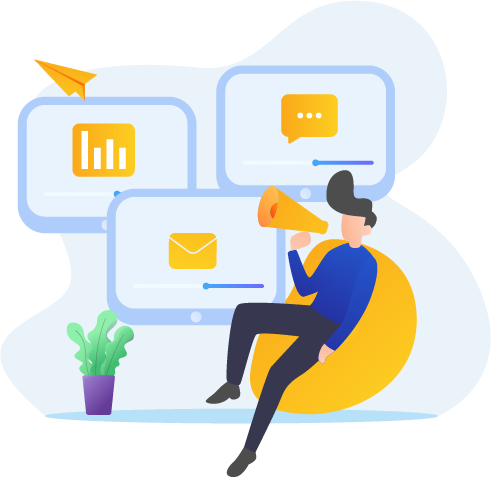 Triggered direct mail can improve the performance of your direct mail marketing campaigns even more with personalized effects.
Let's understand everything about trigger-based direct mail marketing campaigns with a few examples.     
Understanding Trigger-Based Direct Mail Marketing Campaigns
Being a marketer, you understand how retargeting works. When a potential customer or client engages with your brand or company in any way, you use their cookies to show them your company's advertisements, aka retarget them.
Just like that, when your audience comes in contact with your brand, you send them an offline personalized response, and that's called triggered direct mail.
It's basically triggered by the action of your customers.
Now knowing the fact that direct mail marketing can provide your brand a better response rate, sending your customers a personalized triggered direct mail can enhance the chances of your conversion and eventually the final ROI considerably. Triggered-based direct marketing is worth considering if you're serious about increasing the final returns for your company.
Examples of Triggered-Based Direct Mail
Here are some different types of triggered direct mail examples that you can send your customers.
Triggered direct mail for cart-abandonment
When a customer roams around your website, puts items in their cart, and then leaves without making a purchase, it's called cart abandonment.
Now, your primary aim is to bring the customer back to the website and buy all the items they have put into the cart.
One method that most people use is by showing them ads based on what was in their cart over and over again. We all have seen such ads at some point in our lives now.
The point is that those retargeting methods are not as effective as triggered direct mail can be because they're not personalized.
When you approach a customer offline through direct mail, perhaps you send them a postcard or a different type of snail mail. It actually makes your customers feel valued.
You can also add a discount code or another compelling offer to make your customers buy their cart items. It can help you increase your conversion rate. However, don't forget to add an expiry date to the offer you made in your triggered direct mail.
Deadlines work like a charm when you really want someone to take action.
Triggered direct mail for new customers
The welcome email has the highest open rate in email marketing. Similarly, when you send your customers a triggered direct mail just to welcome them, it can touch them differently.
Plus, you can also use this opportunity to gather some essential customer data. As it's evident that most people open and read the first direct mail they receive from the company they have just started to engage with.
Triggered direct mail for renewal reminder
You must know as a business owner that generating a new customer for your company is way more expensive than retaining an existing one.
Now, knowing this fact, if you could send your customers a personalized triggered direct mail appreciating their loyalty to the brand and renewing their subscription, it'd bring better returns for your company.
To encourage them for quick action, you can also add some reward or a discount with a strict deadline because people love to procrastinate. And if you miss the chance, they might not bother to renew the subscription at all.
Triggered direct mail for meeting confirmation
It's usually easier to send someone an invite for a meeting or a webinar. But getting them actually to attend the meeting is the real battle.
Most clients agree upon meeting you but then never show up. Sometimes the reason can be they're busy, other times it might also be because they didn't think it was that important.
Now, it's essential for you to remind them that someone is actually waiting to meet them by sending them a triggered direct mail. It can also make them realize that you're committing to the meeting, and so should they.
A polite reminder sent through a triggered direct mail can keep the meeting on top of their mind.
Also Read:
All About Direct Mail Service
Advantages of Triggered Direct Mail
We've discussed how you can use triggered direct mail to improve your response and conversion rate. Now, let's understand how these types of snail mail can actually benefit your company.
But before we begin, let's first understand the two different types of triggers that influence action.
Well, the first one is the behavioral trigger that we discussed above.
When someone visits your website or shows interest in your brand but then leaves without taking any action, that's a behavioral trigger.
You then send them behavioral-triggered direct mail based on the action that they have taken.
The second one is the demographic trigger. It's the status of the people, like their age, their financial situation, their location, etc. Most of the time, when marketers have to target a particular group of audience that has never been in touch with your brand, they use their demographic details to target them.
Now, how do you use triggered direct mails in different scenarios? Or probably, how does a trigger mail benefit your company based on these actions and details of your audience?
Decrease your sales cost to half
As a business owner, you must understand that it's easier to convert a lead who already knows about your company. The one that has once visited your store, or website, or has engaged with your brand in any way. It's more manageable than calling some random stranger to check out your product and services, aka cold calling.
Now, behavioral triggers play a major role in this field. You simply retarget the people who have once been in touch with your company and then try to convert these leads into paying customers.
Now, how do they cut your sales cost to half or more?
When you retarget a potential customer, you may need to send a comparatively smaller number of direct mails than when you approach a total stranger. You can also add the copywriting, designing, printing, and shipping charges to find out the actual cost and calculate your total savings.
Improves your communication
If you use an automated direct mail API, like PostGrid, to send the triggered direct mails, you can spend most of the emails instantly or automatically.
Now, even if you're approaching a lead based on the demographic details. And they begin to engage with your brand by asking a question. Based on the triggered setting of your customer's action, the API will instantly send a snail mail to them regarding their queries.
This move will make your customers feel valued. And improved communication can, in turn, play a significant role in enhancing your conversion rate.
Saves you the research time
Now, based on the demographic details, every essential information of your potential customers will be stored in the system—for instance, their birthdays, their income status, marital status, etc.
Now consider if you're a life insurance company, you won't need to survey an area multiple times to show particular prospects your different policies. The data stored in the system will automatically calculate the age of the various members of that location and send them, the right and highly targeted audience, a triggered direct mail about your new policy.
And depending on how effective your system is, your conversion rate can become really high with this method.
For instance, you can send a particular group of people turning 40 that day a postcard wishing them their birthday. And along with that, a small message about your company's life insurance policy will be a perfect match.
The birthday wish will make them feel special for their day and encourage them to read your marketing message.
Also Read:
Top Direct Mail Companies Reviewed
Key Stats and Opportunities You Should Know About Triggered Direct Mail
When businesses started personalizing the triggered direct mails, more than 75% of companies exceeded their revenue goals.
According to the DMA Response Rate Report 2017, the response rate of direct mail is around 5% compared to digital marketing, whose response rate is approximately 0.6%.
Plus, more than 80% of American citizens still check and read their direct mails.
How to Create a Triggered Direct Mail Campaign?
Now that you know what types of triggered direct mails you should send, what benefits do they bring to your company, and how exactly they work in the real world, it's time you know how to create them as well.
Here are the essentials of creating a triggered direct mail.
The first thing you should keep in mind is to integrate your triggered direct mails with all of your current marketing strategies.
To make the process easier, you can use the advanced API, like PostGrid, and automate the entire process.
Using the API, you'd just need to set up the instruction and incorporate it with your existing system. It'll take care of the rest of the steps like printing and mailing the triggered direct mail.
Improve Your Returns With Retargeting
Everything is within your reach if you're using the right strategy. As you know, your product can be wonderful, but if not many people know about it, it may still stay on the shelf for years to come. So, improve your marketing strategy by integrating triggered direct mails with it and see the improvement for yourself.
Our PostGrid direct mail automation tool helps integrate direct mail triggers with customers' marketing campaigns that give high response rates and return on investment.
Ready to Get Started?
Start transforming and automating your offline communications with PostGrid
SIGN UP
REQUEST A DEMO