How to Build Telecommunication Marketing Strategy for Effective Customer Retention in 2023?
The telecommunication industry is changing with new players entering the market and technological innovation. For this reason, the competition is getting stiff between telecom companies. An effective telecommunication marketing strategy is essential to cut through the crowd and move forward in today's fast market.
As an effective marketer, more is necessary to have a good product or service for consumers. It would help if you had a strong telecommunication marketing strategy to back your offerings with facts. In this blog, we will explore some of the most effective marketing strategies for the telecommunication industry.
What is Telecommunication Marketing?

It is all about promoting the products and services of a telecommunication company through different marketing channels. Their marketing strategies would include channels like digital advertising, direct mail, sales promotions, public relations, and personal selling. All these telecom marketing channels help increase customer awareness, interest, and sales of telecom products.
The global telecommunication industry had a market value of $160 billion in 2021, which might reach $2556 by 2031. It has an astonishing growth rate of 5.1% from 2022 to 2031.
Importance of Telecommunication Marketing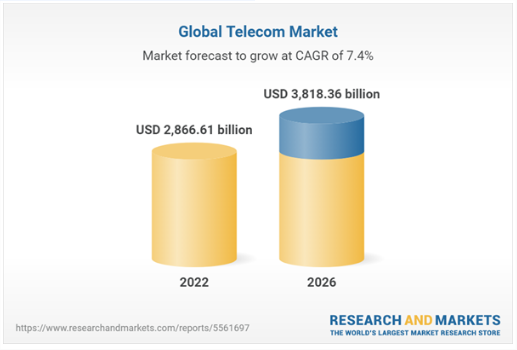 Source: Researchandmarkets.com 
Effective marketing is an essential contributor to a telecommunication company's success. It helps these companies generate interest, spread awareness, and drive more sales for products and services.
Telecom companies use innovative marketing strategies to communicate their value proposition to the target audience. You can also build a better brand image, increase customer loyalty, differentiate yourself from competitors, and increase market share.
To attract and keep customers, you must develop tailored marketing campaigns by learning the customer requirements, preferences, and behavior. You will be able to drive growth and increase profitability.
What Signifies the Sucess of a Telecommunication Marketing Strategy?
An effective telecom marketing campaign helps a company to achieve its business goals and get more customers. Many telecom companies would define their success with the following metrics;
Increase in sales

Expansion of customer base

Improvement in their online presence and brand perception 
Critical Tips to Plan Your Telecom Marketing Strategy
If you want to know how to increase sales in a telecom company, then you should follow the following tips;
Using Data Analytics for Complete Insights
These days people refer to data as the new oil. Your telecom company can rely on practical data analytics tools to gain better insights into the results of your telecommunication marketing strategy.
You need to understand how customers engage with your communications channels to tweak your telecom marketing strategy and create a better impact. It would attract more interest in your business and expand its reach. You must collect data and abide by all legal obligations as a telecommunication company.
If you access the data, you will gain important insights such as brand loyalty, how they shop, how they engage with your brand and more. Consider implementing a handy tool or CRM dashboard to get the correct information with analytics.
Create a Strong Content Strategy
Content plays a significant role in the digital age and traditional marketing measures. Developing a simple ad campaign isn't work if you want to make your telecom marketing strategy engaging.
The attention span is decreasing every day with tons of content available on the internet. You can provide more than your product information when you create engaging and quality content. It allows you to become a valuable information provider and a thought leader in the sector.
Telecom companies know the knowledge need of their target audience. This information helps them work on their reputation by developing valuable educational content. There are a vast number of platforms available for content development that can push your telecommunication marketing strategy. You can rely on blog posts, social media posts, newsletters, direct mail pieces, guides, or informational videos to promote your products and services.
Developing high-quality content can help you to convert prospects into loyal customers. Telecommunication businesses should always spend enough time and resources on high-quality content for their telecom marketing strategy. Having a poor-quality content strategy can have a significant negative impact on your brand.
Working on the Customer Experience
The customer experience is the most critical aspect of a telecommunication product or service. It doesn't take days to change the service provider for customers if they don't like the customer experience. To build a positive customer perception with your telecom marketing strategy, you must take the customer experience to the next level.
With the right approach and marketing strategy, you can build positivity and loyalty for your brand. Telecom businesses rely on many channels to make their customer experiences and please their customers' demands.
A strong telecommunication marketing strategy connects with the customer on every platform. Consumers appreciate clear communication and good understanding above everything else.
Start Telling a Compelling Narrative
Don't create your telecommunication marketing strategy with practical marketing terms or gimmicks. Instead of getting too technical or complex with your marketing campaign, start connecting with your audience.
It would help if you told consumers an authentic and relatable story to market your products or services. Try using all possible communication channels to narrate this story in different formats. Moreover, you should wear your consumers' values in marketing wherever possible.
Focus on Highlighting a USP
There are tons of telecommunication companies in the market competing against each other. It would help if you found a USP for your telecommunication marketing strategy to stand out from your competitors.
A USP of a telecommunication company could be anything from innovative technology, good customer experience, affordable prices, and more. You must mention and highlight your USP while drafting your telecom marketing strategy.
If you cannot find the right USP for your telecom business, try to imagine yourself as a customer and then make a decision from their perspective. It would help you to pinpoint the exact USP for your telecom brand.
Three Big Challenges in the Telecommunication Industry
If you are drafting your telecommunication marketing strategy, then you must consider these three significant challenges of the industry;
Implementation of 5G Technology
5G is still new in the world. Only a few developed and developing countries can install 5G technologies. Thus, while drafting your telecom marketing plan, try to educate your audience about the benefits of this new technology. Try to familiarize them with real-world use cases to help them avoid confusion and step towards adoption.
Customer Retention
The telecom sector might have huge possibilities, but at the same time, it also has stiff competition. Thus, customer retention is a significant challenge for telecommunication companies when they plan to draft their telecom marketing plan. They must find innovative ways to engage their customers with products and services. Trial packs or customer loyalty programs are great to ensure successful conversion and customer retention.   
Connectivity Problems
Even after five generations of innovations in the telecom industry, some subscribers and businesses need help to get the best reception. The modern work environment relies on faster internet to send files, connect video calls, and more. Thus, your telecom business must take adequate measures to ensure a consistent customer experience. Improving connectivity should have a high priority while drafting your telecommunication marketing strategy.
Using Direct Mail for Telecommunication Marketing
Source: Marketingcharts.com 
Telecommunication companies might use digital channels for marketing their products and services. Yet, they should pay attention to traditional marketing channels like direct mail. It could allow them to win new customers and contribute to their telecom marketing plan.
While most companies only use email to gather new clients, you can set yourself apart by sending effective direct mail. There were around 256 billion email exchanges daily in 2019. An average person can receive hundreds of emails in a single day. Thus, it is common for emails to get lost in spam folders, clutter, or trash.
Even the top players like AT&T, Verizon, and Comcast use direct mail in their marketing campaigns. It helps them to create better brand awareness and engage customers for a longer time. You can use a direct mail automation tool like PostGrid Print Mail API to send direct mail pieces and drive more sales to your telecommunication business.
Here are some convincing reasons for considering direct mail in your telecommunication marketing strategy;
Limited Time Opportunity
Telecommunication companies often want to lock their customers with multi-year contracts to ensure continuous business. Direct mail is a very effective medium to attract new customers and inform them about such agreements. You can build brand awareness with direct mail and maximize these continuous business opportunities.
Trust Factor
Trust is a critical factor in an informative sensitive industry like telecommunication. Online ads, social media campaigns, and emails might not create that trust factor. Moreover, digital mediums always have the risk of becoming malware or spam.
People still refer to direct mail as the most trustworthy form of advertising. It also plays on the subconscious minds of the recipients to create a positive brand image and attract customers to a product or service. By including direct mail in your telecom marketing campaign, you make an image of a high-quality brand with valuable services.
Incredible Personalization Options
Direct mail marketing leaves a personal touch on prospects and potential customers. Thanks to direct mail automation programs like PostGrid Print Mail API, you can customize and personalize your direct mail pieces for your target audience.
If you are launching your telecom marketing plan, you can consider many mediums, such as letters, postcards, checks, brochures, catalogs, and more.
The automation of our platform lets you launch triggered-based campaigns to target the right audience at the right time. Moreover, you can use the easy-to-use template editor to personalize your template according to branding rules. Individuals, even without designing or coding skills, can use this editor. Personalization in your telecommunication marketing strategy helps you build long-term customer relationships.
Continuous Engagement
Every telecommunication business is searching for the right telecom marketing plan to ensure continuous customer engagement. Direct mail is a perfect medium for constant attention to help customers stick with the brand.
It creates anticipation and excitement among customers to receive direct mail. In the age of digital technologies, people treat direct mail as a novelty item. Thus, you can guarantee great engagement with direct mail marketing.
Better Brand Awareness
Telecommunication companies are racing to gain recognition in the market and win more customers. Direct mail is an excellent tool for increasing brand visibility and reaching prospects before competitors.
Furthermore, an automation platform like PostGrid Print Mail API enables you to segregate your audience based on demographics like age, gender, income level, geographic location, and more. Targeted marketing is always a compelling idea for a telecommunication marketing strategy.
Integrate Promotions
Every year telecommunication companies launch countless promotional offers to entice potential customers. Yet, people might need clarification about such promotional offers in the digital space. Thus, you can integrate promotional offers in your direct mail pieces to explain in clear and concise words.
The promotions in your telecom marketing strategy could be about anything, such as high-speed routers, upgradation to 5G, promoting a new yearly plan, or switching services. Start using omnichannel marketing strategies to see better results for such promotional offers.
You can start by first sending an email to your prospects; then, you can retarget them with physical mail.
Creating a Direct Mail Marketing Strategy for a Telecommunication Business
To start developing your direct mail marketing materials, you must consider the following steps in your telecommunication marketing strategy;
Define the Target Audience:

It is the first step in all marketing strategies for the telecommunication industry. Start learning about your target audience's demographics, interests, and needs. You will be able to create more targeted and personalized messages for them

.
Determine Your Goals:

When creating your

telecommunication marketing strategy

, you must determine the goals you will achieve through your efforts. It could be driving more sales, increasing the customer base, raising brand awareness, and more.
Choosing the Right Format: There could be many formats for your direct mail marketing campaigns. Yet, depending on your audience and marketing content, you must select the most appropriate one. You can use letters, brochures, or postcards in your telecommunication marketing strategy.
Personalizing the Content:

Like mentioned above, direct mail provides incredible personalization opportunities to businesses. Yet, apart from the design and form factor of a direct mail piece, content also plays a critical role in personalizing a marketing piece. 
Include the recipient's name and make the content precise and up-to-the-point to leave a more profound impression on your target audience. It would improve your telecommunication marketing strategy's engagement levels and response rates.
Provide an Incentive:

People usually only show interest in marketing materials if they are getting a value proposition. Thus, you can include discounts, free trials, welcome gifts, or special offers in your

telecommunication marketing strategy.
Testing and Optimizing Your Campaigns:

Start conducting small-scale test campaigns to learn about the most effective direct mail. It would help you to refine your

telecom marketing plan.
Tracking and Analyzing:

Make sure to leave your direct mail campaigns to work. Add promo codes, landing pages, QR codes, or numbers to measure your direct mail campaigns' success. Intelligent analytics tools will boost the success rate of your

telecommunication marketing strategy.
Other Effective Marketing Strategies to Consider for Telecom Marketing
The telecom industry consumes a significant part of the entire IT industry. Thus, using effective marketing strategies for the telecommunication industry is essential to cater to a large audience and stand out from the crowd. These are some telecommunication marketing strategies that you can consider for your business;
Email Marketing Strategies
It is a cost-effective marketing strategy to maximize brand awareness and lead generation. Telecommunication companies use email marketing to build strong relationships and nurture their prospects. With a good and reliable database, you can start sending introductory emails to attract new opportunities.
Online Paid Marketing
Online paid marketing could be the best tool if your telecommunication company requires instant recognition. Successful marketing strategies for the telecommunication industry run PPC (Pay-Per-Click) campaigns to create better brand awareness and gain the attention of their prospects.
Referral Marketing
Customers who love your services are more likely to recommend your telecommunication company to their friends, family, and colleagues. It gives your telecom marketing strategy an excellent opportunity to integrate an intelligent referral system to win more customers and share your brand with a broader audience.
Relationship Marketing
It is an excellent form of marketing to create, build and maintain relationships with your prospects and existing customers. Relationship marketing can be a part of your telecom marketing strategy to make more loyal customers who already love your products and services.
CTA Marketing
Effective "Call-to-Actions" play a significant role in drawing the attention of prospects toward your offerings. Make the CTA text eye-catching and exciting so that it helps you to drive traffic and convert your visitors into leads. Yet, consider working on engaging content in your marketing material to integrate CTAs.
Event Marketing
Organizing events or participating in them can increase your market presence. It gives you the perfect opportunity to showcase your products or services and make new connections in the real world. Moreover, allowing prospective customers to experience your products and services could be a great way to drive more sales and contribute to your telecommunication marketing strategy.
Outbound Marketing
It is another effective telecommunication marketing strategy you can install to make your prospects know you exist in the market. You can buy a list of options and start reaching them to win new customers. For example, major companies like Microsoft and Sage prefer outbound marketing tactics such as telemarketing and appointments to search and look for potential customers before meeting them in person or calling them.
Content Marketing
Quality content always motivates people to trust and explore a business. Using content marketing in your telecom marketing plan will help you to provide valuable information to your prospects and convert them into loyal customers. People often look for tips and answers to their questions on the internet. Your telecommunication company can be a reliable source to resolve their problems and questions.
Freebie Marketing
Nothing is more affordable than free, and people always have a high excitement for freebies. Thus, you can also provide a free product trial to increase sales and encourage better conversions. Your customers can experience the product or service before making an actual buy.
Making Your Direct Mail Campaign Successful
Drafting and sending a telecom marketing direct mail can take time and effort. These are some strategies to start your campaign,
Focus on Design
Telecom Marketing mail design can have a significant impact on the minds of customers. It can become an essential factor in determining whether to open the mail. Thus, always make your mail design eye-catching, persuasive, and appealing.
The design aspect of your direct mail should include branding, lifestyle, and product. To begin with, insert your brand logo in your direct mail piece, have high-quality images, and personalize the color scheme. These efforts can make your telecom marketing plan a great success.
Integrate Effective CTAs
The success of a telecommunication marketing success depends on the offer and CTA that you are adding to your direct mail pieces. Thus, consider adding promotional offers that make your prospects and customers feel valuable.   
Focus on the CTA that you are using on your direct mail pieces. They will persuade your potential customers to reach your business.
Use Different Mail Formats
Marketers often use various formats, such as letters, flyers, and postcards, to plan their marketing plans. It provides more chances to capture the right audience and install next-level personalization for prospects. Moreover, a telecom marketing plan can use direct mail pieces of different sizes, from small rectangular flyers to oversized postcards.
Use Creative Scripts
Direct mail allows you to get as creative as you can be. Thus, telecommunication companies can write witty headlines or add creative images to their mail pieces. PostGrid's Print & Mail API provides various design templates to make your direct mail piece creative and innovative.
Become Accessible
Your prospects and customers will try to reach you by responding to your direct mail with calls, emails, and direct mail. Thus, you must ensure that your communication channels are operating. Telecom companies often use a toll-free number to allow their customers to connect.
Conclusion
The telecommunication industry is full of stiff competition and technological advancements. Thus, if you want your telecom company to stand out, you will need an effective telecommunication marketing strategy.
You can use a blend of direct and digital mail marketing to fulfill your goals and gain more customers.
Install PostGrid Print Mail API to your telecommunication marketing strategy.
Ready to Get Started?
Start transforming and automating your offline communications with PostGrid
SIGN UP
REQUEST A DEMO