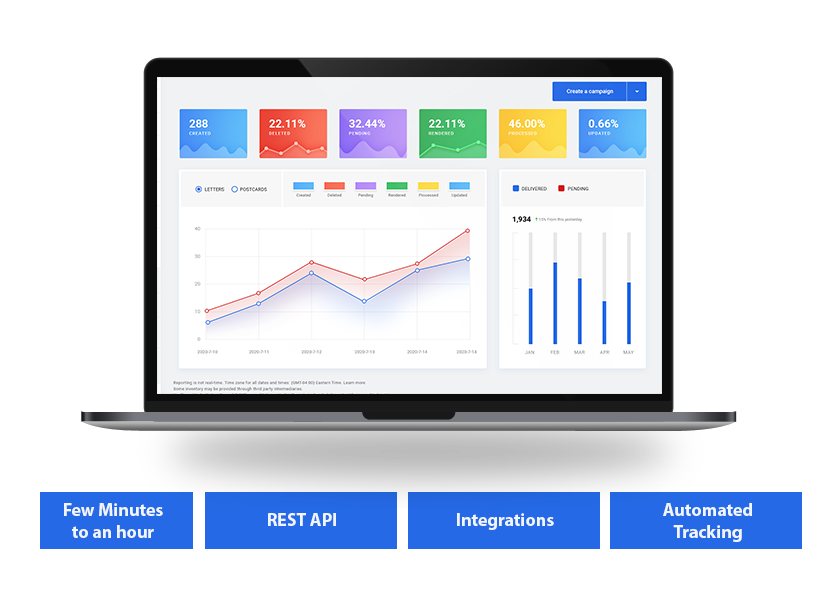 Postcard Sizes Ultimate Guide: What Are The Standard Dimensions
As compared to letters and other direct mail items, postcards are small and compact-spaced. They are the perfect option for appealingly conveying quick and short messages. Moreover, a lot of people stick postcards to their refrigerators or boards. Hence, postcards get more attention and exposure than other mail items. There are a lot of postcard sizes for businesses to select from – according to their budget and marketing objectives. Your prospects don't even need to tear open an envelope for looking at the postcard because postcards are typically sent as self-mailers. They are cost-effective and can be sent in large quantities, even if you are on a tight budget.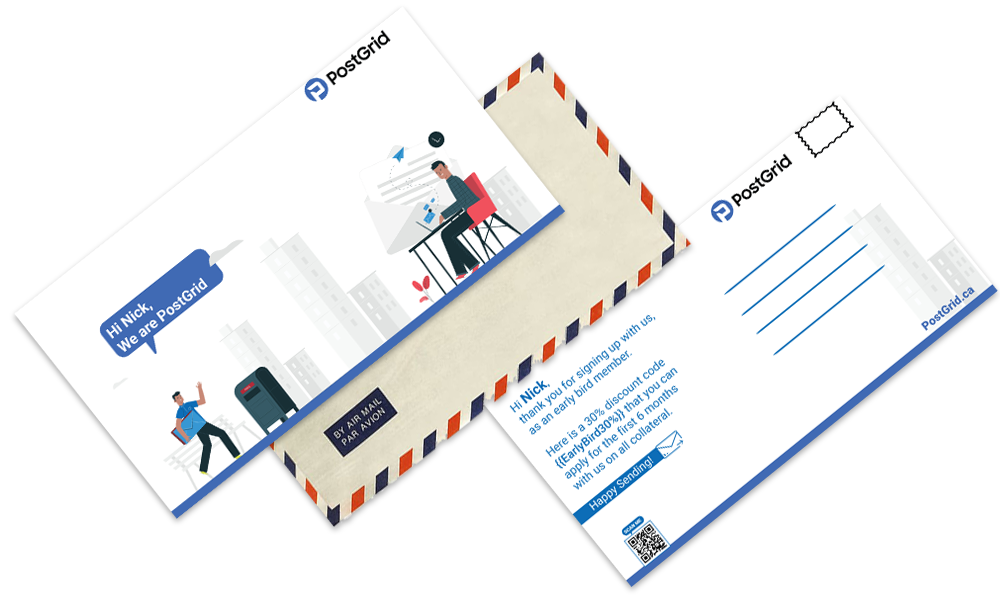 When it comes to postcards, size matters the most. The USPS approves only the standard postcard dimensions stated by them. All the other sizes are either considered as letters or flats. There are a lot of things to be kept in mind before selecting a size. Select a postcard size that gives you maximum visibility and is appropriate for your design and message.
Factors to be Considered When Selecting Postcard Sizes
Selecting a postcard size might not sound like the most important element in your direct mail campaign. But, it is definitely a choice that you need to make carefully and after considering some related factors. Below are the vital factors to be taken into consideration while selecting postcard dimensions – direct mail size.
1. Deliverability
A small postcard mailing size is probably not the best option for you if you want all your postcards to be safely delivered. Small postcards can easily get lost in the mail as they are not of the standard envelope size. Hence, postcards should at least come under the standard postcard size, if not larger.
Oversize mail always has the edge over the others due to its extra size and attention-seeking capability. However, there are many other factors that decide whether you need a small, medium, or large-sized postcard.
Furthermore, standard-sized postcards are eligible to be sent through first-class mail, increasing their chances of getting delivered. So, if deliverability matters to you, standard-sized mail is a perfect choice.
2. Exposure
Although the guidelines for US postcard sizes suggest that your mailpieces should not exceed 4.25″ x 6″, a larger postcard is more likely to stand out from the others.
Mostly, companies mail their letters, documents, and marketing materials in the standard size, so your standard-sized postcards might not get the necessary exposure. Many people may also think of it as "junk mail" and discard your postcard even without opening it. Keeping the exposure and uniqueness element in mind, you should opt for a bigger size. It is inherent that large-sized mail receives more attention than all the other sizes.
3. Message
The message should always be paramount. Basically, it should dictate the postcard size.
What does your brand have to say?
Is there any exciting contest coming up, the details of which need to be included?
How much content do you need to insert in order to communicate your message to the audience clearly?
These things are the key elements to consider while choosing the correct postcard dimensions for your campaign. If your message can be clearly and thoughtfully sent across using a small or standard-size postcard, go for it – this size can get your work done and at the same time also keep your marketing costs under control.
However, you should note that the entire space in a postcard is not meant for your content. The location of the logo, mailing address, trim lines, and keep-clear zones should also be thought of. After these things are added, the remaining space is for you to insert your message, which basically makes your postcard's front side. Hence, you might need a larger size than you think. Fitting too many words on a small postcard can look messy. So, if you have a lot to say, do it by choosing a larger postcard size.
4. Design
Words are not the only thing that is added to your postcard. A legal postcard size gives enough space for some words and graphics to be put together on a suitable postcard template. Businesses need to include their logo as well. Marketers typically select designs with some images, borders, and overall graphics fitted together in a compact space within which the message is printed.
Some postcard templates require a larger space than others, as they look congested on a small-size postcard. You can either select a template and then see which size suits them best or choose the postcard size and then choose a template that fits well and looks great. Either way, you need to consider the design and layout while deciding on the dimensions.
Do your words need to be printed in big and bold letters?
Are there any extra images you need to include?
Is the message printed as a paragraph or in bullet points?
Such things might seem like small details that you don't need to consider. But, forgetting your investment's worth, every small detail like such is significant. Few words in large letters might also need you to increase your USA postcard size.
5. Time
The period we are talking about is the delivery time and the season during which you are conducting a postcard marketing campaign. A big postcard will be needed to be sent using the USPS marketing mail option. This mail option has a longer delivery time than first-class mail, which makes it a difficult choice.
If your postcards are conveying a message regarding offers with short deadlines, select a size that fits within the USPS postcard dimensions so that your postcards can be sent through the faster first-class option. But, if time isn't your first priority and getting your postcards delivered after a couple of days or even weeks works for your brand – you can choose a larger size.
6. Cost
Over and above all the above-mentioned factors, you have to select a size that fits your budget. Before making any selections, draft out your budget first. Check whether you can afford to go for the maximum postcard size. If not, what size can fit well?
Companies having a very tight budget can either go for a standard size or use the EDDM option as it is relatively inexpensive. You can save money by sending in bulk. For large postcards, you can send bulk marketing mail, through which you will be eligible for getting discounted rates. Even if your postcard size doesn't fit in the USPS postcard dimensions, there are a number of ways to get postal discounts like pre-sorting and bulk mailing – as we discussed.
However, the design, paper, and print costs will still remain unchanged. Use PostGrid's print and mail platform and API to avail of reduced costs for any size with complete print and mail fulfillment.
USPS Standard Postcard Dimensions
To learn about the postcard dimensions approved by the USPS, you should first know the answer to "what is a postcard?" You can send a postcard of any size you want, but not all sizes fit under the USPS postcard guidelines for standard dimensions. There are some requirements for your mailpiece to be considered as a postcard:
Your mail item should be rectangular and have square corners. Circular corners or square-shaped postcards are not considered postcards.
Your mailpieces should be at least 3.5″ in height and 5″ in length. The minimum thickness should be 0.007″.
The standard postcard dimensions should not be more than 4.25″ in height and 6″ in length. Moreover, it should not be thicker than 0.016″.
If these postcard mailing sizes are exceeded, your postcards are treated as letters – which means the USPS will be charging you more for sending letters.
Also Read:
5 Steps to Send Direct Mail Postcards
You can use an index card to check the thickness of your postcards. Larger postcards are considered as letters and flats — if your postcards exceed the letter dimensions as well. Find below the USPS dimensions for sending postcards that exceed the standard sizes.
Postcards sent as letters also need to be rectangular and follow the same thickness restrictions as the standard ones.
The minimum size also remains the same, but the maximum postcard size for sending in the "letters" category is 6.125″ x 11.5″. Any mailpiece that exceeds this size will be treated as flats.
For sending these postcards through first-class mail, they should not exceed 3.5 pounds in weight. Some foldable postcards are folded to bring to these sizes, but the overall size should not be more than what is mentioned by the USPS.
Flats is a term used to describe large-sized envelopes, magazines, newsletters, and other documents that exceed all the above-mentioned postcard dimensions – direct mail size.
A postcard will be treated as a flat only when its minimum height is 6.125″ and the minimum length is 11.5″. The thickness should be at least 0.25″.
However, the maximum postcard size for flats is 12″ x 15″, and the thickness should be no more than 0.75″.
Regular and Mailable Postcard Sizes
Keeping the USPS postcard dimensions into consideration, there are some most commonly used sizes like the 4″ x 6″ postcards. The most common sizes for sending postcards are:
3.5″ x 5″
4″ x 6″
4.25″ x 6″
4″ x 9″
5″ x 7″
5″ x 8.5″
6″ x 9″
6″ x 11″
8.5″ x 11″
9″ x 12″
The 3.5″ x 5″ postcards can be referred to as small-sized postcards because the standard and the most commonly used size starts at 4″ x 6″. Please note that only the first three USA postcard sizes from above are considered postcards by the USPS.
All the remaining postcard sizes will be charged more and sent through marketing mail. The USPS also accepts folded postcards as long as they fit within the US postcard sizes' restrictions.
Half-fold postcard sizes include:
8.5" x 6" (folded to 4.25" x 6")
10" x 7" (folded to 5" x 7")
11" x 8.5" (folded to 5.5" x 8.5")
12″ x 9″ (folded to 6" x 9")
12″ x 11″ (folded to 6" x 11")
Similarly, tri-fold postcard dimensions – direct mail size include:
12.75″ x 6″ (folded to 4.25" x 6")
15″ x 7″ (folded to 5" x 7")
16.5″ x 8.5″ (folded to 5.5" x 8.5")
Different Postcard Sizes
1. Small-sized
The postcards whose dimensions are 3.5″ x 5″, 4″ x 6″, or 4.25″ x 6″ are all considered small-sized. They are small and have a compact space for your message. The designs are mostly simple and straightforward, without a lot of images and graphics. As opposed to a big postcard, small-sized postcards are very cheap to send. The designing, printing, and mail costs are low for conducting a postcard marketing campaign using these small sizes.
Moreover, these sizes are well-approved by the USPS to be sent as first-class postcards. So, you get all the first-class mail benefits like mail forwarding or return, priority processing, and low rates. However, small-sized postcards are likely to not stand out from the other mail items that your recipient receives. But, to stay under budget – companies use this size widely.
You can use bright colors and eye-catching designs to make your small postcards stand out. This step makes your postcards impactful while also keeping costs under control.
2. Medium or standard-sized
Businesses select some standard sizes like 5″ x 7″ and 6″ x 9″ to give their postcards more exposure. These postcards outsize envelopes and hence have more chances to be noticed by your audience. The medium or standard-sized postcards do not come under the USPS postcard dimensions, which is why you will have to send them using marketing mail. You may have to pay more for these postcards and wait longer for them to get delivered, but it is worth it.
Postcards that come under these specifications are more creative, versatile, and noteworthy. The design could be portrait or landscape, depending on your message. Some marketers use poster-like designs for a portrait layout.
However, please remember that the back of the postcard is always landscaped according to the USPS address and mailing guidelines. It doesn't matter if your postcard layout is horizontal or vertical. Standard-sized postcards have enough room to accommodate any design neatly.
3. Jumbo-sized
Jumbo-sized postcards outsize the standard size but are still a step away from being called "oversized." Usually, postcard dimensions – direct mail size of 6″ x 11″ come under this category. Jumbo postcard sizes offer the same scope for versatility and creativity as the standard ones, but the proportions are relatively larger.
A jumbo-sized postcard is more attention-seeking and is great for designs that need a large space to fit in. If your company wants to advertise using postcards with big images or many words, you can select this size. Marketers can even go for gloss coating to make their postcards even more appealing.
4. Oversized
9″ x 11″ postcards are considered extra-large. Oversized or extra-large postcards are selected by companies that do not want to compromise on their visibility. The USPS will send these postcards at flat-rate pricing. So the overall costs are really high. In fact, it is the most expensive option that marketers can select. Everything from its design and printing to mailing will cost you a lot. But, oversized postcards are capable of attracting more responses and engagement than all the other sizes.
Hence, by proper planning, you can distribute costs smartly and get an increased ROI. If your budget can accommodate the costs of conducting a campaign with oversized postcards, you should definitely consider going for it.
EDDM Postcard Sizes
Before talking about the legal postcard sizes under the EDDM option, let us discuss a little about what exactly is EDDM? It stands for Every Door Direct Mail. As the name goes, it means sending direct mail items to every household in a particular locality or ZIP code area. This program is introduced by the USPS so that companies can conduct direct mail campaigns without having a mailing list. You can select the locality or ZIP code of your choice, and the USPS will deliver your postcards to every house in that area.
The EDDM option works great for businesses that have a limited budget. Furthermore, it is also a good option for geographic targeting.
Also Read:
Business Postcard Ideas for Better Marketing
EDDM does not fall under the first class or marketing mail categories. It is a separate service, and the USPS offers discounted rates for this program. Just like the other mail options, there are specific postcard mailing sizes under EDDM also. Your postcards should be at least 6.125″ in height or 10.5″ in length on one side.
The standard postcard dimensions for EDDM should not exceed 12″ x 15″. If your postcard sizes don't fit within these USPS dimensions, you cannot send your postcards using the EDDM option. The thickness should be between 0.0007″ and 0.75″. The weight should not be more than 3.03 pounds. The most popular postcard sizes for EDDM are 4.25 x 11″, 6.25″ x 9″, 6.25″ x 11″, 6″ x 12″, 8.5″ x 7″, 8.5″ x 11″ and the oversized 12″ x 15″. You can select from these sizes as per your requirements and budget.
Although the USPS rates for sending any EDDM postcards are the same for all sizes, printing and paper cost differs. Companies can contact the USPS-affiliated printers to get the printing done, other local printers, or a print and mail automation platform like PostGrid.
Differences between First Class and Marketing Mail Options to Send Postcards
First Class
In terms of speed, first-class mail is the fastest option to get your postcards delivered. It delivers local mail in 1 to 3 business days, whereas national mail is delivered within 3 to 5 business days. As discussed above, if the timing is important to you, it is advisable to stay within the standard postcard size and send via first-class mail.
All first-class rates are dependent on the weight and size of your mailpieces. For availing of the lowest first-class rate, your postcards should weigh less than an ounce. The rates go up with the increase in weight. The maximum postcard size to be sent through first-class is 4.25″ x 6″. Anything larger than this size or thicker than 0.016″ is considered as a letter and charged accordingly. Rectangular, standard-sized postcards cost a minimum of $0.36 per mailpiece.
Marketing Mail
Formerly called "standard mail," this option is created by the USPS to specifically tend to the marketing needs of businesses. It is also sometimes referred to as bulk mail. Bulk rates can be availed by sending out a minimum of 200 mailpieces.
To deliver locally, the USPS takes about 2 to 5 business days. National mail can take up to 1 to 4 weeks for delivery – so you might have to opt-out of this option for time-sensitive mailings. The lowest marketing mail rate is for postcards weighing up to 3.3 ounces. After that, the rates keep increasing gradually. Bulk mail does not have services like mail forwarding and return, but you can pay extra for them.
Moreover, the marketing mail option is used for postcards that do not fit in the USPS postcard dimensions. They are charged as letters, which is relatively more than postcards. But, you can avail of bulk rates and stay within your budget. Postcards that exceed the maximum postcard size of 4.25″ x 6″ are all sent via marketing mail.
Advantages of Selecting the Right Postcard Size
Other than saving your money, time, and effort, there are a lot of other advantages to making the right choice for your postcard size.
1. Helps in Creating the Perfect Design
By selecting the perfect postcard size for your direct mail campaign, you are helping your designer create the right design for your postcards. This design should justify your message, CTA, and offers. Everything should look distant from one another, and the design should not be messy. If your message is long and you select a small US postcard size, the message will have to be fitted on your postcard in a congested manner. Conducting a direct mail campaign and sending out such messy-looking postcards is an absolute waste of your time and money. Marketers should know what a postcard is and how it is supposed to deliver messages compactly.
2. Ensures On-time Deliverability
Making a smart choice for your postcard size can help ensure on-time delivery that justifies your campaign's objectives. Different direct mail campaigns are designed and conducted for various reasons like promoting a product launch event, introducing new services, informing audiences about discounts, offers, contests, etc. Some of the postcard marketing campaigns are held for general brand awareness and increasing visibility. However, some of them are meant to drive conversions quicker by using special coupon codes and offers valid for a very short time. The "Urgency creation" is a marketing strategy used by many companies to receive faster responses. Hence, if your company is sending out postcards with this motive, selecting the right postcard size can help send it faster through first class.
 Also Read: Getting Started with Automated Postcards Mailing
3. Creates a Personal Connection
Choosing the perfect postcard size can help make your postcards attractive and attention-seeking. Sending such postcards in the mail to your target customers can induce a special and emotional bond between them and your brand. An appealing mailpiece works better than mailpieces that aren't designed well. Your postcards can get your message across with more clarity and meaning by using the right postcard dimensions – direct mail size. Postcards should be thoughtful, impactful, and prompting, and these things are not possible without making a smart size choice.
4. Boosts Responses
If you want to get the desired number of engagements and responses, it is recommended that you select the right color combination, offer, CTA, message, template, and size. All of these things matter. You can send out a small number of postcards with different variations to test all the combinations' performance. The right postcard size used for the right type of layout and message can definitely attract more responses and boost engagement levels.
Wrapping Up
Postcards are incredible direct mail collaterals and can maximize results significantly. All you need to do is select the postcard sizes carefully and use attractive postcard templates. It really takes a good design, size, and shape for your customers to give your postcard a flip and have a look.
Hence, read the USPS postcard dimensions, consider all the factors, and then select a size that best suits your needs. PostGrid's direct mail automation program provides features like in-built templates, print options, mail fulfillment, mailing address verification, tracking, and more.
PostGrid's print and mail automation platform can help you send postcards of any size at affordable and discounted postal rates.
Ready to Get Started?
Start transforming and automating your offline communications with PostGrid
SIGN UP
REQUEST A DEMO