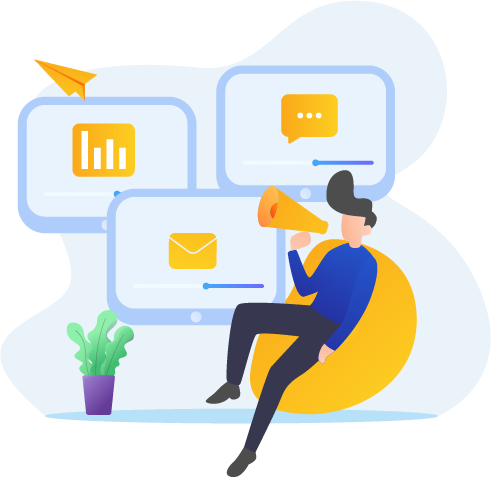 The Hassle-Free Guide to Sending Postcards Internationally
Over the years, our lives have become more and more dominated by the digital world. We have come so far that we may now have more digital interactions than ever before. Everything from our newspapers to the postcards has now gone digital.
However, the change is understandable, since digital postcards are easy to make and cost pretty much nothing. You can simply send it as a Facebook message. But despite all the advantages of an online message or postcard, people mostly prefer receiving a personalized postcard. Because it's appealing that someone went through all the trouble just to send you something. Especially, if it's from overseas.
No matter how far technology may take us, we will always have a soft spot for experiencing something that we can touch and feel. After all, being able to hold a postcard or letter in your hand sent to you by a loved one gives a different sense of fulfillment and happiness.
Those emotions can also be a reason why most customers respond more positively to postcards sent by companies. Perhaps, it reminds them of the feeling of receiving tangible mail from a loved one, or maybe they just appreciate the effort. Moreover, unlike digital messages or postcards, a physical postcard is not something you can ignore and leave in the inbox.
Sending postcards, especially in large numbers, is not easy work. And to do that internationally means even more risks.
Also Read:
Printing and Sending Postcards Online
If you want to send regular direct mail pieces to your customers, you must understand the process involved in sending postcards internationally. First of all, get familiar with the address format used in their country, using the wrong format for the sent postcards can cost you an unnecessary loss.
This article takes you through a quick guide to sending postcards internationally so that you can ensure your postcards are delivered successfully to the target audience.
Sending Postcards Internationally
When sending postcards abroad, you should do your diligent research. More often than not, sending postcards overseas costs you more. A mistake, potentially leading to a failed delivery, can hurt your business more than you might think.
Therefore, it is vital that you check the postage rate for sending postcards abroad, specifically for the country you have in mind. This is relatively easy to find out for many countries such as the US, Canada, etc., all you have to do is look up details you need online. But, that is not always the case.
For some countries, you should get the required information from a reliable local source.
How to Send a Postcard Internationally
Before you jump to posting your postcard, it is essential that you understand what a postcard is. Surprisingly enough, many people often mistake a postcard for a letter. However, the two are not the same, and knowing the difference could save you a lot of time and money if you plan to send postcards abroad in bulk.
Letters vs. Postcard
The most alarming difference between a postcard and a letter is that the latter requires an envelope. Furthermore, the postage price of a letter is often based on its size and weight.
The postcard, on the other hand, is of a category of its own. It requires no envelope, and neither can it be folded. It is a small rectangular card that is ideal for a short and sweet message for your loved ones or, in this case, your valuable customers. The postcards serve to express affection rather than convey a lengthy message, much like a present you give someone.
A Standard Postcard
According to the Universal Postal Union, in order to send a postcard internationally at the standard rate, the postcard must be rectangular with specified dimensions, as shown below.
Length in mm
Between 140 and 235
Height in mm
Between 90 and 120
Also Read:
The Standard Postcard Dimensions
Apart from the dimensional requirements, the postcard also needs to be stiff as it has to withstand the long journey. You can not send the postcard if it is too small as the postal service does not accept them, and if the dimensions are too large, it will be classified as a letter, and you will end up paying a higher postage price. Another exciting thing about the postcard is that you can create them with personalized pictures. It could have a seasonal theme or anything else that is irrelevant to the situation. You have complete autonomy over how the postcard looks like.
Draft it Right
Once you have got your postcard's dimensions to ensure that it is indeed treated as a postcard, you can then move on to draft what you put inside it. Usually, the postcard's left side is used for writing the message with the recipient's address and the postal stamp on the right. It may be the opposite in some cases but, it should be fine as long as you have clearly written the address. When it comes to sending postcards internationally, you must ensure that you have a deliverable address. You can easily verify the bulk addresses present in the database of your system using an advanced address cleansing tool like PostGrid.
Also Read:
How Long Does it Take to Mail Bulk Postcards?
Using an advanced direct mail API like PostGrid allows you to cleanse your address database of any undeliverable addresses and ensure that all your postcards are sent to the right addresses. This can save you valuable time and money. Hence, companies who send out international postcards in bulk should employ advanced tools like PostGrid.
The postcards you send out must clearly specify the name and address of the recipient in English. You should also include the zip code, and never forget to name the destination country in the postcard. Using an advanced tool like PostGrid can save you the trouble of finding the full international postcard address and save you valuable time.
How to Write A Postcard
When it comes to writing the postcard's content, the best thing about it is the personal touch that it can offer. If you are a company that will be sending out postcards internationally in bulk, you must make the most out of it and personalize it. Personalizing the postcard has a positive effect on the person who is receiving it. Don't just keep the contents of your postcard generic like holiday wishes.
For example, try to reach out to the addressee on their interests. Even throw in an anecdote about something relevant to the customer and make the recipient feel involved.
Also Read:
Things to Remember While Writing Postcards
When writing a postcard's content, it is always best if you avoid sounding self-centric and make an earnest effort to let the recipient know that you are genuinely thinking about them. It will also help you remember that the postcards are often small and have limited space for writing. This means that you have to keep your message short. You can use the smaller font if necessary.
However, that does not mean you can use the smallest font or handwriting to write the postcard and expect the recipient to go through the trouble of reading it all. It goes without saying that the address is still the most crucial aspect of the postcard, and hence it is best if you use block capitals, especially if you are writing it by hand.
As far as businesses are concerned, they almost always provide a return address because, at the very least, the return mails will help them know if any of the addresses they have are not valid or undeliverable. The return address should be printed or written towards the top of the left half, and the rest of the space may be used for writing your message.
Furthermore, if the postcard you are using does not have a photo or graphic printed on it, then you can flip the card and write the rest of your message there. However, this is not always desired as people are generally more attracted to a pictorial presentation. It would be best if you also kept in mind that USPS explicitly says that you must write the word "Postcard" on privately manufactured cards.
Adding Attachments
Some postal services like the USPS allow you to add attachments to your postcards. However, this is not to be confused with large sheets of paper where you can go on to write lengthy paragraphs. The attachments allowed on a postcard include small clippings, illustrations, or even photographs. Furthermore, according to the guidelines for the attachments permissible on a postcard, they must be constructed of paper or other similar thin materials.
The attachment must also adhere completely to the postcard, and it should not be something thick as to protrude from the card. Apart from this, while attaching the clipping/illustration/photograph, make sure to attach it to the left half of the front side or backside of the postcard. You should also keep in mind that the USPS notes whether you are using an address label, and if you do, make sure to place them only in the area provided in the postcard to place the address.
The Cost of Sending Postcards Internationally
You can buy the domestic postcard stamp at a supermarket, mini-marts, or even gas stations apart from the post office, and it will cost you about $0.35. This is the domestic rate for postcard stamps, and it can be used to send postcards anywhere in the US. It is only natural that the cost of sending postcards is slightly more expensive than the domestic ones. Unlike domestic postcard stamps, you may have to visit a USPS post office to get the international rate stamp. The rate for sending postcards internationally from the US is the same as a 1 oz First-Class Mail International letter.
The fail-proof way to send a postcard internationally from the US is to buy a Global Forever stamp because it always covers international postage costs. Another great thing about Global Forever® stamps is that they never go out of date, so it is perfectly fine to carry one around or have some saved with you, and it costs just around $1.20.
The US postage stamps prices are among one of the most reasonable ones around the globe. You can comfortably send postcards from the USA to Canada, UK, Mexico, or any other country for that matter, and it will still only cost you $1.20.
Sending Postcards Abroad The Easy Way
Sending out postcards in bulk to international destinations doesn't necessarily have to be so complicated. There are plenty of online services that can be used to send out personalized postcards to international postcard addresses. However, most of these are aimed towards personal postcards, so if you want to send personalized postcards in bulk to your customers worldwide, you need a much more advanced solution like PostGrid.
PostGrid's print and mail API is a one-stop solution for sending postcards abroad without having to go through any trouble. With capabilities such as PostGrid's, you have literally nothing to worry about. Starting from the size of the postcard to the complicated address verification, PostGrid has you covered.
An advanced system like PostGrid comes with an address verification capability that can weed out any wrong data you may have in your address database. With a deliverability rate of 99.99%, there is virtually no scope of error or wastage.
You can customize your postcard however you want with images and messages you like, and you can even go so far as to create an entirely personalized postcard for each of your customers or target audience. The more personalized your postcard, the better your chances are of positively influencing the target audience.
Furthermore, you can sit back and relax while the system takes care of everything from printing the postcards to having them delivered to the desired destination. In essence, you get a fully-automated, error-free system for sending postcards internationally without ever having to ask yourself the question "how to send a postcard internationally?" again.
Conclusion
Postcards are a great way to show people that you are thinking about them, and the emotional value that it has to offer is far greater than sending an email or a text message. Postcards are much more personal, and the chances of you getting your message across to the other person are somehow higher through it. The way you can actually touch and feel it on your hands and that there is a certain surety that it reaches the target audience is an incentive to communicate through postcards.
Even economically, sending postcards is one of the best ways to reach out to a large number of people as the postage rate for sending postcards internationally from the US is exceptionally reasonable. And the cost of shipping one domestically is even lesser.
Perhaps the only downsides of Postcards are that it does not go in an envelope implying a lack of privacy to some extent and the limited space for writing your message. However, that can be easily overlooked, especially if the postcards are sent from a company. In fact, a shorter message may actually be even more desirable for them.
When sending postcards abroad, it is always better to use the Global Forever stamp from USPS as it is acceptable for sending postcards to pretty much every country in the world.
Although postcards offer so many advantages as a means of communication for companies, it also has their fair share of disadvantages such as address verification and bulk postcards management. However, thankfully there is a simple solution for easily meeting these challenges.
With the help of advanced direct mail automation software like PostGrid, you automate the entire process from address verification to sending out postcards to everyone in your address database. For businesses that send regular direct mail to their customers, a must-have tool like PostGrid is a must-have. It can potentially influence your marketing efforts' productivity.
Ready to Get Started?
Start transforming and automating your offline communications with PostGrid
SIGN UP
REQUEST A DEMO