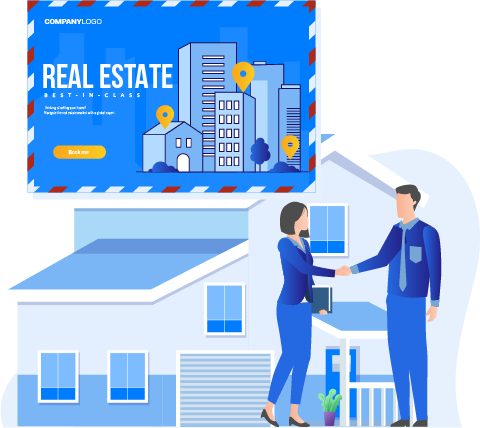 Real Estate Lead Generation Ideas
If you have ever worked with the real estate industry then you know how hard it is to generate real estate leads. Unlike others, the real estate companies are dependent on cold calling and door knocking as well to generate leads.
In fact, there are still many real estate businesses that depend entirely on such traditional lead generation methods. Surely, the conventional techniques can still bring in real estate leads, but is that enough? Can you really make do with conventional real estate lead generation?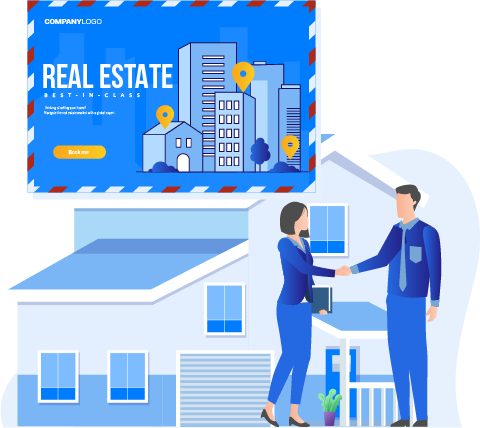 Well, the answer is both yes and no because, at the moment, you may still make do with the traditional approach. However, these conventional methods are unlikely to last for long because they are neither convenient nor sustainable.
If real estate businesses wish to survive in the modern world, they must adopt new digitally-enabled lead generation methods. Of course, some traditional lead generation methods like direct mail may never be replaced with a digital solution. But, they'd still need to be digitized to some extent to facilitate real estate automation.
So then, what is the best way to get real estate leads in today's digitally dominated world? And how to generate real estate leads sustainably? The answers to these questions can not be explained with a single sentence.
There are numerous ways to ensure high real estate lead generation for your business. You may already be using some of these lead generation methods we discuss below. However, you must branch out your lead generation efforts to get the desired results.
How Can Real Estate Agents Get Sales Leads?
The real estate lead generation methods discussed below will help you reach your goals for real estate leads. You can employ multiple real estate lead generation methods to maximize your results. However, it may be hard to run all of them simultaneously unless you have the necessary resources. So, let's now dive into the different types of real estate lead generation methods that you can employ.
1. Facebook Messenger Ads
Social media is the best way to get in touch with everyone these days. While Facebook may have started as a platform for personal communication, it has changed drastically over the years. Now, businesses of all kinds first turn towards Facebook ads to reach out to their target audience.
Many companies are already using social media platforms like Facebook and Instagram for advertising their real estate business. However, many of them tend to overlook the Facebook Messenger Ads. As a result, the messenger ads are more reliable for real estate lead generation as there is less competition.
According to Hubspot, messenger ads have a 242% higher open rate than normal emails. This statistic alone should give you a broad idea of how effective Facebook Messenger Ads are. So, all you need to do is pitch the prospects with the ideal property, and conversion should be relatively easy.
2. Real Estate Leads Through Video Content
Video content is one of the easiest ways to generate free leads, and it is fast gaining popularity because of its popularity. Some of the leaders in the real estate business, like Engel & Völkers, have already established their expertise in using video content.
Creating quality videos is a process that consumes a lot of time, effort, and money. But, once you get it right, the ROI you receive can be huge. Therefore, you should focus on creating videos that are informative and capable of helping your prospects.
Furthermore, you should also focus your attention on your target audience and find their pain points. Once you identify the problems real estate buyers face, you can present them with an easy solution or quick tips. Doing this will help you establish yourself as an industry expert.
So, the next time the prospect has a real estate query, you or your beans will be on the top of their mind. In other words, video content can help you reinforce your brand or business into the prospects' minds.
Furthermore, quality videos can help you boost organic traffic to your website. You can also use your video content to enhance the reach of your other content such as blogs. Similarly, you can interlink content in different formats to enhance the reach and establish your expertise on the subject.
3. Online Real Estate Reviews
Real estate reviews are the best way to get real estate leads, especially if the target audience majorly consists of millennials. Most people now tend to look at reviews before choosing a real estate agent/company. The average real estate buyer trusts the reviews more than anything else.
To put things in perspective, Consumerists recently revealed that "Nearly 70% Of Consumers Rely On Online Reviews Before Making A Purchase." You should also consider the fact that millennials now make up a third of the buying population.
A millennial will go from one website to another reading reviews after reviews before finally picking a reliable real estate agent. So, there is no question about the significance of reviews in the real estate market. Furthermore, the review needs to be accurate and not fabricated because the difference is often noticeable.
4. Real Estate Blogs
When it comes to lead generations blogs and video content works in a similar way. Blogs, like videos, are an ideal way to show how to generate real estate sales leads organically or for free. However, it is not easy to create organic traffic.
To ensure that your efforts pay off, you need to consider various aspects of the content, including SEO and SERP (Search Engine Results Page) rankings. Furthermore, getting featured in the top SERPs establishes your brand as a reliable one.
The goal of the real estate blogs you create should always be to help the reader. It is the only way you can make sure that the target audience reads your content. It also establishes you as a brand and your expertise on the subject.
If you are wondering how to get real estate leads through blogs, then the answer is simple. Blogs enable you to constantly stay on top of the prospects and establish trust in your brand. As a result, if or when a real estate requirement arises, the audience will think of your real estate company first.
5. Thank You Cards
You can't win over real estate leads with just your expertise. Sometimes you need to go beyond your expertise in real estate and appeal to them emotionally. When used alone, cold calls may not give you impressive results. But, that all changes when you follow up with a thank you card.
Sending a thank you card may seem like a small gesture at first glance, but its effects could be surprisingly good. Thank you cards, especially highly personalized ones, can have an emotional impact on the recipients.
The trick is to use cold calls smartly to segment people who genuinely need your help and are happy that you called. Sending a thank you card to such an audience is bound to resonate with them. Furthermore, you can automate the sending of personalized thank you cards via tools like PostGrid.
6. Craigslist
A rule that all marketers should live by is to treat every lead like a high-quality lead. You need to fully commit yourself to convert a lead into a successful sale even if the chance of conversion is slim. Hence, even the leads you get through Craiglist should get the same attention and effort as an organic lead. 
Most real estate marketers have already given up on leads obtained through Craigslist. It also means that there is now less competition for real estate leads generated via Craigslist. The key is to work smarter and not harder to get more real estate leads, and more importantly, these are free leads.
However, Craiglist does have a reputation for having a lot of junk leads. So, you must know where and what to look for on Craigslist. Segmenting the high-quality leads from the junk ones will save you precious time and improve your chances of successful conversions.
7. Website Community Pages
Nowadays, website communities see more lead activity than other online channels. But, unfortunately, the majority of real estate marketers do not even consider the potential of community pages. But, on the bright side, you can now tap into an entirely new stream of real estate lead generation.
Anyone shifting to a new place is bound to do their research beforehand through website community pages. You can become a local real estate expert to help out such people. Additionally, you can also use community pages to understand the needs and requirements of real estate buyers.
It is also worth noting that the details in a website community page are almost always specific to an area or locality. Therefore, you are able to access information about potential properties for sale inside and outside your city. 
8. Quora
Quora has now become a platform that is highly utilized for content marketing. However, when it comes to lead generation for real estate agents, Quora still has some serious untapped potential. Becoming a top respondent on quora for real estate can enable you to market yourself and your real estate business.
Quora has a whopping 200 million monthly unique visitors. And all of us have, at some point, got an answer we were looking for via Quora. Furthermore, their Q&A entries often show up on the first google search result page.
Similar to Craigslist, the leads obtained via Quora are entirely free. In addition to this, Quora will not require you to wring through numerous leads like in Craiglist. You can start by looking for repeated real estate-related questions asked on Quora.
A question is repeated on Quora when no one was able to provide a satisfactory answer for it. So, by answering such questions you can get noticed more easily. Furthermore, providing answers to such complicated questions will show that you are an expert in the subject.
9. FSBOs or For Sale By Owners
Many real estate businesses are reluctant to work with FSBOs. But, on the other hand, real estate agents and companies make a fortune out of it. If employed effectively, FSBOs can become a free source for you to generate leads worth millions of dollars.
You can FSBO real estate leads by starting a conversation with them. During this conversation, you must be able to assess their offer value. In addition, it is worth considering that the seller may have already tried to sell the property via a real estate agent.
So, there is a possibility that the agent before you ended ties with the seller for a good reason. Hence, you should start by asking the potential sellers about their reason for selling the property. How the seller answers this question can tell a lot about the quality of the lead. Take all the time you need to understand the seller's motive and ascertain how genuine they are.
However, you must be careful not to rush it and provide them with advice or insight to help the seller. Only after you feel like you have helped them in some way should you offer to help them with the property's sale.
10. Instagram
Social media, in general, has brought in revolutionary new capabilities for business operations. The real estate industry has also benefited from social media platforms like Instagram. What makes Instagram unique is that it is relatively easy to obtain organic leads through it.
Instagram is without question one of the leading social media platforms out there with a massive user base. Furthermore, the image-centric platform is ideal for real estate businesses. It enables you to focus on lifestyle posts rather than sales posts.
The story feature, opinion polls, etc. on Instagram makes it even more engaging. So you can pitch a beautiful apartment for sale without ever making it sound like a sales pitch. All this makes Instagram the ideal platform for real estate lead generation.
11. Cheeky Marketing
It is one of the latest forms of marketing, and it is fast gaining popularity. As the name suggests, cheeky marketing uses funny content to get free real estate leads. However, as it is a new type of marketing, it lies in a grey area. So, no one is 100% sure how to generate real estate sales leads using the strategy.
An easy way to ensure that your real estate marketing campaign is to try and sound funny in your campaigns. You can even use the highly popular meme culture to market a property or just your business in general. However, this does tend to connect better with millennials and younger audiences.
Furthermore, it would be best to keep in mind that humor is subjective, and you mustn't overdo it either. By the end of the day, your imagination will set the limit of how successful the cheeky marketing campaign will be.
12. Real Estate Divorce Leads
Real estate is a highly competitive field where most real estate agents and companies fight for easy targets. As a result, the supposedly easy-to-consent leads end up becoming increasingly hard to convert.
It is why real estate businesses should turn their attention towards a niche category such as divorce leads. There are certain cases where a person is bound by a court order to sell a property. Similarly, some leads urgently want to move. Such real estate leads have a much higher chance of a conversion.
However, due to its unique nature, divorce leads require a more patient and empathetic approach. You don't go to someone who's just their home and congratulate them on the event. The human-to-human approach is essential when handling such real estate leads.
13. Circle Prospecting
Circle prospecting is a real estate lead generation strategy that often goes overlooked. The process is based on the idea that neighboring homeowners of a recently sold or listed property would want to know about it. 
An ideal example for this type of real estate transaction is a farmer wanting to build a mini-farm area. Such an audience will want to know if their neighbor is putting up their property for sale. However, this would require you to interact with everyone in a specific neighborhood frequently.
Sending postcards can be an effective way to keep in touch with your target audience. Using an advanced tool like PostGrid, you can automate the mailing of postcards. It means you can even have them periodically send postcards so that you can always stay on top of the audience's mind.
14. Smart CRM
With a well-equipped CRM, you can generate leads even when you are sound asleep. Although most real estate businesses are already aware of the significance of CRMs, they still fail to use their full potential. CRM is the key to automating most of your business operations, if not all.
Even something as simple as sending reminders for an open house would take you hours or even days. There is only so much time you can afford to spend on minor operations like sending reminders. So whether you aim to send regular emails or direct mails to your prospects, you need an intelligent CRM.
You can use software capable of analyzing your lead's behavior to predict when they are ready to transact. Thus, it gives you a significant advantage over your competition. But, all this happens in the background, and it does not require your time nor attention either.
15. Outbound Phone Calls
Did you know that one-third of the public gets involved in some real estate-related activity each year? It could be buying, selling, renovation, repairs, refinancing of a property. Therefore, an ideal real estate agent or company must always support its customers through all such requirements.
When it comes to the real estate business, long-term goals are crucial. Hence, helping your customers through all their real estate-related needs is essential to achieving those goals. Outbound calls are ideal for finding whether a prospect requires your help.
However, that does not mean you have to start calling everyone on your lead list. You can start with an easily achievable goal of one or two calls per day. And since the calls can actually help the prospect, they are likely to feel thankful for the call and remember you.
16. Local Adoption Events For Leads Who Love Pets
The time has come for real estate businesses to try out new and innovative marketing campaigns. A local adoption event for pets is one such innovative idea. People who love pets have always had a hard time finding the right property, making them a niche worth your attention.
Furthermore, an event like pet adoption is bound to catch the attention of such an audience. It is not necessary that the event can directly be linked to real estate sales. However, it does present you with an opportunity to connect with a niche audience.
You can use the opportunity to present yourself as a real estate company that specializes in pet-friendly properties. Use banners with attractive slogans like "Find a home that your pet loves." Most people treat their pets like family, and this will surely appeal to them.
17. Predictive Analysis
Predictive analysis is helping real estate businesses of all shapes and sizes to optimize their operations. With the help of Artificial Intelligence or AI, you can now par with numerous data points across the internet or local MLS. By doing so, you can determine which properties are likely to be sold this year.
Access to predictive data enables you to have a significant upper hand over the competition. It allows you to focus your efforts on the geographic area and audience that actually matters. Thus you no longer have to try your luck by targeting entire communities.
By showing you which property owners are likely to sell their property, you can first get in touch with them. So, by targeting specific geographical areas, you can assert dominance over the place and farm your local area.
18. Meet Your Top Contacts in Person
Granted that online capabilities have grown remarkably in the past few years but technology is not always the answer. Sometimes you need to leave technology behind and approach your top contacts in person rather than calling or emailing them. 
After all, real estate lead generation is all about personal connection. You can start by determining your top 25 or 50 prospects who have the highest potential to bring in business. Next,  try arranging a face-to-face meeting with them.
Meeting your top contacts in person can help you learn more about them and develop a more personal relationship with them. You can even go to an exclusive event for all your top contacts. The vent you host can be anything from a movie night to a dinner party as long as you can engage with them.
19. Build Local Connections
Building local connections is a vital part of the real estate business. Lead generation for real estate agents is mainly dependent on local contacts. Referrals are often considered the best source for real estate lead generation.
As you know, referrals are not easy to come by if you are new to the real estate business. However, online services can connect new real estate agents with local business owners to generate referrals. You can also try building a hyper-local website to communicate with potential referrals.
The localized approach is of vital importance here, and building a hyper-local website is only the beginning. For better results, you should consider online services that connect you with the local residents and businesses. You should form a relationship with them and increase your chance of generating more leads and referrals.
20. Broker Price Opinion (BPO)
Broker Price Opinion or BPO is the estimated value of a real estate property. They are often initiated by a lender when a borrower fails to make payments on a mortgage. The lender calculates the BPO if they have to foreclose the property, modify the loan, or conduct a short sale.
So, it makes sense for real estate agents or companies to sign up to do BPOs. You may then market properties to owners of distressed homes. The BPO is calculated even before a late payment report is sent to the credit agency in many cases.
BPOs are a great indicator of property owners that may want to sell off their property soon. You can put this information to good use and help them with the property sale. In most situations, the owner would want to sell the property sooner rather than later.
21. Host a Buyer's Seminar For First-timers
Another vital niche for real estate buyers is the people who are making a real estate purchase for the first time. As we all know, real estate involves high-value transactions. Hence the first-time buyers are often filled with questions and uncertainties.
By hosting a first-time buyer seminar, you can gain the trust of potential first-time buyers. Even though there are many resources available online, most first-timers prefer to clarify their questions face-to-face.
Offering an opportunity for first-timers to answer all their real estate-related questions is an effective way to generate leads. Ensure that you address all the common questions and a few unique questions. It will not only showcase your expertise but also establish yourself as a reliable brand.
22. Use News Outlets
News outlets are yet another channel that real-estate businesses have ignored for pitching their listings. Most real estate service providers do not even think about using a news outlet for their business. However, the fact is that new outlets are one of the best ways to get good quality leads in a short time.
The more reputed the news outlet you use to pitch your listing, the better response you will receive. Furthermore, besides enabling you to sell properties quickly, news outlets also act as an effective marketing channel.
Getting features on a well-reputed news outlet such as New York Times can impress the reader. Hence, there is a good chance that the listing published in news outlets can lead to new clients and more opportunities.
23. Real Estate Branding Over Personal Branding
Successful real estate agents often build real estate companies of their own. A common misconception among such companies is that they need to focus on the "personal" brand. However, the fact is that most people are not looking for your brand.
Using your time and money to build and advertise your personal brand in the end only manages to split up your efforts. Instead, it would be best to focus all your efforts on developing a brand recognized by the masses. It is worth keeping in mind that many people don't even want an agent at all.
Building a brand is also ideal for expanding your operations to new markets and areas. Choosing real estate branding over personal branding also enables you to create or change your brand's image. You have the choice to reinvent the brand as a whole if you ever feel it's needed.
24. Sales Letter
A sales letter is still considered one of the best means of marketing your real estate business. Even though most marketing efforts are now focused on the digital platform, they could never replace direct mail.
Sales letters are ideal for generating top-of-mind awareness. Furthermore, you can employ direct mail and drip mail campaigns for your real estate business. The key, however, is to close in on the right audience as they must have a good potential for conversion.
You can even make use of advanced direct mail automation tools like PostGrid. Employing tools like PostGrid, you can connect your CRMs and personalize the letters you send. Additionally, you can even ensure the letter's deliverability using the address verification feature.
25. Deep Insights From Zillow
As you know, Zillow has become a go-to service provider for all things related to real estate. More often than not, real estate buyers check out Zillow even after contacting an agent. Regardless of how flawlessly you executed your lead generation and follow-up, the customer may still need a second opinion.
So, as a real estate agent or company, you should ensure your presence on platforms like Zillow. Furthermore, you should also consider getting premium memberships on Zillow, as it can give you access to seep insights.
For example, the "My Agent" feature for Zillow Premier Agents claims to boost your conversions by three times. This is because it provides deep insights into your prospects' property searches, views, and saves on Zillow. As a result, you can pitch with similar properties that are bound to interest the prospects.
26. Free Holiday Treats With Your Business Card
Showing your real estate leads that you care for them is to send them holiday treats along with your business card. Then, go to your nearest mall or shopping center and get your hands on some candy cane during the holidays.
Send postcards to your real estate leads along with cute little candy canes attached to them. Such a gesture is guaranteed to gain you some brownie points. People love receiving gifts, even if they are as small as candy canes, especially during holidays.
The holiday gift you send with your postcard can be anything you want. It can be a tiny gnome keychain or Santa refrigerator magnet as long as it passes on the holiday spirit. So, don't limit yourself to candy canes.
You can try a similar strategy for all seasonal celebrations. You can even monetize on the latest lifestyle trends and formulate innovative gift ideas.
27. Automated Text Marketing
Text messages are often more effective than emails. Many marketers wonder how to get real estate leads when most of their email is not open. Text messages are one of the best alternatives to email marketing for real estate businesses.
According to Jeff Manson, the CEO and founding partner of Real Geeks, automated text messages have a 97% open rate. The only problem with text marketing is that it often takes too much time, which can be easily rectified through automation.
You can use any of the advanced text messaging platforms available in the market today to automate your text messages. Even your CRM may be equipped to handle automated text messages. So, check your CRMs capabilities before you employ a third-party solution.
28. Seasonal Leave-Behinds
As the name suggests, leave-behinds are marketing collateral you provide your clients after an event, such as an open house. Usually, the leave-behind can be documents such as a detailed brochure with pictures of the property.
Seasonal leave-behinds, as you may have already guessed, are used during seasonal celebrations. For example, it can be an American flag on each neighborhood's lawn that you are targeting. Similarly, you can also consider leaving behind pumpkins when it's the time of Halloween.
The seasonal leave-behind approach is ideal for better connecting with a community. Furthermore, the response rate for such a campaign is incredibly high. Repeating this can further cement your brand's presence in their community and minds, which will help you in the long run.
29. Plan & Work For The Holidays
Holidays are the time when most of your competitors are away taking a break from their work. However, this does present you with an opportunity to boost your real estate lead generation. So, you should consider working the holidays if you are serious about improving your real estate lead generation.
The first thing you need to do is let your target audience know that you are available to serve them during the holidays. Make sure that you emphasize the part where you mention your services are available even on holidays.
You should also consider holiday-themed events. The event can be something as simple as a musician playing holiday music on a Sunday open house. In addition, you can try coming up with more innovative and unique ideas that can grab the client's attention.
30. Use Your Old Expired Listings
Using your freshly expired listings to pitch for real estate lead generation is never a good strategy. On the other hand, using your older expired listings has several advantages. Therefore, it is best to go for expired listings that are at least a year old.
It is highly likely that the potential clients in your old listings wanted to sell at some point. So, there is no reason why you should not have these potential clients relisted. Additionally, you should ensure that none of the ones included in the new listing were relisted before.
Reach out to prospective real estate clients and enquire about their plans. Ask them how their plans have changed from the past and how you can help them with their new plan. You must offer your assistance if they plan to sell soon.
31. Utilize Events Unrelated to Real Estate
No law says that you can only pitch real-estate businesses at an actual estate-related event. However, there is a good chance you won't get any real estate leads at an event where everyone is a real estate agent.
So, it is worth a try to think outside the box and consider events that may be unrelated to real estate at a glance. Of course, there is no guarantee that you will find quality leads at events like this. However, the chances are that you may very well end up with useful connections that can help your real estate business.
Now that you have removed the criteria that an event has to be related to real estate, your options become practically limitless. You can try out various events such as a yoga workshop, a book reading, or even a concert. Furthermore, you can even use these events to catch up on an old hobby while still working.
32. High Ranking Articles on Google
Well-written articles and blogs with superior SEO quality are the number one way to generate organic leads. But, more importantly, the articles or blogs you publish must get a high Google ranking. The higher your Google ranking, the more the chances of you generating more and more real estate leads.
Try to create opinion articles for individual properties but ensure that it is designed specifically for Google ranking. However, that does not mean you can ignore the reader's needs or potential real estate buyers. The rankings aside, your article must communicate the answers to your client's questions.
It means you must provide an honest opinion of the property, iterating its strengths and weaknesses. Such an approach works wonders, especially for very high-end or historic properties. It also enables you to gain the client's trust by proving your expertise in the real estate industry.
33. Join The Local Chamber of Commerce
By joining the local chamber of commerce, you can get several advantages for your real estate business. First, it provides you with a chance to make connections with people who are well-established in society. Furthermore, you can have your real estate business listed in newsletters/websites and get valuable referrals.
It is best to consider getting a membership in the town and county chambers of where your office is located. Additionally, you must also consider nearby areas or counties to your office or offices. This will help you reach a wider audience as well as enable you to expand your operations.
It is worth noting that you can also become a member of other similar organizations. Some of the organizations you should consider are the Destination Marketing Organization (DMO) and Convention And Visitors Bureau (CVB).
34. Pitch Real Estate as an Investment Opportunity
Real estate is not just about finding a home. Sometimes real estate is treated as an investment opportunity. However, most real estate buyers are not aware of the investment opportunity in real estate.
Real estate leads for new agents are seldom pitched as an investment opportunity. The new agents hardly know how to guide their clients through real estate investment. Most people only think of a real estate purchase as a place to live in.
It is your responsibility to sweeten the deal by explaining the investment opportunity of a property. Explain how a property is likely to have higher market value in the future and how it can benefit the buyer. Doing so increases the value offering of property and entices the clients more.
35. Become a Real Estate Expert in Facebook Groups
Facebook groups have now become one of the first places people look for properties for rent and buying. These groups often have thousands of members. But, more importantly, people in such groups have at some point required real estate services.
You should get yourself involved in such Facebook groups rather than creating one by yourself. One of the easiest ways to get noticed is by providing helpful solutions and advice for the questions asked by other people in the group.
Similarly, you can boost engagement with your brand by asking questions or conducting polls in the group. All you have to do is be consistent in your interactions, respond, and use creative content to boost your interactions.
36. Create a Client Persona For Social Media
"How to generate real estate sales leads through social media?" often pops up in a marketer's mind. Social media is somewhere we all want to be the best version of ourselves. Perhaps people even tend to be more real there than anywhere else.
So the best way to connect with potential real estate leads on social media is if you can appeal to their personality or taste. You can accomplish it by creating a client persona of your ideal client. Then, consider various aspects of this client, including their income, personality, age, family size, and so on.
The more detailed your client persona, the more accurate you can make your social media marketing efforts. For example, a client with school-going children is bound to look for amenities near their new home.
Fully Automated Direct Mail Campaigns
Despite living in a digital age, direct mail is still considered the best way to get real estate leads by many. The main reason for this is that direct mail has a much higher response rate than any other digital marketing effort.
Apart from a high response rate, direct mail also has a much higher ROI than email campaigns. The only problem with direct mail campaigns in terms of operation is that they are time-consuming and prone to error.
However, there is no room for error with an automated direct mail solution like PostGrid, and the process is fully automated. You can now personalize, print, and deliver direct mail in bulk with the click of a button. Even the deliverability of the mail can be ensured through PostGrid's address verification API.
Conclusion
Real estate lead generation is not quite as easy as it once used to be. Today, there are multiple options available in the market for those who want to make a real estate investment. Therefore, real estate agents and companies must learn how to generate real estate leads.
There are several strategies that you can use to generate real estate leads. A multichannel approach to your real estate marketing is inevitable at this point. The best way to get real estate leads is by using a multichannel approach that combines online and offline marketing efforts.
For example, you can use direct mail automation tools like PostGrid to run a direct mail campaign. You can personalize, print, and include QR codes in your direct mails. The QR code can then lead the real estate leads to your website or landing page.
Furthermore, real estate businesses must realize the importance of advanced tools like PostGrid for real estate lead generation. PostGrid equips you to handle multichannel marketing campaigns. It also ensures the deliverability of direct mail via its address verification API.
Ready to Get Started?
Start transforming and automating your offline communications with PostGrid
SIGN UP
REQUEST A DEMO