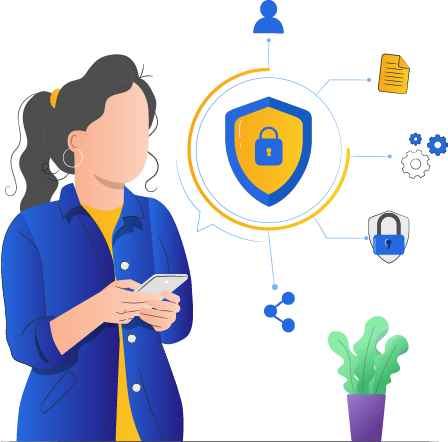 The Complete Guide to Print Your Own Checks Online
Printing one's own checks is an absolute time-saver for many companies and individuals. Moreover, it costs less and is readily available at any time as per the requirements. You can even customize your checks and add your logo, website link, and tagline. Your operations' efficiency can drastically improve when you take the task of check printing into your own hands, rather than ordering checks from the bank and waiting for them to arrive. It can be pointed out that counter checks are easily available in case you run out of your official checks. But, remember that counter checks are expensive, and you might have to visit your bank's branch to get them.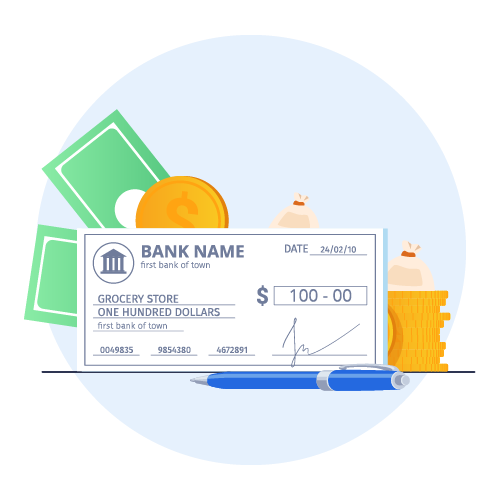 Hence, printing your own checks is the best choice. Keep reading ahead to see "what I need to print my own checks?"
Advantages of Printing Your Own Checks
Individuals can print their own personal checks, and companies can print their own business checks easily at the convenience of their home, office, or literally anywhere they want. They can get their check printing done anywhere, as long as they have the required printing supplies and are aware of the check printing procedure.
Printing your own checks can be advantageous in the following ways:
Never Run Out of Checks
You may run out of checks in the middle of a busy day with a lot of payments to be completed. Alternatively, you might be aware of this situation beforehand but forgot to order a checkbook or didn't have the time to do so. Moreover, what if you don't require the entire checkbook? Printing your own checks enables on-demand printing, wherein you can select when to print, how many to print, and how to print your own checks. If you have a check printing system set-up, you will never run out of checks and can complete urgent payments on time.
Reduce Overall Costs
Ordering a checkbook from the bank is not a cheap option these days. Hence, if you have decided that "I want to print my own checks," it is actually a very cost-effective idea. You can have complete control over the amount spent every month on purchasing checks from your bank. High-volume check printing helps decrease the costs even further. Basically, the overall cost is spread over all the checks, and the cost per check is very low.
Brand Your Checks
It is possible to brand your checks and add several customizations when you print your own checks. Companies can add their logo and tagline and enable their checks to perform marketing along with payment completion. Individuals can also customize their checks using different colors, fonts, background images, and text options. You just need to take care of your bank's standards. Businesses can use checks as marketing collateral; they can even add a pURL for better marketing and tracking responses.
Be Flexible
You must have often wondered, "can you print your own checks?" Along with mere printing, you are flexible enough to print them from any printer, outsource printing, or simply use a check print and mail automation platform. You can either store your own inventory for printing checks or avoid inventory stocking by simply outsourcing the process. You can print any number of checks you want at any time.
Equipment Required for Printing Your Own Checks
There are certain equipment and materials that you require for printing your own checks. Make sure to keep them ready beforehand for a smooth printing process.
Check Writing Software
If you possess some graphic designing skills or are ready to test and print using Excel, you can write your checks without a software program. It is recommended that you use check writing software for writing all your checks consistently and accurately. Such software can help you draft checks quickly and easily. It can guide you through the entire check-writing process and help you to draft checks that look exactly the same as the ones you get from a bank. Moreover, you don't need to have any technical expertise to run this software. Anyone can set-up a check writing software and get started instantly.
Check Paper Stock
You need to purchase the check paper stock for printing checks as it comes with security features like micro prints and watermarks. This type of paper is a little expensive compared to regular paper, but the added security makes it worth spending a little extra. Nowadays, banks have started a new service, wherein you can simply scan your checks using a mobile app to get them deposited. Hence, your statement's security features do not make much difference, but there's a possibility that the payee's bank won't accept a check with no security features. Due to increasing check frauds, bank tellers have become very cautious about the security of checks. In this case, using check paper stock is advisable. It also makes your checks look valid and professional.
Printer
Check printers enable you to print checks with watermarks easily. You can use any inkjet, offset, or laser printer. However, checks printed through inkjet printers might not be scannable at places where old check scanners are used. The printer you are using should be compatible with magnetic ink. If you do not have such a printer, you can get pre-printed checks. All you need to do is fill in the details using the check writing software and print it. Using this method, you can avoid arranging for a printer, magnetic font, and the MICR font.
MICR Font
The MICR font is used for writing the MICR line at the bottom of a check. The bank's routing number, check number, and account number are all required to be in the MICR font. This font is an absolute must to have while printing your own check. The MICR font enables check processors to read the MICR line easily and store the data electronically. It can be read by humans too.
Magnetic Ink
Magnetic ink is required to print the MICR font. This is a special type of ink for printing checks. In today's time, scanners read checks using optical means and not magnetic, so using magnetic ink is optional.
Steps to Print Your Own Checks
If you do not know about the steps involved in printing checks online, here's an easy guide for you to follow.
Purchase a Check Writing Software
If you are new with check printing, check writing software can be really useful. Instead of taking the trial-and-error way, it is safe to use a proper software program to do that task for you. The traditional way to write checks on your computer and print them using a word processor or an excel form – is hectic and prone to errors. Hence, the first step to printing your own checks is to purchase a check writing software to draft all your checks speedily. This software can help you design valid checks that you can use anywhere for payments.
Purchase Check Paper Stock
Check paper is very important for printing checks. Oftentimes, you might be wondering, "can you print your own checks?" – yes, but on check stock paper. Although it is fine to print your checks on regular paper, check paper comes with various security features. Most banks have the mobile deposit option wherein these features are of no great use. However, a lot of places require your checks to have these features to be deposited.
Download the MICR Font
For printing the MICR line, you need to download and install a particular MICR font. This font helps you to print all the MICR characters properly. All the banks mandate it, and this is not something that you can skip. So, the very third step to print your own checks is to download the MICR font on your laptop, desktop, or on whatever device you are planning to write your checks from. Make sure that the device is compatible with the font before you get started.
Enter Bank's Routing Number
Once you are done with the above three steps, enter your bank's routing details along with your check and account number. These three numbers are supposed to be entered on the same line and are constituted as the MICR line. As discussed in the last point, you will need the MICR font to enter these characters. Furthermore, magnetic ink is used to print this line. These things might appear to be expensive, but they are actually affordable, and when you think about – how to print your own checks for free? Printing checks yourself might not be completely free, but it is affordable as compared to the checks you purchase from the bank.
Add Your Personal Information
We have already mentioned the check number at the bottom of the check-in the MICR line. However, there is another spot on your check for this number, and that is the upper-right side below your personal details. You need to mention the words "check no," and then enter the number ahead of it.
Insert the Bank's Fractional Number
You can contact your bank for the correct fractional number to be mentioned below the check number. This number represents the region wherein your bank branch is located — a few digits followed by a slash and a few more numbers, for example, 75/9862. Make sure that all the numbers are clearly readable.
Place the Date Field
Continuing the elements in the upper-right side of the check, place the date field after leaving one line from the bank's fractional number. Mention the word "date" followed by a colon. You can leave out the date field blank to be filled later on.
Add the Dollar Box
The next thing to add to your check is the dollar box where the amount of your check will be written in numbers. Don't forget to add the dollar symbol ($) at the start. This box should be placed right below the date field. You can leave the amount value blank and get it filled later.
Insert the Payee Line
Insert the payee line in the same line where you have added your dollar box, towards its right. This line is used to write the name of the payee. The words "pay to the order of" are written at the starting of the line. Extend the line up to the dollar box. You have the flexibility to add another line if you think one line is not enough to fit the payee's name.
Insert the Amount Field
This field is added to let the users enter their amount value in words. It helps in avoiding confusion, in case the numbers are not printed clearly. Insert the amount field below the payee line. At the end of this line, you will need to type the word "dollars." Keep the line long and add this word at the end of the right side.
Add the Memo Line
The memo line should be placed above the MICR line. If you need to write a memo, you can use this line. Some people add the word "for" at the beginning of this line. It is optional for you.
Add the Signature Field
Add the signature field towards the right side of your memo line. You can add the word "signature" or simply "sign" below the line.
Review Your Check
Proofread everything that you have written on your check. Check whether all the essential fields are added and review the details carefully.
Print It
After you have reviewed everything, you are now ready to get your own checks printed. You can either print blank checks and write the payee and amount details later, or you can integrate our check-writing program to your accounting software and let it fill in all the details.
Different Approaches to Print Your Own Checks
There are a couple of ways to get your own checks printed. Depending on the time and resources available, you can select an approach that best suits your requirements.
Draft, Print, and Mail Your Checks – The Manual Approach
If you want to do everything yourself, this is the right approach for you. You need to stock inventory such as paper, labels, and ink always. Moreover, you have to arrange for the printing equipment or lease it, as required. In both ways, you will need to pay for the printer. The manual approach requires you to write, print, and mail checks all by yourself. Using the steps above, you can draft and print your checks. After that, you need to stuff them in envelopes, print and stick address labels, and carry them to the post office for mailing. If the number of checks you need to print is not large, you can always use this method as a quick and backup option. However, if the frequency of your mails is more, it is better to have a different approach towards your thought of – can I print my own checks?
Outsource Printing – The Semi-Manual Approach
The other way to print your own checks is to outsource your printing procedure to a check printing vendor. You can choose a local printer for better convenience. Call and check beforehand if they print checks and on what days they are open for business. This information can help you make the right decision while choosing a printing vendor. Check printing needs to be carried out securely, and you need to make sure that they reach you on time. There are a lot of advantages to outsourcing your printing. You can cut up on inventory handling and administrative costs. You will still need to check writing software to draft all your checks. Only the printing part is outsourced. Basically, you need to draft and send the digital copies of your checks to the printer. The printer will then complete the printing job and mail all the checks to you. If the shop is local, you may have to go and pick them up yourself sometimes. While this approach is much better than the manual approach, it has its own demerits like these. Individuals and companies selecting this option will be needed to address and mail the checks themselves.
Use a Print and Mail Fulfilment Platform – The Automation Approach
Using a print and mail automation platform like PostGrid, you can not only get your checks drafted and printed but also mailed on your behalf. The idea behind automating the entire process is to put in zero manual effort and use zero amount of inventory. Businesses can save a lot of time and money by using a print and mail fulfillment platform like PostGrid to print their own checks and get them mailed accurately. This approach can free up your time for other important tasks. Furthermore, it gets your work done from start to end. You can use our platform to draft, print, and mail checks – all in one. There is absolutely no need to purchase a different software, contact a printing company, or mail the checks yourself and track every mail manually. With PostGrid's smart automation program, everything can be done online.
See What Other Things a Check Print and Mail Software Can Do
PostGrid's check writing and printing software can do a lot of other things than just creating your checks. Some of our features that can be helpful to you are:
Tracking Payments
When you integrate your accounting software with our print & mail API or automation platform, it takes care to make entries in your system. Hence, whenever you create, print, and mail off a check – it is automatically recorded in your system. This step makes it very easy to track payments.
Adding Customizations
You can step ahead of your bland-looking checks and customize them by adding any customizations you want – with the help of PostGrid's direct mail platform. Your check writing software should be able to add logos, colors, images, and different fonts if you want to customize your checks.
Ensuring Security
Our check print and mail system ensure that your checks are printed only on check paper using magnetic ink. All the security features like watermarks, anti-photocopying background, chemical reactivity, and micro prints are embedded in your checks. PostGrid ensures high security and confidentiality at all levels of your check printing process.
Send Event-Driven Checks
You can schedule payments and automate them to be completed by our platform. How to print your own checks for free? You might not be able to do it completely free, but the amount of speed and saved time already cover up for those. Our automation platform allows you to send event-driven checks. This way, you can never miss due dates and complete payments on time.
Use of Counter Checks in Case of Emergency
Counter checks can be taken from the bank for a small fee in case of emergencies. It is a good option for getting checks urgently. If you just need a few checks and do not want to print them yourself, you can always contact your bank and get a few counter checks. Basically, counter checks are like starter checks, which are used when you don't have any official checks at the moment. It is advisable to call your branch beforehand and check the availability of counter checks as all branches might not be offering this service. You will be required to show an ID for getting counter checks, so make sure to carry an ID with you. Your checks will be printed and given to you in a couple of minutes. These checks have minimal details and look temporary, but it gets the work done. However, a lot of vendors do not accept counter checks for receiving payments. It is because many people do not trust these types of checks that look temporary. Therefore, you can't use counter checks everywhere. Rather, you can print your own checks, which is a more cost-effective way of getting checks ready in case of emergencies.
PostGrid's print and mail platform and check API can help you print your own checks without any inventory handling and administration hassles.
Get Started Now.
Ready to Get Started?
Start transforming and automating your offline communications with PostGrid
SIGN UP
REQUEST A DEMO