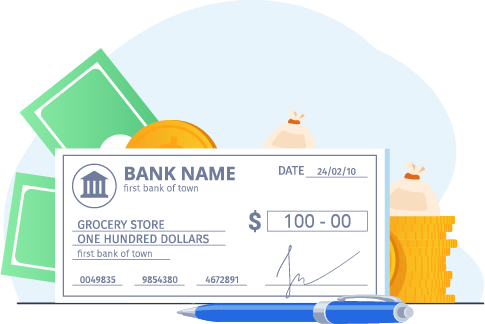 Print and Mail Checks
Check printing and mailing service made easy with PostGrid. Processes in a safe and secure environment. Our operations and print and mail partners are HIPAA/PIPEDA/SOC-II Compliant ensuring the highest data security, confidentiality, and secure processing.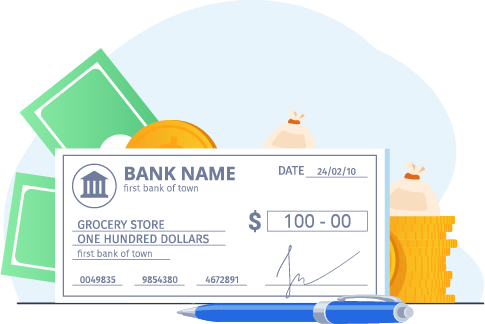 On-Demand Online Check Printing and Mailing Services
Outsource your check printing and mailing service to us and get the work done for you in less than half the time with double efficiency. Carry out your everyday transactions with ease and speed. Make payments lined up within minutes. The long list of features that our platform and check API provides is simply unmatchable with any level of physical effort.
Re-engage old clients while making payments with branding options. Add customizations to brand your checks and leave an impact on the recipients. PostGrid's integrated online check mailing services are for you to make payments easily and quickly. Reduce overall mailing costs and execution time while learning how to safely mail a check.
Automated Printing and Mailing Checks with PostGrid
We always strive to provide complete automation services for your check printing and mailing needs. It gives you a much quicker turn-around time. You don't have to take the headache of managing check stocks, envelopes, postage, and bear administrative expenses. 
We've got you covered with our automated print & mail services. You can do everything from our dashboard! Just create, print, and mail your checks hassle free without any interruption.
Why Prefer PostGrid Check Printing and Mailing Service?
Take your check printing and mailing process to the next level with PostGrid. We are proud to provide a highly desirable service. 
Highly Secure and Limited Access:

We host our data only on secure servers and comply with every necessary regulatory requirement. It gives you peace of mind that your critical financial data is in trustworthy hands. 

The Perfect Use of Data Encryption Tools:

We implement the latest encryption technology to keep your checks safe from the prying eyes of scammers and fraudsters. 

A Fully Scalable Platform:

Our platform is always ready to handle any volume of check printing and mail tasks. When you choose PostGrid, you get a highly scalable platform with incredible capabilities for handling large volumes of operations. 

Crisp Attention to Detail:

The customization options in PostGrid let you emphasize attention to detail during the check printing and mailing process. 

MICR Toner to Reduce Fraud:

We use specialized ink and characters to enhance the security levels of your checks. It keeps you much safer from fraud and duplication. 

Variable Data Technology:

You can easily customize information on your checks with VDP. It is an ideal solution for bulk check printing. 

Wide Variety of Paper Stock:

You can select from various paper stocks for your checks. It gives you much greater flexibility for printing your checks. 

Faster Processing Times:

PostGrid can process, print, and send for mailing within two business days. You can save a lot of time and reduce efforts with our platform. 
Features of PostGrid's Check Printing and Mailing Service
Benefits of Our Check Printing and Mailing Automation Software
Print and mail checks on a regular basis quickly and accurately with PostGrid's online check printing and mailing solutions. Get smart, put in less effort, and get more work done. Find below the benefits you receive through our platform:
Quick Set-Up and Administration
Our print and mail automation software are incredibly easy to install on your system and gets ready to use in just a couple of steps. You can make use of our secure API to guide you in the process.
Quick set-up followed by easy administration is one of the most important benefits you should be aware of. These features will empower you to send anything from one check to a couple of hundreds of them all at once easily.
You simply select; we integrate, add to list, print, and mail check online
The administration portal is highly secure and simple to navigate
Mail tracking status and other details are easily available
You or your staff members don't need to be very tech-savvy to access and use our software as everything is simplified and properly structured
Anyone can set up and use our software with no hassle. PostGrid is a one-stop destination for you to visit for all your online check printing and mailing needs
Fast, streamlined, and reliable services are assured with PostGrid
Get Detailed Reports
You can get detailed reports about your sent mail periodically. Also, filtering will help you access specific reports for narrowed-down analytics for a specific client or for a specific period. These critical insights and analytics will help you have better records of your company's workings.
Ideal for Everyone
This software is ideal for everyday low-volume check mailings as well as for high-volume checks. All number of checks are considered equally important and are prioritized according to your requirements.
It is suitable for all models of business and all kinds of businesses.
This is because of the fact that everyone has to make utility payments or send other payments from time to time, making it a part of your regular work.
You need to add your bank details and digital signature only once and print and mail checks online as many times as you need.
Our check printing services API will also let you navigate between all your accounts when you have to pay to many different parties using different accounts.
Settlement checks, refund checks, rebate checks, and checks for bill payments can all be single-handedly and efficiently sent out with the assistance of PostGrid's check mailing and printing services.
Send Event-Driven Checks
Sending event-driven checks for bonuses, giveaways, or other events is very systematic with our check printing and mailing online services. You don't have to remember important dates and send checks on that day. Instead, with PostGrid's smart automation software, you can feed in dates and details beforehand. Our tool remembers everything and does the job on time, along with other things being done on-demand.
Why Investing in PostGrid's Check Printing and Mailing Software Will Benefit You?
PostGrid's online check printing and mailing solutions are smooth, quick, and simple to use. These factors facilitate work efficiency while ensuring that no payments are missed and your credit record is maintained. Find more reasons why our solutions are the best:
How We Reduce Bank Rejections with MICR Ink?
Magnetic Ink Character Recognition relies on specialized ink and characters to enhance the security level of your checks. Many businesses use checks with MICR ink to reduce their exposure to fraud and scams. 
This technology also gives a secure and fast method of scanning and processing data in the banking infrastructure. Our partner uses innovative MICR printers with special ink and toners to place the unique numbers found in business and personal checks. They print at the bottom of checks with the account, check, and bank routing numbers. It is super tricky to recreate this number. 
PostGrid's printing partner uses the perfect combination of ink and font to complete the magnetic readability of the MICR line. It is a very secure and reliable method for the on-demand production of checks. 
Why Do You Need Customization in Your Checks?
Every physical communication or financial record can also serve as branding and marketing material for a business. Using PostGrid, you can customize your checks with logos, personal notes, marketing, or other vital messaging. 
You can also print your logos and some branding elements on the envelopes. These practices give a more professional and appealing look to your checks. Your business can stand out from the crowd with customization. Most companies ignore this and go with plain tedious checks.
Mailing Options with PostGrid Print and Mail Checks Service
When you use PostGrid for printing your checks, you get multiple mailing options to determine the speed and priority of the delivery. 
USPS First Class 
USPS First Class International 
USPS Priority (2-3 days) 
USPS Express (1 day) 
Certified Mail 
FedEx (There are options for two days or overnight) 
Time to Replace Pre-Printed Checks 
Pre-printed checks are ready for posting with an existing design and print. It might be much easier and faster to make payments with these checks. However, you are also inviting critical security issues with pre-printed checks. 
When using these checks, you already have your vital details, such as your bank account number and bank routing number present. Frauds and scammers can easily misuse this information to steal money from your accounts. It could also be expensive to ask a bank to print and mail these checks for you. 
PostGrid's print and mail service for checks can save your day. There's no need to worry about fraud and speed. We complete the job in minimal time and without exposing your critical details to anyone. You can stay safe from scams by preferring our platform. 
Real-Time Reporting with PostGrid 
At PostGrid, we give you a comprehensive reporting feature to get the deliverability status for each check. It helps you to keep up with the payments from your business. 
Built-in Protection to Avoid Frauds 
We use high-end technology and security measures to safeguard against fraud and enhance your payment experience. Our automated solution ensures your checks are printed, enveloped, and mailed with the highest possible care and security. PostGrid keeps you safe from fraud and duplication. 
Frequently Asked Questions
Ready to Get Started?
Start transforming and automating your offline communications with PostGrid
SIGN UP
REQUEST A DEMO