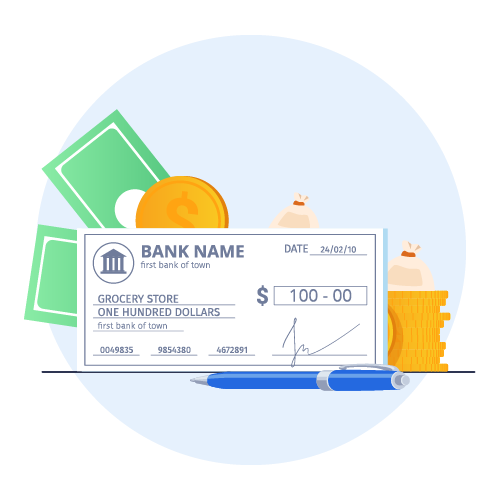 Print Checks Online
Check printing is traditionally done by banks. However, you can print your own checks as per your requirements whenever you want. It makes it convenient for you to print checks in-house, without any additional fees to be paid to your bank. This process is time-saving, efficient and makes it easier for you to brand your checks.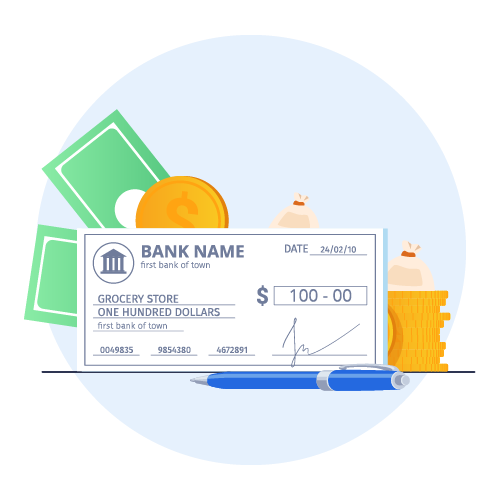 Ease your daily transactions in very little time and with doubled efficiency. You can print checks speedily and process payments in minutes. PostGrid's integrated platform for online check printing can help you keep a record of all your payments and track every check status individually. You can also add your brand logo, personalized messages, and other inserts according to your needs.
How to Print Checks Online?
If you have decided to go with online check printing and want to get started, it will be helpful to consider the different ways to do it and then decide the best alternative.
Do It Yourself
The first thing that will strike your mind is to do everything on your own — right from stocking the essential inventory to getting it printed and sent to clients. As easy as it sounds, you should know everything about it before indulging in the task.
Creating checks: This initial part requires you to have some graphic designing skills to create and format checks that are acceptable. You need to take care of the following things:
Design a layout according to your bank's standards and enter your account details carefully. The routing number is required to be placed on the bottom left of the check, and your account number should be placed to its right
Your bank's logo should also be present on all your checks in the upper-right area.
Add your name and address at the top of the check towards the left corner.
You need to keep track of the check numbers as you can't print any number you want. Look at your old checks or contact your bank to know the number of your last used check. Accordingly, start with a number for your to-be-printed checks. The check numbers are supposed to be placed after your account number, that is, towards its right.
Other components of a check that you need to add are your bank's fractional number, the dateline, the amount box, the payee field, the memo line, and the signature field. Each of these components is to be placed according to the standard cheque format of your bank.
You can either fill up all the details, such as payee and amount, or print these cheques and reprint them with details, whenever needed.
If you do not have the necessary graphic designing skills and tools, there is always an option to use a check printing platform or software like PostGrid to help you. It is suitable for both small and large volumes as the ease and accuracy provided are unmatchable with all manual steps. Our online check printing software can help you quickly draft your checks as per your bank's standards.
Paper stock: Check paper stock is needed to print your checks. You can not buy regular paper and print your checks on it. Paper stock with various security features is required in order to safeguard your checks against copying and alteration. The check paper is compatible with most check printing software and printers. It contains watermarks, microprinting, and security warnings to ensure that your checks are fraud-proof. For easy cutting, some paper stocks are also available in the pre-perforated form. You can get this type of paper at online retail stores or office supply shops. It can be a little expensive as compared to normal paper, but the safety features are a must to consider while buying paper stocks for online check printing.
MICR font: Magnetic Ink Character Recognition font is used to print characters that are read by the computers easily. It facilitates the check scanning process, and the font also helps secure the check from fraud processing. Your bank and account details are required to be entered only in the MICR font for check printing. Other fonts are not acceptable. Another benefit of this font is that it is also easily understandable by humans. When a check is processed, all the data printed in this font are captured and stored as digital data — useful in completing a transaction. You will have to purchase and install the MICR font on your system to use it.
Magnetic ink: The magnetic ink works in a similar way as the MICR font. It enables the computer to read the bank details and the MICR code lines even when there are other markings or inks covering the details partially. Nowadays, there are many banks that accept other inks. However, there are still a lot of places that only accept checks printed in magnetic ink. It is therefore advisable to use magnetic ink to print your checks.
Printer: You can use any printer you want to get your checks printed. Laserjet, inkjet, and offset printers can be used to print checks conveniently; although, there are special check printers that offer added security features like watermarks. The only essentiality is to have a printer that supports magnetic ink printings.
Outsource Online Check Printing
Let us have a quick comparison of the old 'do it yourself method that we discussed in the last point and the new method of outsourcing your online check printing tasks.
Stocking materials: In the old way, you will always be in need of stocking check paper, pre-printed stock, and ink. Whereas, if you outsource the job, there will be absolutely no need to stock any inventory to print checks online.
Administrative costs: You need to pay for electricity, a device, and a printer to do the printing yourself. Moreover, if the volume of your checks is high, it is possible that you may need to hire an office admin to do these tasks. By outsourcing the work, you can save a lot on administrative costs. You can also save your employees' time and channelize their efforts towards other productive directions. Overall, it costs much less to outsource check printing rather than doing it in-house. For volume printings, you can even get attractive discounts and save further on costs.
Automation: You can outsource your check printing processes to a platform like PostGrid — which can help you automate everything with the least manual effort. On the opposite side, there is no automation scope in the old method of printing checks yourself.
Print + Mail
After printing checks online, it is obvious that you need to make timely payments through those checks. Hence, most check printing vendors offer mailing options to get the checks printed and mailed on-demand altogether. PostGrid can help you print event-driven checks and mail them to your customers accurately, on time, delivered on the same day if demanded.
The print+mail option provided by PostGrid enables you to draft, print, fold, stuff, seal, and mail your checks easily—without any hassles regarding stocking, designing, printing, data entry, and mailing. The mailing option saves companies and individual persons from manually writing addresses, running to the post office, and tracking every check individually.
Companies and individuals can select from the above three options — based on the available time and resources, the volume of checks, and the manual efforts they are ready to put in.
Why Should You Consider Online Check Printing?
There are many reasons for considering online check printing. Along with saving efforts and smoothening your payments, it can help you in several other ways.
Saved Costs
Online check printing can help you to save administrative and inventory costs. PostGrid offers competitive pricing, wherein you pay only for the checks printed. There are no monthly charges or minimum fees. You can get huge discounts for bulk check printing and save a lot on the postal charges as well. However, even if you print a few checks — PostGrid offers its check printing and mailing services at pretty affordable rates, which makes it worth printing your checks online. Moreover, since you are using an automation platform to print checks, there is no need to hire additional people to do these tasks. Hence, the overall costs are low.
Detailed Records
You can keep a track of all the sent checks. PostGrid's automation platform can also help you have access to timely reports, giving information about all the lined-up payments. By integrating your accounting system with our API, you can get detailed reports on the uncleared and dishonored checks. With the help of these records, you can decide on making payments easily and get a quick view of your accounts payable at any time you want.
Accuracy
Oftentimes, manual efforts are prone to mistakes. People can make mistakes even after being careful. PostGrid's check printing solutions can help you to eliminate the scope of manual errors by providing automation. Our platform and check API can help you with writing and printing checks accurately. Once integrated, all your bank and customer details are used to draft precise checks. Besides, you do not have to worry about entering a wrong payee name or the wrong amount; PostGrid automatically rechecks all the details and drafts your checks with only correct details. Also, with our automated printing and mailing options, you can be assured that all your checks are going to the right addresses and will reach the right hands.
No Stocking
Taking advantage of PostGrid's check printing services, you can get your checks printed without any stocking hassles. Our solutions eliminate the need to maintain check printing inventory like paper stocks, ink, envelopes, and stamps. Imagine having to send checks to different banks for different types of payments. It is very hectic to maintain blank papers or pre-printed checks, and keep loading and unloading them for printing checks. PostGrid can help you eradicate these problems and carry out online check to print smoothly.
Event-Driven Checks
Both on-demand and event-driven checks can be sent easily through PostGrid's online check printing solutions. You can automate and send checks whenever you want, or you can feed in events and dates so that our platform or API can make payments automatically. Event-driven checks are convenient because you don't have to remember dates and pay accordingly. Rather, you allow PostGrid to remember it for you and do the needful.
Easy Set-Up and Maintenance
Our platform and API are easy to install and manage. There are no manual efforts required at all. You can either upload your bank details on our platform to draft and print professional checks, or you can integrate your system with the API to draft and print completely filled checks that are ready to mail.
Branding
Make your checks look professional. You can create an image for your business by adding your logo and other customizations to your checks. Payments and branding can be done simultaneously with branded checks. Nobody disposes of checks. People tend to keep them for the record, which is why branding with checks is a good method of long-term advertisement.
Features of PostGrid's Online Check Printing Services
Integration
PostGrid can integrate with your accounting software in just a few clicks. This step can help you import all the required details from your accounting system to our platform for drafting and printing checks quickly. Moreover, you don't have to spend extra time entering the details on our platform to make payments. Luckily, the integration can help you avoid double entries and reconciliation. Our API can gather all the required bank and customer information to streamline your check printing process. All the payments made will be automatically reflected in your accounts, keeping them updated always. Additionally, you no longer need to make separate ledger accounts for every client. PostGrid can do this work for you and make separate payment accounts for each client — making it easier for you to keep track of all the check payments.
Security
PostGrid adheres to all data security and privacy laws strictly. Our platform and API are in-built to keep your data encrypted and safe from any breaches. All the transactions are completed with high levels of security and confidentiality. Moreover, we follow all the compliances of PIPEDA, SOC-2, DSS, and PCI. The checks printed through PostGrid provide bank-level security. There are various security features that are incorporated in your checks like
MICR toner: Magnetic Ink Character Recognition is a system used to provide special characters to a check that makes it less prone to fraudulent activities. It offers a high level of security and fast speed for the quick processing of checks by the bank's network.
Watermarks: Watermarks are added to your checks to make sure that they are not copied and altered in any way. Colored backgrounds are also used sometimes to provide additional security.
Chemical Reactivity: There is a detection field on all checks that are normally white. If anyone attempts the check washing, this field will display a change in color, making it obvious that someone tried to tamper with the check. It is possible only with the help of chemical reactivity.
Customizations
You can turn ordinary checks into marketing collateral with our highly customizable templates. PostGrid has a lot of attractive templates in-built within the platform. You can easily select from the check templates available with us or build your own HTML templates with our template editor. You can also upload a copy of your check and order our platform to print similar checks along with some customizations. Variable data printing is a key feature of our check printing solutions as every check has to be personalized with different customer details. However, PostGrid has also taken good care of your marketing needs, along with personalization.
You can add company logos and marketing messages on your checks to re-engage customers and spread brand awareness. There are plenty of customization options available for you—promotional banners, images, texts, and color alternatives to draft and send branded checks. Besides, you can step ahead of everyone and send postcards or brochures along with your checks — to conduct advertising along with the completion of payments.
Multiple Accounts Set-Up
For businesses having multiple bank accounts — it can get very confusing to make payments for different things while switching between different bank accounts. Handling multiple accounts can get tricky. Thus, PostGrid offers the option to set up multiple bank accounts under one platform to smoothen your payment system. You can add all your bank accounts and print checks of any bank as per your needs. The set-up is quite simple. All you have to do is select the bank and add your details. Our platform can get you up and running within minutes, with checks from any bank ready to be drafted, printed, and sent. You can navigate through your accounts and transfer payment orders from one account to another easily and speedily. Just command whatever you need, and PostGrid can get it done.
Mailing and Tracking
Print checks online and mail them accurately with PostGrid. You can select from the multiple mailing options that our platform provides. Depending on your payments' urgency, you can choose between express, priority, and first-class mailing alternatives. Moreover, PostGrid helps you track every check through the dashboard. You can simply log in using your credentials and access your dashboard whenever you want. The progress reports and statuses of all the sent checks are updated in real-time for you to track and view.
Authorization
Manage permission levels and authorize your staff to print checks online as per your decisions. You can be in control of every transaction by checking and approving payment requests uploaded by your accountant or staff members. There are options for you to select dates for those payments or even reject them if you want to. This way, you can be in a better position to control your cash flow and decide everything according to the current business situation.
Who Needs to Print Checks Online?
Businessmen
Business owners need to honor payments through checks on a timely basis. Companies are required to tend to a lot of tax clearances, vendor payments, payroll checks, and customer refunds. These payments are repetitive in nature and need to be paid at the right time. It is not hard to acknowledge that businesses spend a huge amount of time writing checks every month. As mentioned earlier, companies can always set up an in-house team to print checks online all by themselves. But, at what cost?
An accounts payable system can work wonders for them in terms of saved time, saved resources, higher accuracy levels, no hassles, efficient maintenance of records, and smooth transactions. PostGrid's online check printing solutions can help small and large-scale businesses quickly set up a system, wherein they can add details, customizations, and security features before getting their checks printed. Everything is done automatically and speedily, without any manual efforts required on their part. Businesses no longer need to keep checks in stock. PostGrid's automation platform has made tasks simpler and innovative. With several customization options, marketers can even promote their brand by turning payment checks into direct mail pieces.
Accounting Departments
Bookkeeping and accountancy are already hectic jobs. It requires maintenance and regular entries to be made. Bookkeepers are always loaded with payment responsibilities. It is recommended to use online check printing to help them in day-to-day transactions and make their work easier. They can integrate their accounting software with our check printing API and import all the customer's bank details to write checks quickly. Moreover, our platform removes the trouble of double entries and reconciliations; accountants can view the detailed reports at any time — that gives them a complete and consolidated view of outstanding and honored payments.
Personal Payments
Individuals also need to make a lot of payments for rent, loan EMI, utility bills, children's fees, shopping bills, insurances, etc. Hence, every person is required to make time-to-time payments through checks. Instead of always keeping a checkbook around, it is smart to have a check printing system set up to print and mail checks on-demand. Using this way, you can make payments on time from any corner of the world. PostGrid's online check printing solutions can help individuals print any number of checks and also mail them if they wish to save additional time and costs. Our platform accepts and processes any number of checks, making it ideal for everyone.
Wrapping Up
PostGrid's online check printing solutions are handy to use. You can streamline all your payments easily without the need to stock inventory and use manual efforts. Moreover, you can brand your checks and send them as marketing materials to honor payments and simultaneously advertise your brand. Save time and make payments smoothly with our quick and easy-to-use services.
Ready to Get Started?
Start transforming and automating your offline communications with PostGrid
SIGN UP
REQUEST A DEMO