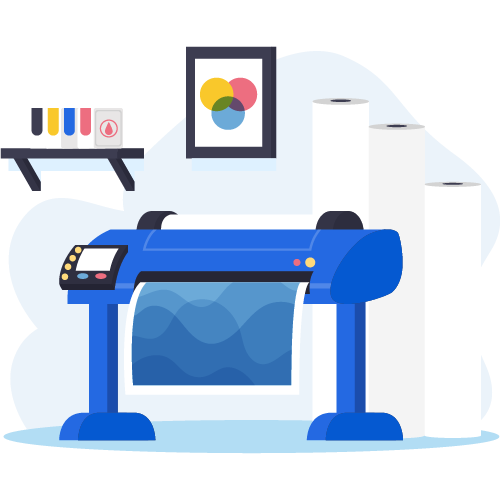 Managed Print Services: The Ultimate Guide
Businesses that regularly use print media for their marketing and communication purposes know how challenging it is to manage them. For years, companies have had no option other than printing their materials in-house or using a third-party commercial printer.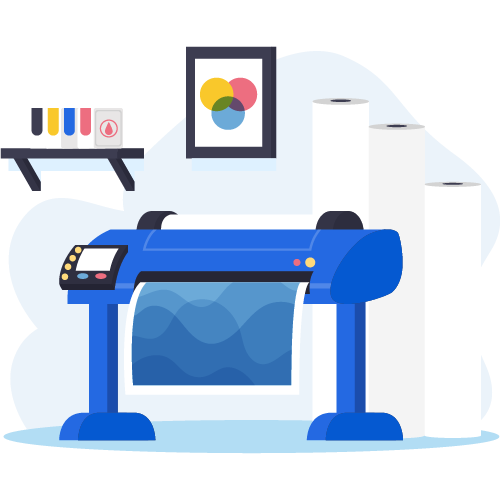 Managed print services or MPS is an advanced solution that enables businesses to optimize their printing needs. However, most companies are still not sure how MPS can help them with their business operations. Hence, we have created an ultimate guide for MPS that explains:
What Is Managed Print Service?

How Are Managed Print Services Beneficial To Businesses?

Steps To Successfully Implement MPS System For Your Business

Managed Print Services vs. Commercial Printers vs. In-House Printers
So, if you are interested in MPS or want to know more about it, this guide is for you.
What is Managed Print Service?
Managed Print Services or MPS is a method that lets businesses meet all their printing needs most efficiently and cost-effectively possible. It enables companies to keep a close eye on their printing expenses and optimize it to suit your company's printing budget.
MPS Agreement or Contract
Typically, managed print services involve leasing or purchasing print equipment and supplies such as paper, toner, etc. This lease or purchase of equipment and supplies is legalized by an agreement/contract between the business and the service provider.
Maintenance and Repair Of Printing Equipment
As per the MPS agreement, a company hands over its printing operations and printer maintenance to a third-party service provider. The third-party service provider gives you access to various pieces of equipment for your printing needs including:
Printers

Scanners

Copiers

Fax machines 
IT Services
Most advanced managed print services use a software solution to connect your company's system with the relevant printers. Hence, it is inevitable that you require IT services from time to time.
It can include setting up different drivers or access management from your business terminals to the relevant printers.
Even if you have talented developers in-house, you may still require pro-level customer support. Hence, you should ensure that the service provider you choose offers 24/7 customer support.
Stocking Of Supplies
The responsibility of stocking up on supplies such as toner, paper, and copiers also rests on the MPS service provider. Hence, companies can avoid unnecessary workloads and concentrate on the more essential aspects of their business.
Connect Your Network With The Printer
Advanced MPS service providers such as PostGrid let you connect the machines or printers to your network. As a result, you can print your material at all times without any delay whatsoever. MPS printers can effectively deliver even your bulk printing requirements. Services such as PostGrid even go so far as to deliver your direct mail to the target audience via USPS.
Assess Your Printing Requirements
A good MPS service provider gives you access to quality printers. But, a better one will ensure that it assesses your print requirements. Additionally, they will examine a company's existing printing equipment, how the company uses the equipment, and the frequency of printing. Such assessment helps the MPS provider to determine whether they can efficiently deliver a print requirement.
Security Protocols And Training
Business communications of all kinds, including postcard marketing, use customers' personal data. Hence, protecting their customer's personal information, such as their home addresses, is a priority for companies.
Most MPS service providers have some security protocols to protect customer data. However, not all security protocols can offer the same security or protection. The best option is to go with a service provider that is SOC 2 compliant such as PostGrid.
How Are Managed Print Services Beneficial To Businesses?
Most companies dread printing operations because they are time-consuming and prone to errors. No matter how much you try, manual printing is bound to run into some trouble sooner or later. The mistakes in printed media can lead to significant monetary losses.
The managed print services enable companies to avoid the complexities of printing material manually and optimize the entire process. Some of the significant benefits of using the MPS service for your printing include the following.
Higher Savings
The most significant advantage of using an MPS service is saving money by reducing the overall printing cost. Systems such as PostGrid use an entirely automated process that minimizes any wastage printing materials such paper, ink, etc.
The MPS system only uses the optimal amount of supplies, such as paper, ink, etc., on a day-to-day basis. It may not sound like much if you consider personal or single printing. Consider the resources and materials required for extensive printing over time and bulk printings. Then you will realize you can save a decent sum of money by optimizing the printing process via MPS.
Additionally, if your primary printing purpose is direct mail marketing, you can also use PostGrid's address validation API. It lets you validate your customer's address and ensure its deliverability. As a result, you can significantly reduce the return rate of mail and stop wasting money on undeliverable mailers.
Superior Control Over Your Printing Budget
One of the advantages of outsourcing your bulk printing to an MPS service provider is the monthly itemized invoice. The invoice contains essential information such as the number of prints and the type of prints your company made. Remember that you receive this itemized data every month.
Such data is all you need to review and replan your printing budget. You can easily reconcile this data or even develop an accurate forecast. Now, imagine doing the same for an in-house printing process. It could take days or even weeks to get accurate itemized data if you were to do it manually.
Furthermore, you can use the cumulative data from the MPS service to identify excessive or unusual printing activities. You may then use this cumulative data to adjust your printing process and optimize it based on your printing budget.
Greener Way of Printing
MPS minimizes the usage of supplies such as ink, electricity, and particularly paper. Hence, it is a greener way of printing materials, especially bulk printing. The environmentally responsible thing businesses can do is optimize their printing process. Furthermore, it also reduces energy consumption and paper wastage by your business.
Higher Uptime
Managed print services tools are not just good for saving money but also for saving time. Some may even argue that saving time and money are the same thing. With an automated system like PostGrid, there is no time wastage, and hence your business's overall productivity increases.
It also means that your employees don't have to spend hours or days sorting and moving printed materials. Instead, you can focus your efforts on your business's other aspects that need a human touch. The MPS system automatically replenishes the printing supplies, which significantly reduces the waiting time for your printing orders.
Significantly Lower IT Burden
Printers and copiers often tend to malfunction in a work environment. The burden of fixing them falls on the IT personnel. Usually, IT personnel are the busiest people in a company. Taking care of malfunctioning printing equipment is seldom the priority for IT personnel.
As a result, your business's printing process can get delayed even further. Suppose you are using more complex printing equipment. In that case, you may even need dedicated personnel to take care of the machinery.
Monitor And Manage Your Printing Remotely
MPS solutions allow you to monitor and manage your printing activities remotely. It means you can control an entire fleet of printers from your office without ever having to go to the printers physically. All the printing activities are logged digitally, and you can access them at any time.
Hence, you don't have to worry about tracking every single printing activity as you can easily access them via a dashboard. Similarly, the MPS service provider can also monitor the entire printing fleet to anticipate a problem beforehand.
Highly Scalable
Another significant benefit of using managed print services tools is their incredibly scalable nature. No matter how big or small your printing requirements are, you can still use an automated MPS system to print your materials quickly.
The MPS system is ideal for practically all your printing needs. Whether it is affordable device acquisition, minimum printing cost, or high volume printing, WPS service covers everything. It also means that regardless of how big your company grows, you can still use the same system to meet your printing needs.
Steps To Successfully Implement MPS System For Your Business
Implementing an MPS system for your business happens over different steps or stages. Below, we discuss the proper steps that need to be followed to implement an MPS system for your business effectively.
Step 1: Determine Your MPS Requirement
The first thing you need to do is determine your business's printing needs before selecting an MPS system. Usually, companies prefer to use MPS for automating their direct mail marketing/communication. However, that may not always be the case.
Ideally, You should start by using data collection software to understand the number and nature of connected devices. Depending on how advanced the software is, it can collect all sorts of data required for the assessment. You may also need to assess who authorized the printing service and how often they use it.
New devices may be added or older ones removed at this step based on your business needs and budget. Lastly, you may install end-user data collection software to optimize your business's printing process.
Step 2: Choose an Ideal Partner
Now that you have an evident understanding of your printing requirements, you can start looking for an ideal partner. Luckily there are several competent MPS service providers available in the market from which you can choose.
For example, suppose you are looking for an MPS to optimize your direct mail communication/marketing. In that case, you need to choose a relevant partner that specializes in the same. PostGrid, for example, is a perfect choice in this case. It can efficiently print your letters, brochures, etc., and deliver them accurately via USPS.
Step 3: Develop A Business Plan
At this stage, you have already set a goal for your business and have also picked a partner to reach that goal. All you need to do now is develop a business plan to achieve that goal. There are some essential steps that you can take for the effective implementation of your business plan.
Start with a proposal that outlines a 3 year objective for your business. It would be best to write down the characteristics of your target market and customers. You should also analyze your key competitors, your MSP offering, and your partnership/alliances.
Step 4: Determine Your Sales Approach
The next step you need to take is to determine a perfect sales approach based on your target audience and business objectives. Consider investing in an MPS specialist if you can afford one.
However, the most popular approach is to use an existing sales approach that has yielded the desired results in the past.
Nonetheless, you must still optimize it further to enhance the result and leverage your existing or new resources.
Step 5: Classify Your Target Audience
In the next step, you need to classify your target audience into different groups based on several factors such as:
Level of relationship (department heads, c-levels, etc.)

Transactional based or service based relationships

Relationship quality

Size of account
Step 6: Ensure A Consistent Sales Funnel
Ensuring a consistent sales funnel is essential for your business. Remember that selling service-based offerings is much more complex than transactional selling. However, a consistent sales funnel can go a long way in getting you the desired results.
Managed Print Services vs. Commercial Printers vs. In-House Printers
| | | | |
| --- | --- | --- | --- |
| Service | Managed Print Services | Commercial Printers | In-House Printers |
| Requirement Assessment | Yes | No | No |
| Customer Service/Support | Yes | No | No |
| Automatic Replenishment | Yes | No | No |
| Cost Monitoring & Analysis | Yes | No | No |
| Printer Replacement | Yes | No | No |
| Cost | Relatively High | Medium | Low |
| Cost-Effectiveness | High | Low | Low |
| Convenience | High | Low | Low |
| Chance Of Error | Low | High | High |
Conclusion
Managed print solutions can be the best thing that can ever happen to your business if you can implement them right. However, companies should research before incorporating an MPS service into their business operations.
Most businesses turn to managed print services to optimize their direct mail communication/marketing. In that case, the ideal MPS service you can get for your business is PostGrid. It offers a holistic print and direct mail solution that is fully automated.
You can personalize, print, and optimally deliver marketing materials using PostGrid. The automated system of PostGrid minimizes waste and ensures the best result for your direct mail campaigns.
It even offers businesses a CASS-certified address verification tool that ensures maximum deliverability of your direct mail. Similarly, you can find an ideal MPS solution for different business printing needs with the proper research.
Ready to Get Started?
Start transforming and automating your offline communications with PostGrid
SIGN UP
REQUEST A DEMO