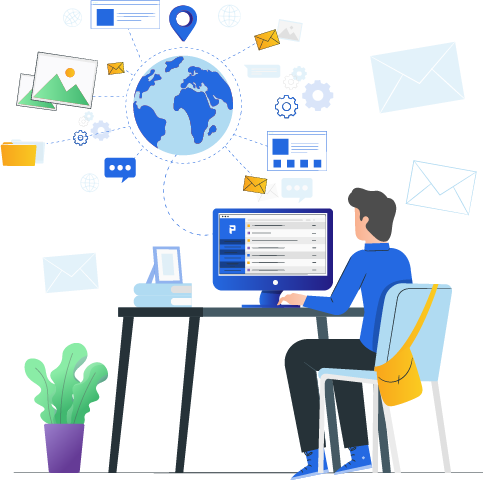 What is International Address Verification?
International address verification is the process wherein—a non-US address is compared with an authoritative database of another country, where the address is located and then verified accordingly. It is similar to local address validation in which addresses are compared and matched with the data obtained from the USPS. It is incredibly important to companies that have international clients or are running an international business.
You will have to provide high-quality services to your customers, irrespective of their location. Make use of PostGrid's international address verification to ensure timely deliveries across the globe with accurate and deliverable international addresses in hand.
An efficient address verification API can help you to reduce wastages, improve customer relationships, save time, and have access to high-quality global data. Customers, nowadays, are used to completing shopping and checkouts in the least possible time. More and more companies are expanding their operations across the world—making an international address verification tool more important than ever.
Also Read:
Postal Address Example for International Destinations
Using such a tool, you can help your employees serve your international customers better, and form a strong global base for your business. It is a smart way to reach out globally and expand your business beyond borders. Our predictive API enables you to capture, standardize, and verify millions of addresses from across 240 countries in real-time.
Problems Associated With International Address Verification
It is a popular assumption that international address verification is simply to connect with the databases of other countries and cross-check the required details. In reality, it is not so simple—international address verifications can be complicated.
Address Formatting – As far as the US is concerned, the address formats are kept simple – apartment number, street, city, state, zip code. However, it is not the case with other countries. Many countries have two different format categories for rural and urban locations, with various other internal formats within them. Countries like China, further have different standards for different formats. It makes it difficult to format addresses accordingly. Also, what we refer to as 'states' are 'provinces' for some countries.
Language – Half the world uses Latin characters to write addresses, the remaining half uses characters from their native language. The language barrier is a huge challenge before an international address verification tool.
Delivery Point Data – Most countries in the world do not make use of the DPV (Delivery Point Validation) system. Hence, it is very difficult to organize international addresses according to their validity.
Destination Country – For accurate validation, there has to be a value included in the entered address representing the destination country. It should either be an ISO classification or the country's full name. A lot of times, these requirements are not fulfilled – making verification difficult.
PostGrid always makes sure to stay updated and solve all these problems for you with its high-end features.
Features of PostGrid's Global Address Verification
PostGrid gives you access to a lot of address verification features that ensure accurate results. Our secure API is easy to understand and work with.
Access to Updated Global Addresses
For conducting a global business, it is needed that you have access to globally verified addresses at your fingertips. PostGrid uses postal address data from various trusted data sources and postal organizations from around the world that can help you verify any international address within seconds. You can check for accuracy, validity, deliverability, and usability – all at once. Our data is updated several times a year—which means that our API will always return up-to-date addresses, reducing the number of lost and undelivered packages notably. PostGrid also helps your business operate in accordance with GDPR compliances.
Worldwide Address Standardization and Verification
PostGrid's international address validation combines the data from various postal organizations like the USPS, Canada Post, Australia Post, La Poste, and several others. It provides a single interface to solve all your global data problems. Our API is capable of parsing, correcting, verifying, and standardizing international addresses as per the local postal standards—to ensure that all the components of an address appear in the required alignment.
Rooftop Geocoding
PostGrid actively makes use of geocoding for capturing the precise addresses at point-of-entry. It helps you to provide an incredible user experience to your customers—who can quickly enter their addresses and get it verified at lightning-fast speeds. Our address validation services offer precise geocoding to combine navigational data and location algorithms. It makes it easier to verify international addresses instantly using the IP address of the users. Rooftop geocoding is more accurate, as the geocodes are placed right on top of a building to capture its address in real-time. Businesses can now quickly get precise coordinates to smoothen deliveries and reduce shipping fees.
Transliteration
PostGrid's international address verification software supports multiple international language scripts like Hebrew – Israel, Chinese – China, Cyrillic – Russia, Thai – Thailand, Kanji – Japan, and Arabic – United Arab Emirates. These are just some examples. Our tool can transliterate any address into Latin from native languages. Also, the returned addresses can be verified and transliterated from Latin to native languages as per the postal regulations of that country. This step facilitates the mailing process and makes sure that the respective post office is able to deliver your mails easily. All the characters in the addresses – like street names, apartment numbers, etc. are translated.
Enriched Data
With PostGrid, companies can verify all the international addresses in their database at once. The addresses are filled in with missing details like apartment or suite numbers, street details, zip codes—to return data that is excellent in quality and performance. You can also segment your database according to various demographics for targeted marketing. Prevent incorrect data to enter your system by verifying it at point-of-entry or in bulk. You can target international audiences easily from your country without any hassles and cross-border complications.
Other Features
PostGrid's API is easy to install and integrate. You can use it on any website, registration form, social media page, or application.
Its fuzzy matching capability delivers exceptional correction and matching rates—from states to sub-premises.
Fast response times help improve user experience on your websites.
Regular updations to accommodate newly added addresses and filter out old ones.
Benefits of PostGrid International Address Verification
There are a number of benefits of using our API for international address verification. From improving data quality to providing an excellent user experience, it does it all speedily and easily.
Save Shipping Costs
You can save extra shipping costs incurred due to lost or misplaced items. International shipping can be quite expensive. If not done correctly, you may have to suffer a lot financially. PostGrid's international address validation services can help you avoid wastages and save a lot of resources.
Keep Your Clients Happy
The foundation of a business depends on its reputation, more than its success. A positive image helps a company keep going in the market and get better every day. To maintain this image—you will have to keep your customers happy and satisfied, at all times and under all circumstances. It is likely that your customers themselves entered the wrong addresses mistakenly. However, they would still expect you to deliver their orders in the said time frame. Therefore, it is your responsibility to verify any address across the globe at point-of-entry and process orders immediately—to carry out smooth business operations. Make a positive impression on your customers by easy checkouts, on-time deliveries, and good after-sales support—which is all possible only with the help of correct data. PostGrid can help you to keep your clients satisfied and maintain a positive brand image.
Maintain Accurate Database
You can either verify addresses instantly as they are being entered, or integrate your CRM and verify addresses in bulk. In both cases, our international address verification tool returns standardized, corrected, verified, and validated addresses precisely. Hence, you can cleanse your entire database from time to time. This data can be used for a number of administrative and marketing purposes. PostGrid combines the latest technologies with reliable databases to return the best quality data that can be highly useful to your company.
Increase Conversions
Reduce cart abandonment rates with a smart international address verification tool like PostGrid. Our API helps your users to have an excellent shopping experience and prompts them to checkout by quick address entries. It autocompletes, parses, standardizes, and verifies all international addresses within a few keystrokes. Hence, all the customers from all corners of the world will get the same service—that is given to your local customers. You can also customize our API as per the theme of your website so that it blends in perfectly with your platform. Don't give your users a chance to get frustrated. Rather, increase conversions every day with an efficient checkout process.
Other Benefits
PostGrid's API is vast and scalable. You can process millions of addresses at the same time with no slowdowns or website crashes.
It supports various libraries like Python and Javascript. Also, our responsive codes enable you to create customized user experiences for websites and mobile applications. Our documentation is very easy to understand and use.
PostGrid offers transparent pricing with a 24×7 customer support system to help you, in case of any technical issues.
We offer guaranteed data privacy as PostGrid complies with all HIPAA, PIPEDA, SOC-1, and SOC-2 laws.
Conclusion
To conclude, PostGrid's international address verification is accurate, quick, easy-to-install, and reliable. It can always help you get the best out of your global business and serve your customers in the best possible way. Our API enriches your addresses and streamlines your data organization methods.
Ready to Get Started?
Start transforming and automating your offline communications with PostGrid
SIGN UP
REQUEST A DEMO