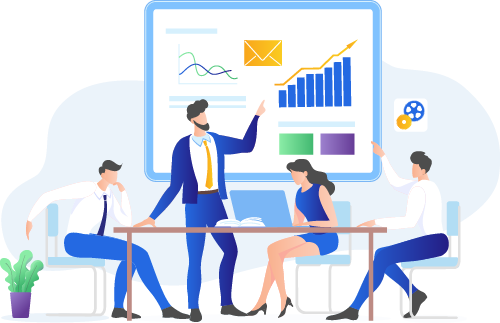 Insurance Marketing Strategies and Ideas that Actually Grow Your Company - 2023 Guide
Are you looking for the ideal insurance marketing strategies and ideas to grow your company? Finding this ideal marketing strategy for insurance is no walk in the park, and let's face it, insurance marketing is one of the most challenging ones in existence today. However, it is also true that with the right talent and the right resources, you can sell pretty much anything, including insurance.
Insurance marketing has been a face-to-face business for ages, but slowly even insurance marketing has shifted online. The shift to the online medium for insurance marketing has been so significant that the age-old face-to-face approach has become almost obsolete in today's world.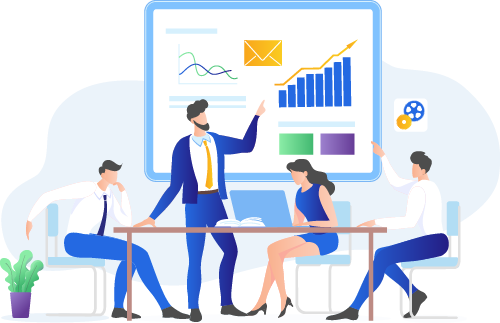 In this article, we discuss marketing strategies and ideas for insurance in a sustainable way that will give you an edge over your competition. Instead of following random insurance marketing strategies that you can find online, you should invest your time and effort in strategies that are well suited to your unique requirements.
This article will navigate you through just that, marketing strategies that can not only help you trump your competition but also do it in a way that makes your company stand out from the rest of the crowd. Depending on the target audience, you may need to use more than one approach or marketing campaign to get you the optimal result that you are seeking.
What you need to succeed in insurance marketing is not snippets of random ideas but a comprehensive strategy that expands on these ideas in a holistic manner. In this article, we will help you come up with such strategies by planting the seeds of ideas that you can nurture and grow based on your unique requirements.
We further discuss the top ideas and online insurance marketing strategies employed by top-tier companies around the world that they employ to successfully reach out to new policyholders, make your brand stand out, and retain existing customers. By the end of this article, we aim to give you a comprehensive idea of insurance marketing and the various strategies that you can apply to your business.
Attracting New Policyholders With Insurance Marketing Strategies
Like most businesses, the first roadblock you will face in attracting new customers or policyholders is breaking through all the online noise, standing out, and attracting them to your business. This is easier said than done because not a single consumer enjoys being sold to and for some, there is nothing more unattractive than pushing ads down their throats. The modern consumer prefers making a well-informed decision based on their own research, and it comes as no surprise that a typical consumer shies away from insurance companies and their marketing efforts.
Consumers today demand an instant and streamlined shopping experience, and it is no different when it comes to purchasing insurance. Not just that, policyholders, like any other online consumer, expect you to provide a convenient process when choosing and purchasing a policy. Below we discuss strategies that you can use to achieve this streamlined process for your customers.
1. Clean Up Your Insurance Website
Today, most of the successful campaigns in insurance marketing are based around the insurance website. Why? Because in the digital world we live in, your website is the first point of interaction for your potential customers to your insurance company. It is also safe to assume that the user or potential customer will decide the credibility of your company simply based on their experience on your company's website, on how it looks, how it feels, and how it functions. And an important fact that you should keep in mind is that according to statistics available, if the customer does not connect with your website within 10 seconds, then they will navigate away from your business and move on to another service provider. In essence, you could potentially lose your business to your competition simply because your website wasn't attractive enough.
Cleaning up your website is not by any means limited to its aesthetics. When it comes to online presence and appealing to your customers through your website, there exist three rules of thumb – your website needs to be fast, secure, and mobile-friendly. The fast and secure part of the three thumb rule is pretty self-explanatory, but what makes "mobile-friendly" a part of the team? A whopping 50+% of searches for insurance are done via a mobile device which essentially means that half your target audience uses a mobile device to find you. Even though the website's speed and security is unavoidable aspect for a successful online business/campaign, it is important to understand exactly how big of a deal it is for your insurance company.
Imagine this, you have a fully mobile-optimized website for your insurance company, but no efforts were made on optimizing its speed or security. A potential customer visits your website through his/her mobile device, but the site does not load for more than 5 seconds. What happens now? Almost half the population browsing through a website expects it to be loaded in less than two seconds, and the average mobile page speed is 15 seconds. It goes without saying what this could lead to and what effect it can have on your business/marketing efforts. Even without the math, it is easy to understand the frustration that we all are familiar with when a website takes too long to load because we have all been in that situation at some point.
The same goes for the security aspect of your website because your customers need to feel safe transacting through your website and this can be helped by getting an SSL certificate for your website. Ensure that you have integrated all the major payment gateways into your website to ensure flexibility and appeal to your customers with convenience as well as a feeling of security. Apart from the speed, security, and mobile-friendliness of your website, you also have to cater to the other aspects of your website in a holistic way to ensure that the user has a memorable experience on the website.
Once you have ensured that the three-thumb rule is followed for your insurance website, you can then move on to the aesthetics and design part of your website. For example, generally, the user's eye is attracted to the top right-hand corner of the screen, making it the ideal position for placing your contact information.
Another point you need to remember is to include plenty of calls to action to prompt the user to make the desired action. Furthermore, you need to account for the customer's convenience, and there are a couple of ways you can accomplish this. For example, implement a chat feature so that your customer can always reach out to you. It is both efficient and fast.
Remember that your target audience is different depending on the policy type you are trying to pitch. For example, (generally) an elderly citizen would have no use for bike insurance. Therefore, it is important for companies to speak the language of their target audience and appeal to their unique priorities and expectations. With the help of expert designers, you can even use color palettes to your advantage. They can be used to convey meanings and messages because colors affect how we view a website. More often than not, people make decisions subconsciously based on their instincts rather than logical thinking.
2. Invest in SEO
SEO is an important part of marketing that can help you generate organic leads, especially when you consider the fact that 93% of online queries begin using a search engine. Proper SEO allows you to be ranked among the top result pages ensuring maximum visibility. It is also important to note that most people, including yourself, won't even venture past the first couple of organic result pages.
If you want your company to show up on the first pages of popular search engines like Google or Bing, you need to invest your time, effort, and capital in Search Engine Optimization or SEO. Where your website shows up on the Search Engine Results Page or SERP, as we call it, is dependent on a number of factors, and this can vary from one search engine to another. It is said that there are more than 200 ranking factors but, we can generalize the important ones as follows.
Page optimization for title tags and meta descriptions
Website security optimization (HTTPS vs. HTTP)
SEO optimized quality content
Fairly high social signals
SEO optimized images (filename)
Presence of high-quality backlinks
Mobile-friendly browsing
Speed-optimization for faster loading of website
Implementing schema markup
Optimized content length in par with the competition
3. Create & Publish Attractive Blogs
Blog posts are a sure-shot way of dragging in more traffic, provided that you pick the right topic at the right time for the right audience. But if you think that's all that a dedicated blog section can do for your website, you'd be wrong. The blogs you publish are a way of conveying to the users your authority over the specific subject and showcasing that you know exactly what you are talking about. It allows your insurance company to build trust with your customers or target audience and view your company as something more than just an insurance company. Present yourself as a reliable source of information for everything concerned with the insurance industry earning you legitimacy.
Furthermore, you can also use quality blogs as a part of your content marketing campaigns where you pitch an idea that your target audience is genuinely interested in and then build on it with authentic thoughts and solutions that address the problems or questions faced by the customer. Content marketing is all the hype today because conventional marketing or ads, to be more precise, are no longer effective because, for the general public, there is nothing more frustrating than getting bombarded with ads as soon as they switch on an electric device. So by helping your customers in researching products and services in the insurance industry, you are offering them a solution rather than suffocating them with unwanted ads.
According to Forrester, the average customer goes through about 11.4 content pieces before he/she makes a purchasing decision. Hence, we can say without question that your content, if of good quality, can greatly influence this decision. You can even combine the time-tested direct mails with your content marketing efforts to reach out to the maximum number of the target audience. Smart companies employ an advanced address verification tool like PostGrid to make sure that their direct mails reach their target audience and then use the direct mail for pitching them with a piece of content that is of genuine interest to them. This combination of content marketing and offline marketing is much like leaving breadcrumbs, and once the target audience takes the bait, it's smooth sailing back home.
Direct mail that uses an advanced address verification tool like PostGrid ensures that your message is delivered to the right person. As long as the content is something that is relevant to the target audience, then it is more than likely that they will then be interested in your content. You can even make use of QR codes for easy navigation to your blog post, making it even more convenient for your customers to access your content. The same approach can be used in different ways depending on your unique marketing effort or strategy.
There are a number of topics that you could consider to inspire your content marketing efforts or blog posts, such as:
Do I need life/liability insurance?
A guide to renter's insurance for the millennials.
How to find the best car insurance for you?
How to save your money while selecting insurance.
4. Employ "Deer-In-Headlight" Resources
Insurance is not something that people of any age find interesting, and usually, their interest in insurance stems from necessity rather than curiosity. Therefore, it is no wonder that people often get frozen like a "Deer-In-Headlight" while going through multiple sources looking for the right insurance for them. Most of the time, they are overwhelmed by the inflow of information and hard words that they end up freezing, not knowing what to do. Nearly half the population has little to no understanding of insurance benefits regardless of their age group. So what can be done to simplify this? There are a number of practices and methods you can employ to make insurance comprehensible for the user and effectively make it easy for the customers to make a choice.
The first thing you should consider is not providing the customers with a wide range of options or choices, at least on your main pages. Simplify browsing for the users by using easily identifiable terms like health, home, auto, etc., and even make use of relevant icons, so there is no confusion for the user. Try and find out the most important insurance services the people want and highlight them. Apart from that, you could also provide an interactive guide that explains the insurance process in easy steps. You could implement a quote comparison tool and then use it for marketing literally everywhere online. Similarly, interactive videos and quizzes can also help you boost customer engagement and effectively help your company grow.
5. Invest in PPC or Pay Per Click Campaigns
SEO brings in organic leads because you have worked your back off, bringing that page to the top SERP. However, that is not always the case because the truth is that not all search queries are the same. As far as search queries are concerned, there are two types of intentions behind them, one is commercial intent, and the other is high commercial intent. While SEO can help you a lot in the former category, the SERP of later intent is almost always filled with ads, and these ads you see are a result of PPC campaigns. The ads in these take up so much space that it is highly likely that your entire screen will be filled with ads on the result page if you are viewing it through a mobile device.
As the name suggests, if a target audience does search a particular query into a search engine where you've employed PPC and should he/she choose to click on it, you will have to pay an agreed amount of money to the search engine. You should note that the insurance industry has the highest average cost per click. Therefore unlike SEO, PPC will cost you more than just time and effort. The safest way to go around PPC is to start off with competitive rates as 70% of the customers are looking for the best deal they can find on insurance. But that's not all you need to do. Once you have their attention, you need to offer something that makes you stand out from the rest of the crowd. This is important because rest assured the user would compare your insurance offering with that of the competition.
6. Employ Video Marketing
Videos have become perhaps the most effective way of communicating for brands all around the world. Unlike blogs, the user does not have to spend lengthy amounts of time going through multiple articles, and if you are lucky enough, you may even have fun watching the video. Video marketing is so effective that a whopping 73% of B2B marketing professionals found it positively affected their marketing efforts. Your best choice when it comes to video marketing content is to go with how-to or informative videos, which are used by 86% of YouTube users when they want to learn something new. You could use any topic, such as which is the best insurance policy for a particular profession, or you could do a video on how to pick the ideal car insurance. The possibilities are limitless and are only limited by your target audience.
Another aspect of video marketing you could make use of is to feature the testimonials of your existing policyholders. There is no point in creating a video praising yourself unless it is being done by one of your customers who has benefitted from your insurance company. Such a video will shed light on why your audience should buy insurance from your company and how you can help them. Furthermore, videos are a great way of showing how your company is committed to society and how serious you are about social responsibility as expected from an insurance company.
Video, by the end of the day, is a form of content, and much like blogs, it can also be used as part of your content marketing campaigns. Using an advanced address verification tool like PostGrid, you can ensure that the mail carrying the QR code for the video reaches your target audience without fail. This can be the ideal direct mail marketing for banks as long as the execution is well planned. The direct bank mail sent to the customer must be enticing enough to the target audience that they end up scanning the QR code to the video, and the video must also match up to their expectations. At no point can you afford them to lose interest or you would end up doing all the work for below-par results.
7. Positive Review Generation
The one mistake you must never make as an insurance company is to think of your customers as gullible. A potential customer will always trust the words of a fellow buyer than that of the company, no matter how convincing you may sound. Authentic reviews made in a positive light can do wonders for your insurance company making it one of the greatest insurance marketing strategies. If you need numbers to know how effective the reviews are, you should know that around 85% of netizens value online reviews as much as a recommendation from a personal friend. The reason is most probably that the customer believes that there is no reason for a customer like him/herself to lie about a product that they brought, as there is no incentive in it for them.
Insurance companies must have a review generations strategy that encourages your customers to post genuine reviews about your company and its insurance policies. There are many advanced strategies that you could employ for review generation, and some of the basic ones involve simply asking the customers to submit a review via a simple email. Although this may never frag in the desired results, it is still a step ahead. You could even install review generation software that will help you create more reviews for your business. Furthermore, you can use these reviews as part of your bank's direct marketing efforts and use snippets of them in your direct mails to establish trust among your target audience.
8. Showcase What Makes You Stand Out
Do not shy away from showcasing your achievements when it comes to marketing of any kind. If you or your company has won any prestigious award, make it a point to highlight and showcase them so that your customers know that you are a reliable partner that can be trusted. Not just awards, you can also include every positive review and have them highlighted for everyone to see. Post a video in which one of your customers reveals how your company helped them get through a tough time with the insurance services you provide.
Insurance marketing is not just about attracting new customers. A major part of it deals with retaining the existing ones as well. It shouldn't come as a surprise to you that a typical policyholder shops for insurance every two years or so, hoping to find a better deal. Therefore, it's hard to retain your customers unless you are willing to put some real effort into it, especially since it has become increasingly easy to find insurance policies online and compare them within a matter of minutes. This further underlines the need for convincing your policyholders to stay with you through any means you can afford.
9. Print and Electronic Newsletter
Newsletters, even the print ones, still hold significant importance when it comes to insurance marketing. Many people often make the mistake of thinking that print newsletters are outdated or no longer effective in the digital age. On the contrary, this is far from the truth because, unlike a digital copy sent via emails, the print copy can not be ignored so easily. There is a sense of certainty that the mail will reach the target audience provided that you employ an advanced address verification tool like PostGrid. Bank direct mail marketing is a sure-shot way of reaching the target audience as long as they have a strong and accurate postal address database. Some might even say that in terms of effectiveness a direct mail is far ahead of its electronic counterpart.
On the flipside, electronic newsletters are a cheaper investment, and hence their ROI is much greater than that of direct mail efforts made by your company. It also allows you to talk directly to the decision-makers. It is perhaps the economic advantage of the electronic newsletters that has boosted their popularity in recent times. However, more and more businesses are opting for print newsletters because they realize that the quality of the lead is more important than the economic upper hand in generating such leads. With an address verification tool like PostGrid, you can be sure that your bank's direct marketing efforts are optimized for the best results with minimal wastage.
10. Social Media Activity
The one place you simply can not afford to be inactive in the digital age we live in today is social media, and this is true for every company/business out there, including your insurance company. However, when it comes to social media activity, it's not just enough that you have one. It is reported that over a mind-blowing 93% of insurance, agencies have some sort of social media marketing efforts in place, but more than half of these agencies have no way of measuring the ROI of these efforts.
As a business, you need to have a feasible understanding of the efforts you put in through your social media and how it is helping you grow your business. Everything needs to be tracked and accounted for by testing, tweaking, and iterating your social media efforts. Do not make the mistake of thinking that you will see a surge in leads simply because you optimized your social media marketing. However, it can be pivotal when it comes to retaining existing customers by always staying on top of their minds and subtly reminding them about why they choose and why they are continuing to choose your insurance company.
11. Ensure Your Community Effort Stand Out
It should come as no surprise to you that almost half the adult population in the US does not trust insurance companies. Therefore, the onus is upon you to make sure that all your community efforts stand out. By doing so, you are appealing to the customer's emotional side and establishing yourself as a company that actually cares for people, which is especially significant for an insurance company. Any community efforts made by your insurance company, such as charity works, must be highlighted and brought to the attention of your target audience. Social media marketing can be especially effective for such results.
12. Show That You Care
A major part of insurance marketing strategies is aimed at retaining the existing policyholders because with so many options available at their fingertips today, it is hard to stay relevant. One of the best ways to show that you care about them is to send them direct mails such as postcards. You could wish them Christmas or their birthdays and have each mail personalized so that they know that you care. Congratulate them on their achievements and celebrate with them. The mere act of showing that you care could have a huge impact on how they view your insurance company.
Many companies have reported that when they receive a personalized postcard from a company, the customer often feels happy, and in many cases, they'd even let the company know that they are thankful for the gesture. Now, although you coil use an electronic way to go around this, they just lack the impact that a postcard can deliver. You can further make use of an advanced address verification tool like PostGrid, to ensure that a personalized post sent by you to the customer reaches them without fail. In Fact, you can even deliver bulk mails and automate the entire process of address verification, having the postcard printed and delivering them via USPS through an advanced API.
Ready to Get Started?
Start transforming and automating your offline communications with PostGrid
SIGN UP
REQUEST A DEMO