How to Speed Up Direct Mail Delivery
Direct mails are doing really well in capturing sales by connecting brands with more and more people. It helps companies to get ahead of their competition and the digital world. In fact, 70% of consumers themselves have stated that direct mails are more personal than digital communications. Apparently, it is a great way to interact with your existing customers and reach out to new audiences.
However, nowadays, the competition is quite high. Brands are looking for ways to speed up the delivery of their direct mails to reach out to people before their competitors. Fortunately, PostGrid allows you to conduct both small and large-scale campaigns accurately and quickly and helps you achieve your goals.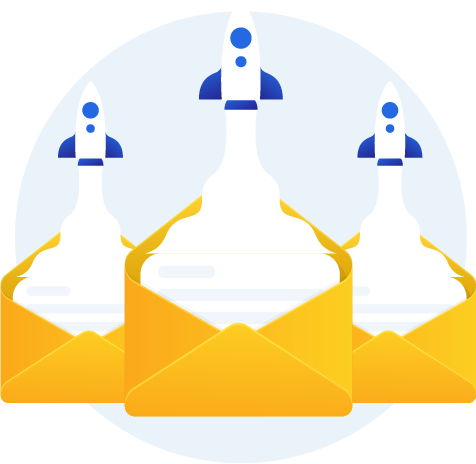 There are lots of ways and techniques to achieve high-speed deliveries. It is also advisable to plan, design, and print, all on time—to ultimately mail faster. Hence, it is necessary to draft plans, get the work started, and execute in a timely manner. PostGrid's direct mail automation platform will help you get all the planning, designing, printing, and mailing done in just a couple of clicks. Reach your audience first and prompt them to take immediate action through timely offers and an impressive CTA. People will prefer to purchase from brands that reach them first. Hence, use PostGrid's automation software or API to instantly get started with your direct mails and deliver them fast to increase engagement and ROI.
Ways to Get Mail Delivered Faster
Maintain Data Hygiene
Having cleansed and accurate mailing lists is the primary step to speed up direct mail deliveries. A lot of companies misspend their marketing budgets by sending thousands of direct mails to the wrong addresses. This mishappening leads to increased losses, failed campaign performances, and hampered the morale of your sales team. It completely destroys all the campaign's objectives and wastes the planning and efforts that were put into it. Moreover, the delivery time is rapidly increased when addresses are incomplete, inaccurate, or difficult to understand.
Sort your data – Mailing lists need to be sorted according to location and demographics. This step helps to quickly select a separate mailing list for direct mail marketing campaigns. It is extremely time-consuming to sort thousands of addresses individually. Hence, the mailing lists should be sorted and stored beforehand according to very various factors. Segmentation will help save a lot of time while sending out direct mails to targeted audiences.
Streamline your address entries – Properly plan the sources from where you are collecting data. Usually, getting inputs from a lot of different sources will cause errors and take a lot of time to maintain. Streamlining your sources and entries will help you to have all the data in one place, which will, in turn, make your work much faster.
Make a plan – Planning in advance generally saves a lot of time. If you want to speed up your deliveries, pre-plan the ways in which you will store and use your data. These plans will help you decide on the mailing lists quickly and allow you to ship direct mails faster.
Keep updating your mailing lists – The essential way to keep your data clean is to keep updating it from time to time. It can be done by using the NCOA (National Change of Address), which will show you all the changes made to addresses during the last four years. It will help you filter out all the outdated addresses and capture new ones. Keeping your mailing lists updated will save you from sorting and filtering at the last minute, hence speeding up deliveries.
Merge all your data – To avoid duplicate addresses in your mailing lists, merge all your data, and delete the addresses entered more than once. This step helps you to avoid wasting time on direct mails going to duplicate addresses. Also, the process of making lists for sending mails will get quicker and simpler.
Postal Optimization
It is very advantageous to optimize the postal options for increasing the speed of your deliveries. There are multiple ways of using postal services that will help you get your mails delivered very fast and reduce postage charges. Some of the ways are listed below:
Presorting – Presort your direct mails before sending them to the post office. This way, the USPS will not have to do the sorting task and get your direct mails shipped faster. Print and mail solution providers are capable of presorting your direct mails according to zip codes. Presorting also includes adding the +4 characters to these zip codes and also correcting the wrong ones. Moreover, presorting requires all direct mails to contain an IMB (Intelligent Mail Barcode), a 65-bar code used by the USPS to sort, send, and track your direct mails. CASS (Coding Accuracy Support System) is also used to certify the validity of all the addresses. All these steps are completed under the presorting stage and help facilitate smoother deliveries. PostGrid can help you avail of this service for large-scale campaigns.
Commingling – Commingling is when you combine your company's direct mails with several other companies' mails. This step is meant to lower the time required by the USPS in grouping the mails. Many companies commingle their direct mails to receive huge discounts on their postal rates. Besides, this method also considerably reduces the turnaround time. In general, commingling is a process to combine mails from many companies, group them according to zip codes, tag them with barcodes (similar to pre-sorting), bundle them into trays using zip code groups, and deliver the trays to the NDC (National Distribution Center) or the SCF (Sectional Center Facility). From there, the direct mails are sent for deliveries. Since the mails were already bundled, the deliveries are completed in less than half the time originally required. Commingling is an extended step of presorting.
Co-palletization – Unlike commingling, co-palletization involves sorting trays filled with direct mails on pallets. In commingling, only the initial part of grouping mail pieces on trays is done. In other words, co-palletization is the next step of commingling. It further groups the trays into pallets.
Dropshipping – Dropshipping is a method wherein the direct mail pieces are dropped off at the USPS store, which is closely located to the destination addresses, using private carriers. This method is highly dependent on the availability of private carriers and the distance between your mailing addresses and the USPS stores. Dropshipping is usually carried out to save on postal rates, but it is also an effective method to speed up your direct mails deliveries.
PostGrid's direct mail automation software can fetch all these offers for you on bulk orders. Using these methods, you can both speed up the deliveries and save a lot of money. They allow you to reduce the number of days required for deliveries significantly.
Using Automation Software
Using automation software like PostGrid to handle your direct mail campaigns will help you speed up everything. It will enable you to get everything done systematically and have better control over the time involved. The personalization and customization options allow you to connect with your customers profoundly and create good customer relationships. There are several features of our automation software that can help you with the time management of your direct mail campaigns.
Plan and design your direct mails faster – Direct mails demand a lot of planning to select a design, layout, colors, text, offers, and various other things. Without an automation tool, you will have to spend a lot of time trying out different combinations and seeing how it looks. All the changes required will also take a lot of time. Basically, you will have to wait for every change to be made. PostGrid's direct mail automation platform will help you choose from our in-built templates. You can easily select any template you like and also edit it as per your imagination using the template editor. Similarly, you can choose text fonts and styles quickly. The faster you design your direct mails, the faster will be the mailing.
Save time on printing – You are no longer obligated to contact several printing vendors, take quotes from all of them, and select the suitable one. Moreover, you also need not contact these vendors for follow-ups regarding the shipping status after mailing. PostGrid has partnered with many trusted vendors across the country. Our platform will help you save time by printing your direct mail pieces through printers that are closest to your recipients' destinations. Hence, the deliveries will be completed in as little time as possible.
Save data entry and verification time – In direct mail marketing, shipping to thousands of people is involved. As discussed in the earlier point of data hygiene, it is crucial that all the addresses are accurate and updated. PostGrid's API can help you autocomplete, parse, standardize, validate, and verify all the addresses. All these steps can be conducted in one go in just a few seconds. This step saves your employees time massively. It, furthermore, helps avoid any delays that occur due to incorrect addresses.
Tracking deliveries – You can easily track all your sent direct mails together in one place. Our platform collects the tracking details from all the delivery partners and updates them on the platform itself, allowing you to view the history and progress of all your direct mails. This easy tracking greatly helps you analyze your shipping methods so that you can plan for your future campaigns accordingly. It gives you an idea of the mailing methods, enabling you to choose the better option always. Using these insights, you can plan your campaigns in a way that will ensure quicker deliveries.
Other Aspects That Should Be Considered
There are a lot of other things to be taken care of, to speed up your direct mail deliveries and reach your audience before everyone else. These things will help you avoid any incidents that could happen, delaying the shipments to reach their destinations.
Using good packing materials like a strong box or envelopes will help keep the collaterals intact and safe. If the packaging opens, post offices have to pack them again, which increases the time required for the delivery.
Print your address and your recipient's address instead of writing them down. Also, use transparent tape for covering the address labels. It will keep the addresses clear and visible, even if the packaging gets wet on the outside.
Get barcoded labels from the post office. These barcodes enable the delivery person to route and reach the destination easily.
Take care of the pick-up time schedules. If you miss the deadline, your direct mails will have to be sent in the next batch. When you are looking for speeding up your direct mail deliveries, you will not want that to happen.
Companies also take into account the market conditions, trends, and seasons to identify a suitable time for conducting direct mail campaigns smoothly and quickly. This way, direct mails can be sent at the time when postal services are running efficiently, and people are available at their homes to receive your mails.
Wrapping Up
PostGrid takes care of these considerations. Our platform gives printing contracts to trusted printers who are experts in their field and will take the utmost care of all the packaging and shipping requirements mentioned above. In addition to this, the timely reports and campaign analytics provided to you will help you decide the perfect time for conducting a campaign.
The automation services provided by PostGrid ensure a guaranteed ROI on all your direct mail campaigns. Reduce time, effort, and resources required to conduct large-scale campaigns. Easily get everything done in a timely manner. PostGrid helps you plan, print, and mail your marketing pieces in a way that assures no delays and on-time deliveries.
Reach your audience faster and stay ahead of your competitors. Use postal options in an optimized manner to grab huge discounts and get quicker deliveries.
Ready to Get Started?
Start transforming and automating your offline communications with PostGrid
SIGN UP
REQUEST A DEMO