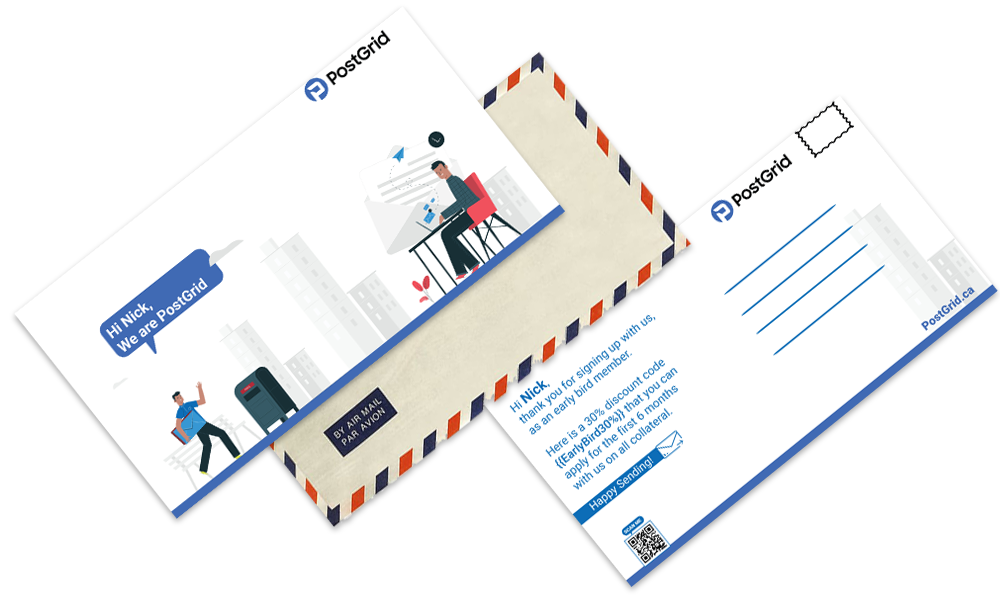 How to Send Direct Mail Postcards
Postcards are a tangible, memorable, inexpensive, and effective form of direct mail marketing. Adding the offline and human touch to your marketing strategies is always a smart way to attract more prospects and expand your customer base, and there is no better way to do that than postcard marketing.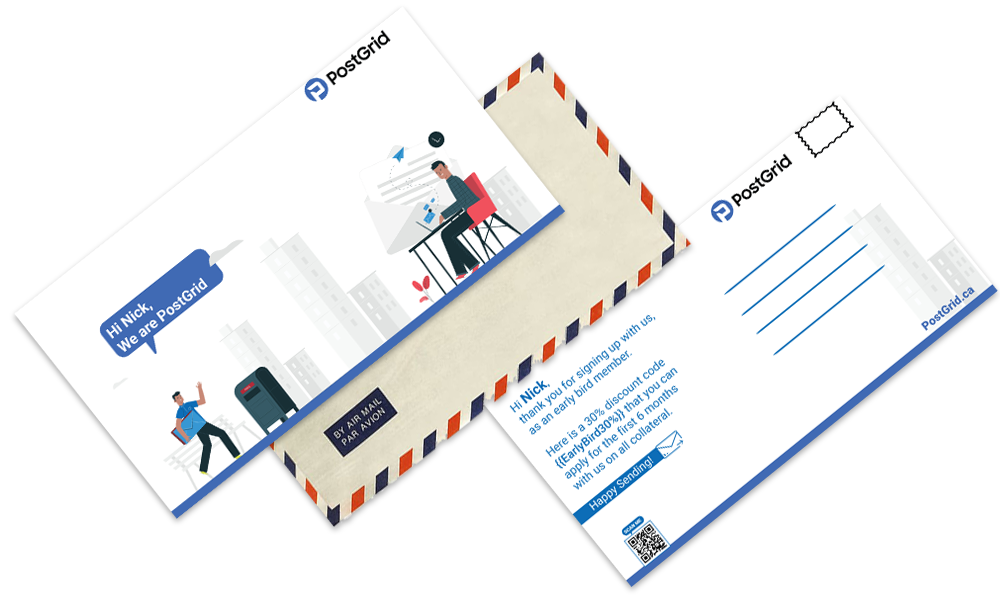 Although most marketers today are inclined towards digital marketing channels, there's no denying that postcards work great. They offer a nostalgic experience to the recipients and have the power to drive responses and engagements.
Digital marketing may seem to be cost-effective and easy to conduct, but postcard marketing can beat it any day. With modern technologies, marketers can conduct personalized, fully automated postcard marketing campaigns—easily and effectively. You no longer need to spend weeks and months planning direct mail campaigns or assuming the campaign results. PostGrid's automated direct mail solutions can help you print and mail postcards online with the ability to design, print, mail, and track easily.
Direct mail advertising postcards can help you promote your products and services, increase brand image, invite prospects and customers to events, announce giveaways, and more. They help companies cut through the digital noise and offer a calm and personal experience to the recipients. Hence, you can reach out to them directly and communicate your message in a better way.
Things You Can Do With Postcard Marketing
Making Announcements
Be it the opening of your new franchise or an upcoming discount sale, you can always make such announcements through postcards. Since postcards are compact and concise, they highlight the details of these announcements really well. If you are promoting an event, you can mention the venue, date, and time. Similarly, the terms and time period of sales and giveaways can be communicated well through postcards. They make these details stand out and grab your audience's attention.
Reward Customers
Send discount or promo codes to your most loyal customers. You can segment your long-term customers and reward them with several loyalty programs. Marketers can promote such programs through postcard marketing and get repeat business from it. This way, you can express your appreciation towards your loyal customers and also persuade them to bring you further business. Plus, it is a good practice to send thank-you postcards to all your existing customers to make them feel special and encourage them to select you over and over again.
Refresh Cold Leads
Have you ever had a long list of cold leads that you just can't seem to convert? Have your online customers abandoned their carts? Now is the time to recover those carts and process cold leads into hot ones. Print and mail your postcards with highly appealing offers to attract prospects that aren't responding to your messages on any other channel or have added things to their cart and failed to complete the checkout.
Welcome New Customers
Your first impression matters a lot. So, make sure to greet your new customers well. Many marketers send onboarding postcards to all their new customers as a way to build trust and form strong company-customer relationships.
Real Estate Postcards
Real estate companies can send postcards to customers and prospects in order to stay top-of-mind. It is very convenient to promote new properties and open house events through postcard mailings.
Birthday and Holiday Greetings
It doesn't matter if someone is your old customer, freshly acquired client, or prospect; sending birthday or holiday greeting postcards to them is always going to work positively. Businesses can enhance their relationships with people and convince them to complete the CTA using this method.
Why Should Companies Use Direct Mail Postcards as Part of Their Marketing Plans?
Direct mail has been doing really well in the marketing industry. Its response rates are setting new records every day. There is no doubt that direct mail can deliver excellent results when done right. Companies should use direct mail postcards in their marketing strategies as this form of marketing can gather more responses and drive better conversions.
Moreover, 57% of direct mail recipients say that postcards make them feel appreciated and can form authentic relationships. Hence, it is clear that people value postcard marketing and are even looking forward to getting postcards in the mail. Some more reasons for knowing how to send direct mail postcards are:
Postcards are creative. They offer the scope to show more creativity in less space and at less cost.
They are highly appealing. They can easily grab anyone's attention.
Since postcards don't require envelopes, their open rates are quite high. Recipients just flip over the postcard and view the contents.
Postcards can drive online traffic. Use a QR code or pURL to make people visit your website and social media handles.
Postcards are long-lasting. Their shelf life is much more than any digital marketing advertisement or email. People tend to stick postcards to their refrigerators or pin them to their boards. It increases brand visibility and spreads awareness.
5 Steps to Send Direct Mail Postcards
How to send direct mail postcards, and what are the steps involved? Read further to understand the basic steps along with some tips to make your postcard marketing campaign a big success.
1. Determine Your Marketing Goals
Before planning your direct mail design and other things, you need to plan and make a list of your marketing objectives. What is it that you want to achieve? Sometimes the goals are general, and sometimes they are highly specific. In either case, you need to be clear about your goals before you send advertising mail.
General goals include:
Generating new leads
Spreading brand awareness
Improving brand reputation
Getting repeat business
Specific goals include:
Making sales worth $5,000
Converting 100 hot leads
Convincing 500 people to RSVP for an event
2. Create Your Direct Mail Postcards
The USPS offers postcard mailing at very affordable rates. But, you need to take care of the USPS postcard dimensions to avail of those rates. They should be rectangular and at least 3.5″ wide and 5″ long. Plus, they should be at least 0.007″ thick. The maximum dimensions cannot exceed 4.25″ x 6″ x 0.016″.
How much is it to send postcards business? The USPS rates start at 32 cents per postcard but can increase according to the size and weight.
Make sure that you follow all the instructions to be able to send postcards through First Class mail. This option is faster and cheaper than others and is perhaps the most effective mail option for sending advertising mailers.
Avoid attaching stickers and magnets to your postcards. These things make your postcards non-mailable and can end up getting them wasted. Also, take care to place the mailing and return address on the same side as the postage.
3. Build Mailing Lists
There are many ways to go about mailing lists. Whatever way you choose, remember that mailing lists make about 40% of the campaign's success. You can put together a house list of all your prospects that you have been trying to convert. Depending on your message and objectives, you can choose to include or remove your already existing customers from the mailing list.
If your mission is to get repeat business or to increase visibility generally, you can mail to your customers. But, if you want fresh leads, you can use a prospects list. A lot of times, companies want to target new people but don't have any data to put together a mailing list. In this case, they can rent or buy lists from a third party. If it is rented, take care to clear the terms of use along with the time duration up to which you can mail to the addresses in those lists. It is recommended to buy lists rather than rent them.
However, these lists are not always accurate or targeted. Hence, they might or might not be of any use to your campaign. Again, remember that 40% of your campaign's performance is decided by the people you mail to. Keeping this in mind, PostGrid enables you to build mailing lists from scratch—you can select certain demographics and build mailing lists of any volume.
4. Address Your Postcards
While conducting mass postcard mailing campaigns, you also have to take care to address your postcards properly. You need to follow the USPS address format and not make any mistakes. If you don't follow the right format, their address reading machines will not be able to process your mail items and it can affect your deliveries.
Print four lines for your address labels. These four lines should include the:
Recipient's name
Company name
Street address and apartment number
City, state, and ZIP code.
Type all the letters in capital and avoid using punctuation marks. Write in clear and neat handwriting.
5. Affix Postage
This part might be the most confusing one for you. When marketers learn how to send business postcards, affixing the right postage becomes a challenge. It is because calculating postage is not always a piece of cake. It might be complicated, and you ought to make mistakes. Hence, it is advisable to take your postcards to the post office and let the postal workers simplify the task for you. Elsewise, you can use PostGrid's print and mail API that assists you in everything, including affixing the right postage.
You can affix stamps worth 32 cents on each postcard. However, a lot of companies have started using different ways to pay postage and have already ditched stamps. Affixing stamps is time-consuming and monotonous. Hence, several companies now use print permits to pay postage. You can acquire a permit from the post office and print permit information right on your postcards to save time. Another option is to use metered postage—which is again time-saving and efficient.
Copywriting Tips
Your postcard copy depends on your message and target audience. If you are a B2B business, you would want to learn how to send postcards to businesses only and make use of a highly-targeted B2B marketing copy.
An effective copy is persuading, creative, attention-grabbing, and result-driving. It should contain everything that you want to communicate in a well-flowing pattern. The first aspect of your postcard marketing copy is the headline. It is the first thing that recipients read, so take care to use a good one. The headline should create desire, command attention, and motivate recipients to read further. Some headlines also convey the entire message in one line.
List all your benefits, not features. While sending advertising mailers, use your benefits as strong points to convey your message. You can reinforce the headline through these points. Make them short and concise. Instead of big sentences, you can use bullet points.
The next step in writing your copy would be to present an offer along with a call to action. Oftentimes, the offer and the CTA are present in the same sentence, for example—Sign up before 20th July to get a discount of 30%. It is important that your offer and CTA complement each other.
Design Tips
Direct mail advertising postcards should be highly appealing. It means that your design should be excellent and should stand out from anything that the recipient has ever seen. Use a unique artwork but one that corresponds to your brand standards.
For example, if your brand logo is all red, it is advisable to highlight the color red in your artwork. It builds brand recognition. Make your colors vibrant and lively—to make the artwork look attractive.
Include interesting and relevant images that are impossible to miss out on. Your choice of imagery can deeply affect your campaign performance. In fact, your overall design accounts for 20% of your campaign success, while the remaining 40% goes towards your offer.
Focus on your typography and use fonts that are not too much in the face. Fonts like Arial often do well. But, you can select the one that compliments your overall artwork. Restrain from using too many fonts and colors as they can overpopulate the design and distract readers from the main message.
Visually guide your readers towards the offer and CTA. These things should stand out from the remaining message and should be clearly visible. You can use business postcards mailing services to design, print, and mail postcards. Though not all of these solution providers offer designing, printing, and mailing, PostGrid does. It allows you to use the pre-built postcard templates for smooth and effective design.
Printing Tips
Your choice of postcard printing options can also affect your campaign performance. Hence, use these printing tips to ensure that you select the best.
It is said that the bigger, the better. But, you need not always send oversized postcards. Larger sizes are definitely performance accelerators, but they should go along with your message. You need to have enough content to accommodate the entire postcard. Hence, choose a size that fits your message.
For an elegant look, choose matte coating. It makes your postcards look professional. However, for a more sophisticated and exciting look, go for a glossy coating. Also, remember that glossy finishes provide an extra protection layer to make your postcards durable.
Restrict yourself from using extremely lightweight paper stock to print your postcards, as it creates a bad impression. Using a thicker option can add to your credibility.
Mailing Tips
For smooth campaign execution, use a postcard mailing service. They can guide you throughout the mailing process and help you get your postcards delivered faster.
If you do not have the necessary budget, you can always opt for Every Door Direct Mail (EDDM). It lets you mail to every house in a neighborhood or ZIP code. This way, you can saturate certain neighborhoods or localities and conduct location-based targeted marketing campaigns. You need not have a mailing list for conducting an EDDM campaign. Moreover, the rates offered by the USPS for an EDDM campaign are relatively low.
The Do's of Postcard Marketing
Even if you do know how to send business postcards, you should know how to do it right. Find below some important and necessary do's of a postcard marketing campaign.
Test Your Postcards
No matter what you have designed and which target audience you have selected for mailing, it all comes down to your campaign performance. You cannot know what aspect of your campaign is the reason for your campaign's success (or failure). Hence, it makes sense to test your postcards before conducting a large campaign. Start small and measure everything. Use small tweaks to know the best design, offer, audience, and copy combinations.
Track Engagements
To track responses and engagements after you send advertising mail postcards, you need to include some trackable features. QR codes, trackable phone numbers, unique email addresses, redeemable discount codes, and pURLs are all useful to track engagements. You can take your pick or use more than one option to track your campaign results easily.
Personalize
Always personalize your postcards. It doesn't matter if you are only able to personalize your postcards using the recipient's first name—just personalize as much as possible and wait for the results.
The Don'ts of Postcard Marketing
Fail to Proofread
Don't conduct a campaign before being 100% sure of everything. Your design should be on-point, and your mailing lists should be well-prepared. Make sure your postcards are able to convey your message properly and are simply convincing. Ask your coworkers, employees, and third parties for feedback to understand things better and make the necessary changes.
Forget to Follow Up
Once your postcards are delivered to the intended recipients, it is the commencement of the next stage of your marketing plan to follow up. Instruct your sales team to follow up with the recipients, especially in the case of account-based marketing.
Over to You
Postcard marketing can do wonders for your brand. It serves more purposes than one, but you need to do it smartly. Follow the tips mentioned in this blog and pay attention to the details. Use PostGrid's postcard print and mail API to do everything in the right way.
PostGrid's direct mail automation solutions can help businesses send out well-designed, effective, and persuading postcards—without going anywhere and doing anything. Automate everything and sit back.
Ready to Get Started?
Start transforming and automating your offline communications with PostGrid
SIGN UP
REQUEST A DEMO