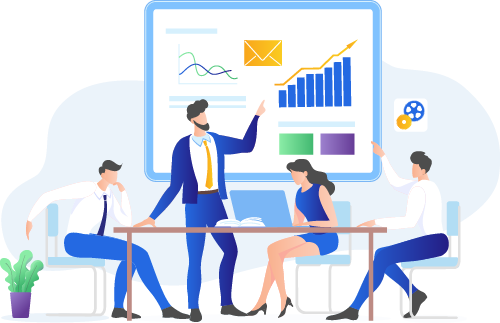 FinTech Marketing Strategy
FinTech is a term that has somewhat become a common term in conversions, especially the ones that revolve around finance or, to be more precise, finance technology (fintech) companies. Broadly speaking, FinTech companies are those which use the internet, mobile devices, and cloud services/software to provide all forms of financial assistance to their customers. The financial assistance provided by FinTech does not necessarily have to involve the transaction of funds. Even something as simple as checking your account balance is considered to be FinTech.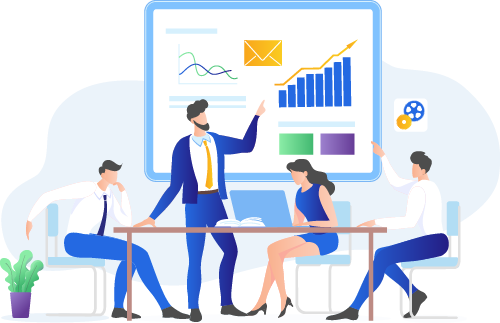 FinTech has become such a prominent part of the US financial system that to say that it is transforming the financial sector in the US would be putting it mildly. Thanks to FinTech, our entire lifestyle is evolving from the way we lend money to how we opt for loans to investing in start-ups and much more.
According to research by Research and Markets, one out of three consumers who are digitally active uses two or more FinTech services. According to the data available to us, the US held a whopping 57% of the FinTech market in 2018.
The success of FinTech was almost guaranteed because it was the ideal solution for all our financial needs, which includes superior convenience, strong security, simplicity of use, transparency of operations, and advanced personalization. It wasn't surprising to see the FinTech industry grow at an alarming rate and this further led FinTech companies to go against each other as the competition grew tighter and tighter. At this point, FinTech marketing became a necessity for financial institutions to survive the highly competitive financial market.
This article focuses on the FinTech marketing strategies that you need to know in order to bring your FinTech company to the forefront of the finance sector. We take a look at some of the most popular and effective strategies employed by FinTech companies all over the US. We take you through strategies involving legacy solutions, their modern-day alternative, and we even discuss how to combine the legacy and modern-day solutions to get the desired results for your FinTech marketing campaign. But, before we dive straight into the FinTech Marketing strategy, it's essential that we develop an idea of what FinTech marketing is and its relevance in contemporary society.
What is FinTech Marketing?
FinTech marketing is a collection of marketing techniques that are exclusively formulated for financial technology (or FinTech) companies. Companies are always looking for ways to improve their services to the customers, and it is especially hard to do for a financial institution because, let's face it, financing or banking is not exactly fun to your typical customer—this is one of the fine challenges involved in FinTech marketing. Here, the audience may be the general public that other industries are familiar with, but the product or service you are selling is likely to be much more complicated.
FinTech company's operations often include various complex terms and conditions which may make no sense to your customers who are unfamiliar with the terms. Therefore, it becomes increasingly difficult to convey your ideas to the target audience. FinTech marketing needs to be concise and in a format that is easily understandable by the target audience.
FinTech Marketing makes use of the latest and the best strategies and puts them to the test. Below we discuss some of the most effective FinTech marketing strategies that could separate your business from the competition and get you ahead on the game.
Ten Successful FinTech Marketing Strategies
1. Go The Mobile Way
Mobile phones have become the single-most-popular electronic device that literally everyone has in their hands all the time. It would not be an understatement if one were to say that mobile phones are our window to the world now. Practically all aspects of our lives revolve around this tiny box of wonder. Starting from the alarm we wake up to in the morning to shopping for groceries to paying our bills, and the list just keeps going on and on. This means that the vast majority of the population spends a significant amount of time on their mobile devices.
Not optimizing your FinTech marketing efforts for mobile devices could potentially be the biggest mistake you could make in the 21st century. This one mistake means that you are missing out on a large population of potential customers, and according to the new data available, we spent five hours a day on our mobile devices. Another way to look at this data is that you get a 5-hour window every day in which you could make an appeal to the target audience and push your financial services to them. Furthermore, in the last few years alone, the time spent on mobile apps has also skyrocketed to a whopping 69% as compared to that in 2016.
So what can you do to optimize your FinTech Marketing strategy to include mobile devices? Well, for starters, you could make your business website mobile responsive, and if you don't already have a website, it is high time that you get one. A mobile responsive website will boost your ranking in Google search results, and more importantly, it can boost your conversion rates. Did you know that 52% of all online searches are through mobile devices? This means that you could potentially be missing out on half of the business if you do not have a mobile-optimized website.
The short answer to why mobile phones are such a popular marketing medium for FinTech companies (or for any other company for that matter) is simply convenience. Ultimately, it all comes down to the ease of use and speed of mobile devices. Therefore, if your website has a lot of widgets, pop-ups, or just plain content that may not be necessary can not only make the browsing experience a nightmare for the user but also significantly reduce your website's load speed. Consider removing any unnecessary data, widgets, or pop-ups because it can only help the user to navigate away from the website.
It is ideal if you can ensure that all your web copies are short and concise. And to accomplish this, you may use attractive visual elements like infographics, icons, and imagery. However, it is also important that you maintain a non-intrusive nature for whatever elements you use in it. You need to put in your time and effort to ensure that your website not only looks good but performs well on mobile devices way before you go splurging money on ads, social media campaigns, SEO efforts, and more.
Apart from what we've mentioned above, there are a couple of other ways that you optimize the mobile experience of your website. This includes using a simplistic and clear interface that has minimal friction elements and employing attractive CTAs that can grab user attention. Furthermore, the key to creating successful marketing strategies for FinTech companies does not stop at creating a mobile-optimized site but extends to regular analysis and optimization to keep up with ever-changing user demands.
2. Make The Most Out of Social Media
Social media, humanity's latest and greatest distraction of all time, is an ever booming business and one that has turned itself into one of the most powerful marketing tools available at our disposal today. Perhaps the one factor that has helped social media to become such a major player in the marketing industry is that users choose to be on these platforms. Although it's true that at least some choose to stay away from social media, that is rarely the case in most situations.
When it comes to using social media as part of your FinTech marketing strategy, you will first have to identify your target market sector. This is quintessential for social media marketing because the market sector you choose can directly affect how you use social media and also decide where you should be putting your time and effort. This holds true for all social media platforms, including Facebook, Instagram, Twitter, Snapchat, Youtube, Tumblr, or even LinkedIn, for that matter.
Before you pick the target market sector, consider your goals and the message you want to deliver through your FinTech marketing and then create a strategy for each of them. To get the best result from your FinTech marketing via social media, you must narrow down your target audience and then go on to create sub-targets. The sub-targets must be created within different social media platforms, and this will prove pivotal for the success of your FinTech marketing campaign.
When using social media for your FinTech marketing purposes, it is important to keep in mind that each social media works differently from another. LinkedIn and Facebook may look similar, but the purpose of both are very different and so are the way they function. Similarly, we have multiple social media platforms, each with its own unique features and capabilities. It is upon you to find out understand their differences and develop a plan that can work for each platform.
Contrary to popular opinion, social media should not be taken on with a one size fits all approach. But, one tremendous advantage that social media platforms can give you is that they come equipped with advanced targeting capabilities, which allows you to target the right audience with precision. All you have to do is find which social media platforms are mostly used by your target audience and create captivating content that is personalized to appeal to them.
For this, you need to find out where your audience spends their free time, what they do, and, more importantly, what they like. Once you have reached this far, it is pretty much smooth sailing for your FinTech marketing effort.
3. Make Use of Relevant & Quality Content
"Content is the King" is something that you often hear in the marketing circle and can be the potential differentiator between a successful marketing campaign and an unsuccessful one. Whatever content you choose to use, let it be a user guide or pointers or a blog, make sure that they are valuable or relevant to the users. The content you present must be useful to the users, or in other words, the content must hold a value that the user desires.
Every content, including the one you are reading right now, must serve a purpose. The trick of delivering content that has value to the user is to find out what your target audience needs and then deliver a solution for that need through your content. The relevance of content in the FInTech marketing space is as significant as it has ever been. Why? Because as we have said before the finance sector is not something people enjoy very much and most people are barely aware of their own financial surroundings.
Let's take Millennials, for example. Most of them are either confused or completely unaware of their financial situations. Something as simple as getting a loan from the bank may seem almost impossible to them because they are not even sure what some of the common banking terms like compound interest are. It is not in any way their fault that they are not trained to handle such situations, and the safest place they can turn to without a second thought is the internet which does not say no or judge them.
The trust is that even today, it is hard to find relevant information on financial products and services that can actually help people handle their financial issues. In fact, a recent study revealed that close to 40 percent of users could not find the right resources online that could properly educate them on financial issues. This is not necessarily a bad thing as far as FinTech marketing teams are concerned because this means that you can take up this space and provide reliable and easily understandable information that can really help people.
Thanks to digital mediums, including social media, it is easy to make your valuable content accessible to the target audience. If you play your cards right, you will be able to establish your financial institution as the industry expert, and all that's left for you to do is create good quality, valuable content that addresses real-life pain points the user deals with in the financial sector. Establishing yourself as an expert will, in turn, help you build trust, which in turn will help you sell more to your users.
4. Make Branding a Priority
Branding, without question, is a substantial factor in establishing your financial institution as a reliable and trusted business. The fact is that branding is the first and last thing that your customers interact with, and hence it's crucial that you make your branding a priority. You should look at branding that holds together various other factors that make up a strong online presence, such as top-tier content, an advanced social strategy, a mobile-optimized website, and so on.
The truth is that you could do everything right from creating captivating and relevant content to optimizing your website for mobile viewing but still not get the desired results solely because of poor branding. Just imagine yourself looking up a financial query and finding the right answer on a website that looks straight out of a 90's movie. How trusting would you be of the website? It is more than likely that you will feel some uneasiness in trusting the source as it seems rather flimsy.
Branding is not merely making your brand look good or aligning your website look with your brand logo. An effective branding strategy is created specifically for the company's work culture as well as the target audience or demographics. Suppose your primary target audience belongs to the younger age group. There is nothing to stop you from going for daring branding. This means you have the freedom to use a bold set of colors and even experiment a little if you feel like it.
You can use branding to portray an image for your business that is strong and reliable. Furthermore, when done right, branding has the potential to provide the users with a memorable user experience that leaves a lasting impression on the users. As branding is a crucial aspect of building a prominent online presence for your FinTech business, it only makes sense to create a branding strategy right from the initial stages.
Finally, you also need to ensure that the branding strategy is consistent throughout the multiple marketing campaigns you run. This means that everything from social media posts to paid ads needs to have a consistent styling that aligns with your brand. Essentially everything that comes out of your FinTech company needs to be able to establish your company's identity. Once you manage to accomplish this, along with quality content and good service, you are on your way to becoming a successful brand.
5. Find Ways to Boost Engagement
What makes a marketing campaign successful? Most of you might answer conversions to this question but, that's not necessarily true for every situation. In the long run, what actually helps your business is not just conversions but the engagement it creates with the target audience. So even if a particular campaign run by your FinTech company fails to deliver the desired conversions but still manages to engage your target audience, it is still a win for you.
Engagement is long regarded as one of the most crucial factors (if not the most crucial factor) in the long-term strategy for your business. Engagement is especially important when it comes to social media marketing. In fact, it is the first priority of every social media marketing campaign. Something as simple as a like/comment on your Instagram or Facebook post, or a tweet reply, or even a LinkedIn conversation is proof of customer engagement.
One of the most common mistakes made by companies around the globe when it comes to marketing is ignoring or not accounting for customer engagement. This may seem like a harmless mistake, but the reality is that it could have devastating effects on your business. Engagement is not just limited to regularly posting on social media. For active engagement with your target audience, you need to have dedicated personnel to look after your social media handles.
The person in charge of the social media handles must be available to chat with the customers, reply to their comments, and keep the handles lively at all times. Furthermore, you can make use of tagged pictures and tweets as powerful tools for sharing your FinTech companies message to the target audience. Apart from the message, such activity can also help you convey the company's motto and establish its values which in turn help you build a trusting relationship with the target audience.
The easiest way to engage the target audience with your posts or content is by making it a personal experience. You can do this by promoting content that is of interest to the target audience, for example, how to boost their credit scores or tips to avail discounts on their favorite brands. Many such engagements do not require super fancy graphics or complex one-liners. Furthermore, customers usually appreciate the raw human-to-human interaction much more than talking to a bot.
In conclusion, it is always best if you stick to a well-defined strategy for customer engagement and make it a point to develop this strategy in the early stages rather than later. Social media is pivotal to customer engagement and plays a significant role in building brand awareness. Additionally, you must also make it a point to always be available via other mediums, including phone, email, and chat, so that the customers can effectively engage with your brand at all times.
6. Overdeliver Your Promises
Businesses of all kinds, including FinTech, make certain promises to their customers that they can deliver, and it is not in the nature of companies to hold back their trump cards when making these promises. These promises could be regarding the services it can offer, its flexibility, or even its technical superiority. You may have heard of the "underpromise and overdeliver" strategy before. It is one of the easiest ways to deliver superior quality customer service without really having to do the extra work.
The "underpromise and overdeliver" strategy may not be ideal for all businesses, especially if there exists fierce competition in their respective industry or niche. FinTech companies often need to highlight their value proposition to entice the customers, but that does not mean you can not over-deliver your promise. Maybe all it takes is an additional or personalized offer to over-deliver your promise to the customer, and this then becomes a success story that you monetize over and over.
Another tactic that works especially well for FinTech companies is implementing PR through acts of kindness. Such PR connects with the emotional side of the target audience and creates a sense of positive bond towards the company. As far as the customer is concerned, there is nothing better than a FinTech company can offer them than fabulous customer service. The key to providing such awesome customer service is to overdeliver FinTech products and services.
When it comes to FinTech companies, it is not necessary that you go out of your way to do something magnanimous to overdeliver. Realistically speaking, FinTech companies should stick to feasible solutions for over-delivery, something small yet meaningful to the customers. Even something as simple as sending a thank you letter to your new customers can have unprecedented effects on the customers, which is why companies still use direct mails for fintech lead generation as part of their marketing efforts.
Similarly, you could also try giving them small gifts for special days like their birthdays. This gift could be something as simple as a gift coupon they can redeem at Starbucks for a free cup of coffee. In fact, you don't even have to wait for their birthdays because you can also award them for their loyalty towards your brand. Although they may seem like a small gesture, these are strong ways you can over-deliver to your customers and create a long-lasting relationship with them.
Apart from this, these small gestures or acts of kindness also serve to spread awareness not just about your brand but also about its values and how personally you treat your customers. This further becomes a talking point among your customers and ends up becoming a free advertisement for your business. Although most conversation with customers about a product or service provider often focuses on the negative sides, such gestures can play to your advantage simply because you chose to beyond the call of duty.
Essentially over-delivery can be classified as a form of organic marketing that further gets amplified thanks to the reviews, and even posts put online by the customers. The purpose of over-delivery is to make your FinTech products and services a talking point among the target audience. This can be especially useful for FinTech companies that want to make a name for themselves and build a reputation.
7. Invest in Smart Ad Campaigns
Ad campaigns are in their golden age right now, and it is especially useful for FinTech marketing with so many options to choose from. Financial companies, even in this digital age, fail to make use of the technology at our disposal today to grow their business. FinTech marketing should focus on making an impact where it actually matters, meaning that their efforts should revolve around their target audience. However, the truth is that Financial institutions still use legacy solutions like TV and Radio commercials.
The problem with legacy marketing solutions such as TV and radio commercials is that they are not targeted, and this pretty much makes it a game of luck. Of course, you can narrow down the time frame during which there is a higher chance for your target audience to be listening in on the radio or watching TV. But even then, there is no solid data, and most of the campaign will still be running on luck rather than numbers.
Smart Ad campaigns using platforms like Google, Facebook, YouTube, etc., are better than the traditional methods in every way imaginable, mostly due to the fact that they are data-driven. Your FinTech marketing efforts must include setting up Google as well as social media ad campaigns if you want to succeed in this digital era. But merely employing smart ad campaigns will not help you succeed. You also need to have a sensible budget, consider the target demographics, images, keywords, and even CTAs you want to use, and optimize them for conversion.
Now, the upside of using the smart way for your ad campaigns is that they are ready to be optimized as long as you are willing to put some time and effort into it. More importantly, all it will take you are a few clicks of a button. In contrast, billboards or even television ads don't even come close to their capabilities. Smart platforms like Google and Facebook even allow you to narrow down on your target audience and push your ads to the right people and at the right time.
8. Make Use of Influencers
Influencer marketing is already a well-established social media marketing strategy that can be used to extend the reach of your products or services. Many companies have already made use of influencers across various social media platforms to boost their reach as well as sales. However, FinTech marketing has always shied away from tapping into the potential of social media influencers for promoting their products and services.
The best thing about influencers from a marketing perspective is that they are unique, and they already have a fanbase or, in other words, an audience. FinTech companies need to figure out which of the influencers have the ideal target audience for promoting their products or services. With social media imploding with countless stars or influencers, it should be relatively easy to find the right influencer with the right fan following to help you boost your FinTech business.
Influencers are best utilized for instantly spreading awareness of a product or service your FinTech company provides. However easy it is to find the right influencer for your business may be, a decision must not be made in haste because this is probably the most important part when it comes to influencer marketing. Ensure that the influencer you choose suits your FinTech marketing approach and that the person you select can portray the message you are trying to convey.
You should also keep in mind that most of the influencers appeal to a certain lifestyle in their audience, and you need to make sure that this lifestyle aligns with what your FinTech brand is trying to promote or sell. Furthermore, you should not limit your campaigns to the big names in the influencer circle and should also go for the influencers with a relatively smaller following. They are called micro-influencers, and their number of followers can range anywhere between 100 and 500,000.
We'd suggest that you need not take the number of followers of an influencer at face value and should broaden your vision and look at the quality of work by the influencers. Many micro-influencers, despite having a lower number of followers, come up with content that is superior in terms of engagement. Like with almost everything else in life, quality always beats quantity. Therefore, as long as your FinTech marketing has the right direction, everything else should fall in line with your requirements.
9. Make Use of Videos
Videos have forever been unrivaled when it comes to conveying an idea regardless of its complexities comprehensively. As far as complexities go, there are few sectors that can rival the financial sector, which makes videos the ideal medium for conveying the idea of a product or service your FinTech company is offering. Another interesting thing about videos is that they demand the full attention of the viewer as they take in the visuals as well as the narration or sound.
When it comes to using videos for your FinTech marketing, it is best to create a video that showcases your product or service. You can create a video that is suitable for a short YouTube advertisement or make one that showcases the salient features of your new product/service. Regardless of which approach you choose to take, videos are a great way to highlight your product, or your work culture, or the values your company holds dear.
10. Combine Direct Mails WithOnline Marketing Efforts
We have saved the best for last, and this one is bound to be an effective FinTech marketing strategy for your business. The finance sector has long been using direct mail for its marketing requirements, and despite technological advancements, including email and text messaging, direct mail is one of the prominent forms of communication. Have you ever stopped to wonder why despite being such an old method, direct mail is still a prominent communication method?
Well, the answer to that question is probably that despite the many many advantages of communication via electronic channels, they are still not very effective. Think about all the emails and text messages that you have ignored simply because you didn't feel like them or because you thought it is spam, or for some other reason, for that matter. In terms of effectiveness in reaching the target audience, there is no beating the direct mails.
It doesn't matter how good content you have prepared inside. If the target audience does not open the mail and read it, the whole marketing effort goes in vain. Similarly, direct mail also has its limitations, and you can only fit so much content inside a small sheet of paper. However, when you combine the online mediums like a landing page and the reliability of direct mail for FinTech services, you get something that has the best of both worlds.
By combining the online and offline marketing efforts, you can make sure that the target audience opens the direct mail and then have them navigated to the relevant landing pages via a PURL link or a QR code. This combined format is perfect for FinTech marketing because not only does it make sure that the target audience acknowledges your value proposition via direct mail, but it also provides them the ability to access the product/service details with ease by combining online and offline mediums.
That being said, the accuracy and reliability of direct mail are only as good as the quality of address data you have at your disposal. We live in an age where we have oceans of information littered with both good and bad data and the real challenge becomes separating the good data from the extensive information available at our disposal. After all, your direct mail campaign can't do much if you have the wrong address.
Luckily there is an easy solution to your problem. All you have to do is make use of an advanced address verification tool like PostGrid. With an advanced system like PostGrid, you can go beyond address verification and automate the entire Direct mail campaign from having it printed to sending it to their respective destinations. Furthermore, using a smart system like PostGrid even gives you access to invaluable data and insights that you can use to optimize your marketing efforts.
Conclusion
FinTech marketing is perhaps among the toughest and most challenging marketing sectors in the present day. What makes it unique from other forms of marketing is that FinTech has to deal with customers who are not entirely sure about what they want or need. This means FinTech marketing strategies have to be easily comprehensible to the target audience, and this is easily accomplished through quality content, especially video content that is easy to understand. Thanks to modern-day technology, we are well equipped to present all sorts of content to the user, let it be blogs, or videos, or podcasts.
However, reaching the target audience has become increasingly hard because customers tend to avoid or even ignore ads and promotions. Direct mail campaigns, when used in combination with smart solutions, can be perfect for FinTech companies.
Furthermore, by using advanced solutions like PostGrid, you can automate the entire direct mail process and, in turn, streamline your FinTech marketing strategy as well. The ideal FinTech marketing strategy combines the best of both worlds to get you the best possible result.
Ready to Get Started?
Start transforming and automating your offline communications with PostGrid
SIGN UP
REQUEST A DEMO