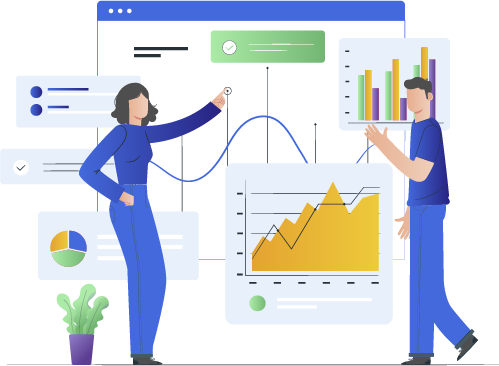 FinTech Lead Generation with Direct Mail Marketing
Financial technology, popularly known as fintech, is an emerging industry and a crowded one. This industry has seen many trends over the years and is currently offering financial services that range from mobile payments to cryptocurrency. As several financial institutions, insurance companies, and fintech startups continue expanding their operations; competition will rise. Hence, fintech lead generation strategies are in demand.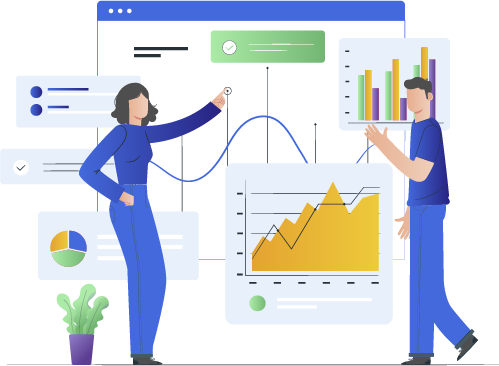 Out of all the offline and online marketing channels available, direct mail has proven to be the most effective one time and again. Direct mail connects people personally and establishes a bond between two parties; fintech customers need that bond to trust a company and give it a try. Fintech and financial institutions run on reputation and trust, which can be gained easily through direct mail.
Fintech lead generation is not so easy as quality matters the most in this industry. Getting high-quality leads that have good chances of conversion is difficult and time-consuming. Using direct mail marketing for fintech lead generation can help fintech companies improve brand image, and online visibility, drive valuable responses, and form an efficient follow-up system. Gone are the days when direct mail was expensive and strictly offline; you can now automate the process and use it for driving online traffic as well.
Benefits of Using Direct Mail Marketing for FinTech Lead Generation
Compliments Digital Marketing
Fintech companies cannot avoid using digital marketing as their services revolve around the latest trends and technologies. Though these companies were earlier dependent on events, trade fairs, and other such offline advertising methods, a majority of them have shifted their focus towards digital marketing. Direct mail backs up fintech companies' digital marketing efforts and helps them get valuable leads.
Good For Trust-Building
Direct mail is perhaps the best option for fintech startups and financial institutions to gain people's trust and make them believe in their brand. Nowadays, customers are extra careful about making decisions related to finance. Therefore, they are bound only to use the services of a trustworthy financial institution or fintech company. Sending regular direct mail items can help your case by forming a strong base for your company-customer relationships.
Increases Visibility
It is important for fintech companies to be seen everywhere, from social media advertisements to direct mail postcards. However, direct mail gets more exposure as it can be shared among family and friends. An eye-catching direct mail is kept at households and offices for several days and weeks, during which a lot of people see it. Some postcards with impressive and beautiful backgrounds are either pinned on people's wallboards or stuck on their refrigerators, hence increasing visibility and brand recognition.
Explains Services Properly
Oftentimes, it is difficult to explain several financial terms and services in brief to customers. They are technical, and not all people are able to understand them in one go. Fintech institutions, hence find creative and easy ways to explain their services to people. Catchy and self-explanatory taglines, bullet points, and lists are the best ways to do that. Direct mail offers an opportunity for fintech companies to reach out to their target audience directly and solve their confusion.
Trackable
Some marketers still think that direct mail is difficult to track. But, their thoughts are far from reality. Direct mail is trackable in several ways, including custom contact numbers, exclusive offer codes, personalized URLs, exclusive QR codes, and so on. Whenever somebody scans your exclusive QR code or calls on a dedicated phone number, it gives marketers a clear view of their campaign's engagement level. Fintech institutions can follow up on these responses and increase conversions.
Grabs Attention Faster
Since you send direct mail items to people's homes and offices, they are difficult to get ignored. A person might happen to scroll right past your well-designed online advertisement but is unlikely not to view your direct mailer. Direct mail grabs attention faster than any other marketing channel. Generally, everybody is curious to see what is inside an envelope or what the mail says.
Highly Personalized
By using print and mail automation solutions like PostGrid, no personalizations are too much. From the design to the copy, marketers can change everything and mail different mailers to different people. Variable data printing makes it possible to send unique mail pieces to everyone. It enables businesses to solve different queries, answer different questions, address different people, add different offers, and conduct a hyper-personalized direct mail campaign.
Highly Relevant
Fintech customers are spread out, and it can result in fintech companies spending a lot on general rather than targeted marketing. However, that does more bad than good and can waste your marketing budget. Direct mail allows financial institutions to identify prospects and target them directly.
9 Fintech Lead Generation With Direct Mail Marketing Trends
1. Send Mail to Online Respondents
Previously, fintech companies were dependent on in-person trade shows and events greatly for getting leads. However, due to the pandemic outbreak, it seems very unlikely. Therefore, fintech institutions can either host or attend webinars, virtual conferences, and other online events to interact with people and collect leads. Sending personalized direct mail items to buyers who show an interest in your brand online can help fintech companies start valuable conversations with prospects.
It would be great if you can host online events as such, but attending others' events is also a good strategy. B2B lead generation for fintech companies starts by improving online visibility, increasing networks, and connecting with decision-makers. Direct mail can help you act upon the leads that you get from virtual events so that you can move customers ahead in the sales funnel.
Digital data can be collected in a number of ways other than the above mentioned. Putting together a mailing list of people who follow your social media handles, have left you emails, have visited your website, or have commented on your blogs are the best and the most organic ways to incorporate digital data into direct mail for fintech lead generation.
2. Provide Informational Content
As said earlier, fintech services can get a little technical to explain to everyone. Furthermore, buyers are continuously looking for fresh and informative content that can help them make the right decisions. Fintech companies can use direct mail to break down complex information into understandable parts. They can also talk about how their services can help them achieve certain related goals. This way, buyers can be more aware of what to do next and can make the right decision for themselves.
The thing that separates useful mail from junk mail is its validity. Avoid making false claims or misleading your audience for getting more responses. Including informational content in your direct mail items that resonate with your audience and help them know things clearly is what can get you the most responses.
Marketers can also include personalized landing pages in their direct mail that takes your prospects to the FAQs page on your website which solves their queries better. Either way, focus on providing value through your content. Highlight your service benefits so that your prospects know what problems they can solve using your services.
Be transparent regarding your terms and policies. If possible, add all the necessary links so that recipients can read about your working procedures, operations, terms and conditions, ways to use, and more.
3. Add Credibility
Fintech companies use their brand image and credibility to get leads and conversions. Apparently, they need to have a good reputation in the market so that people think of them as credible. Credibility cannot be earned overnight, and it is vital for getting the average conversion rate lead generation fintech. It takes years and years of excellent services, a strong customer support system, added benefits, satisfied customers, and more. How can a fintech company add credibility to its services and get people to trust them?
Companies should concentrate on adding some trust factors to their appearance, content, and services. One way to add credibility is to be seen more, which can be done really well through direct mail. Other ways include inserting the following components in your direct mailers:
Use cases
Case studies and examples
Customer reviews
Samples or free demos
Links to video testimonials
Trust is the key to inducing people to purchase your services, hence fintech companies should include the above things in their direct mail items. They highlight that you are a legit brand that is used by several people like them. Testimonials are powerful and impactful for fintech companies. They are relatable and can get prospects to complete the CTA.
4. Continuous Testing and Improvement
The fintech industry is developing and evolving every day, which makes the 'set-it-and-forget-it approach obsolete. Fintech companies now require a marketing method that calls for continuous monitoring, analyzing, testing, and improvement.
Direct mail can help both well-established financial institutions and newbie fintech startups to conduct market research and find out the recent trends in the financial market. This step enables companies to advertise accordingly and not miss out on any opportunities. One of the best lead generation strategies for startups in the fintech industry is to adopt what their competitors have adopted and stayed in line with customer preferences.
Before conducting a large-scale direct mail marketing campaign, it is advisable to print and mail a few items to check response rates and make notes for improvement. You can perhaps ask your existing customers to give feedback that can be used to improve your campaigns.
Continuous testing is important. Every direct mail campaign should be tested by sending out a few pieces before actually conducting the entire campaign. It can help make positive changes and attract more prospects. Fintech lead generation is often tricky due to high competition. By testing your advertising methods regularly and considering customer feedback, you can stay ahead of the competition and reach the right people with the right message.
5. Market Segmentation
How old are your prospects? What are their views about fintech services? Are they currently using the services of any other fintech company? What are their thought processes and choices in general? The answer to these questions can actually help with B2B lead generation for fintech companies. Knowing your audience is the key to serving them better.
Fintech firms need to filter audiences to find buyers that would want their services. This segmenting process can be made easier when you know what filters to apply. Therefore, define your customer profile clearly and segment markets as per it. Then, you can send direct mail items with personalized taglines, images, and CTA that can persuade prospects.
The fintech industry is competitive. Therefore, companies must not only plan on getting fresh conversions but should also retain their old customers, and what better way to do that than direct mail? People are delighted to get cashback, discounts, vouchers, coupons, and other such things in the mail. It allows fintech companies to keep customers engaged and motivated to use their services.
6. Account-Based Marketing (ABM)
Account-based marketing is the modern approach taken by B2B fintech companies and financial institutions for lead generation. Though it is an omnichannel marketing approach involving both online and offline marketing forms, direct mail is one of the most commonly used forms for ABM. The entire process is to target accounts and their key decision-makers to shorten the communication cycle and connect with them directly. Sending a personalized mail item that is of the company interest and bears the name of the key decision-maker can help fintech institutions put their message across effectively and impress prospects.
It is said that you need to go through around 7 to 10 people before closing a B2B fintech purchase deal. How do you target these many people of the same company at the same time and get them on the same page? Yes, your goal can be achieved through direct mail. All you need to do is design personalized, informative, problem-solving, and eye-catching direct mail items and send them to all the decision-makers in a company. It is worth the extra cost and effort as such B2B deals are mostly high-end.
With account-based marketing using direct mail, you can connect with anyone you want, provided you have the names and addresses of these people. From the admin to General Manager, Managing Director, Senior Accountant, CFO, and CEO, you can target anyone and deliver your message.
7. Include Relevant Offers
Offers are a reward to your audience for completing the CTA mentioned in your mail piece. You cannot ask your prospects to do something for you like visiting your website, talking to a representative, scanning a QR code, or signing up somewhere without offering some value in return. Offers are a great way for fintech companies to convince people to take the desired action. Fintech lead generation is dependent on people wanting to use some of their services against taking some action. For example, you are promoting your online wallet services to an audience and want them to refer you to a friend. In this case, you might have to give them extra credit on referrals or signups.
Some of the popular offers that fintech companies include in direct mail to generate leads are:
Reducing the minimum balance requirements
Offering flexible micro-investment options
Eliminating all barriers in the way of investing
Expanding customer credit
Giving cashback
Collaborating with top brands to give away free vouchers to be used within a specific number of days, and so on.
How do you decide which offer would be more tempting to your prospects? For that, you need to study the needs of your prospects and personalize offers accordingly. Including relevant offers can improve your response and conversion ratios significantly.
8. Format and Copy of Mail Items
The format and copy of fintech mail items are obviously different from mailers of companies from different industries. Avoid using too many colors and overwhelming the readers with too many components in a single item. For selecting a mailpiece format, review your content carefully. If you need to just inform your recipients about a webinar, some extra credits, or a new service, you can undoubtedly use small or medium size postcards. They can deliver short messages really well. But, if you need to explain something in detail and in a more personalized manner, use letters. Additionally, pick a format that fits your budget.
Fintech institutions can use a one-page letter or a medium-size postcard that briefly explains their services while highlighting benefits and offering value. The design should be creative yet professional. Direct mail allows fintech companies to represent themselves in a down-to-business way that can show accounts that they are serious about their work and can provide the desired services efficiently.
Most of the fintech buyers do not have a lot of time to read your mailers, so keep it short and precise. Present your proposal early so that they know the purpose of your mail and what you have in store for them. Fintech marketers should think about fascinations or teasers. Something that can be printed on the outer envelope and induces people to open your mail. Use short sentences, proper margins, bullets, subheadings, and enough white space to highlight your content.
9. Marketing Automation
Automation is the new way to go about marketing. Conducting marketing campaigns without automation is time-consuming, difficult to track, and also expensive. Marketing automation can help you keep track of records, plan campaigns in advance, eliminate manual effort, and get everything done speedily. It also helps you align your sales and marketing efforts to improve effectiveness and save your sales team's precious time.
Devise a plan that monitors the inputs in your database, recognizes recent market trends, helps in segmentation and personalization and allows you to measure performance periodically. Such a plan can come to life only when you automate your direct mail marketing activities.
Direct mail marketing for fintech lead generation is impactful and can bring about excellent results. Direct mail automation solutions like PostGrid can take direct mail to another level and help fintech institutions conduct highly productive direct mail campaigns.
How Can PostGrid's Direct Mail Automation Solutions Help Fintech Companies Generate Leads?
PostGrid's automated direct mail solutions can help you with all your direct mail lead generation activities in the following ways:
Target and Reach Decision Makers
PostGrid can help you segment your database and target decision-makers. This way, you know who you are dealing with and prepare accordingly. Sending direct mail items to these accounts can help fintech institutions interact with their prospects on a 1:1 level. The direct mail piece can help you arrange a meeting, or perhaps schedule a sample demo, and so on. In the fintech industry, direct mail works as the bridge between bringing the company and customers one step closer to sealing the deal.
Furthermore, PostGrid's print and mail solutions come with free address verification, which means that you can verify all your mailing addresses beforehand. It makes you confident that your direct mail items will be delivered to the right addresses, and you don't have to bear any reshipping costs.
Design Appealing Artworks
Designing your artworks for direct mail marketing has fintech companies looking for contract designers and copywriters. PostGrid's direct mail automation solutions can help you save both designing and copywriting costs. You can select from among the various pre-built professional templates that can go perfectly with your fintech marketing messages.
Fintech companies need artwork that can distantly highlight all their features and benefits while also drawing enough attention to the CTA and the offer. Every component must be creatively integrated into the artwork and pleasing to the eye. PostGrid's pre-built templates allow you to design such creatives speedily and add some customizations according to your requirements.
Increasing Digital Outreach
Whether you want to use variable data printing for personalizing your mailers or include personalized trackable features, PostGrid can help you increase your digital outreach. As mentioned earlier, direct mail compliments and backs up digital marketing. Similarly, digital data helps you target relevant people.
PostGrid's print and mail API can help you drive online traffic with QR codes, PURLs, and more. You can also add links to your social media handles so that people can follow you there. Not just that, PostGrid's API can be integrated with your CRM. Hence, you can import the required details speedily and print and mail direct mail items to your prospects effortlessly.
Get Campaign Insights
Getting campaign result reports and insights is important for measuring performance and conducting better campaigns in the future. PostGrid allows marketers to access campaign insights and reports after every campaign. It also allows real-time tracking of mail items so that you can make informed decisions and follow up with accounts at the right time.
Other than these things, PostGrid can help you in a lot more ways. It can help you follow all the fintech lead generation trends mentioned above. Plus, fintech institutions can get complete print and mail fulfillment without having to go anywhere or do anything manually.
Examples of Fintech Direct Mail Marketing Campaigns
There are many fintech companies that use direct mail marketing for making themselves known in the market and get people to try out their services. One such example is SoFi.
SoFi has been known as a top player in the fintech industry. Over the past few years, it has continued to grow by giving out loans, adding customers, and making excellent profits. One of the main reasons for its success is systematic marketing. By 2018, the company was sending out 15 million mailers every month. This fintech company finds direct mail as an efficient marketing channel and has also included direct mail in several of its omnichannel marketing campaigns.
Avant and Credit Karma are also known to send out millions of mail pieces per year in collaboration with sending emails and conducting other digital marketing campaigns.
An article in The Wall Street Journal states that leading fintech companies like Prosper Marketplace Inc. and LendingClub Corp. have been sending direct mail items worth hundreds of millions. Though their main aim is to shift customers from traditional financial services to digital, conducting offline direct mail marketing campaigns is their main marketing strategy.
Wrapping Up
Fintech lead generation can be executed easily through an efficient marketing system. Direct mail, being the most impactful offline marketing channel, should be included in your marketing campaigns as it is cost-effective, easily traceable, memorable, and convincing.
Direct mail automation solutions like PostGrid can help fintech companies plan their campaigns seamlessly, integrate the print and mail API into their system, start designing their own mailers, get them printed in any number they want, and get them mailed accurately. There is no need for you to find designers or printing vendors and negotiate prices. PostGrid offers print and mail automation at all-in-one rates that are affordable and reasonable. The pay-as-you-go option allows fintech companies to be flexible and mail without any commitments.
Direct mail marketing can help fintech companies generate high-quality leads and contact their prospects directly. PostGrid's direct mail automation API enables these companies to send postcards, letters, and cheques while conducting well-planned and performing direct mail campaigns without any manual intervention.
Ready to Get Started?
Start transforming and automating your offline communications with PostGrid
SIGN UP
REQUEST A DEMO