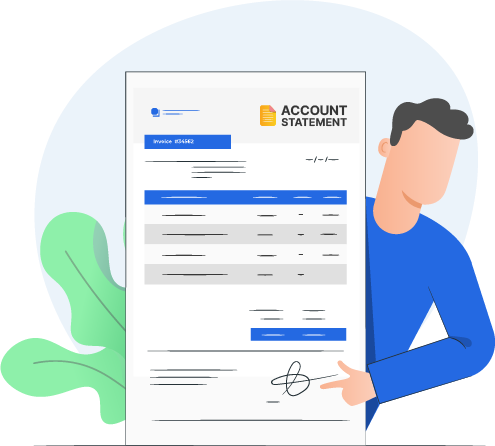 Financial Statement Processing, Printing, and Mailing
Printing and mailing monthly statements may not sound like a lot of work until you realize how daunting it can be. It consists of several steps like drafting, printing, inserting, sorting, and mailing—all of which are menial jobs that take a lot of time and effort.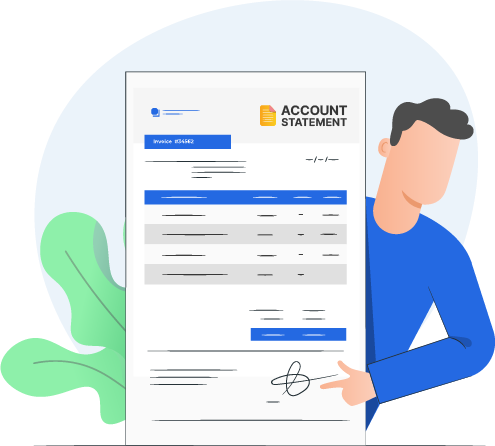 There are several complexities to consider while processing statements, like:
Design

Security

Costs

Timeframes

Industrial standards, etc. 
Banks and other financial institutions need to deal with such hectic tasks almost every day.  So, how about outsourcing these tasks to an expert to take the workload off your shoulders? 
You may think outsourcing can make the entire process expensive, but it is quite the opposite. Also, it also helps you print and mail statements faster and in a more efficient manner. 
An online financial statement printing company like PostGrid can assist you in every step of processing statements and help you get started. Thus, you can save a lot of time, money, and effort. 
In this blog, we will talk about the reasons to print and mail statements online. We will also discuss the benefits of outsourcing that make it a great deal!
Why Should You Use Statement Processing Services?
If you haven't considered using statement processing services yet, the reasons below might change your mind:
Reduced Costs
Want to get your statements printed and mailed efficiently but at lower costs? If yes, using statement processing services can help you manage your budget and cut down costs effectively. Here's how:
You can skip the part where you regularly buy perishables like paper stock, ink cartridges, address labels, envelopes, etc. 

Cut down postage costs by presorting your mail and getting bulk discounts. 

Avoid hiring additional staff to complete print and mail tasks. 

Prevent investing in expensive printing and sorting equipment. 
Cut Down Manual Work
As said above, there are a lot of menial jobs involved in statement printing and mailing. Outsourcing can help avoid doing such tasks altogether. 
You can automate everything with a few clicks and sit back as our API does everything on your behalf. Your employees can use this freed-up time to focus on the other core areas of your business rather than taking care of administrative duties. 
Control Every Aspect of Your Operations
It is hard to overlook and keep records of every print and mail activity in your firm. But, by using our statement print and mail services, you can track these activities online. Control everything from the number of statements printed every month to how you want them to be printed and mailed. 
You can also change user settings through your dashboard and control access throughout the firm.  
Send Statements on Time
Improve your brand image by sending out statements on time. Manually, it may not always be possible to create, print, sort, and mail statements within a set timeframe. But, it is possible to do it with the help of automation. 
By automating the process, you can assure that the statements are mailed on a specific date every month. It will help you increase customer satisfaction and also lead to fewer inquiries.
Benefits of Outsourcing Financial Statement Printing and Mailing
Below are some prime benefits you can expect from outsourcing your financial statement print and mail activities:
Greater Accuracy
Drafting statements manually can lead to misspellings, typos, spacing errors, etc. But, online statement printing and mailing services can help you avoid such inaccuracies.
You can integrate PostGrid's print and mail API into your CRM and start drafting statements in an automated way. Therefore, you don't have to go through the additional effort of generating them one-by-one or risking inaccuracies.
Ability to Scale
If you outsource your jobs, you don't have to stress if you suddenly need to send out 10,000 statements instead of 1,000. Since you are not handling jobs like buying paper stock, printing statements, and affixing stamps on the envelopes, you can be ready to mail in any volume.
PostGrid's API is scalable and can process thousands of API calls every second. Thus, you can mail on-demand and in bulk, as per your needs.
Use the Latest Technology
It is advisable to combine your direct mail activities with the latest technology. You can do so by using the newest technological advancements like digital color printing, variable data printing, API integrations, etc.
Furthermore, you can choose to print personalized URLs and QR codes on your statements to give your customers a digitalized experience. Plus, enable them to see their account details, make bill payments, and conduct other actions online.
All of this is possible when you outsource your print and mail activities to statement processing companies like PostGrid.
PostGrid's Statement Print and Mail Services
Find below a list of our features that can help you conduct statement processing in an affordable, simple, and effective manner:
Enhanced Security
Statements consist of a lot of confidential and sensitive information. Hence, we are committed to processing your statements with utmost data privacy and security. PostGrid is compliant with various data security laws like PIPEDA, HIPAA, SOC-1, and SOC-2. We have the relevant expertise to handle your customer data with utmost care and privacy.
You can also add Intelligent Mail Barcodes (IMBs) to your statements to make sure that they reach their intended destinations securely.
Printing Options
You get a lot of printing options to choose from according to your requirements. Furthermore, you can decide if you want B/W or color printing.
PostGrid has partnered with several reputed printers all across the US. Hence, your statements are always printed in excellent quality and on time.
Insert and Presort Your Statements
Banks and financial institutions can now automate tasks like inserting statements into envelopes, affixing stamps, etc.
Our direct mail API can process your statements speedily and without any manual effort. Plus, it can presort them as per ZIP codes beforehand so that the USPS can mail them faster.
Digital Statements
Want to email a copy of the statement to customers? You can save all your statements and view them on the dashboard at any point in time. These copies can also be emailed to your customers easily.
Statement Design
Which element of your statement should your customers notice first? What is the call to action of your document? Such questions demand you to pay attention to your statement design.
A solid design can help your customers understand everything in the statement accurately. It will, therefore, reduce any confusion and misinterpretations.
PostGrid has several professionally pre-built templates that are ready to use. Thus, you can cut down on the design costs.
You can add your brand logo, contact details, etc., to all your statements and customize them in any way you wish. PostGrid helps you avail of variable data printing at no extra costs.
Data Management
PostGrid can work with your database in any format. All you need to do is integrate it with your system to get started.
Our API enables you to clean your database, remove duplicate entries, and keep it updated at all times. Also, our address verification service can help you verify all your customers' mailing addresses so that you can send the statements to the correct locations.
We run the mailing lists through the USPS NCOA database to check if any of your customers have moved. If yes, the new addresses are updated accordingly in your system before mailing.
PostGrid is CASS-certified, so you can be assured that your mail will reach its correct destination.
Track Delivery Status and Get Periodic Reports
Printing and mailing statements is not a sent-and-done deal. You need to make sure they also reach the customers. Hence, PostGrid offers real-time mail tracking for all your sent statements.
Plus, you can access periodic reports through your dashboard that gives you complete details of all your current and past orders.
24 x 7 Technical Support
Our direct mail API is easy to install and use. The process does not need any technical expertise and can only take a few minutes. However, our technical support team is available 24 x 7 to assist you throughout the process.
Also, PostGrid does not require you to pay any minimum monthly charges or commit for a long term. You can order any number of statements at any time and only pay for them.
Transpromotional Printing
Transpromotional printing, also known as transpromo, combines transactional documents with promotional materials. Thus, you can print marketing messages on your statements to subtly advertise your brand to customers.
The main motive behind transpromotional printing is to upsell or cross-sell products. For instance, you can add a 10% discount code on your statements for customers to upgrade their plans or buy from you again.
This way, you can drive repeat business and boost your conversion ratios.
International Deliveries
PostGrid helps you print and mail statements to over 240 countries around the globe. Also, our address verification API allows you to standardize and verify addresses as per the destination country's guidelines.
Wrapping Up
Financial statement mailing services like PostGrid can help you make your job so much faster and easier. Furthermore, the reduced cost and increased efficiency are like icing on the cake.
PostGrid, unlike a lot of other statement processing companies, offers complete print and mail fulfillment. Hence, you need not hire separate vendors to perform different tasks.
Our API and platform are the one-stop solutions you have been looking for! Request a demo now to know more about how we can help you print and mail your financial statements.
Ready to Get Started?
Start transforming and automating your offline communications with PostGrid
SIGN UP
REQUEST A DEMO