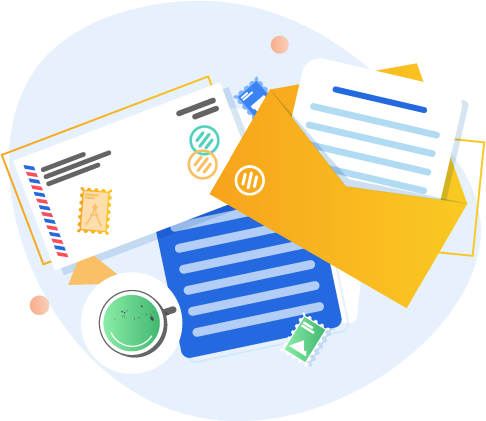 EDDM Vs. Direct Mail: Which Option Is Better for Your Business?
"To me, the future is personalization." – Marissa Mayer.
This quote speaks volumes about businesses being too sales-focused to remember that their audience is human. 
Personalizing customer interactions at every stage of their buying journeys is vital! It allows companies to boost their image and establish a valuable network.
So what's the most cost-effective and result-driving way to personalize customer correspondence?
Direct mail! 
But there is always a direct mail vs. EDDM debate that marketers face!
Choosing the ideal mail delivery type for their marketing campaigns can be challenging.
Hence, let us settle this debate for once! This blog discusses EDDM vs. direct mail in depth to allow you to make an informed choice.
Let's get started!
What Is EDDM?
Before we get into the details, you must know what is EDDM mailing and why businesses use it.
EDDM stands for Every Door Direct Mail! It is a USPS service that enables businesses to send mailers to every household on specific routes. 
For instance, local businesses like restaurants or car dealerships can flood targeted localities with EDDM postcards and letters. It allows them to promote themselves to the entire community, letting all residents know they are open for business. 
EDDM is a location-based marketing type that helps you contact everyone residing or working within a certain radius around you. You don't need a mailing list to begin, making it seem more manageable and affordable to launch EDDM campaigns. 
But, in reality, this channel produces a lot of waste. Thus, many companies choose personalized mailing in the EDDM vs. direct mail dilemma. 
What Is Targeted Direct Mail?
Targeted or personalized direct mail may seem similar to EDDM, but it has many differences.
When discussing EDDM vs. direct mail, we must remember they both involve sending printed items to prospects. One (EDDM) allows you to mail entire neighborhoods, hoping for responses.
The other channel (targeted mail) helps you ship mailers to a refined mailing list to get the maximum engagement and boost ROI.
Personalized mailing empowers you to connect with the correct audience with relevant solutions. You can reduce probabilities and drive more valuable responses without wasting time.
The EDDM vs. targeted mail debate highlights many factors, like costs, goals, intended prospects, and customization. The only way to make the correct choice is to consider them with your business in mind.
If you discuss EDDM vs. direct mail and choose targeted mailing, use PostGrid's direct mail API.
It lets you create and send on-demand and bulk items online. Hence, you don't need to do anything in-house. You can also wave goodbye to costly processes and hectic postal requirements because we manage everything for you.
Gone are the days when companies would pick EDDM because it was easier. Targeted mailing lets you choose what's best for your company and its growth!
What Are the Primary Differences Between EDDM Vs. Targeted Mail?
When companies need to pick between EDDM vs. direct mail, they consider aspects, like
Response Rates
Direct mail produces a response rate of 4.4%! It is an excellent way to communicate with prospects and customers and hook them to your brand.
The response rate for direct mail vs. EDDM suggests that
Direct mail can grab the audience's attention better.
It leaves a long-lasting impact.
People like getting personalized mail compared to generic mailing that they consider spam.
In the EDDM vs. direct mail argument, it's more straightforward and result-focused to conduct marketing using custom mailers.
Generic messages don't appeal to anyone, so it makes sense.. Imagine getting a birthday wish that says- Dear reader, Happy birthday!
On the other hand, consider this message- Dear Jeremy, Happy birthday, and have a nice day! The second message is personalized and relevant, giving it a personal touch.
Such tactics are not feasible in the direct mail EDDM channel.. It only focuses on dropping your promotional materials off at every doorstep, irrespective of whether the recipient is a potential customer.
Artwork and Printing Requirements
Targeted mailers offer flexibility because you don't follow specific volume limits or size and weight restrictions.
Using PostGrid, you may send a single letter or thousands as part of one campaign. There are zero limitations, allowing you to fulfill your campaign goals.
When deciding between direct mail vs. EDDM, consider the postal requirements you must follow. For example, USPS lets you mail only when you have at least 200 pieces. Also, the maximum cap is 5,000 items.
It also restricts sending too many items to the same delivery routes daily. Bulk shippers can easily decide who wins the EDDM vs. direct mail argument because EDDM does not offer the needed flexibility.
If you integrate PostGrid's direct mail API, the postal guidelines automatically apply to your artwork and printing activities. But the direct mail EDDM channel does not offer such benefits. You may need to complete all tasks in-house, wasting time, money, and effort.
EDDM has strict size regulations. Your items must measure more than 11.5" x 6.125" x 0.007". Also, they should not exceed 15" x 12" x 0.75".
These requirements make launching direct mail EDDM campaigns more time-intensive.
But personalized direct mail works differently! You can employ PostGrid's direct mail API and sit back as our automated solutions handle everything from start to finish.
But Are the Prices for Direct Mail EDDM Low?
If you are new to EDDM vs. direct mail conversations, you may think EDDM is cost-efficient.
The per-piece rates might be lower, and you don't pay for a mailing list. But this channel generates hundreds of thousands of spam mailers.
The direct mail EDDM prices are more affordable than personalizing mailing. However, the low response rates can cost you more in the long run.
We must understand that mail marketing is not about putting your message in front of people. It relates to communicating tailored messages to your most likely customers, ensuring responses.
Continuing to send direct mail EDDM across ZIP codes or localities can also impact your brand's reputation. It can be a task to prove your company authentic if your audience thinks you are a junk mail sender.
Meanwhile, targeted direct mailing provides customization options, QR codes, design templates, affordable pricing, and more. Also, PostGrid's direct mail services offer native CRM integrations, empowering you to connect your offline and online tools.
They simplify data transfers and multi-channel campaigns and add more functionality.
These features make selecting between direct mail vs. EDDM less complicated. You can still choose EDDM to try it out and when you want to contact everyone nearby.
It is an ideal way to introduce your business to a new market. But personalized mail does it better!
The best part is that PostGrid offers competitive pricing plans for targeted mailings. Hence, you don't need to use direct mail EDDM only to save on marketing investments.
Is the Direct Mail EDDM Mailing Speed Better?
Delivery times are longer for EDDM mailings. You cannot track your items within the USPS system to stay informed. It is similar to do-it-and-forget-it campaigns, where you can only assume or expect specific outcomes.
Learning what is EDDM and launching campaigns can help businesses that are not concerned about the results or willing to wait.
But it is better to opt for personalized direct mail to see timely, measurable results. PostGrid's direct mail services allow clients to access their campaign reports and insights from the dashboard. They can use this data to improve upcoming programs and drive a higher ROI.
The EDDM vs. direct mail delivery times are vital to deciding which channel to use. EDDM can take weeks if you face issues regarding size requirements, artwork preparation, and more.
But personalized mailings with PostGrid take only two business days to prepare and print.
Then, USPS initiates shipping, which takes a few days to two weeks, depending on your preferred mailing class. You can select express delivery to send items via Priority Class. It is apt for urgent mailers, like postcards with a time-sensitive discount offer.
The Per-Piece Personalization for Direct Mail Vs. EDDM
As discussed above, direct mail EDDM campaigns don't offer personalization options. You can print and ship postcards and letters to specific delivery routes and wait for people to call you. The end!
You can do very little to make an EDDM campaign successful because you are not in control.
PostGrid-powered direct mail lets you personalize every item beyond the recipient's name. You can add more details regarding the prospects' locations, buying histories, preferences, and demographics.
Hence, personalized mailings get more points when discussing EDDM vs. direct mail campaigns. It is more attention-grabbing and tailored, improving your chances of converting customers.
Here are some customization ideas that direct mail EDDM cannot offer:
Action-based triggers: PostGrid allows you to ship well-curated items to relevant prospects whenever they complete a specific action, like signing up for a trial. You can use this feature to grab profitable opportunities and grow sales.
Embedded QR codes and PURLs: EDDM does not let you add customizable codes and links to your items for tracking. But you can take advantage of these elements when sending targeted mail. They help categorize responses and measure your campaign's performance hassle-free.
Custom discount offers and CTAs: Personalize your program discounts and CTAs for every prospect. You can collect data about their buying histories and customize these aspects to get better results. It is impossible to achieve such goals using direct mail EDDM mailings, restricting your business development.
Laser-focused targeting: You can compile a segmented mailing list with PostGrid to only mail the most relevant prospects across cities and states. Improve your brand reputation and get better leads by selecting personalized mail over EDDM.
Can You Use Marketing Automation?
Automating your mail marketing campaigns takes the workload off your shoulders. You can outsource your work to PostGrid and relax as the results pour in.
But marketing automation does not work the same way in EDDM vs. direct mail arguments. EDDM lacks automation capabilities, leaving no choice but doing all tasks in-house.
You may need a printing vendor to keep up with the postal size and weight guidelines. Also, you must pay for design costs, ensuring USPS accepts your mailers.
The entire process is ineffective and expensive. The costs and time quickly increase as you scale direct mail EDDM campaigns.
But PostGrid eliminates this issue for your business!
It helps you send personalized direct mail to a refined mailing list and guarantee positive results. And you can manage the costs, volume, and other factors with a few clicks on your device.
Which Is Better: EDDM Vs. Direct Mail?
EDDM has many pros and cons. For instance, a dental office can send out promotional postcards promoting free checkups in the area. It is a robust marketing tool if it already has many local patients. 
The direct mail EDDM campaigns are location-based. Hence, they can work well if you plan everything and have the necessary resources. 
PostGrid can connect you with our commercial printers' network to assist you in sending EDDM items. 
But the delivery times, response rates, and ROI for EDDM vs. direct mail favor personalized mailings more. And recipients store custom mailers for a longer time than spam items. You can improve your campaign's durability by adding compelling offers. But please remember to add a deadline, pushing people to act faster. 
A well-tailored, targeted campaign gives you more exposure and improves your brand's reputation. It connects you with qualified leads to boost response ratios and engagement. 
Also, you can use the campaign insights to craft better marketing strategies across all channels. This information is valuable for understanding your target audience better and serving them well. 
There is a clear winner in the direct mail vs. EDDM debate. Most EDDM campaigns create waste and lead to low-quality leads. They also affect your productivity and sales funnels. 
Choosing targeted mail has the opposite effect! It is result-bearing and engaging, helping your company fulfill its goals. 
How Can PostGrid Help You Send Effective Personalized Direct Mail Items?
Our all-inclusive services enable companies to automate everything, from design and printing to distribution and tracking. Hence, they can easily choose between direct mail vs. EDDM without worrying about completing in-house tasks. 
Here is how we can add value to your business: 
Reduce clerical work

: PostGrid lets you automate activities like stuffing envelopes, adding labels, and sticking postage stamps. Your staff can save time for more productive work instead of handling printing, assembling, and logistics. It is a primary factor differentiating

EDDM vs. direct mail

via marketing automation. 

Integrate with digital tools: You may integrate our direct mail API with your CRM accounts, like HubSpot, Salesforce, and Zapier. These integrations help you fetch customer data from your system and auto-fill the mail items within seconds. 
Improve customer experience

: Once you choose between

EDDM vs. targeted mail

, you can improve your customer experience. Provide solutions to your audience's needs with customized mail and guide them ahead of their buyer's journeys. It is an excellent way to establish credibility and relationships to increase sales. 

Maintain data privacy

: Printing and sending

direct mail EDDM

can lead to potential data leaks, primarily if you hire non-compliant printers. But PostGrid ensures end-to-end HIPAA and PIPEDA compliance to make your mailings secure and private. 

Automate workflows

: Every campaign needs to be planned and launched manually with EDDM. But personalized mail lets you automate mailing workflows using triggers and other high-tech features. 

Dedicated SLAs

: PostGrid offers a two-business-day SLA. But you can pre-set your campaign dates based on your needs, helping you become more flexible. 
Get a demo to learn more about EDDM vs. direct mail and how PostGrid can help!
Ready to Get Started?
Start transforming and automating your offline communications with PostGrid
SIGN UP
REQUEST A DEMO