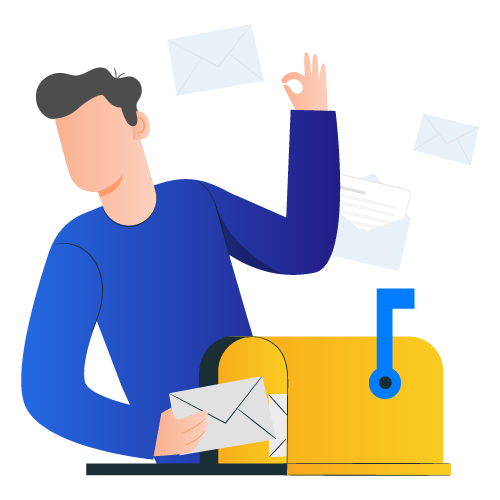 Building Effective Direct Mailing Lists For Your Campaign
Direct mail is ruling the direct marketing industry and setting new records every day!
Launching a direct mail campaign is tricky and needs a lot of planning. Still, you can do it right by knowing all the significant elements that can make or break a campaign.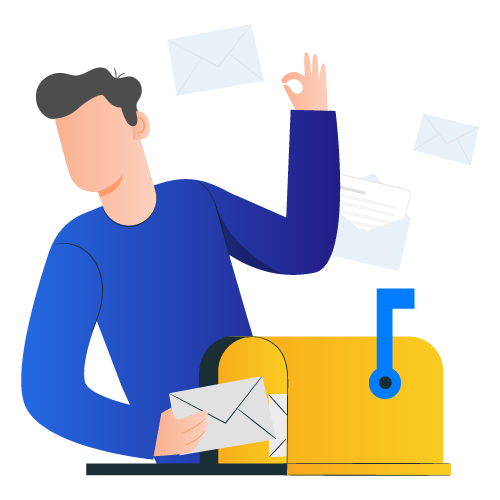 One of the most crucial factors of your campaign is your choice of direct mailing lists. Several marketers may underestimate this aspect, but it affects your results to a large extent.
Mailing lists help you ensure that you connect with the right audience and optimize your print and mail costs.
Let us start by discussing the different types of mailing lists and how to compile one that can help your campaign succeed.
What Is a Direct Mailing List?
Typically, a sales marketing mailing list is a set of names and physical addresses of a company's potential customers. Sometimes, it also has other details like contact information that allows businesses to also get in touch with them via other channels.
A mailing list is made by combining several demographics like gender, age, shopping behavior, etc. It helps you picture the traits of your target audience so that you can tailor your messaging and offers accordingly.
Majorly, direct mailing lists are used in traditional mail campaigns; wherein companies mail marketing items to their prospects. It is crucial to get relevant mailing lists so that businesses don't spend their time, effort, and resources on the wrong audience.
Following the 40/40/20 Marketing Rule
In the 1960s, a direct marketing specialist Ed Mayer introduced the 40/40/20 rule to help companies launch balanced and effective campaigns. He emphasized using the right elements in the correct proportion to get successful results.
The 40/40/20 rule says that:
40% of your campaign success comes from your choice of

direct marketing sales lists

.

Another 40% of your results are dependent on your offer and messaging.

20% of your results come from your mail design.
These three aspects can influence the performance of your marketing campaigns significantly. But, consider your marketing goals, available resources, and budget before planning anything related to these aspects.
Since 40% of your campaign results depend on your direct lists, try using lists that are refined and targeted, not generic. Furthermore, it is more cost-effective to only mail relevant prospects likely to purchase from your brand. 
In addition to that, focus on what you need to communicate with your target audience. Include catchy headlines that sum up your message creatively and persuasively. Also, add an offer and CTA to which your potential customers can't say no. 
The next thing is design; try making your items look appealing and impressive. Marketers should put their thinking caps and create something unique—that can increase their response rates considerably. 
To improve your campaign ROI, read this Direct Mail Marketing Guide. 
Types of Direct Mail Address Lists
Before we discuss how to build a mailing list, please note that there are several types of mailing lists available. Let's explore these options to help you make the right choice:
In-House Direct Mailing Lists
Sure, direct mail list rental companies offer hundreds of list options for your campaign. But, your best bet is to use an in-house list, as long as it is updated from time to time.
There are several reasons why an in-house list can work great for you:
Familiar prospects:

All the people on your in-house list are prospects that already know your brand. They might have inquired about your products or services, requested a free demo, or attended a webinar you hosted in the past. Either way, these prospects have already engaged with your business and are most likely to convert.

No extra costs:

If you want a

free direct mailing list

, this is how you can get one. Search your CRM and put together the details of all your hot leads to compile an effective in-house list.

Better targeting:

You know which stage your prospects are on in their customer journeys since you are using your own internal database. Therefore, you can segment your

advertising mailing lists

more accurately.
You can also segment in-house direct mail lists by ZIP codes, past activities, online shopping habits, etc.  
Response Mailing Lists
As the name goes, response direct mail marketing mailing lists contain records of people who have responded to a company's offers. Suppose you are an ed-tech company. In that case, respondents of other ed-tech companies might likely be interested in your services. Thus, you can buy such response lists to reach the right audience and increase response rates. 
Response mailing lists help you find potential customers whose interests and preferences match your offerings. 
Here are a few examples of response mailing lists to help you understand better:
Subscribers' Lists
You can buy direct mailing lists consisting of all the subscribers of relevant magazines. Suppose you are an insurance company and want to find prospects looking for financial solutions. In this case, you may benefit from purchasing the subscribers' list of magazines like CFO. 
Read How PostGrid Can Help Grow Your Insurance Business. 
Donors' Lists
Like subscribers, you can also buy direct mail lists of donors. Find out the details of prospects who donate regularly and target them via your mail campaign. 
Consumer Direct Mail Lists
Consumer direct mail lists are compiled using several data points, like age, income, gender, geographical areas, educational background, etc. These lists are highly targeted and can drive results easily. 
Please remember that consumer mailing lists aren't residential or household lists. They contain the details of actual buyers or customers of specific types of products and services. 
But, take care to select the best direct mail list companies that provide lists containing phone numbers and email addresses. This way, you can follow up with the recipients after sending mailpieces to them. 
Compiled Mailing Lists
Compiled mailing lists are compiled from publicly-available sources, like voter registrations and self-reported surveys. Here are the most popular sources that help create compiled mailing lists: 
Government records such as property data, court records, taxation details, etc. 

Private sources like credit card companies, market research responses, etc. 

Telephone directories. 
Usually, these lists cover a broader audience in terms of location and other demographics. In other words, compiled mailing lists are more diverse and allow you to tap into new markets. 
Apart from demographics, compiled lists are also helpful in reaching out to people with specific behavioral and lifestyle patterns. They help zero in on well-defined market segments where you can find your customer look-alikes easily. For example, health and fitness companies can mail people interested in yoga who are likely to join them. 
Compiled lists are the first-choice for several local service providers like car dealerships, repair shops, insurance agencies, dentist offices, etc. These businesses can benefit greatly from such targeted campaigns that help them increase the number of leads in their pipeline. 
A compiled address list for direct mail can be further divided into several smaller lists, such as:
First-time homebuyers mailing lists

Pet owners lists

Automotive direct mail lists

Direct mail lists for real estate

Birthday mailing lists, etc.
Event Lists
Virtual and physical events are excellent data sources to expand your outreach and connect with more people. You can get your hands on the visitors' list of a relevant exhibition, trade fair, or webinar and use it for your campaign.
But, how do get direct mailing lists from these event organizers? It may be complicated to get a list from one of your competitors' events so that you can try cross-industry list purchasing.
Also, some B2B companies enter into a barter agreement with event organizers to get lists. This way, they can also participate in these events for free and build their database.
Business Mailing Lists
Business direct marketing lists are mainly for B2B companies, like different software systems, B2B magazines, etc. In B2B marketing, you need to know who you need to mail within a specific company. 
There are hundreds of employees in a company, and you need to address your mailpiece to one specific person. Hence, select direct mail list brokers the USA who provide lists with recipient names and their delivery addresses. 
Fortunately, you also have the option to mention the role of department names on your items—for example, 'To Human Resources,' 'To Vice-President of Sales,' etc. 
Selecting business-to-business direct mail lists is a very significant task. Instead of mailing everyone in a company, you must strengthen your relationships with the concerned person only.
You can also segment B2B lists according to various aspects such as company size, number of employees, niche, etc. 
Household or Residential Mailing Lists
A residential mailing list for direct mail focuses on residential delivery addresses in specific neighborhoods. For example, a restaurant can use a residential address list to mail everyone in its locality. Or, a supermarket can use such lists to send a discount coupon to all its customers residing in the vicinity. 
Apart from these businesses, plumbers, roofers, painters, carpenters, pest control experts, and several other small businesses can benefit from residential mailing lists. 
There are two types of residential lists:
To help you mail every household in an area (for example, EDDM mail lists). 

To enable you to mail people from a certain group living in a locality (for example, people between 25 to 35 years of age living in East Texas). 
Below are some tips for you while mailing your marketing items to household lists:
Use your mail programs to showcase the work you completed in the area you are targeting. For example, if you recently finished a project on Wall Street, New York- talk about it while advertising your services around that area. 

Don't forget to target senior citizens as they are more likely to appreciate your mail and respond to your offer. 
You may use phrases such as 'To The Occupant' or 'To The Resident.' Still, it is better to personalize your items and use the recipient's first name. It can help you grab the attention of your prospects and make them feel special. 
Steps to Compile Effectual Direct Mailing Lists
Creating a strong mailing list is far from simple, but it is not impossible. Below are the steps you need to undertake to create direct mailing lists that can help you improve your ROI:
Define Your Customer Profile
Knowing your target audience can help you compile result-driving lists. You should know the characteristics of your ideal customers in-depth and understand their needs.
Mailing an irrelevant audience cannot help you get responses, so avoid mailing to a generic audience. It will waste your time and effort and lead to a bad reputation. Instead, know which markets are most suitable for your products and services and compile your lists accordingly.
You can use the following questionnaire to define your customer profile accurately:
Does my business cater to only one market segment? If yes, which segment is it?

Do my customers live in specific cities, or are they spread across the country?

Which product features are my potential clients looking for?

What are my prospects' buying habits and preferences?
Select a Mailing Strategy
Before choosing a mailing strategy, you should decide on the following factors:
Campaign size

Offer type

Timeline

Campaign objectives (short term and long term)

Budget, etc.
According to these factors, try selecting a direct mailing technique that best serves your requirements. There are two prime strategies that you can use to connect with your prospects including:
Targeted Mailing
Targeted mailing lists are those lists that help you reach a specific segment, for example- all the architects in Pasadena or all the hospitals in Carson City. These targeted business lists are more helpful to the B2B industry as they don't need to consider buying habits or likes as a factor.
However, targeted mailing also helps B2C companies in the following ways:
It helps you design relevant mail items with a suitable message and offer.

You can add personalization using variable data printing (VDP) to increase your chances of conversions.
Saturated Mailing
Saturated mailing considers the location while planning a campaign. Residential mailing lists are a good example of saturated mailing as you can saturate entire ZIP codes or carrier routes.
The United States Post Office can help you conduct an Every Door Direct Mail (EDDM) campaign to cover every delivery address in specific areas.
Segment Your Mail Lists
Categorize your mailing lists under identifiable groups to use them at the right time for the right campaign. It is especially important for businesses dealing with more than one niche market.
Here, we have listed the direct mail list categories that you can use to segment your database properly:
Geographic:

Your prospects' physical location. It can be as large as specific counties, specific rural or metropolitan areas, or as small as a few blocks around your store.

Behavioral:

Customers' buying patterns, choices, likes, etc. (e.g., gardening, swimming, golf, camping).

Demographic:

Your customers' gender, income level, ethnicity, age, occupation,

home type, qualification, number of children, etc.

Psychographic:

The preferences, moral values, principles, beliefs of your prospects. (e.g., specific nonprofits can target people who are into animal rescue and help).

Life stages:

Some examples of a customers' life stages are new parents, new movers, new homeowners, etc.

Firmographic:

It consists of B2B data like annual revenue, employee count, years in business, industry, etc.
By segmenting your mailing lists, you can bring down your cost per response and eliminate irrelevant groups.
Test Your Mailing Lists
One of the prime ways to ensure success in marketing is constant testing. Observe your result trends and see what is working the best for your organization. It will further help you eliminate the factors that are pulling you back or hampering your campaign performance.
There are many campaign elements that you can test before conducting large-scale campaigns. These elements include:
Market segments

Offers and CTA

Design, layout, and colors

Envelope types

Finishing and coating

Copy

Postage types (stamps or permit imprints)

Direct mail formats, etc.
The same applies to direct mail lists that you can improvise over time with regular testing. You can add new data points to improve the quality and effectiveness of your lists from time to time.
Also, remember that 15.3 million residents move every year in America, making your current mailing lists less helpful. Make sure that your lists contain valid, deliverable, and correct delivery addresses.
Please read Why Is My Address Not Valid to understand the possible reasons and solve them.
Compiling a mailing list is seldom a one-time activity. It is always ongoing and needs a lot of effort and time on your part. If you want to skip the legwork, try PostGrid's address verification API that combines the USPS data files to standardize and verify your addresses in minutes.
Questions to Ask Before Buying Mailing Lists
Even the best direct mail list providers may not provide you with the right list if they don't understand your requirements. Hence, you should solve all your providers' doubts and ask questions to ensure the list is perfect for your campaign.
It is crucial to communicate your exact requirements to avoid wasting tons of money on irrelevant lists that jeopardize your campaign success.
Remember, you should not think about getting cheap mailing lists, but work your way to get high-quality lists at affordable rates.
Below are some questions regarding direct mailing lists that you must ask your provider:
Can I use these lists exclusively?

May I connect with any of your former customers?

What factors do you employ for list segmentation?

Are your mailing lists processed using the USPS National Change of Address (NCOA) datafile?
Such questions help you choose the right list provider that understands your motives and needs. Also, you can be more confident regarding your campaign once you get all the answers you need to achieve your goals.
Who Should You Not Mail and Why?
While some marketers think that mailing to a generic audience can still help them get results, we are here to tell you why that is not the way to go. Yes, you may get a couple of responses from mailing to different direct mail lists randomly. But, you may notice that your ROI is not half as good as your investment.
Also, mailing to the wrong people can tarnish your brand image. Your prospects might begin to think of you as one of those companies that send out spam mail items. Thus, knowing which mailing lists you should avoid using is also crucial.
For example, imagine you own a supermarket operating in a small country in Utah. In that case, you don't want to mail some people living in Florida. Or, if you sell luxury cars, you may not have much luck pitching your offers to people living in non-affluent localities.
Another crucial thing to note is that you must avoid mailing people who have voluntarily opted out from getting mail. Try accessing the USPS do not mail lists to remove such entries from your database.
Get Direct Mail Lists: How Does the Process Work
There are several list providers in the US that can help you with your list requirements. But, you should know a few things beforehand to make the whole process of selecting and buying lists smooth for you.
First of all, renting a list is more common than buying them. In fact, some companies only provide rental lists that you can use once or a few times a year. You may get one-time restricted access or unlimited access for a specific period.
Purchasing a direct mail list can be expensive and drain your marketing budget. But, the good news is that there are no restrictions on how many times you can use the list.
Also, while searching for mailing list services, you may come across two types of people- compiles and brokers. Compilers are the ones that search for various data sources and build several types of mailing lists by themselves. Then, they hire a sales team to sell or distribute these lists to clients.
On the contrary, brokers help compilers and marketers connect for a specified fee. They work independently and can help you get lists from various data sources.
Now, let us talk about how much do direct mail lists cost. The pricing can vary considerably, depending on minimum spending, list size, level of customization, and more. The more segmented your mailing lists are, the more the rates.
Address lists are typically charged on a per-record basis, with the rates starting at $30 per 1,000 entries. The costs might rise sharply depending on the factors we discussed above.
Read Direct Mail Marketing Costs to understand more about mail campaign pricing.
Also, high-quality, cleaned, and updated direct mail lists can cost a lot. Hence, some marketers settle for outdated mailing lists in the hopes of getting some positive results out of them.
However, with PostGrid's direct mail API, you can avoid settling for less. It helps you create, print, and distribute your items along with complementary services like list compilation and address validation.
More on PostGrid's Direct Mail Services
So far, you have learned that buying a direct mail list is an intricate process. It can take several days to negotiate with different list providers and bag a relevant list. 
So, how to get a free direct mailing list?
If you want to rent or buy a mailing list, it is impossible to get it for free. But, you can compile an in-house list and avoid spending on a direct mailing list completely. Use PostGrid's direct mail services to build targeted lists from scratch for your offline mailing activities. 
You can select the appropriate location and demographics and let PostGrid put together a highly segmented list for your campaign. Additionally, you can verify your existing mailing lists with us and put them to good use. 
This way, you can utilize all your resources and expect excellent results from your campaign. But, PosGrid does not stop here! It also helps you design, print, and mail your items efficiently and speedily. 
You can also send transactional mailpieces with PostGrid, such as invoices and checks. 
You may be interested in Print and Mail Checks. 
Some of our other noteworthy features include:
Per-piece tracking.

HTML design templates.

Dedicated customer support.

Campaign reports and analytics.

Data privacy and confidentiality.
Also read: PostGrid and Hubspot.
Wrapping Up
Direct mail lists are a huge part of your campaign. They can help you reach your target audience and create a positive brand image for yourself. Also, it helps you redirect your campaign towards your campaign objectives and accelerate conversions. 
PostGrid can help you avoid spending weeks of your time and lots of money compiling lists yourself or buying them from third parties. You can take the shortcut with PostGrid and ensure your campaign success even before launching it!
Sign up here to learn more about how we can help you compile highly effective direct mailing lists!
Ready to Get Started?
Start transforming and automating your offline communications with PostGrid
SIGN UP
REQUEST A DEMO