What is Direct Mail?
Direct mail is a form of offline marketing to connect with people on a direct or personal level. It is sent in the form of marketing and promotional materials and could be anything from postcards and flyers to SWAG items. Basically, anything sent to a person's physical mailbox with the marketing intention is called direct mail. The mail is popularly sent via USPS and Canada Post, but many companies use other courier services as well.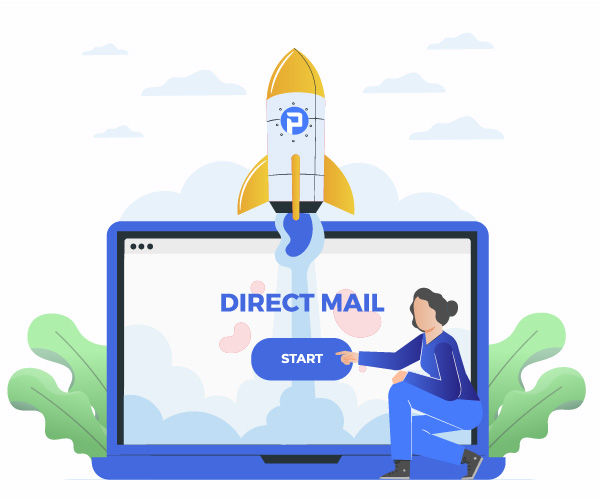 Direct mail services offer a one-to-one communication channel between a company and its target customers, cutting through the digital crowd. It can either be B2B or B2C.
Why is Direct Mail Still Effective?
Gives High ROI
Direct mail is known to fetch higher ROI than both online display ads and paid search. Its ability to grab the attention of the recipients is impressive. 42% of recipients read or at least scan the received mail. It is a good ratio and is sure to get the company some valuable responses and a positive ROI. In general, direct mail fetches an ROI of 29%. A guaranteed positive ROI is the key reason why marketers still prefer direct mail over a lot of digital marketing options.
Makes a Long-Lasting Impression
A well-crafted mail is sure to get a lot of eyes on it. It is tangible, and people tend to like receiving things in the mail. It causes nostalgia among people, reminding them of the mail they used to receive from their loved ones. Hence, direct mail is an excellent way to create an emotional bond with people. A hand-written note can help increase its impact. Such small gestures make direct mail more interactive and memorable. People are likely to keep it with them for a long time.
Facilitates a Wider Reach
Many people still don't use social media. If they do use social media channels, there is no guarantee that they see your post or scroll right through it. Therefore, the scope of digital advertising is restricted to the people seeing it. Even a highly creative advertisement with an interesting offer can get missed by a lot of people. On the contrary, direct mail has a wider reach. You can narrow down your target audience and send mail pieces to connect with them directly.
No Competition
In today's time, most marketers have channelized all their marketing activities towards online channels. As discussed above, direct mail facilitates a wider reach. Another prime point to be noted is that there is no great competition in the offline space. Not all marketers send out thoughtful and eye-catching direct mail to their target audience. The lack of competition gives you an advantageous opportunity to reach out to the customers first and induce them to buy your product or service. There are more chances of getting noticed by using direct mail.
Scope to Get Creative
By now, you must have gotten enough clarity on what direct mail is. But, there are a lot of remarkable aspects to it – that make direct mail stand out. It is the most creative form of marketing, wherein you can think, design, and send almost anything. Moreover, you also get to show your creativity on the artwork, text, offer, and CTA. Companies can pair direct mail with online marketing forms to make it more effective.
Also Read: Direct Mail Design Tips
Types of Direct Mail
There are various types of direct mail that marketers send out. Some of the popular direct mail materials include: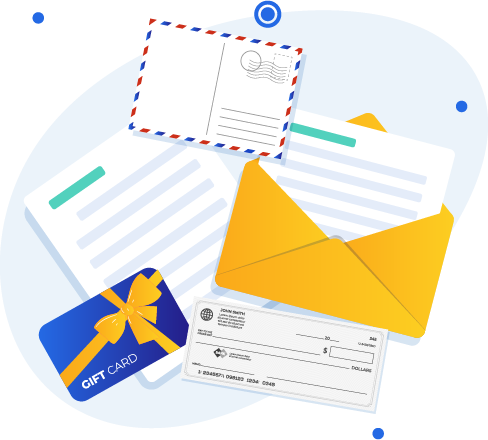 Brochures – Brochures can be two-folded or three-folded and are printed on all sides. They make excellent marketing collateral for promoting brands, as you can use them for charts, illustrations, and short points.
Flyers – Flyers are well-suited for promoting events or a specific offer. It is often one page with no folds. They are more colorful than brochures as they have to deliver the message using a shorter space.
Postcards – Postcards are good for any season and purpose. They can be highly personalized according to the needs of every recipient. Postcards are known to be intact mail items – attracting more people with their structure and size.
Catalogs – Catalogs are product guides and are compiled as a complete book. These are much heavier than all the other mail items and are hence costlier to send. Catalogs can be sent to a small number of targeted accounts. However, sending smaller-sized catalogs makes it affordable.
SWAG Kits – SWAG items include coffee mugs, bags, balls, pens, diaries, hoodies, or anything else that you can think of. Marketers send SWAG kits containing such goodies to their targeted clients or high-end customers.
Newsletters – Newsletters contain informational content about a brand – its new product launches, new services, new clientele, and other details that are fit to be sent as marketing text.
Guide to Using Direct Mail
If done right, direct mail can prompt a person to purchase your product or service. 39% of recipients try out new products and services after receiving direct mail from that company. There are certain things to be kept in mind while using direct mail as part of your offline marketing activities.
Keep Yourself Updated
Keep a close eye on your competitor's marketing strategies, products, after-sales services, and other things to know your competition well. You can then use all this information to create unique content for your direct mailers. Marketers should read up on tricks and tips of using direct mail and keep themselves updated on the latest trends. Additionally, remember to know more and more about your target audience. Get to know what your prospects are into, and use it creatively in your direct mail.
Take Note of All Reactions
Track all the responses from the very start. Include trackable features in your direct mail such as a pURL, a unique coupon code, phone number – that can help you measure your campaign performance accurately. Tracking responses can help you draft and use campaign analytics for making your future campaigns more effective.
Use Different Colors and Keywords
Use different colors and keywords in all your campaigns according to your campaign's content, type of mailer, and purpose. An informational mailer can have professional-looking dark colors, whereas an invitation to an event can have fun and bright colors. Moreover, keep altering the text and keywords so that you know what combination works best for your company.
Include Exciting Offers
Always excite your audience with your direct mail items. The mail should be convincing enough for your prospects to complete the CTA. Including exciting offers can help in inducing them to set up a call or a demo session. Offer for something that the person is likely to get excited about and is willing to take some action in exchange for that offer.
Follow-Up Regularly
Keep your direct mail list close to you even after the campaign is completed. Don't forget about your direct mail and your prospects after a campaign is over. It is very important that you follow up with your respondents regularly. You can even follow up with people who haven't responded yet.
Personalize Your Direct Mail
The direct mail definition may not describe it as personalized promotional items, but it is smart to personalize your direct mail. Tailoring everything according to your target customers makes them feel special and encourages them to try your brand. Direct mail is a great way to communicate with people directly. Hence, using the non-personalized blanket approach does not help.
Use Automation
Using a direct mail automation platform, companies can send any number of mail pieces easily and speedily. It is no longer required to plan and design your direct mail yourselves by hiring a designer or spending on inventory like paper, ink, stamps, labels, and envelopes. PostGrid's direct mail automation platform and API can help you send on-demand and bulk mail effortlessly. You can easily customize your content, personalize every single direct mail, track responses, get reports, and handle everything in an integrated manner.
Also Read: How to Generate and Nurture Direct Mail Marketing Leads
Understanding Direct Mail CTAs? Why Do You Need the Best Ones?
Every direct mail piece has a certain! Whether you want to inform the users about the product launch, upcoming event, or the latest offers. Every direct mail campaign will have a primary goal. Thus, you have to encourage prospects or subscribers to do something. 
It is where you need CTAs. Call of Action helps you guide your audience to the action you want them to take. 
So why exactly must you add a CTA to your direct mail? Can't you leave the information on the pieces without any CTA? 
Importance of Call-to-Action 
While some marketers might launch direct mail campaigns purely for entertainment or educational purposes, most aim to market something. When you are investing in direct mail marketing, you must have expectations to get some return. 
Firstly, we know that direct mail effectively reaches potential customers and generates good leads for any business. However, there's no guarantee of success when you send snail mail pieces without any CTA. 
You must add a clear and compelling CTA to your pieces. It works like an instruction to encourage the prospects to a specific action on your mail. Businesses can use CTA from purchasing to signing up for a service or scheduling an appointment. A call to action will give purpose to your mail piece. 
We believe that businesses should consider adding a strong CTA for the following reasons; 
Boosting Response Rates 
Although direct mail has a better response rate of 5%, you need to drive some purpose to get a better response. Including an amusing call to action improves your chances that the recipient will respond to your mail piece. It gives them a clear idea of what to do with the mail piece and what action to take. 
For example, if you are running a retail business, a CTA like "Shop now and get a 30% discount" provides a better reason to respond to your mail.
Creating a Sense of Urgency  
Creating a sense of urgency through CTAs is a classic strategy to expect higher response rates. Everyone likes to take the opportunity at the right time. Would you procrastinate on something important for your business? 
No! Absolutely, no. 
A well-thought call to action can help you create this sense of urgency through your direct mail. Your prospects will be more willing to take action immediately without any delays. It is particularly vital when you are promoting a limited-time offer or sale. 
Defining a Clear Path to Conversion 
You need more customers for your business. Adding a clear call to action will give the recipient a clear conversion path. Without this, they won't understand anything or may not have enough motivation to take any steps. Without a clear roadmap, your mail piece will be only read and land on the trash cans. 
They Help Encouraging Engagement 
Your call to action can also encourage engagement with mail-piece recipients. For example, you might need quick leads for your finance business. You can write a CTA such as "Signup for our newsletter to get an exclusive discount on our services." It would encourage the recipient to engage with your brand after the initial mail piece. 
They might still need to become paying customers, but they will show some interest in your business. By encouraging engagement, you can build better relationships with your prospects. It would help you expect loyal customers and repeat business soon. 
Get Measurable Results for Your Campaigns 
Your marketing efforts cannot go in vain. After all, you invest your hard work and hard-earned money in direct mail marketing. Adding CTAs to your mail pieces provides measurable results that you can use to evaluate your campaign's success. 
You can track the number of responses to the call to action. It would help you determine the effectiveness of the mail piece. Later, you can also tweak your marketing strategies accordingly. 
For example, your direct mail campaign generates a higher response rate with a particular CTA. You can use a similar call to action in future campaigns. At the same time, if a call to action is ineffective, you can tweak the message to make it more compelling. 
Designing Your Call-to-Action for Direct Mail
A good CTA on your direct mail doesn't just attract the recipients. It can add value and highlight your entire business and its offerings. 
Learn how to create your call to action to increase response rates; 
Define the Goals 
You must have a clear purpose when launching your direct mail campaign. Similarly, it would help if you had a goal to guide your subscribers or prospects to take some action with CTAs. Understanding their intent and learning what they are looking for is crucial. Then, you can ask the following questions to yourself; 
What do I want my recipients to do? 

How will they know what action to take? 

Why should they do it? 
You will get the real purpose behind your CTA by answering these questions. The CTA you use must provide some value to the recipient. 
They will ignore anything irrelevant or too dull. Thus, they must understand what they will get for a specific action. You need to provide a particular value proposition in your CTAs. 
Give a Reason To Your Prospects
Why should your recipients care about your CTA in the first place? 
Before adding your CTA into the text, it is vital to inform your audience why the offer is worth their attention. Make that you are clearly defining the benefits of your product or service through the message. It will help them consider your call to action in the first place. 
For example, if you are providing a discount, define the benefits of the concession directly in your mail. Then, it would help if you considered adding the CTA. 
Focus on the Language You Use,  
Your CTA must be relevant to your readers if you want it to be effective.  
The passive or weak language will drift them away from paying attention to you.  For example, if your CTA is something simple like "visit our store," it doesn't provide any real reason for them to take any action. 
Instead of using simple or passive language, your call to action should sound amusing and encouraging. Try saying something like "Shop this week to get a 25% discount" or something similarly engaging. 
The goal of your CTA could be anything, always use persuasive language to convince your recipients. It would help if you remembered that the language you use in a direct mail campaign differs from what you'd use in email campaigns. The reader of your direct mail piece will need to make more effort to access an offer. 
In emails, they can click on a text to receive the offer immediately. At the same time, the readers need to complete another step in Direct mail. Yet, don't think that this extra step would make your campaign less successful. You have to be fair when adding CTAs to your mail pieces. 
These could be some alluring and descriptive calls to action; 
Get 50% off today

Schedule an appointment 

Start planning 

Call XYX for a free consultation 

Join our slum-saving mission 

Order now to get free shipping 

Find your dream home with us 

Lose weight in just seven weeks 

Refer to your friend and earn a commission 
Related Article: Best Direct Mail Marketing Companies
Incorporate Modern Technology 
Traditional calls to action are evolving with modern technology. Now, there are more channels that you can use to engage with your customers with better engagement. 
You can consider these examples with different technologies; 
QR Codes:

"Scan the QR to get your exclusive discount today."

PURLs:

"Go to xyz.com to learn more about our mission. 

VDP-Enabled Maps:

"Follow this route to our new workspace."

NFC: "

Tap here with your NFC-enabled phone to receive a discount."

 
Where Should You Place Your CTA? 
Many marketers need help determining the placement of their CTA. Some even consider using multiple CTAs, but they only create confusion and divert their interest. 
You must avoid burying your CTA in an area on the mail piece where readers will ignore it. If your mail piece contains a significant amount of text, then you should repeat or rephrase the CTA in the direct mail piece. 
Deliver the Promise of Your CTA
Once you have added the CTA to your direct mail piece, it is critical to delivering the promises to your customers. When you follow through on your promises, you can build trust among them. 
For example, if your direct mail has the motive to provide discounts. Then, you must be ready to fulfill the promises of offers to your customers. Failure to deliver would hamper your reputation. 
Running A/B Variable Testing 
You will get crystal clear results about the effectiveness of your direct mail campaigns. It will help you to understand the elements of your campaigns which are performing well. 
Single variable A/B testing refers to observing any noticeable change in recipient behavior based on a single variable.
Also Read: How To Generate Direct Mail Leads
Why Your Direct Mail Campaigns Need More Responses?
You have created a killer direct mail campaign and invested a lot of resources. Still, you need to get more responses for your efforts. According to SmallBizTrends, direct mail campaigns have an open rate of 80-90%. You have more chances of getting replies with direct mail than you would from email, social media, or online ads. 
But what could go wrong with your direct mail campaign and compromise the response rate? There could be different reasons if you are not getting the expected response rates. 
We think you must avoid these mistakes when sending direct mail to your recipients;
Lack of Personalization 
Do you pay any attention to personalizing your mail? Does one size shoe fit everyone? Can your generic message leave any higher impact on your audience? 
In the age of stiff competition, your generic messages will appeal to only some masses. Every Tom, Dick, or Harry uses the same trivial marketing message to reach their audience. This strategy might have worked in the "past." Yet, it could be more effective in today's digital age. 
Customers will only pay attention to relevant and personalized messages. Thus, your business must put in enough creative efforts to create the personalization necessary for attracting customers. 
Customers will only be willing to provide their personal information. Yet, research shows that more than half of all customers (58%) are eager to give their data. 
Consider our variable data printing process to personalize your direct mail. It would help you change text, graphics, and images without slowing printing. Variable data printing is the best solution for better customization of direct mail.
Not Relying on an Address Validation Service
Is your mail even delivered to the accurate postal addresses? The address data that you are using could be obsolete or have errors. Thus, it is vital to consider a reliable address validation API tool to improve direct mail engagement levels.
An address validation tool allows us to fix typos and validate the deliverability of addresses and new metadata. It helps you to categorize better and understand customer interests. You will avoid wasting your direct mail pieces, delivery, and other vital resources. Less mail going to dead or low-value addresses means you will bring more ROI. 
NCOA or National Change of Address service can help decrease the chances of mail going to the wrong addresses and Return to Sender (RTS) rates. Not using an address validation service can significantly lower your campaign's efficiency and ROI.
Direct Mail with Boring Format
We all know that direct mail is visual and tactile. It is popular for leaving a long-lasting impression on prospects. You already have a competitive advantage over other marketing channels. 
Yet, you must be creative with the format to retain this advantage. Marketers often use oversized envelopes, a letter campaign with a business envelope, or a postcard. These are some of the most popular formats because they are effective. 
Yet, sometimes it becomes crucial to break away from the norms and be creative with the format. 
Poor Timing 
Timing plays a critical role in the success of any marketing campaign. Similarly, you need a reason to send a direct mail piece to your prospect. For example, you should gather attention for your upcoming event or product. 
Launching a direct mail campaign takes time. People often need to pay more attention to the timings and drive in a hurry expecting that they will see results. You can talk to our team to discuss the timings to get the best results for your campaign.  
No Clear Understanding of the Target Market 
When marketing your business, you must have an accurate knowledge of your target audience. You must ensure that the right people will be receiving your marketing material. Thus, clear market research is necessary to reach the right target audience. 
If you are not sending it to the right audience, there's a good chance you will not get any response. Thus, it becomes vital for you to know to who you want to send your mailers. For example, an insurance company providing education loans should not focus on elders. It would only lead to an audience with no interest. 
Having No Clear Call to Action in Your Direct Mail 
Campaigns with no clarity often fail to achieve their goals. Thus, including a clear call to action in your direct mail becomes vital. With this, you can engage your audience and interact with your brand. 
Problems with the Budget and Scale of the Campaign 
Before investing in your direct mail campaign, you have to determine the budget and scale of your campaign. It would help you to ensure consistency and completeness in your direct mail campaign.
Having Unrealistic Expectations 
We understand that direct mail marketing could be a significant investment for your business. Yet, expecting small rewards after a while would only be logical. You need to know the average return on investment for a direct mail campaign. It would take more than one direct mail piece to understand the results of your campaign. You must have realistic expectations from your marketing campaign to fetch fruitful results from your marketing efforts. 
What Does it Take to Create a Successful Direct Mail Campaign?
So, do you want to create a successful direct mail campaign that improves your lead generation, customer retention, and brand awareness? Crafting a marketing campaign requires careful planning and execution. Personalization, innovative technologies, targeted marketing, and compelling offers can help you reach your marketing goals. 
As direct mail experts, we often suggest the following tactics to our clients; 
Running a Loyalty Program with Direct Mail
Successful marketers know rewarding customers with loyalty programs effectively increases sales and generates repeat business. Businesses have used loyalty programs for over a century to build and maintain strong customer relationships. 
Acquiring a new customer is 25 times more expensive than retaining an existing one. You should also implement the right program to boost customer loyalty and lifetime value. Consider it a win-win situation for you and your customers. 
Ready to implement a direct mail campaign with a customer loyalty program?
First Things First! Define The Goals of Your Loyalty Program 
Before you start drafting your physical mail pieces, defining your goals is vital. Without clear goals, your customers would have distractions and ultimately leave your loyalty program. 
So, what do you want to achieve with your loyalty program? 
Do you want to increase your customer retention or drive sales? 
Do you need customer feedback for your products or services? 
Learning your goals will help you create a loyalty program to meet your business goals and customer needs. 
Draft Your Direct Mail Loyalty Program 
So now you have your goals for the campaign, it is time to draft your loyalty program with direct mail. 
Your customers must understand the features and benefits of your program. For example, it could be offering discounts, gifts, free products, or access to your events. 
The message should be clear and understandable to let the customer know about the benefits of joining. Use persuasive copy and eye-catching graphics to encourage your customers to sign up. 
Use a Trustworthy Mailing List
You will need a trustworthy mailing list to start your direct mail campaign. You might have your existing mailing list, or you can consider talking to PostGrid. We provide authentic, accurate, and deliverable mailing lists for businesses launching loyalty programs. 
You must ensure that your list is a relevant and accurate successful campaign. We recommend considering past purchase history, geographic location, or demographics. It will enable you to tailor your messages and offers to reach the right target audience. 
Give Some Personal Touch with Personalization  
Generic messages aren't effective anymore. Almost every marketer is using them to reach their customers. Thus, personalization is a leading aspect in getting the attention of your target audience. We suggest you use our variable data printing technology to personalize each mail piece with the recipient's name, address, and other important information. You can also consider studying the recipient's purchase history and other preferences. 
Analyze the Response Rate 
Measuring each campaign is necessary to understand its effectiveness. It would help you to avoid shortcomings and improve your marketing efforts. Thus, start evaluating the response rates of your loyalty program. You can include a URL, QR code, or a unique offer code in your direct mail pieces. It would help you to learn how many customers are signing up for your loyalty program due to your marketing efforts. 
Now Follow Up! 
Most marketers need to remember this step and take the opportunity to entertain potential customers. It's vital to follow up with your customers to keep them engaged. You can send newsletters or promotions to drive interest toward your loyalty program. 
What Can You Send to Boost Your Loyalty Program?
Sometimes your marketing efforts can get repetitive and boring. You need a mixed bag of strategies that continuously engages your customers. Remember, consistency will play a significant role in retaining prospects for your loyalty program. We would like to suggest the following methods; 
Explain All the Benefits of Your Program
There must be a compelling reason for consumers to stick with a subscription service.  Let us consider Netflix! 
What is Netflix offering with its subscription service? 
Users get an immense content library, high-quality streaming, and flexible pricing plans. So they have a clear idea about the offerings of the streaming service.
Similarly, you must explain each benefit of joining your direct mail loyalty program. Talk about the unique perks, offers, and access you provide with the service that any ordinary customer wouldn't get. 
Sending Constant Reminds
Constantly remind your customers about your loyalty program. They must know about the new benefits and perks they might need to take advantage of. It would help if you studied their profile to learn what they do with your loyalty service. 
Tell You Are Thankful
Gratitude is a vital expression to make your customers feel valued and appreciated. You can launch a campaign with thank you cards, letters, or postcards. Show your creativity with the design and message of your mailing piece. You can also encourage your customers to share their feedback on social media or GMB and provide them with an additional incentive. 
Celebrate Birthdays and Anniversaries
A birthday or an anniversary is an occasion of celebration. You can take this opportunity by sending a birthday mail with an exclusive discount or offer. It would provide a sense of belonging and leave the customers with a personal experience. 
Showcase Upcoming Products and Releases 
An engaging customer base would love to learn more about your products and future offerings. You can take this opportunity to showcase new products or services you will launch soon. 
Provide Access to Exclusive Sales 
The loyalty program you offer will be of interest to your customers for a variety of reasons. They are looking for access to exclusive products and sales. Thus, you can inform and provide access before such sales start. Yet, be ready to deliver your promises to ensure a seamless experience. 
Omnichannel Marketing with Direct Mail
Isn't it amazing that you see an advertisement on television, and moments later, you see the same ad on Instagram? Then, the next day, you wake up, sip your coffee, and see the same ad again. 
Using omnichannel marketing like this helps you create a seamless customer experience. 90% of customers believe consistency across different marketing channels plays a significant role in building better relationships with the brand. 
With omnichannel marketing, you can connect with customers at various stages of their journeys by mixing offline and online channels. You can include direct mail, social media, website, and email in your marketing campaign. 
Using Direct Mail with Other Channels 
You can include personalized URLs (PURLs) or QR codes for your direct mail campaigns to direct your recipients to take a specific action. It would help you to ensure a seamless customer experience and increase customer engagement, brand awareness, and retention. 
Adding Additional Value to Your Marketing Campaign 
Marketing through omnichannel channels is different from traditional marketing methods. It would help to have a clear and defined investment focus to create interest and satisfy customer priorities. McKinsey suggests the following schemes to pursue omnichannel marketing; 
Commerce
It would help if you had a cross-channel shopping strategy that combines online and offline channels for physical-first and digital-first businesses. 
Personalization
A cross-channel shopping strategy should be comprehensively tailored and targeted for relevant engagement. It would go beyond regular targeting and look-alike analysis. 
Ecosystem
Your omnichannel marketing strategy should integrate with consumer needs and lifestyles. It should provide content, offers, and other vital interactions. Such an approach would improve the total brand experience, where the platform would become part of the user's lifestyle. 
Combining Direct Mail with SMS
It has been over two decades since texting became popular. You might think that the world has moved from using SMS. Yet, it is astonishing that 27% more businesses are using SMS for marketing purposes. 
You can implement SMS marketing with your direct mail campaign. Engage your customers by sending postcards, letters, or brochures after triggering SMS. Including an invitation to amalgamate SMS marketing with a direct mail piece is also possible. 
Combining Direct Mail with Email
Most marketers prefer using email marketing to reach their target audience. Yet, there might be better tools if you are looking for a higher response rate. Launching direct mail campaigns can give you a response rate of 4.4%. 
Imagine how much you can achieve by combining direct mail with email marketing. Here's what you can do with direct mail and email marketing; 
Improve Your Brand Reach
You can reach a larger audience and increase the impact of your marketing message. Many of your customers would prefer using one channel over another. Why not use both plans to cater to the needs and preferences of your audience? Your campaigns have better chances of getting a higher level of engagement. 
Higher Personalization with Campaign
Personalization is a vital aspect of every marketing campaign. Both direct mail and email marketing will give you enough scope for personalization according to your goals and preferences. You can also consider your target audience's specific needs and interests. Many businesses use this opportunity to make the experience more engaging and streamlined. 
Improvement in Response Rates
We already discussed the response rate of direct mail campaigns.
Combining both channels can boost your response rates instead of using a single approach. The two plans can reinforce each other, increasing the likelihood of a higher response rate. Audiences using any of the channels would show interest in your brand. 
Combining Direct Mail with Social Media
Social media is almost ubiquitous these days. You can take the opportunity to combine direct mail with building awareness, attracting customers, and retaining existing customers. So, how will you get these netizens' attention to your business?
As a direct mail expert, we often suggest the following strategies to our clients;
Gathering Information with Social Media
Every marketing campaign requires some user data. How are you going to get this data if you are starting? 
Social media platforms can help you gather critical user information about your target audience. It would help to understand their online behavior. You can learn what pages they follow or the content they frequently engage with. This data helps optimize direct mail messages and fulfill their interests and preferences. 
Including Social Media Handles on Your Direct Mail Pieces 
Are you looking for more followers on your social media accounts? You can run online ads to gather a relevant audience and get people from your existing direct mail campaigns. 
Include your social media handles on your direct mail pieces to encourage recipients to follow your accounts and engage with your company online. The proper use of hashtags can help you to track engagement and measure the success of your campaigns. 
Provide Exclusive Promotions
Social media engagement is vital to keep your brand more visible online. You can provide exclusive offers to your followers and reinforce the message by sending physical mail. For example, your business can give a discount code on social media. Then, you can send a direct mail piece to deliver more information about the promotion. 
Efficient Use of White Space in Your Direct Mail Pieces 
Have you ever seen a newspaper's classified or business section? Are you interested in checking any information about the immense influx and clutter? Do you know why you need help with the influx of information? 
White space plays an extensive role in any design. You might have the best fonts, colors, design, graphics, images, and CTAs on your direct mail piece. Yet, not having sufficient blank space can make your recipient lose interest in your direct mail piece. 
Understanding White Space
White space is the blank or negative space between different design elements. Businesses often try to squeeze every inch of space in a design to maximize their advertising message. Yet, leaving adequate white space in your marketing space leaves a big difference to the readers. 
White space helps your consumer to focus on the text. People need this for comprehension while reading anything on the web or paper. Whether it is present on a screen or page, white spaces help in dividing content and graphics in direct mail. 
Let us learn more about  
Convincing Reasons to Add White Space in Your Direct Mail Piece 
A direct mail piece needs white space just like any other element of the design. The characters on your physical mail piece must be easy to understand. Here's why you need an appropriate amount of white space in your copy; 
Fulfilling People with Limited Attention Spans
In the digital age, the average attention span of people has come down to only 8.25 seconds. You require more time to get the attention of your prospects. Do you want to divert their attention to the clutter in the design? 
Not, really! 
The recipients will only bother to check the entire mail if it has fewer graphics, text, and CTAs. You only get their attention when you stop diverting their mind with too much information. 
It helps in Highlighting the Critical Elements. 
Highlighting everything in your direct mail makes nothing highlighted in your direct mail. If you are emphasizing everything, people won't get the actual features of your physical mail. You need more space on your direct mail pieces. It creates a dilemma about highlighting the vital elements. Adding white space guides your recipients toward the most decisive parts of your snail mail. You must provide this guidance to your target audience to get a higher response rate. 
Minimalism is Attractive 
Try going to Apple's official website and checking how they place their information. You will see a lot of white spaces giving it a more aesthetic feel. The white space on your direct mail forces you to simplify the marketing message to make everything crisp and clear. Instead of fitting everything into the limited real estate, you must let your important element breathe out. 
PostGrid's Best Tips to Make the Best Use of White Spaces 
White space is exceptional for your direct mail. Yet, you must do it in your marketing campaigns. Here's what we would like to suggest: 
Simple Use of Backgrounds 
The background must be simple, whether your mail uses a solid color, graffiti, or an image. People should be able to understand the mail with ease. 
Stop Overlaying Text on Top of Images 
Images are for visual impact, and text is for reading. Refrain from the overlapping text on images, as it only creates confusion and distraction. 
Stop Using Multiple Fonts 
You want to draw attention and not cause distraction. Use only one font in your mail, making it easier to read and scan. A minimalist font is preferable to make your message appealing and crisp. 
Easy-to-Read Text
The text on your direct mail should be easy to read. You can use this by dividing your text into small sections and adding personalization elements. 
Adding QR Codes to Your Direct Mail Pieces 
QR codes may have existed since the early 1990s, but their implementation has seen more diversification in recent years. Statistics show that there were over 6.8 billion scans in 2022. You could understand the impact of QR on the global economy. 
A QR code is a 2-D barcode that users can scan using their smartphone or other mobile devices to access content or information instantly. Direct mail marketers often use QR to provide additional information about a product, service, or promotion. 
Businesses are finding unique ways to integrate QR codes into their direct mail pieces. Here is why you should consider adding these codes; 
Support in Tracking the Effectiveness of Your Campaigns 
Are you running your campaigns to target different audiences? Including QR codes in your mail pieces can help you monitor individual results. You will get complete knowledge of which marketing strategy is contributing to your success or failure. 
Add Sophistication to Your Print Mail Design 
Do you often need more space in your direct mail piece? No, worries. You can only add the necessary text to your mail and leave the rest to QR codes. 
It would give you more space to focus on design elements and make the piece more attractive. Additionally, people need more time to read lengthy descriptions and unnecessary explanations. A QR code can solve this problem by directing them to your website if they need additional information. You can also use a QR code to contact your business directly. 
Unifying the Gap Between Online and Offline World
A customer journey can have multiple touchpoints through direct mail, website, stores, social media page, or stores. By having an innovative direct mail marketing experience, you can tie offline and online customer experiences together.  
Adding a QR code can significantly increase the speed of the decision-making process. It would help you build a positive brand image and make the shopping experience more memorable. 
Helping in Gathering User Data
You must know that user data is the fuel source of every successful marketing campaign. Having crucial insights into your audience segments will help you boost your strategy. 
This data would help you to learn who will be more likely to buy the product or service. 
But how are you going to collect data with QR codes? 
Let us explain the process, 
First, you must cleverly integrate the QR into your direct mail piece. There must be some encouraging factor that would motivate people to scan your QR code. 
Whenever a user scans your code, your software system records the date, time, location, device form, and operating system. Moreover, you will also learn about the user persona and their preferences. You can later process this vital data in CRM software to gain deep insights into your customers. This innovative use of QR codes will make direct Mail marketing more cost-effective and efficient. 
Implementing Geocoding in Your Direct Mail Campaign 
Do you want to improve your marketing efforts' response rate and ROI? Geocoding can help you learn about the precise location of a postal address in the form of longitude and latitude. 
With this technology, your physical campaigns will become more powerful and targeted. It will help you find the relevant mailboxes and improve the probability of getting a response. 
Geocoding can help you connect a postal address to a physical point. This information will be vital for your marketing database to reach an identified audience. 
So why do you need geocoding in your next physical mail campaign;
Improvement in Targeting 
Every marketer is transforming their marketing plan by targeting the right audience. Geocoding will help you target specific areas, such as neighborhoods or zip codes. You can use our geocoding API to reach the right audience. 
Personalize Your Mail 
Geocoding allows you to personalize direct mail based on the recipient's location.  For example, consider adding information promotions or local events in a specific area. 
Support Your Cost-Effectiveness Initiatives 
Businesses seek the best ways to save money on their marketing efforts. Geocoding would help you target only the relevant areas and avoid unnecessary expenditures. You can also reduce printing and postage costs and improve the return on investment (ROI). 
Boost the Response Rates
We advise using geocoding to make your marketing materials more relevant to your recipient's location and interests. 
Better Data Analysis for Your Campaigns
Using geocoding will help your business to analyze the performance of your snail mail campaigns by location. You will learn which areas most respond to your marketing love and understand their consumer behavior. 
How to Determine the Budget of Your Direct Mail Marketing Budget?
You might think that direct mail is more expensive than digital marketing channels. Yet, statistics show that direct mail recipients bought 28% more products than people who didn't receive direct mail. Despite the rumors and misconceptions, direct mail is still more cost-effective than other channels. 
How much do you need to spend on your direct mail campaign? 
Well, the answer is more complex. The budget of the campaign will vary for every business. The expenditure will depend on your willingness to spend and the direct mail campaign size. 
Your budget will also depend on a copy, graphics, type of direct mail piece, printing, personalization, volume, and postage. 
Also, the budget of your campaign will depend on these three factors: 
Your Expenditure Limit
Defining your expenditure limit when designing, printing, and shipping your mailing pieces is vital. 
Products or Services You Are Promoting 
Different products and services will need a specific direct mail format to expect effective results. Thus, the arrangement, design, and creativity will invite additional expenditure. 
Campaign Target 
Your campaign target will also determine the cost of your direct mail campaign. 
An average direct mail piece costs between $0.30 to $10 per person. The actual costs depend on your expenditure on design, marketing copy, mailing lists, printing, and postage. 
This chart will help you understand the budget for a direct mail campaign; 
| | | |
| --- | --- | --- |
| Direct Mail Type | Average Costs | Price Per 1000 Mail |
| Copywriting | $100 | $100 |
| Printing Mail | $1 to $2 per mail or flyer | $1000 |
| Designing | $100 | $100 |
| Delivery | $0.17 per direct mail | $160 to $170 |
Why Do You Need to Consider Sustainability in Your Direct Mail?
Consumers have access to more information than ever about the environmental impact of their everyday lives. They expect brands to care about environmental protection as well.
Your direct mail campaign should also consider sustainability for the following reasons; 
Considering the Environmental Impact
A direct mail campaign can significantly impact the environment due to materials, energy usage, transportation emissions, and waste generation. When you consider sustainability practices, it helps you reduce your campaign's negative impact on the environment. 
Sustainability Contributes to Cost Savings 
It would help if you acknowledge sustainability by using recycled paper or reducing the size of mail pieces. It would significantly reduce printing and postage costs. You can use these savings to extend your marketing campaigns further. 
Building a Positive Brand Image
People are getting more concerned about the environmental impact of businesses. Thus, they are more likely to support companies committing to sustainability. You can also build a positive brand image and reputation by implementing sustainability practices in your direct mail. 
Legal Compliances
Many countries, including the US, have strict laws and regulations on using certain materials, such as plastics or other non-biodegradable materials. If you don't comply with these regulations, you will only invite legal and financial penalties. 
Future-Proofing Your Campaigns 
By considering sustainability, you can make your campaigns and business future-proof by aligning them with evolving consumer values. Environmental protection plays a crucial factor in consumer decision-making when choosing a company.   
Also Read: Financial Advertising Regulations
Dos and Don'ts of Direct Mail
Certain guidelines can be followed to make your direct mail campaigns a huge success and avoid any scope of wasted time, energy, and money.
Dos
Define Your Targeted Audience – Always define your niche and the type of audience that is best suited to your product or service. You need to be clear about the demographics that play an important role in your brand. For example, if you are an educational institution, parents will be your primary audience. You need to have a targeted direct mail list for conducting direct mail campaigns. You can purchase them from a mailing lists broker or use your own data.
Run Tests – There are many different types of direct mail that you can send out. Hence, you should determine which type is best for you. Initially, you should send out only a few direct mail pieces as test batches. Track the engagements of this campaign, draw results, and plan the main campaign accordingly.
Include a CTA – The most attention-seeking direct mail also requires a CTA to fulfill its purpose. Include an upfront and clear CTA that is easy to be completed by people. It can be anything like taking a survey, using a code, requesting a demo, or signing up on their website.
Don'ts
Don't Send Anything Without Proofreading – Direct mail is like the first impression that your brand makes in front of an audience. Don't print and mail anything that is not proofread thoroughly. Before printing, check for typos, errors, factual mistakes, and other things. Make sure that the offers are genuine and your mail reads well.
Don't Miss Follow-Ups – After knowing what direct mail is, you should know that there is some amount of work both before and after conducting a campaign. Make a note of the respondents and follow up until you close the deal. Missing follow-ups can disturb all the objectives of your campaign. Furthermore, engaged customers are more likely to react to future marketing communications.
Don't Forget to Drive Online Traffic – As we have already established, direct mail returns high responses. You can use these responses to drive online traffic. You can keep posting about your upcoming campaigns on your social media channels and keep your audience hooked. Driving traffic to your online channels can help you connect with your audience better.
PostGrid's Direct Mail Glossary
Marketers and businesses using physical mail marketing will encounter various direct mail terms and definitions. Technology is reshaping the face of modern direct mail marketing. Unawareness of the terminologies could lead to challenging situations while drafting marketing campaigns and sending direct mail.
We are building a relevant direct mail glossary in direct marketing to help you understand how this advertising medium works in the real world. Some of these terms are the same as in digital marketing. Yet, they may have entirely different meanings or purposes.
It's optional to be fluent in every direct mail buzzword. However, familiarity will give you the basic knowledge to communicate with marketers, service providers, and mailing partners. It also helps you avoid misunderstandings with several terms and references you need help understanding.
Direct Mail Automation: Professionals and firms automate their direct mail marketing campaigns by pulling data from their CRM systems, marketing automation tools, or other data sources. It works by launching mail with trigger-based action and personalized one-to-one communication.
Automated mailing is ideal for handling batches of mail without putting much work pressure on the staff. Companies can create triggered workflows to save time and resources. Automation is one of the keywords in the list of direct mail terms.
Database Marketing: Successful marketers use customer information from their database to draft and optimize personalized marketing campaigns. They require various metrics, such as preferences, demographics, or past purchasing behavior. This type of marketing creates a better impact on a specific audience segment.
The database is the primary asset to ensure customer engagement and healthy long-term relationships. One must recognize this term in their direct mail glossary.
Multichannel Marketing: It could be a confusing term for some readers. Yet, most marketers use multiple approaches to deliver the same marketing message to the audience. This type of marketing is all about creating a broader brand presence. It combines the power of traditional direct mail marketing with digital channels, such as email, SMS, or social media ads.
A synchronized and cohesive marketing experience is necessary to establish a robust multichannel strategy. Marketers must create an interconnected brand experience for their consumers.
List Rental: Service providers usually make mailing lists for a single use. Marketers using the data don't have ownership rights over the data. They can only use the data according to their rental agreement. List Rental is one of the most vital direct mail terms.
Event-Driven Programs: Companies often launch event-based and triggered mailing campaigns. They send mail on specific events, such as birthdays, anniversaries, product purchase dates, warranty expiration days, etc. Consumers draw more attention to these specialized mail.
Fulfillment: Brands must respond to their customer requests. A fulfillment request must need free branded merchandise, product literature, or product samples. Any direct mail glossary must uphold the importance of this buzzword. Companies may use an in-house approach or outsourcing partner to deliver fulfillment mail.
Lift: It refers to the increase in response rate after changing the direct mail offer. For example, a retail company can experience a lift after increasing a discount offer from 10% to 15%. Professionals must include a lift in their direct mail terms.
List Broker: These third parties connect companies with targeted audiences. Their lists align with specific demographic, psychographic, or geographic factors. Organizations can take help from list brokers to precisely reach the right audience.
Omnichannel Marketing: Businesses and marketers use different channels cooperatively to make the sale. The sales process can begin at a website and continue on various media, such as online ads or direct mail. Professionals often need clarification on multichannel and omnichannel marketing.
Yet, they have some differences that one must understand. A trustworthy direct mail glossary always includes this type of marketing strategy. Omnichannel strategies require full coordination across every communication channel.
Offer: Every direct mail marketing piece has an incentive for the prospect. They only need to take action to get the offer. Retailers provide discount offers during a sale period. At the same time, nonprofits may provide merchandise in return for support.
pURLs: A personalized URL is a unique web address. Marketers can assign each postal address to a single prospect or customer. They can display customized information on this landing page and create a memorable experience. Businesses can gain vital insights into tracking interactions with opportunities.
Triggered Direct Mail: Businesses can launch direct mail based on events. A CRM system can automatically send mail to prospects or customers depending on their actions. For example, a CRM system would release physical mail upon the expiration of a customer's subscription plan or if the customer reaches a certain activity level. Professionals consider this mail to be a vital part of direct mail terms.
QR Codes: Quick Response codes help connect direct mail with digital content. There needs to be more space on any direct mail piece. You must do your marketing mail with enough information. It would only clutter the collateral and distract the users. QR codes are the perfect way to direct users towards additional information.
You can also include multimedia content in your direct mail marketing strategy with the help of QR codes.
/A: Companies use a parsing method where the price depends on the number of customers or "per acquisition." For example, if the price were $200/A and you got three customers, the cost would be three times $200 = $300.
/F: It refers to the pricing unit per file. /F results in a flat rate. For example, if a mailing list costs $400/F, the entire file or any subset will cost $400.
Active Subscribers: These individuals have contracted to receive regular publication delivery. In direct mail marketing, active subscribers refer to those actively receiving marketing collaterals.
Abandonment: Individuals may prefer to disengage or neglect to receive mail communication. It shows a need for more interest and follow-through from the recipients. Abandonment also means failing to make a purchase, responding to a call-to-action, or subscribing.
Acquisition Cost: Whenever a company starts a direct mail marketing campaign, it spends a budget on acquiring a new customer. This acquisition cost comprises various expenses, such as designing, postage, data acquisition, printing and production of marketing materials, and more. Direct mail glossary consists of this term to help marketers evaluate the cost. You must calculate the acquisition cost to evaluate better your return on investment and the campaigns' efficiency.
Addressing: It refers to the media file format options while purchasing a mailing list for a direct mail campaign. For example, FTP, hard drives, printed Chesire labels, and emails.
Affiliate Marketing: Many businesses use direct mail marketing to promote other companies for commission on sales. It is a collaborative effort between a company and external partners to promote products or services via personalized and targeted mail campaigns.
The affiliate earns a commission whenever the recipient of the mailer responds and makes a purchase. We must uphold the importance of affiliate marketing in the list of direct mail terms.
ASCII: The American Standard Code for Information Exchange is a standard for encoding and representing computer data and text-based content. Marketers must use ASCII characters in their direct mail campaigns to ensure consistency and compatibility in text formatting in various collaterals. This system is necessary for making the text more translatable and readable.
Barcoding: Marketing professionals and businesses use barcodes to represent ZIP information in graphical format. They can convert the ZIP code into lines that help post offices and their automatic sorting machines. These barcodes can also encode various information, such as tracking numbers, recipient addresses, or other relevant details.
Professionals can reduce the chances of mistakes in manual sorting and also fast-track the mail handling process. A direct mail glossary considers barcoding as a vital component of direct marketing.
Base Rate: It is the starting rate to get names and addresses from a mailing list. If the base rate of a mailing list is $50/M, then the price to get 5,000 contacts would be $250.
Bind-In: Many marketing professionals include promotion within a catalog or magazine. You will find bind-ins as postcards inside magazines.
Blow-In: Professionals often include loosely inserted promotions inside catalogs or magazines. These post-card-sized promotions fall from these publications when people try to open them.
Bulk Mail: Marketers and businesses often prefer sending bulk mail to qualify for postage rate discounts from USPS and other mail carriers. It also opens doors to reach a broad spectrum of potential customers. Firms consider it an economical approach while maximizing their outreach. A direct mail glossary is complete with this term.
Brokerage Commission: A list broker gets a commission for selecting and procuring customer names for a company. They usually get 20 percent of the base price of the order.
BRC: A Business Reply Card could be a vital asset of a direct mail campaign. It is pre-paid and pre-addressed to the mailer. The company has to bear the annual fee for a business reply permit. These mailers encourage recipients to respond quickly without any barriers. They get a simple and free response method to promotions, surveys, or inquiries. Many companies use BRC for gathering customer feedback and processing orders.
BRE: A Business Reply Envelope is a pre-addressed and pre-paid approach encouraging recipients to respond efficiently. BREs eliminates the cost for the recipient to give a response to a mailer. It could be a strategic tool for businesses to provide a seamless and efficient communication channel.
Campaign Management: A direct mail campaign is a result of different activities. You will need proper planning, execution, tracking, and analysis of a direct mail marketing strategy. The designing and implementing process is the hardest part of the journey. A direct mail glossary must have this term.
Any campaign requires a complete understanding of the target audience, creative content, and tracking mechanisms to evaluate the results.
CTR (Click Through Rate): It shows the number of recipients interacting with a content piece by clicking links or calls to action. Marketers use this metric to evaluate the effectiveness of their direct mail campaigns. CTR helps them understand the engagement and interest their target audience generates.
Co-op Database: Many professionals source their prospects database from multiple mailing lists and different sources. They take intelligent measures to combine, de-duplicate, and enhance their databases to select specific opportunities for a campaign.
Co-op Mailing: Companies like to take a cooperative approach by including offers from multiple mailers. Multiple organizations may share the cost and distribution of a mailing campaign. They can reach a more extensive and potentially diverse audience without spending too much.
Compiled List: Professionals and firms also create compiled lists by combining information from various sources. They aggregate data from public records, phone books, and other resources. It helps in acquiring a comprehensive and diverse set of potential recipients.
Yet, marketers who prefer a compiled list must know their inaccuracies. Complied lists are a significant part of our compilation of direct mail terms.
Continuity Program: Many businesses use a subscription-based model to provide their consumers with products or services. Continuity programs often offer free merchandise or huge discounts to retain customers for a profitable business. You can also start such programs to build customer loyalty with consistent experience.
Control Package refers to direct mail materials that work as the campaign benchmark or standard. Marketers run different testing and analysis programs to monitor their effectiveness in generating responses. Companies use it as a baseline for evaluating their performance of marketing strategies and direct mail efforts.
Conversion: Companies make every effort to make a recipient take action on the CTA. It requires them to commit to the company. They should include this terminology in their list of direct mail terms.
CPM: The cost per thousand impressions refers to the price of a particular direct mail piece. It helps marketers assess the efficiency of their direct mail campaigns. You only need to divide the total campaign cost by the number of impressions and multiply by a thousand.
Count: The price refers to the number of names from a mailing list fit for the target market. Each mailing list gives us one or more factors that can help select a subset of the mailing list.
Counts Through Date: This date corresponds to the names and addresses on a customer file or mailing list. It may not be the same as the last update date, representing when the list owner updates it.
Cross-selling: Companies often sell additional products or services while pitching something specific. These different products or services are related or complementary to the initial product. Your complementary offerings must align with the customer's previous needs or interests.
Cross-selling opportunities help companies to profit from existing customer relationships. They can pitch targeted and personalized options for the recipients. A direct mail glossary often highlights the importance of cross-selling.
Customer Loyalty: Many brands run special programs that provide incentives to retain and engage customers to purchase or use more products/services. Higher customer loyalty is necessary to ensure continuous business growth and smoother operations.
Customer Profile: Professionals create comprehensive descriptions of their ideal customers. They take extensive help from their database to model the characteristics of these individuals interested in their products or services.
Customer Retention: People often buy products or services from the same brand. This customer retention is necessary to sustain the business growth of an organization. It always costs more to acquire new customers than to retain the existing ones.
Many companies run exclusive customer loyalty programs to keep their customers for extended periods. A direct mail terms list emphasizes the importance of customer retention.
Database Format: Professionals organize the data in a specific format for rapid search and retrieval. These databases help store, modify, and delete data with various data-processing operations.
Datacard: These cards help describe a mailing list or insert program available for rental, purchase, or exchange. You will find complete descriptions, counts, pricing, selects, output options, and profile information from these lists. Data cards are standard for postal lists, telemarketing lists, and insert media programs.
Demographics: Marketers prefer dividing their target audience by specific characteristics, such as income, gender, marital status, home ownership, education level, etc. Demographics help in optimizing and personalizing marketing campaigns.
Delivery Rate refers to the number of valid mailing addresses on a database. Marketers will always look for a higher delivery rate to maximize their impact and lower wastage.
Cleansing Names: Professionals often use tools to fix typos, standardize addresses, correct ZIP codes, and remove duplicates from their address database. Cleansing Names is critical to improve deliverability and reduce lost or returned mail.
Database File: Companies arrange files as collections of tables, where each table connects with one or more tables through a common data element. Your direct mail glossary must include a database file.
Database Enhancement: Sometimes, your data could be insufficient for your use case. You will need to gather data from external sources and use additional information such as age or education level. A few professionals may also like to add salutation, geocoding information, or genderizing.
Dedupe: A clean database requires professionals to identify and eliminate duplicate records. It helps in the mailing and marketing process.
Duplicate: Records with the same customer's name or street address are duplicates. Experts claim having copies in your records may lead to costly errors and delays.
Flat File: It means all the records in a flat file have the same format. Yet, they require individual processing. These records in the flat files also have no relation with each other.
Format: The order and structure of the data in a file determines its form. Various systems and organizations may enforce their standards. However, you won't find any universal data format standard in a direct mail glossary.
Geocoding: Companies have tons of postal addresses in their database. This data needs to be sufficient for planning delivery routes or run analytics. Geocoding allows them to convert mailing addresses into geographical coordinates (latitude and longitude data). It helps them determine the physical location on a map. They can efficiently compute distances between two points or plan directions accordingly.
House File: An organization maintains a file of current customers, past customers, or prospects to make better decisions. House files are necessary to give the best responses to direct mail marketing campaigns.
Household Group Testing: It is very similar to the A/B test, where one group does not receive the mailers, and the other does. Yet, professionals use it to compare the two groups' purchase data. They want to determine how many natural sales they can make without sending mail. The idea is to determine the baseline of new deals from mailing efforts.
Householding: Direct mail marketers use a common technique to reduce mailing costs by sending a single mail piece to a household. Sometimes, they even have multiple mail pieces in one envelope. By dropping duplicates from the mail file, they consider various family members for the same address. However, this strategy from a direct mail glossary depends on the brand and its offerings.
Mailing Lists: These lists come in many different variations and forms. A "House List" is often the best-performing list with details about current customers, former customers, or prospects.
These people are already familiar with your brand and will likely show interest in your direct mail pieces. The marketer only needs to focus on personalizing the messages or offers.
List Maintenance: You cannot leave your lists unattended. Professionals must keep their mailing lists up-to-date by adding new entries, deleting obsolete, or updating existing records. It would help in reducing errors in mail deliveries and ensuring smoother operations.
National Change of Address/NCOA: Millions of Americans move every year. Companies must get their latest address to avoid failed deliveries. The National Change of Address database keeps track of every individual who has filed a change-of-address notice with the US Postal Service. Firms often look for postage discounts using an approved move update method to fix the mailing address before sending the mail.
The NCOA data is the most precise method to satisfy the move update requirement. A database constantly updates with new notices for address changes. You cannot understate the significance of direct mail terms while planning your campaign.
Merge/Purge: Professionals often use advanced tools to gather and combine data from multiple sources for meaningful insights. It helps them in removing duplicates with the help of a suppression file.
Variable Data is an element of a data set that can change from one data record to the next—for example, customer names, addresses, and account numbers. Professionals always include variable data in their list of direct mail terms.
Variable Logic: Professionals use APIs to customize the text and graphics in their direct mail pieces with variable data. It follows the format of IF something is true, THEN follow this. Professionals must take care of the default action if an unexpected data value appears.
Direct Marketing: It is the practice of delivering targeted marketing messages directly to potential customers. Unlike mass media, direct marketing reaches prospects on an individual level.
Marketers use direct mail, email, telemarketing, and other marketing channels to reach their target audience. Your direct mail efforts must be measurable.
DMA: The Direct Marketing Association (DMA) is a global trade association of business and nonprofit organizations. It provides guidelines to individuals and organizations using direct marketing tools and techniques.
Direct Response: Potential customers can respond directly to the marketers in this marketing technique. It allows them to place orders, submit an application, provide information, or send a donation. Every direct mail glossary gives importance to such responses.
DTP refers to an attribute of mailing list names (mail subscribers) that respond directly to the publisher.
Double Opt-In: Individuals can determine from where to receive communications, such as promotional materials from different sources. The individual must take two actions to start receiving the communications.
Enhanced Carrier Route System: Professionals must sort their mail pieces for individual carrier routes within a 5-digit code to become eligible for ECR rates. They also need to meet the requirements for Standard Mail and send at least 200 pieces of Enhanced Carrier Route Mail.
Enhanced List: Marketers try to improve their mailing list with additional demographic, psychographic, or attitudinal data.
Exchange: Two companies can allow the other to send promotional mail to their house list. They usually exchange names based on names. These exchanges are common between cataloguers that deal in the same market. A direct mail glossary must consider this term to educate marketers about promotional materials.
Exchange Conversion: An event occurs when a mailer changes its order for a list from an exchange.
Exchange Fees: A list broker will charge you an exchange fee while providing the exchange between two mailers.
FSI: Free Standing Inserts (FSI) refer to unattached promotion standards in magazines or newspapers. It is a clever way of promoting products or services.
Fixed Field: Professionals must follow a format in which a field represents a set number of characters.
Hotline: A mailing list with segmentation can represent recent transactions with the list owner. It could be buyers or subscribers who got the list in the last 30, 60, or 90 days. The hotline is a very desirable segment as it is a more responsible segment. Direct mail terms include a hotline to help professionals segment each transaction.
Inquirer: It is an individual requesting information about a product or service. Marketers must pay close attention to these individuals to convert them into paying customers.
Inter-File Dupe: These entries are duplicate names and addresses present on multiple mailing lists.
Intra-File Dupe: These entries are duplicate names and addresses present on the same mailing list.
Key Code: Users can identify a specific list by their key codes. It represents letters and numbers to track the responses and analysis of a list's effectiveness. You can find this code on the mailing label or somewhere on the mailing piece.
Lead: A prospect engaging in the buying process or showing interest in the product/service is a lead. These individuals play a critical part in a direct mail glossary.
Last Update Date: It represents when an individual updates the names and addresses on a mailing list.
Lead Generation: Marketers try to find potential customers interested in their product or service.
Lead Tracking: Professionals must follow up with individuals interested in a product or service. Lead tracking is a vital process to successfully nurture prospects into paying customers.
Lettershop is a company responsible for assembling, addressing, and mailing direct mail pieces or packages.
LTV: Companies often determine the Lifetime Value (LTV) as the actual, estimated, total sales revenue from a customer during their commitment to their brand.
List Fulfilment: The owner service bureau provides the list fulfillment service to provide counts and orders for mailing lists.
List Hygiene: Professionals must remove unwanted names, undeliverable addresses, or uninterested prospects from their mailing lists. List hygiene is a critical process to optimize campaigns and have a firm place in a direct mail glossary.
List Management: Many companies often decide to sell their mailing lists. They publish data cards and maximize sales via promotional efforts. The list owner must also be responsible for processing orders, coordinating approvals and fulfillment.
List Manager: Some companies and individuals also act as an agent of the list owner selling their mailing lists. They must publish data cards and maximize sales efforts with the help of promotional offers. List managers provide exclusive support to list owners and have a solid position in a direct mail glossary.
List Owner refers to the individual or company that owns a particular mailing list. They have complete control and authority over the list. Companies often hire a list manager to help sell or manage the mailing lists.
List Research: Professionals dedicate their time to finding one or more postal mailing lists for their direct mail campaigns. The list research is a critical process to ensure higher deliverability.
Mail Date: Mail Date refers to when a company sends its offer through direct mail.
MOB: A mail order buyer refers to someone who previously brought sales in response to promotional mail.
Mail Preference: Some people request the DMA to remove their names and addresses from mailing lists. These names are available to both members and non-members of the association. Professionals must read a direct mail glossary to understand different types of mail preferences.
Mailer refers to the company or individual sending direct mail to people. A mailer often takes help from a list broker to buy mailing lists and a service bureau to support the processing necessary to start their direct mail campaigns.
Mailer Direct Commission: It is a commission set by a list manager for selling customer names to mailers in the absence of a broker. The list owner always has the right to determine whether or not the list manager will get this commission.
Mail Service Bureau: A bureau is responsible for coordinating the integration and improvement of mailing lists. The mailer's service bureau will correct the addresses, merge/purge, apply data models, and enhance the data.
Management Fee: The list manager gets a commission after selling a mailing list on behalf of the list owner. Usually, these managers get a 10 percent cut of the total amount to the mailer.
Market Penetration: You need to find the penetration rate by dividing the percentage of actual customers by the total number of consumers. Marketers always include this terminology in their list of direct mail terms.
Market Research: Marketers carefully gather, record, and analyze data to find the problems and opportunities in marketing products and services.
Market Convergence: It is the perfect combination of information technology, marketing, and design to ensure a company can develop consistent, clear, and interactive marketing messages across every channel they use.
Marketing Mix: Marketers combine product, price, promotion, and place in their advertising plan to find the marketing mix.
Mass Marketing refers to selling to everyone through mass media instead of taking a more direct approach like direct mail marketing.
Match Key: Professionals use an alpha-numeric combination with a ZIP code to dedupe addresses on a mailing list.
Medium refers to a marketer's communication channel to reach their target audience. They may prefer using direct mail, email, or phone.
Minimum Order Fee: Professionals pay a minimum order fee while buying a mailing list and have fewer requirements than the amount on the data card. A direct mail glossary must consider this term to better classify mailing charges.
Multi-Buyer: Companies refer to repeat buyers as multi-buyers. These customers have made multiple purchases from the same business.
Multichannel Marketer: Many brands use multiple ways to reach their customers. They even provide a response channel to buy their products/services.
Multiple Regression: Expert marketers use a statistics approach to predict the correlation between a single dependent variable and more than one independent variable.
Next Update Date refers to when the names and addresses on a mailing list will receive an update at the owner service bureau. Professionals usually update lists on a monthly or quarterly basis.
Nixie: USPS and companies refer to incorrectly addressed mailing pieces as Nixie.
NAICS: The North American Industry Classification System (NAICS) provides a method to describe the industries of specific organizations.
Overlay: Marketing professionals use a process to align customer or prospect mailing lists with demographic data or other information.
Owner Service Bureau: A mailing list owner needs a service bureau to work for them, responding to count requests and fulfilling orders. The bureau would extract the data in the necessary format.
Package: It refers to all the elements delivered to the recipient as a part of a direct marketing campaign. For example, a postcard, envelope, and the order form will be the complete package. You must recognize this term in your direct mail glossary.
PIP: This program permits mailers to include promotional pieces in their product shipments to the list owner's consumers. Yet, there could be limited scope in this type of direct mail terms.
Pander: It refers to individuals who want to avoid receiving direct mail pieces.
Personalization: Companies and professionals take exclusive measures to make their mail pieces stand out. They include an individual's name, address, and other relevant information to make them unique.
POP refers to the point of purchase, like a cash register or checkout window. Many individuals also refer to this as point of sale (POS).
Postal Pre-sort: Professionals prepare mail by sorting pieces meant for the same ZIP code so they can qualify for postal discounts.
Pre-Clearance: Many individuals use a document to obtain a list owner's approval for using their mailing list. Marketers must keep a copy of pre-clearance handy before planning their marketing campaigns and a list of direct mail terms.
PAVE: The Pre-sort Accuracy Verification and Evaluation method could help sort your mail and get postal discounts.
Pre-sorting: Companies can help USPS by sorting mail sequentially by carrier route. Pre-sorting can reduce USPS's efforts to deliver mail.
Private Database: Some firms maintain a compilation of contacts from external sources for specific prospective purposes.
Promotion Cost refers to a direct mail marketer's expenditure on reaching prospects. Professionals must evaluate their promotion costs to plan their future campaigns.
Prospect: A prospect is a potential customer considering purchasing a product or service.
Psychographics: Expert marketers consider individual characteristics, such as beliefs, lifestyles, interests, or passion, in their marketing campaigns.
Purge refers to removing duplicates or unwanted names from a mailing list.
Re-Test: Professionals often resort to subsequent use of the same mailing list to determine its performance. A re-rest is necessary when you cannot conclude the first test. Many marketers emphasize its importance in their direct mail glossary.
Reactivation is when a dormant consumer starts to purchase again from the same business.
Record: Companies maintain a collection of fields from a database for a particular customer on a mailing list.
Regression Analysis: Professionals use a statistical method for determining the correlation between one or more independent variables (X) and a dependent variable (Y). They must create response and lifetime value models to optimize customer acquisition and retention efforts. One can only achieve the best results with this term in their direct mail glossary.
Relationship Marketing: Marketers build relationships with existing customers to build customer relationships. It helps in increasing the lifetime value (LTV) of a customer. Good relations are necessary for the growth of an organization.
Respondent: This direct mail glossary refers to the individual responding to a direct mail offer or advertisement.
Response Analysis: Marketing professionals often analyze the response data to learn about the performance of a direct mail marketing campaign. They run this right after completing the drive to predict the result better.
Response Channel: Customers often select a medium for responding to products and service offers. Response channel is one the most critical direct mail terms.
Response List: Professionals maintain a list of people who have responded who have responded to their direct mail campaigns. A response list helps in finding highly motivated prospects. You must divide the responses by the total mail volume sent.
Retention Budget: You must maintain a portion of your marketing budget for customer retention programs.
Retention Rate refers to the percentage of customers who wish to purchase products and services in a subsequent year. You should not add new consumers in the following year to this calculation.
ROI: Professionals measure the financial success in Return on Investment (ROI).
Reuse: Any company may resort to subsequent use of a rented mailing list. They usually rent a list only for single use.
Yet, they can reuse the list with the help of a follow-on agreement. You must include this terminology in your direct mail terms to reduce expenditure.
Sample Mail Piece refers to the same package companies plan to deliver to their mailing list. The mailing list owner wants this sample as a part of their approval process. It is a determining factor for a list owner before approval.
Saturation Mailing refers to sending a mail piece to 90% of the residential addresses or 75% of the business addresses within a geographic area.
SCF: Professionals identify the Sectional Center Facility using the first three digits of the ZIP code.
Segment: It refers to the significant subgroup of a mailing list. Each component has a name, price, and count on the list's data card. Adding this term to your direct mail glossary is a good idea.
Segmentation: Marketers often divide their customers based on demographics, behavior, or psychographic.
Selection Cap: It refers to the maximum fees to that mailer to cover all the names from a mailing list.
Self Mailer: These direct mail pieces do not need an envelope for postage. Folded brochures or other formats than postcards are technically self-mailers.
Service Bureau: Companies that provide services related to mailing lists are called Service Bureaus. These firms have diverse roles in fulfilling orders for (1) the owner's service bureau and (2) the mailer's service bureau.
Source: Every mailing list's names have an origin. For example, a company could source the terms from multiple catalog buyers, directories, trade show attendees, etc. You have so many options to select from while building a mailing list. Yet, it's vital to understand the source to determine the responsiveness of your offers.
SIC: The Standard Industrial Classification code represents a company's business domain.
Test: Companies test their campaigns on a mailing list to determine their performance. They conduct these tests in small batches to mitigate risks. Successful tests help in removing irrelevant aspects from their campaigns.
Tracking Code: The listing manager uses a unique ID as a tracking code for identifying their mailing code. This code helps report and link orders for a list.
Unit of Sale: Companies bear an average purchase amount on a mailing list.
Universe refers to the total number of names on a mailing list. Many individuals often describe this direct mail glossary term as recent buyers.
Usage: Mailer companies rent or exchange their specific mailing lists to various industry professionals. The use is their method of utilizing those lists.
Win Back: A dormant customer starts purchasing again due to targeted sales and new marketing efforts.
ZIP + 4: ZIP codes must be sufficient to find precise locations. ZIP+4 extension is necessary for identifying addresses more accurately on a map.
/M: Professionals often use this unit to describe envelope, cost of paper, or data processing per thousand.
Anti-Aliasing: Direct mail professionals use a method to smoothen the printed appearance of stair-stepped lines.
Aliasing refers to the jagged and stair-stepped appearance of diagonal lines on a paper.
Bleed: The printing on paper can extend beyond the trim area. Printing professionals trim this area to remove all unprinted edges in pieces. It helps them get rid of white borders.
Printing machines cannot print to the extreme edges of a paper. Bleeds and trimming are vital to get the edge-to-edge effect. PostGrid postcard templates have existing bleed areas in their design.
Banding: Color or grayscale specifications beyond the limits of the output device's image processor. It occurs on digitally printed materials with a specific pattern. Banding can also be a result of poor image quality.
You will notice this in areas that fade from light to dark. Many companies keep this term handy in their direct mail glossary.
Calibration: Printing professionals set up their equipment to print precise and consistent results. They work with color management and recalibrate if necessary.
Chroma Saturation: The intensity or vividness of a color signifies its chroma saturation.
CMYK: Every mainstream color-printed reproduction uses Cyan, Magenta, Yellow, and Black. However, other models exist, such as HSB, PMS, and RGB.
Color Gamut: Every digital device is limited in producing a range of colors. Yet, color gamuts can be different for every device. The same printed on two other printing presses can have slightly different colors.
Crop Marks: Printing professionals add marks to the corners of the pages. It helps printers understand where to trip the material.
Digital Printing: Digital machines can simultaneously place text and images next to each other without prior steps, such as film generation or plates from traditional printing methods.
Dots Per Inch/DPI: Professionals use a measurement for measuring the image resolution. The higher the resolution, the better the image quality. Yet, providing higher-quality images than the capability of the printing press won't improve the final print's quality.
Finishing: Printing professionals give the final finishing touches after printing a document. They fold, score, emboss, staple, bind, insert, and tab the prints.
Graduation: It refers to the transformation between colors or shades.
Direct Mail Examples
Below are some direct mail ideas that you can use in your next campaign.
iPad – You can send an empty iPad box with a note asking for the person's time in exchange for the iPad. The Heinz marketing company had used this idea, and it worked great for them.
Content Kit – You can pile together all your best blog posts, customer reviews, case studies, and reports as one content kit to be sent to your high-end accounts. This kit should be highly informative and give them a feel of offline reading.
Fake Press Release- Draft a fake press release stating how the company (your client) has achieved something big using your products or services. Tell them how they can achieve it for real.
B2C Direct Mail
Miniature Greeting Cards – Miniature items are already liked by everyone. They are cute, pleasant, and attractive. Sending tiny greeting cards to your customers can help grab their attention and impress them.
Hot Chocolate or Coffee – This option is perfect for the holiday season that falls during winters. Simply send a packet of instant coffee or hot chocolate along with a note that emphasizes how easy it is to make instant coffee. Further, tell your prospects how your product can similarly make their lives easier.
Personalized Brochures – You can get really creative with brochures and personalize a lot of details. Including a person's name and some other common habit or fact is a smart move. For example, if you are a car insurance company, mentioning the name of your prospect's car can help get their attention easily.
Gimmicky Toys – You can design small toys or items representing your brand. For example, pizza restaurant owners can design small pizza keychains, or home sellers can design and send small house-looking toys with a personalized note.
PostGrid's direct mail automation platform allows you to send any type of direct mail swiftly and easily. Sign up now.
Ready to Get Started?
Start transforming and automating your offline communications with PostGrid
SIGN UP
REQUEST A DEMO