What is Direct Mail?
Direct mail is a form of offline marketing to connect with people on a direct or personal level. It is sent in the form of marketing and promotional materials and could be anything from postcards and flyers to SWAG items. Basically, anything sent to a person's physical mailbox with the marketing intention is called direct mail. The mail is popularly sent via USPS and Canada Post, but many companies use other courier services as well.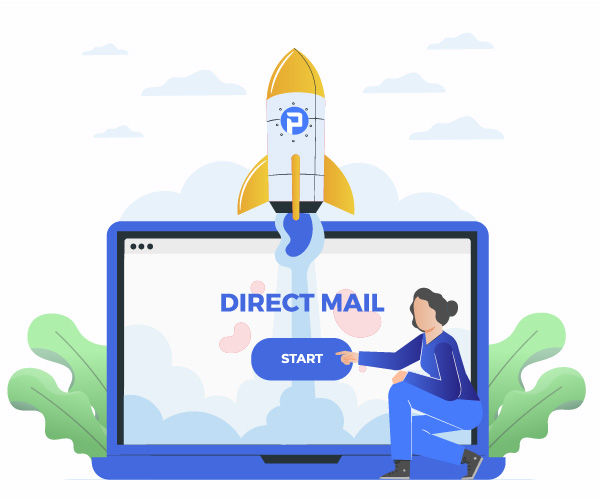 Direct mail services offer a one-to-one communication channel between a company and its target customers, cutting through the digital crowd. It can either be B2B or B2C.
Why is Direct Mail Still Effective?
Gives High ROI
Direct mail is known to fetch higher ROI than both online display ads and paid search. Its ability to grab the attention of the recipients is impressive. 42% of recipients read or at least scan the received mail. It is a good ratio and is sure to get the company some valuable responses and a positive ROI. In general, direct mail fetches an ROI of 29%. A guaranteed positive ROI is the key reason why marketers still prefer direct mail over a lot of digital marketing options.
Makes a Long-Lasting Impression
A well-crafted mail is sure to get a lot of eyes on it. It is tangible, and people tend to like receiving things in the mail. It causes nostalgia among people, reminding them of the mail they used to receive from their loved ones. Hence, direct mail is an excellent way to create an emotional bond with people. A hand-written note can help increase its impact. Such small gestures make direct mail more interactive and memorable. People are likely to keep it with them for a long time.
Facilitates a Wider Reach
Many people still don't use social media. If they do use social media channels, there is no guarantee that they see your post or scroll right through it. Therefore, the scope of digital advertising is restricted to people seeing it. Even a highly creative advertisement with an interesting offer can get missed by a lot of people. On the contrary, direct mail has a wider reach. You can narrow down your target audience and send mail pieces to connect with them directly.
No Competition
In today's time, most marketers have channelized all their marketing activities towards online channels. As discussed above, direct mail facilitates a wider reach. Another prime point to be noted is that there is no great competition in the offline space. Not all marketers send out thoughtful and eye-catching direct mail to their target audience. The lack of competition gives you an advantageous opportunity to reach out to the customers first and induce them to buy your product or service. There are more chances of getting noticed by using direct mail.
Scope to Get Creative
By now, you must have got enough clarity on what direct mail is. But, there are a lot of remarkable aspects to it – that make direct mail stand out. It is the most creative form of marketing, wherein you can think, design, and send almost anything. Moreover, you also get to show your creativity on the artwork, text, offer, and CTA. Companies can pair direct mail with online marketing forms to make it more effective.
Types of Direct Mail
There are various types of direct mail that marketers send out. Some of the popular direct mail materials include: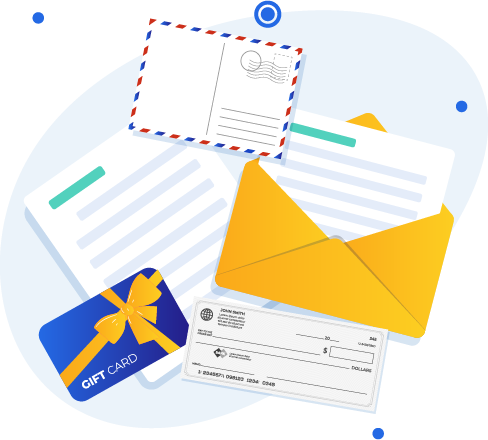 Brochures – Brochures can be two-folded or three-folded and are printed on all sides. They make excellent marketing collateral for promoting brands, as you can use them for charts, illustrations, and short points.
Flyers – Flyers are well-suited for promoting events or a specific offer. It is often one page with no folds. They are more colorful than brochures as they have to deliver the message using a shorter space.
Postcards – Postcards are good for any season and purpose. They can be highly personalized according to the needs of every recipient. Postcards are known to be intact mail items – attracting more people with their structure and size.
Catalogs – Catalogs are product guides and are compiled as a complete book. These are much heavier than all the other mail items and are hence costlier to send. Catalogs can be sent to a small number of targeted accounts. However, sending smaller-sized catalogs makes it affordable.
SWAG Kits – SWAG items include coffee mugs, bags, balls, pens, diaries, hoodies, or anything else that you can think of. Marketers send SWAG kits containing such goodies to their targeted clients or high-end customers.
Newsletters – Newsletters contain informational content about a brand – its new product launches, new services, new clientele, and other details that are fit to be sent as marketing text.
Guide to Using Direct Mail
If done right, direct mail can prompt a person to purchase your product or service. 39% of recipients try out new products and services after receiving direct mail from that company. There are certain things to be kept in mind while using direct mail as part of your offline marketing activities.
Keep Yourself Updated
Keep a close eye on your competitor's marketing strategies, products, after-sales services, and other things to know your competition well. You can then use all this information to create unique content for your direct mailers. Marketers should read up on tricks and tips of using direct mail and keep themselves updated on the latest trends. Additionally, remember to know more and more about your target audience. Get to know what your prospects are into, and use it creatively in your direct mail.
Take Note of All Reactions
Track all the responses from the very start. Include trackable features in your direct mail such as a pURL, a unique coupon code, phone number – that can help you measure your campaign performance accurately. Tracking responses can help you draft and use campaign analytics for making your future campaigns more effective.
Use Different Colors and Keywords
Use different colors and keywords in all your campaigns according to your campaign's content, type of mailer, and purpose. An informational mailer can have professional-looking dark colors, whereas an invitation to an event can have fun and bright colors. Moreover, keep altering the text and keywords so that you know what combination works the best for your company.
Include Exciting Offers
Always excite your audience with your direct mail items. The mail should be convincing enough for your prospects to complete the CTA. Including exciting offers can help in inducing them to set up a call or a demo session. Offer for something that the person is likely to get excited about and is willing to take some action in exchange for that offer.
Follow-Up Regularly
Keep your direct mail list close with you even after the campaign is completed. Don't forget about your sent direct mail and your prospects after a campaign is over. It is very important that you follow up with your respondents regularly. You can even follow up with people who haven't responded yet.
Personalize Your Direct Mail
The direct mail definition may not describe it as personalized promotional items, but it is smart to personalize your direct mail. Tailoring everything according to your target customers makes them feel special and encourages them to try your brand. Direct mail is a great way to communicate with people directly. Hence, using the non-personalized blanket approach does not help.
Use Automation
Using a direct mail automation platform, companies can send any number of mail pieces easily and speedily. It is no longer required to plan and design your direct mail yourselves by hiring a designer or spending on inventory like paper, ink, stamps, labels, and envelopes. PostGrid's direct mail automation platform and API can help you send on-demand and bulk mail effortlessly. You can easily customize your content, personalize every single direct mail, track responses, get reports, and handle everything in an integrated manner.
Dos and Don'ts of Direct Mail
Certain guidelines can be followed to make your direct mail campaigns a huge success and avoid any scope of wasted time, energy, and money.
Dos
Define Your Targeted Audience – Always define your niche and the type of audience that is best suited to your product or service. You need to be clear about the demographics that play an important role in your brand. For example, if you are an educational institution, parents will be your primary audience. You need to have a targeted direct mail list for conducting direct mail campaigns. You can purchase them from a mailing lists broker or use your own data.
Run Tests – There are many different types of direct mail that you can send out. Hence, you should determine which type is best for you. Initially, you should send out only a few direct mail pieces as test batches. Track the engagements of this campaign, draw results, and plan the main campaign accordingly.
Include a CTA – The most attention-seeking direct mail also requires a CTA to fulfill its purpose. Include an upfront and clear CTA that is easy to be completed by people. It can be anything like taking a survey, using a code, requesting a demo, or signing up on their website.
Don'ts
Don't Send Anything Without Proofreading – Direct mail is like the first impression that your brand makes in front of an audience. Don't print and mail anything that is not proofread thoroughly. Before printing, check for typos, errors, factual mistakes, and other things. Make sure that the offers are genuine and your mail reads well.
Don't Miss Follow-Ups – After knowing what direct mail is, you should know that there is some amount of work both before and after conducting a campaign. Make a note of the respondents and follow up until you close the deal. Missing follow-ups can disturb all the objectives of your campaign. Furthermore, engaged customers are more likely to react to future marketing communications.
Don't Forget to Drive Online Traffic – As we have already established, direct mail returns high responses. You can use these responses to drive online traffic. You can keep posting about your upcoming campaigns on your social media channels and keep your audience hooked. Driving traffic to your online channels can help you connect with your audience better.
Direct Mail Examples
Below are some direct mail ideas that you can use in your next campaign.
iPad – You can send an empty iPad box with a note asking for the person's time in exchange for the iPad. The Heinz marketing company had used this idea, and it worked great for them.
Content Kit – You can pile together all your best blog posts, customer reviews, case studies, and reports as one content kit to be sent to your high-end accounts. This kit should be highly informative and give them a feel of offline reading.
Fake Press Release- Draft a fake press release stating how the company (your client) has achieved something big using your products or services. Tell them how they can achieve it for real.
B2C Direct Mail
Miniature Greeting Cards – Miniature items are already liked by everyone. They are cute, pleasant, and attractive. Sending tiny greeting cards to your customers can help grab their attention and impress them.
Hot Chocolate or Coffee – This option is perfect for the holiday season that falls during winters. Simply send a packet of instant coffee or hot chocolate along with a note that emphasizes how easy it is to make instant coffee. Further, tell your prospects how your product can similarly make their lives easier.
Personalized Brochures – You can get really creative with brochures and personalize a lot of details. Including a person's name and some other common habit or fact is a smart move. For example, if you are a car insurance company, mentioning the name of your prospect's car can help get their attention easily.
Gimmicky Toys – You can design small toys or items representing your brand. For example, pizza restaurant owners can design small pizza keychains, or home sellers can design and send small house-looking toys with a personalized note.
PostGrid's direct mail automation platform allows you to send any type of direct mail swiftly and easily. Sign up now.
Ready to Get Started?
Start transforming and automating your offline communications with PostGrid
SIGN UP
REQUEST A DEMO