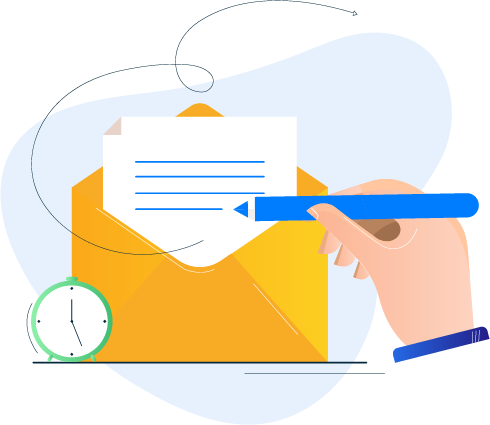 Direct Mail Statistics That Will Convince You To Invest In It
Going digital has had a revolutionary impact on the marketing world. No doubt, it has helped businesses deliver valuable results and attain maximum return on investment.
Implementing digital marketing strategies is an effective way of reaching out to a broader customer base in a short time. And it is seen as a powerful tool for cost-effectively maximizing conversion rates.
So, in no way, we're here to say that digital marketing has lost its value. Yet, some traditional marketing forms are making their way back by delivering better response rates and helping businesses, especially small ones, garner a loyal customer base. But that's not all. It's also helping businesses across various industries grow at scale.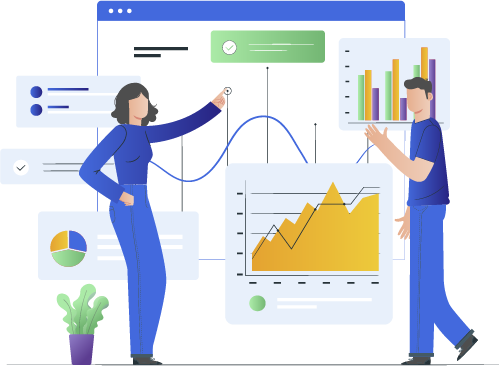 With the amount of time people are spending online, it is natural to think that the offline mode of communication, like direct mail, is no longer used, and direct mail marketing is considered dead and buried.
We've heard people saying, "Who in today's world would wait to receive anything in the mailbox?"
But, let us assure you that direct mail is far from dead, and, if anything, it has evolved. It can complement digital marketing strategies in ways more than one.
Let's start with the basics.
What is Direct Mail Marketing?
One of the oldest, and up until now, considered ineffective direct mail is a form of marketing where prospective customers are sent promotional materials in various mailer pieces like postcards, letters, brochures, flyers, and more.
Now, considering the efforts they require, you might say, direct mail is not engaging anymore.
But over the last few years, marketers have come up with remarkably innovative ways to get the most out of this traditional practice. 
So why was it considered an ineffective marketing technique?
It took much time

It was exhaustive

It was not instantaneous
But, by courtesy of technology, direct mail marketing is back, and what a recovery, we would say. In today's blog post, we will talk about direct mail marketing's effectiveness, focusing on what the statistics have to say.
But before we begin with it, let us talk about the impact the new-age direct mail marketing has on boosting your business.
 Also Read: Direct Mail API to Automate Mails
Impacts of Direct Mail Marketing
Tangibility
Direct mail marketing, being visual, tangible, and physical, appeals to the audience quickly and effectively. Giving the marketer the freedom to customize the mailer pieces as they want, direct mail makes for an eye-catchy advertisement mode. It boosts customer engagement and holds their attention for longer.
GDPR friendly
Unlike emails that require the content to follow GDPR norms and standards and seek permission from the customer, direct mail does not require explicit consent from the consumers. So you can send the mail to the customers, keeping the legitimate interest into consideration.
Engagement
You can not touch and feel an email; it only engages one sense – viewing. But with direct mail, all your senses are equally involved, which piques the interest in the product and service your business has to offer, as these mailpieces can hold attention for a relatively long period and invoke emotions of the readers. Direct mail plays a big part in influencing the decision-making process of consumers.
Less disruptive
Compared to the online ads that appear out of nowhere and disrupt an individual browsing session, to the point that they have to install an ad blocker, direct mail is far less intrusive. Consumers can read direct mail as and when they want, without getting disturbed.
Those mentioned above are some of the most vital points which could convince one to invest in direct mail marketing.
But we know there are a lot of people apprehensive of it because of the various myths putting direct mail in a bad light. Allow us to bust them for you.
Myths About Direct Mail Marketing
It can not be tested and measured
It could not be far from the truth. The direct mail campaign performance can be tested and measured.
When integrated with digital campaigns, on an automated platform like PostGrid, direct mail can be easily tested and measured for the response rate. And you can strategize your future campaigns accordingly.
It is labor-intensive
We are living in a world where everything gets done with a click. Earlier, you had to coordinate with the designer printer to get excellent quality mail, which led to workforce exhaustion with the repetitive task. But now, with technology and an automated platform like PostGrid, sending direct mail is as easy as sending an email. The only difference is that you will get a better response with direct mail compared to emails.
Big companies, like Google, never use a tacky form of marketing
So why should you? Right?
What if we say, Google is one of the largest direct mailers globally? Yes, it uses direct mail in abundance to attract clients and generate revenue. Google understands how direct mail makes sales more efficient than its digital contemporaries. Google sends out direct mail in high magnitude to current and prospective advertisers.
It can not engage the target audience
We have been hearing this for a long time since digital marketing worked its charm. But this is not the case. A study done by Marketing Sherpa revealed that an astonishingly 76% of the audience trusts direct mail when purchasing. So there is no doubt that direct mail works wonders when it comes to engaging its audience.
Having cleared some prevalent myths out of your way, let's elaborate on direct mail's ability to generate a higher response rate compared to its digital contemporaries.
 Also Read: Best Direct Mail Marketing Companies
Statistics: How is Direct Mail Marketing Better Than its Contemporaries
Marketers were apprehensive of investing in direct mail, fearing they can never get the desired response rate with this method. But a study published in

DMA

response rate 2018 revealed that when compared to email, paid search, and social media, household mail has a higher response rate at 9%, with the former being only at 1%.

Direct mails are sent out to two lists – the household and the prospects list. Your current customers are on the household list, and your potential customers — who seem interested in your product or service — come under the prospect list. The

report

also revealed that direct mail's average response rate has increased from 2.9 to 4.9% for prospects and 5.1 to 9% for the household list in one year — 2017-2018.

Furthermore, the response rate for direct mail is increasing exponentially every year.

Tax Marketing HQ

reiterated the same direct mail statement of gaining a higher response rate than digital marketing. However, 46% of people are more likely to respond to an advertisement from a familiar company. You can use this to your advantage by launching a direct mail campaign to introduce your company to prospective customers and then implementing a digital marketing strategy to retain them and build long-term relationships.

When it comes to direct mail, the size of the package matters to a significant extent. According to the

data and marketing association

, postcards receive the highest response rate of 4.25%, and letters get the lowest response at 3.5%. Hence, it's essential to make sure that you launch your campaign in a package that accommodates everything you plan to advertise and gain a higher response rate.

Direct mail has a 29% median ROI compared to 23% for Paid Search and 16% for online display.

If we look further into the omnichannel marketing strategy, reports suggest that combined direct and digital marketing can increase the

response rate by 63%

, with a massive 60% increase in the return on the investment. 

Looking at the B2B side, reports by

the B2B marketing mix

state that marketers still heavily invest in direct mail campaigns. It continues to be one of the most important and effective marketing tools taking a total of 35% among other digital and traditional marketing techniques. 

When it came to making a purchase decision,

31% of the baby boomers

preferred direct mail over other marketing channels, recommendations from friends and family, or online reviews. This technique says a lot about the profound impact of direct mail in this digital time and age. 

A common misconception about Gen-Z's people is that millennials prefer being reached out to through digital media, as they hardly have time to spare for direct mail or never check their mailboxes. But this couldn't be farther from the truth, as

the Gallup

report states that 41% of Americans of all ages check their mailbox every day.
After elaborating on how good the response rate the direct mail generates, let's discuss its utilization status in terms of numbers.
Statistics: Uses of Direct Mail Marketing in Terms of Numbers
If you think that physical ads no longer have the appeal and are not trusted over their digital contemporaries, think again. You should know that the consumers of this age suffer from, what we call, digital fatigue and would instead prefer physical ads to digital ones. As per the

USPS

statistical report, print advertisements are considered worthy of trust by a whopping 82% of millennials. 

Another point of primary concern, especially in this tech-dependent world, is cybersecurity. When it comes to privacy, millennials fear digital methods more and find

direct mail safer and more secure

.

National Mortgage Professional Magazine reported that direct mail influences the buying decision of

92%

of millennials. It is clear from the facts stated above that attracting users has little to do with age and more to do with the technology implemented – traditional or digital – and how. 

While talking about direct mail usage, it's important to remember that the postcard exceeds the list by

52.5%

of potential recipients claiming they read it, while the letters are opened in one out of three instances. But you need to be tactful while using postcards to ensure that you can yield maximum benefit it.

USPS reported that an average American household receives 454 pieces of mail every year. A 2018 paper by

direct mail facts and figures

revealed that 57% of consumers open addressed mail envelopes, 48.5% look at what it is, 24.5% keep it to read later, and 1.6% of the recipients put it in the open for display. 

Since we've discussed direct mail usage, we cannot overlook its

tangible personality,

which makes it worth the investment and leads to an exceptionally higher return on investment. We human beings react instinctively, and direct mail can generate a neurological response, making them convert from prospects to happy customers. Effective mail receives a powerful and positive response. 
Now that we have covered the response rate and how direct mail is used, you must wonder how advertisers spend on direct mail marketing to gain this kind of response.
Allow us to help you walk through the numbers.
Statistics: Costs & Numbers Explained in Detail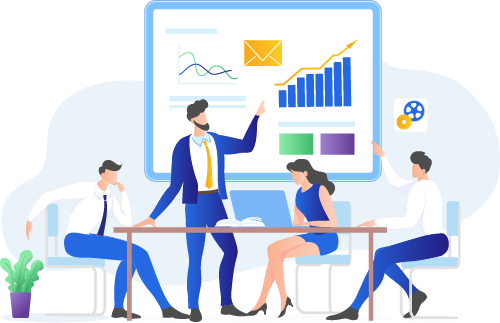 As per the Web Intermix "

Media Kit

" published in 2018, direct mail makes for 52.7% of the national marketing budget. And here's how they spend it: when it comes to advertising expenditure, direct mail cost covers the largest share in the United States with $38.5 billion.

Direct mail statistical reports by

small business trends

reported that a US advertiser spends $167 per person on direct mail campaigns on average. These stats alone speaks volumes about the trust advertisers have in direct mail in helping their business grow.

Furthermore, the same report also revealed that on average direct mail marketing brings a 1300% of return on investment i.e., $2095 in revenue per person. Considering the investment in the advertisement, the ROI is significantly higher – suggesting directly that direct mail marketing is worth the investment.

If we talk about the average money spent on acquiring one customer, the cost per acquisition, then the

Statistical Fact Book by DMA

reported that the CPA amounts to $26.4 per house and $31.1 per prospect. It can be brought down further by incorporating a direct mail automation software like PostGrid, with which you can create, print, and mail customized pieces by USPS first class mail, which will assure that the mailer reaches in one to three business days.
As mentioned above, we humans make our decisions on our instincts. And direct mail has an exceptional quality of engaging all our senses, touch to feel, and sight to explore creativity and influence our purchasing decisions.
Direct mail's impact is visible on the psychological level of the human body. In the section below, we are going to discuss this impact further.
Statistics: Impact of Direct Mail on the Psychological Level
As per the

Royal Mail Marketreach

, useful direct mail can generate positive emotional responses from the respondents. 66% of the audience reported it was the right way of informing, and 48% understood what was relevant to them and what was not.

Canada Post reported in its

bias for action

posts that it takes consumers 21% less cognitive thinking into processing direct mail pieces than its digital counterparts. It's also an excellent marketing channel to promote brand awareness because it creates a higher brand call. 

Direct mail is straightforward and is easy to consume without any confusing long-form text. It makes it more acceptable as the audience doesn't have the time to sit and read through pages of volumes of text online. So we can say that with direct mail, consumers don't have to waste time trying to understand what the content wants to convey. Hence, it converts relatively higher in number.

The tangible marketing pieces leave a long-lasting impression on the human brain, ultimately affecting the decision-making process. The response generated for direct mail pieces is from the emotional customer touchpoints. A

case study by

Millward Brown – using neuroscience to understand the role of direct mail – links traditional marketing to an efficient component of advertisement and brand associations.  
Having discussed the psychological impact of direct mail, let's move on to how this traditional methodology is perceived in 2023.
Direct Mail Marketing in 2023
As mentioned before, direct mail marketing's usage and effectiveness are not limited only to the baby boomers or the greatest generations. While they are more attracted to this physical form of marketing, they can open and read as, and when they want, the millennials are equally if not more inclined towards it.

A 2015

Gallup Poll

revealed that 41% of people of all ages check their mail every day and an impressive 36% of Americans constitute this category.

Marketing Charts

reported that the ones whose purchasing decision is most influenced by direct mail are the baby boomers. 
We have already established in the beginning how direct mail generates a higher response rate compared to emails. Now, let's take a look at what the statistics have to say about these traditional and digital forms of marketing
Statistics About the Traditional and Digital Forms of Marketing
With direct mail being less common, you don't have to fight for attention. All you need to do is pour your creativity and use the right marketing tools to get the message across and grab the target audience's attention.

When asked which form of marketing encourages people to take action,

30% of millennials went with direct

and 24% with email, even about the unwelcomed offers of companies.
Unlike email which can only be customized to an extent with graphic design or content, direct mail has a plethora of unique and diverse mailing and packaging options, which makes it easy for the target audience to spot first thereby driving more traffic and better engagement.
Unlike email, which you can customize only to an extent with graphic design or content, direct mail has many unique and diverse mailing and packaging options. Taking advantage of these characteristics, you can outperform your competitors, steal your audience's attention with the right offers, and gain more engaged traffic.

If we talk about the response rate in numbers, direct mail leads the emails with

3.7%.
When it comes to the open rate and click-through rate,

direct mail leads the charts by 80-90%

while email lags at 20-30%. One of the reasons could be that emails get spammed a lot. There is no such thing as spamming or getting attacked by a virus with direct mail. 
In the section above, we mentioned how postcards have the highest response rate and are among the most preferred direct mail pieces, with 52.5% of the target audience claiming to read them.
In the following section, we will help you leverage postcard statistics for your business's benefit.
 Also Read: Bulk Mailing Services
Direct Mail Postcard Statistics
Let's start by putting ourselves in the consumer's shoes. Nobody wants to read direct mail on weekends because they have other necessary things to do – like spending quality time with family. So make it a habit to send your direct mail on business days. It increases your mail's chances to get noticed.

Make it a point to personalize the mail according to the consumers' preferences and address them with their names. This strategy instantly increases their possibility of opening and reading your mail.

Postcards make for a great way to convey your wishes or send discounts or tell about the promotion to the target audience as they are relatively more popular among the audience and are more likely to be read.
But all these statistics and techniques will work in your favor when instead of burdening your in-house to complete the process manually you add an automated platform to your system.
With PostGrid, you have the freedom to send one or thousands of personalized direct mail to prospects, clients, and customers with a click. All you have to do is choose from our wide range of templates or edit them with our built-in editor to best suit your target audience and hit send. 
We provide both API and platform solutions, either of which you can choose to create, customize, and send out your direct mailer pieces. With CRM integration, we will prevent you from the hassle of manually entering every mailing address, as the integration system will fetch it from your existing database and build a mailing list, ensuring accuracy.
With our automated direct mail solution, we guarantee to strengthen your offline communication with the customers and to help your business steer ahead.
Ready to Get Started?
Start transforming and automating your offline communications with PostGrid
SIGN UP
REQUEST A DEMO