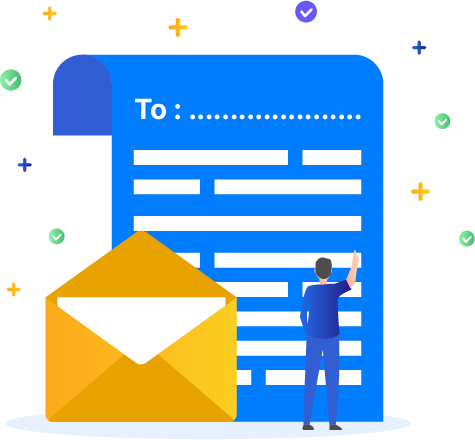 Direct Mail Retargeting: How to Retarget Website Visitors with Direct Mail
When we shop in stores, we go around showrooms to look for the things we want, and depending upon various factors, we finally decide on what we would buy, and we'd simply leave. The pattern is similar to how we shop online. Browsing through multiple websites and only shopping when we think the product is appealing or serves its purpose.
Did you know that 96% of website visitors are not ready to buy?
Yes! That's why an increasing number of businesses are focussing on and implementing retargeting techniques to bring back the customers who browsed products on their website but left without making any purchases.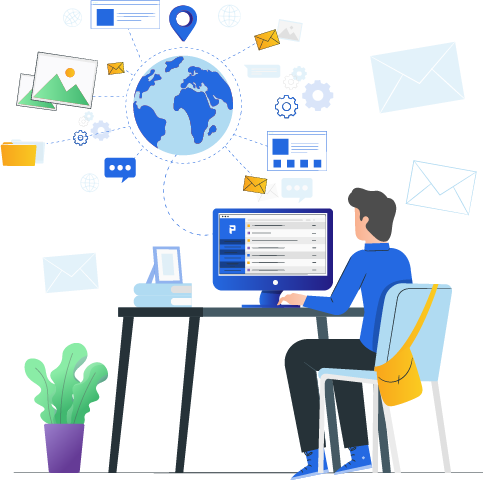 Retargeting, also known as Remarketing, is a way of convincing potential customers — who visited your website but left without making any purchase — into buying the product. With retargeting campaigns, marketers aim to target specific visitors with ads similar to the product they viewed on their website. Marketers can grab their target audience's attention towards the item they earlier showed interest in using a search engine and social media.
Retargeting helps businesses with:
Gaining insight into customer's shopping patterns
Enhancing brand awareness to empower customers for making a well-informed decision
Boosting the possibility of generating more sales
Reaching an interested audience rather than those who seem uninterested
Increasing the conversion rate by 70%
Smart spending decisions by optimizing and controlling your budget
Retargeting is a powerful marketing technique. But have you ever thought about how we can incorporate remarketing or retargeting in a direct mail campaign for attracting potential customers?
Now all this time, if you were thinking retargeting is only for the digital marketing world, you're highly mistaken.
We all know how direct mail is making a remarkable comeback with businesses across all industries. And these companies are heavily investing in it to connect with their audience better and to develop deeper and long-term relationships. And now, this old yet effective technique is using retargeting to get more customers on board.
So, What is Direct Mail Retargeting?
Direct mail retargeting is an effective method to increase your brand awareness and credibility by sending relevant direct mail to your website visitors — who are yet to be on your mailing list. It's one of the most targeted and personal ways to approach those consumers who visited your website and roam around in your product library but never made it to the checkout page. It has proven effective in elevating leads, boosting sales, and enhancing the business's closing rate.
If you wonder how in the world of growing digital marketing popularity, direct mail retargeting can thrive, you should know that direct mail retargeting works eight times better than digital retargeting ads.
Furthermore, the average response rate of direct mail retargeting is 4%; however, for digital ad retargeting — it's only 0.5%. It's obvious enough now why businesses are inclined towards investing in direct mail automation software.
Wondering how retargeting direct mail turns website visitors into long-term customers?
To ensure the right mail reaches the right person, direct mail retargeting collects the website's data. With cookie-based, IP address, or email address matching, you can match a website visitor to their local name and postal address. After locating the visitor, you can send them automated direct mail in real time.
Direct mail retargeting is a three-step process:
Once the visitor clicks the "allow to access the location," their exact address is determined by the website.
A personalized direct mail with any offer or discount is sent to the visitor to convince them to revisit the website and buy what they were checking.
This personalized direct mail is printed and mailed immediately, and it lands in the visitor's mailbox in a few days.
Having defined clearly what direct mail retargeting is, let's talk about its effectiveness in driving sales and boosting the return on investment:
Did you know that DMA reported, compared to the average click-through rate of 0.6 % for digital display ads, that direct mail's response rate is 25%? Furthermore, USPS determined from its research that over 60% of the consumers visit the website after receiving the mail from the corresponding website.
Direct mail retargeting bridges the gap between online and offline marketing by giving them the freedom to advertise with a direct mail piece and matching the visitors to their postal address and name
It is important to note that direct mail has a higher opening and reading rate than email, which means that direct mail offers would be more effective in retargeting visitors who have already expressed interest in your brand's product or service. You no longer have to invest separately in a trigger program that will first introduce your brand and then convince them to make a purchase
Consumers are so irritated with ads thrown on their faces that they have ad blockers installed in their browser extensions to avoid them altogether. But direct mail retargeting makes judicious use of data to send an automated direct mail to the interested target audience. This process boosts the response rate and customer engagement significantly
Unlike digital ads, which, if not acted upon immediately, might get lost in the noise of several similar advertisements, direct mail retargeting has a higher shelf life. It will stay in the household for a relatively long time, which may positively impact customer engagement and retention rate, which will increase exponentially
The tangibility of direct mail makes retargeting a proficient component of omnichannel marketing. It triggers an emotional response, is difficult to overlook, and leaves a lasting impact on the target audience
A personalized direct mail campaign combined with the websites' real-time monitoring can help boost the response rate significantly. The targeted content will ensure a quick turnaround. It's important to remember that one would yield maximum benefit from direct mail retargeting only when the content is highly targeted with an appealing design
The possibility of shopping cart abandonment decreases significantly because direct mail marketing extends customers' timing to make a well-informed decision with its tangible personality
Direct mail targeting can help your business stand out from the crowd since it's relatively easier and more memorable than its digital counterparts. Retargeted direct mails have better chances of getting noticed and holding attention for a longer span
With direct mail remarketing, your business can gain a higher return on the investment at a stable cost without having to worry about the ad blockers or dreading any possibility of spam folders
Since you will be only sending retargeted mail to the consumers based on their purchasing intent, you will be saving significantly on the pricing and yielding higher ROI
With multiple mailing options offered by postal services, you can ensure that your retargeted mail reaches the target audience before they start losing interest in your product or service. You can send the retargeted mail to the intended recipient within 1-3 business days with the quickest mail option
Now that you have a complete idea of what direct mail retargeting is, allow us to help you with some competent direct mail retargeting strategies that will help you bring back your customers to the website. You can also use our direct mail calculator to estimate your costs.
Understand the Audience's Shopping Journey
Aberdeen's report states that creating content in sync with the specific stage of the buyer's journey increases average conversion rates by 73%. Segment your audience using behavioral targeting.
Your buyers go through identifying their problems, looking for different ways to solve them, and finally selecting a few solutions (the product or services) to get rid of those obstacles. Keep this in mind before designing and launching your remarketing campaign. 
Design a specific campaign
Create a targeted campaign by segmenting and building your audience depending upon the stage at which they're in their journey. Choose a trigger type to generate awareness among the customers, excluding those who are converted. Customize it according to your business requirement and launch your campaign.
Deliver messages through different types of targeting
Retarget your website visitors with direct mail with IP and cookie-based targeting. If done right, with IP targeting, a business can send more than 80% of the direct mail to the website visitors, after converting those IP addresses into physical ones. IP address ensures outreach, but with cookie-based targeting, you get accuracy, albeit you reach out to a limited audience since it targets the devices and not the IP addresses.
Personalize direct mail
Cookies get blocked with a click, so marketers need to make sure that they personalize their message. Enhance the customer experience by using data to market the products that reflect their buyer's journey. With first-party cookies, you can create a unique, relevant, and enriching campaign for the targeted customers. Always remember that a direct mail campaign delivers desirable output when customized, triggered, and targeted.
Don't overlook regular customers
Retargeting is not just for bringing back the visitors who viewed your web store and left but also to turn existing customers into brand advocates. With automated cross-selling and upselling campaigns, you can inform the existing customer base of the latest products, offers, promotions, discounts, and more.
Send mail at the right time
You have to attract the attention of your consumers while they're still looking for the product in the market, and not when they have lost interest in it. Leverage US Postal Service's first-class mail delivery option to send direct mail to visitors within 1-3 business days.
Reuse email campaigns as direct mail
If you have a particular set of email campaigns that have successfully generated a higher return on investment, then reuse and adapt them to a direct mail piece. The reason behind it is mentioned above: the higher opening and reading rate of direct mail over emails.
Test the effectiveness of different formats
Try sending out discounts, coupon codes, and promotions in different formats and observe which one has the highest return on investment. Understand which type of leads give you the most conversions and go ahead with those direct mail pieces.
Incentivize the buyers
Don't just use direct mail retargeting to connect with the buyers who have abandoned the cart or visited and left, but provide them with an incentive when they purchase to strengthen your customer base.
Track and test every shred of data
You should be able to measure every piece of data that you get from the cookies or from the CTA you have added to the direct mailers. Then use the result of the conversion thus done to narrow down the campaigns that are performing well. Reiterate those for desirable output.
Integrate CRM retargeting
It's an excellent tool for database marketers. It can help maximize direct mail's effectiveness by displaying retargeted ads only to the customers whose mailing addresses are in your data list, so you're no longer shooting in the dark.
It gives an exact idea of how many people you've contacted, and the response rate helps you measure the direct mailer pieces' success. It is also considered one of the best direct mail retargeting strategies that help build your brand name without blasting customers with a number of mailpieces in a short period.
Refrain from overexposure
Create a schedule for when you plan to retarget the customers with direct mailer pieces. Sending them one mail after another would adversely impact your brand's reputation. Reinforce recognition by sending out direct mail after periodic intervals, keeping in consideration that it's the right time to bring them back to the website.
Conclusion
Direct mail retargeting can be tricky. That's why an increasing number of businesses are opting for automation solutions like those provided by PostGrid. Our direct automation solution for retargeting will plan, design, and launch an effective direct mail campaign to convince your potential customers and convert them into loyal brand advocates and strengthen your brand's name in this competitive marketplace.
PostGrid provides a full direct mail API and dashboard to automate letters, postcards, and checks. Request a demo today to see how PostGrid can help you transform your offline communication.
Ready to Get Started?
Start transforming and automating your offline communications with PostGrid
SIGN UP
REQUEST A DEMO