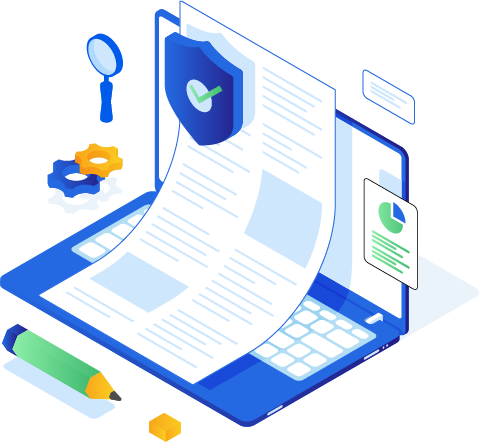 Direct Mail for Nonprofits and Charities: A Complete Guide for 2023
Has the current pandemic affected your nonprofit organization's fundraising badly?
Are you struggling to raise funds for your nonprofit now?
Well, if so, it's time you change your marketing strategy and try some old-fashioned ways in the digital world to get more funds and better networks.
Yes, we're talking about none other than direct mail marketing for nonprofits.
It doesn't only get funds for your organization but changes the way you communicate with your potential clients, improve your relationships with your existing clients, and get the word out in a better way.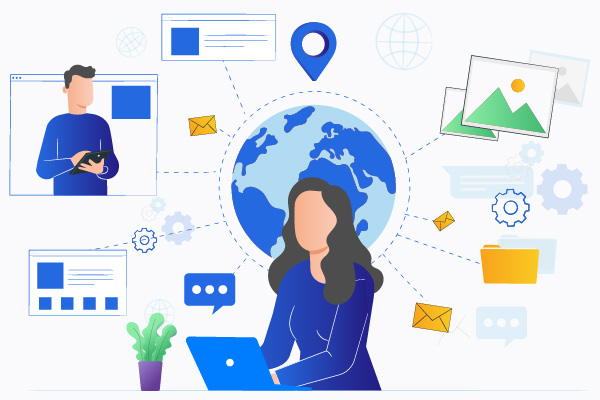 So let's understand what exactly direct mail marketing is and how it works for nonprofits so well.
Apart from that, you'd also be learning about the different types of direct mail marketing campaigns that you can launch to spread awareness of your work. Additionally, you'll get a few tips to make your direct mails more effective and examples of direct mails, which are already blasting in the real world.
In the end, we'll talk about the best practices of direct mail fundraising that you can also adopt if you want extraordinary results for your organization.
So the fundraising problem is going to end now. Let's understand every know-how about it.
What is Direct Mail Fundraising for Nonprofit Organizations And Charities
Direct mail fundraising for nonprofits is basically sending your direct mail right to the decision-makers—that is, the donor.
This way, your message reaches straight to the person who can contribute to your organization.
Benefits of Sending Direct Mails for Charities
Direct mail is way more personalized than a digital marketing ad that every person sees on social media or search engines but takes no action.
The major reason why it happens is that you're not directly talking to that person at one time. And it's not personalized.
Another reason why direct mails are the best for a nonprofit organization is that it's a proven fact that the response rate of direct mail is way better than any digital marketing campaign. Your mail is directly entering the donor's mailbox, and there's no spam folder to block it.
Plus, with the right copy and design, you can get your target audience to take action readily.
Besides that, direct mail automation enables you to have better communication with your potential clients. Now, which is why even if you don't get them to take the actual action – that is, to contribute to your organization – you can still get a good network.
For instance, if you send a great mailer to your mailing list. Now, despite whatever final conversion rate you got, you're sure to get a better response rate than before.
Hence, your next step should be to engage with the readers who didn't convert but responded to your mailer.
This way, you can get them to donate at a later time. Or you can even get a good referral, like if they refer someone else to donate for your organization because they, themselves, couldn't do it for now.
So, using direct mail for your nonprofit organization and charities can help you go a long way.
Types of Direct Mail Campaigns for Nonprofits
Now that we've discussed what exactly direct mail for nonprofits is and how it can help your organization. It's time you get to know about the different types of direct mail you can send to your potential and existing donors.
Newsletters
You must already be familiar with how newsletters work. You periodically send your mailing list some educational content and, occasionally, your marketing message. But the chances are that you'd be only familiar with the email newsletter.
But you can also send a newsletter through direct mail. And these newsletters would be tangible, more personalized, and come with great designs.
You can also use them to increase awareness about your nonprofit organization.
Postcards
Now what most nonprofits do is that they only contact their potential and existing donors twice a year or no more than four times annually. But that affects your communications with the contributors.
If you stay in touch with your potential donors by sending them occasional postcards on their birthdays, anniversaries, or even for festival or new year good wishes, they would feel valued.
It'd also help build their trust in you and your charity even more. Plus, it keeps on reminding me how they're making someone's life better. So, they keep doing what they're doing to help the needy.
So, guess where they're sending their next donation? Of course, to the organization they trust, regularly communicate with, and know better than other nonprofits.
Appeals
You must already be sending your donors email appeals – the message that nonprofits send their donors to raise funds for a specific project.
However, you should be aware of the fact that when you send someone an email, you have their attention for no more than 10 seconds. Hence, your emails should be way too short. But that might not convey your full message. Plus, there's competition.
So what should you do?
Our advice is that you send them a tangible direct mail for your appeal.
Without any pop-ups or notifications appearing at the top of your fundraising physical letter can make it easier for your audience to read it.
Additionally, when you add a proper call to action at the bottom of it, chances are your appeal will get better responses this time.
Advocacy
Advocacy campaigns are basically the broader appeals that not only require the donors to donate the funds but also their time and effort.
For instance, when you invite people to volunteer for a project or speak at an event to educate a specific audience about a particular issue.
Now, for these types of campaigns, direct mails turn out to be the best. The reason behind it is simple, they're more personalized and have a good open rate.
House file Campaigns
This campaign mainly refers to contacting people who are already a part of your network and have donated funds to your organization in the past.
It's just like marketing for your business. As you know that it's easier to keep a customer or a client instead of convincing a total stranger to buy from you. Just like that, it's easier to convince someone to donate who already understands your mission instead of getting new people on board.
Hence, sending direct mail pieces to these people may turn out to be more profitable for your nonprofit organization or charity.
Prospecting Mails
You send prospecting mail to the people who have never been in touch with your organization, but they fall into the category of the types of people that donate.
This means that they can be your prospective donors, who may donate if they get to know about your organization once.
To launch this type of direct mail campaign, you'd need to take the approach of connecting with them. Tell these prospective donors about your mission. Then at the end, you can give them a final call to action, where they can actually visit your website and donate.
5 Fundraising Strategies for Nonprofit Organizations
1. Target the Right People
Direct mail marketing works like a charm for most organizations, including nonprofits.
However, they also cost a lot. Since your organization is already trying to raise funds and has no money to waste; you need to target your audience well.
You simply cannot afford the luxury of sending a lot of direct mail pieces to everyone.
You'd need to know everything about your target audience based on their demographic details such as age, gender, financial status, location, etc.
Depending on the results, you can send them direct mail pieces to attend your event or donate funds for a certain cause.
The two types of direct mail pieces to send them are housefile direct mails and prospecting direct mails. We have discussed both of them in detail already.
The rest of the mailers we discussed can be used to keep on networking and keep the marketing going for your organization.
2. Include a Story in the Campaign
Everyone loves stories. So how about you add one in your direct marketing mail to hook your readers?
The two types of stories you can use in your direct marketing mails are your brand story and a story of an existing client. Or probably someone who had benefited from this organization.
Usually, when you tell your brand's story, you add three parts to it. The first one is a problem, a conflict, or a struggle you faced while starting this work. The second part would be the persistence of the battle, and the third would be how you finally resolved the problem.
The second story that you can use is of an individual who was either involved in starting this charity. Or someone who benefited from your nonprofit.
This way, you can fill the emotional reservoir of your potential donors and get them to continue reading your direct mail.
Thus, they'll eventually reach the final call to action, which should be crystal clear and very easy to follow.
Based on the responses and the returns, you can tell how compelling the copy of your direct mail was.
3. Create Content to Connect With Your Readers
The most important thing for you or any business is to network and make connections. If you're in business for years like us, you'd understand this.
The better bonds you have with your donors, the more you can expect them to donate. Plus, if the relationships continue to thrive, they will continue to help the people your nonprofit is trying to serve.
But how will you actually strengthen the bonds with them when you're not even going to see them?
Well, you craft the one communicating on your behalf in a way that can make them feel valued and important.
For instance, your direct mail copy should always be written for them. You must use the word "you."
Your words should make them feel how essential they are to the organization.
And it is only because of people like them that "the people you're helping" are succeeding in the final purpose.
This way, you can increase the chances of good responses and better returns.
4. Keep Your Copy Skimmable
Now that you know what can make your audience take action, you should understand that the people you're trying to target are busy.
In fact, everyone is busy. No one has enough time to read a whole bunch of paragraphs.
Most people just skim through the entire message that they receive.
And that's the reason why your copy should always be very concise. All of the sentences should be short. And, of course, it should be skimmable.
To make your copy skimmable, you'd need to add a headline in your text, loads of subheads, bold words, bullet points, and so on.
Plus, your direct mail should have a lot of white space, and your font should be bigger (no less than 12) and easily readable so that it feels doable to read your letter.
This way, you can count on your direct mails to get a better response rate. And once someone responds or makes a query, you can converse with them in a way that they would want to donate.
Your direct mail would do half of the job in most cases. And for the other half, your sales staff will be in charge.
5. Use the Right Fundraising Keywords
Along with telling your potential donors a story to engage them with your letter, you'd also need to use some specific words.
These are the words your reader can relate to, and they can make your audience move.
But to make this happen, you'd need to get into their head.
Think of the words that can make you donate to a charity. Something that will make you move about the cause your nonprofit is working on.
And then use those exact words to make your readers take action.
One thing that should be crystal clear is your call to action. Because after all these efforts, if your readers can't find a specific way to make the final donation or a way to connect with you, then all of your efforts will go in vain.
However, if you don't have enough time to think over the words, shorten your sentences, or tell an entire story in the shortest way possible. You can take direct templates from an automated API, like PostGrid.
With PostGrid's print and mail API, you can not only take the templates but can automate the entire process of sending direct marketing mail pieces.
Nonprofit Direct Mail Examples
Here are a few examples that you can use in your direct mail letters to enhance engagement, bring more responses, and achieve a better conversion rate.
Send picture direct mails
The first way to use pictures in your direct mail is by sticking the images of the poor kids, disabled adults, or animals, or whomever you're trying to help through your organization.
It'll make the reader feel about them.
Then, you can add some motivational text that can make your potential donors understand that they can change these poor beings' lives if they want.
Other ways to use pictures in your direct mail pieces are sending your donors holiday postcards, calendars, or something they can stick on their refrigerator.
Send One Pager
You can also send your donors simple one-pagers as The Rogue Theatre sent. They used a single picture of their theatre members in the simplest way possible as a way of saying thanks. Plus, to keep on supporting them.
Different Designed Mailers
You can also try different designs for your mailers like magazine designs, greeting-card-styled designs, multiple colors, invitation-type mailers, etc.
The next best thing you can do is track your direct mail marketing campaigns and find out which one of them is working and which ones are just falling flat.
Then depending on your results, you can keep or discard your fundraising campaigns.
Tip: To track your mailers, you can calculate the responses by subtracting the number of answers received from the total number of direct mails sent. You'd need to do this with each of the different direct mail campaigns that you have launched.
Or you can simply use an automated direct mail API, like PostGrid, and let it handle all the printing, mailing, and tracking. You can access every detail by just logging in to your dashboard.
Tips to Optimize Nonprofit Direct Mail Campaign
Here are some more tips that you can use in your direct mail marketing campaign to raise funds.
The first thing we'd advise you to do is keep your message clear and your call to action clearer.
Plus, your direct mailer should be in plain language. You should never include any jargon or notice-type language in it.
The second thing to know is your audience really well. Being a nonprofit organization, you have no extra funds to waste. So make sure you do your research on the audience well before you send them anything.
This way, your direct mails only reach the right people—the ones who can actually help.
The third piece of advice from PostGrid would be keeping and maintaining the storytelling tone in your message.
We totally understand that your hands would be itching to include the numbers and stats about your organization's achievements and how nonprofits work. But hold your itch. They're not going to work here. Stories are the way to go.
Additionally, it should always be about them. Tell your potential or existing donors how "they" can make that pain go away. How "they" are a valuable asset in helping your organization achieve that success.
Another thing to note is that the envelope would be the first thing your audience will see unless you're sending a postcard. And that's why making it compelling enough is your first job if you want your busy readers to take the time, open it, and read it.
Last but not least is to keep your call to action very specific. Take your potential donors by the hand and lead them on the way to take action.
And that's how your direct mail can achieve better results.
Direct Mail Best Practices For Nonprofit Fundraising
Now that we've understood most things about a direct mail campaign that can work for your nonprofit fundraising, we need to discuss another crucial thing.
And that's the funds for your marketing campaigns.
With all the envelopes, designing, pictures, copywriting, printing, and mailing, direct mail marketing can be costly.
You can calculate the price of one mailer and then multiply it by the number of direct mail pieces that you'll send. And then multiply that number by all the other direct mail campaigns that you would launch.
Now, the options you can choose from to launch your direct mail campaigns are DIY in-house, outsourcing it to an agency, or using direct mail services for nonprofits.
In doing it yourself, you should be an expert so that you can do it right on your first attempt. Although, it'll take most of your time, effort, and resources.
If you decide to outsource it to an agency, that may cost you big bucks. So that's something you better avoid.
The last option is to get an automated printing and mailing API, like PostGrid. It'll automate all of your functions. All you'd need to do would be to set the instruction.
In this case, you'd need to pay only for the direct mail pieces that have been printed and mailed. And you can use the rest of the saved time in brainstorming ideas, designing, and copywriting.
It's Time For Some Fundraising For Your Nonprofit
By now, you know everything that you need to know about fundraising for your nonprofit organization using direct mail marketing.
So it's time you use all this knowledge and given resources to achieve your final goal.
Besides, the API programs, like PostGrid, help business owners and nonprofit organizations like you make it super simple to use direct mail as their marketing strategy.
This way, you can spend most of your time on essential things like copywriting and designing and let PostGrid handle the tedious work.
Ready to Get Started?
Start transforming and automating your offline communications with PostGrid
SIGN UP
REQUEST A DEMO