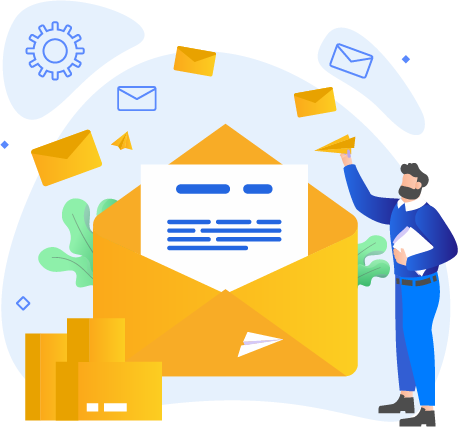 Direct Mail Marketing: How Much Does Direct Mail Cost?
Why use direct mail? Well, there are more benefits than one. Statistics suggest that direct mail recipients bought 28% more products and spent 28% more as compared to people who didn't receive direct mail. Hence, the ROI is apparently positive and much more than the ROI generated through digital marketing. Moving ahead, the most common question that marketers have in mind is: how much does direct mail cost? The answer is not so straightforward and consists of several sections. The rates can dramatically vary for every business, depending on how much they are willing to spend and their direct mail campaign size.
Direct mail marketing cost depends on several things like graphics, copy, type of collateral, printing, personalization, number of mailings, and postage. Some companies handle the designing and copywriting themselves to lower costs, whereas some others even build and use their own mailing lists. However, many companies let the experts handle these jobs as they hire different agencies and vendors to do everything for them. Such companies end up paying much more.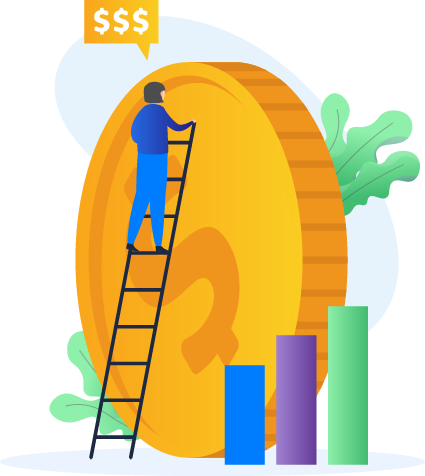 Direct Mail Costs
Direct mail pieces can cost anywhere from $0.30 to more than $10 per person, depending on how much you spend on design, marketing copy, mailing lists, printing, and distribution costs. Some organizations and companies do much of this in-house and wind up only paying for printing and mailing.
Many marketers measure direct mail costs as cost per thousand (CPM). It is very simple to calculate direct mail marketing costs in this manner. Simply take the total cost of your campaign and divide it by 1000. It is important to calculate the cost per 1000 as many vendors offer quotes calculated in this way. Cost per 1000 for direct mail is also useful for comparison with other marketing channels. Please note that volume plays a big role in deciding direct mail pricing. If you wish to conduct an affordable campaign, opt for bulk mailing.
You can decide on the various elements and then choose the ideal combination to keep costs low and still pull off an amazing campaign. Keep reading below to know the various elements that add up to the mailing cost.
Direct Mail Designing Costs
Your mailing campaign costs hugely depend on the direct mail design. Designing charges can vary from as little as $10 to about $1,000 for a particular campaign. This significant price difference is due to your approach towards getting the mail designed. Here, there are a lot of questions whose answers you should decide beforehand. Are you going to utilize some stock images or custom photographs for your designs? Are these designs going to be generic or intricate? Is there anybody in your firm who can handle the designing part, or you need to look for external options?
The answers to these questions decide your direct mail pricing to a great extent. Hence, marketers should consider these things and make a plan. If there is already a designer within your company or anyone with artistic skills, you can get your artwork designed in-house without paying extra to anyone. This method constitutes your first approach towards designing your direct mail.
1. In-House Designing
The upfront cost of getting your design done in-house can be absolutely nothing. It is the least expensive approach and perhaps the best option for any company. Moreover, if you have to design something very basic like invoices, you can easily get it done in-house. The DIY way of doing things will not only save you a lot of money but also help you get your designs ready quicker. From the cost savings angle, hiring someone full-time to get all your designs done is also a smart option if you regularly conduct direct mail campaigns. Some companies already have at least one graphic designer as an employee; such firms can just get the artwork ready through them. Keeping these things in mind, the cost of in-house designing can be boiled down to zero.
2. Templates
Several direct mail templates are available online, and you can purchase them for a few dollars. The average rate per template starts at $10. If there is no designer within your firm, this is your second-best option. In terms of direct mail marketing cost, professionally designed templates are also an affordable option. There are different templates available for banks, real estate, healthcare, and financial services to mail postcards, letters, invoices, checks, and other documents. So, you can check out the available templates and select one. These templates allow you to work with some well-performing artworks that suit your brand image and justify your direct mail messaging.
3. Hiring a Professional
In case the above two options do not work for you or your direct mail requires a complex design, hiring a designing agency or professional is your best choice. Here, the quality of work delivered is excellent, but the prices are high. Some freelance designers charge up to $100 per hour – depending on the work quality you expect, the software used, the time needed, the number of edits you asked for, and the level of intracity required in your designs. Some designers or design agencies charge less for simple designs, whereas complicated patterns and too many edits can cost you more. Marketers can get unique, professional, and amazingly creative artworks designed through this option. Overall, you can expect to pay anything from $150 to $2,000 when you hire a person or agency for designing. Ask for quotes and then select an agency that delivers quality work at reasonable rates. You don't have to always pay the highest amount to get the best.
The designing charges adding up to the total cost are fixed. No matter how many direct mail pieces you are sending out, these charges will remain the same.
How much does direct mail designs cost? Design is an important element while calculating the total cost, but you should not forget that it also plays an important role in your campaign's success. Hence, make sure that your design is eye-catching and appealing to your audience.
Copywriting Costs
Similar to designing, copywriting can be either done in-house or outsourced. Copy of your direct mail is another important factor in determining your total cost and ROI. Hence, you can not afford to use a copy that isn't creative and inducing enough. The entire point of drafting and using an excellent copy for your direct mail is to persuade people to take action; it can be anything from visiting your website, setting up an appointment, to buying a product. Copywriting is truly an art, and if you want to produce good results, you need an amazing copywriter. Be ready to pay somewhere between $100 and $2,000 depending on the number of words and the copywriter experience.
It is possible that you already have an on-staff copywriter or editor that can draft a relevant copy for you. You don't have to pay anything additional for conducting a direct mail campaign in such a scenario. Handling these things in-house is again very affordable and easy. It is also very convenient as you can make as many edits as you need without paying extra. There might be no copywriter in your company, and you may have to hire a professional copywriter. There are a lot of agencies that can handle your designing and copywriting together. If you hire such a company, the rates are much affordable compared to giving designing and copywriting contracts to two different companies.
Experienced copywriters can charge anywhere between $100 to $2,000 per copy, whereas some new and inexperienced writers ask for as little as $20 to $50 per copy. The exact rates depend on the length of the copy required, level of creativity, use of keywords, the copy's complexity, etc. Marketers can hire inexperienced copywriters and pay less, but the quality delivered by experienced copywriters can help you get more responses.
Companies working with a low marketing budget can choose to handle the copywriting themselves, though they still need to draft an engaging copy. Similar to designing, copywriting also constitutes fixed costs. You can slightly reduce the printing cost by reducing the number of mailing or use some other techniques to cut down costs, but it is advisable to never compromise on your copy. When costs of direct mail for per piece is calculated, copywriting costs might be the lowest constituent.
Mailing Lists Costs
The costs for acquiring mailing lists largely depend on your direct mail marketing objectives. If you want to introduce a new product or service to your existing customer base, you might want to use your in-house mailing list (which can also be referred to as the customer mailing list). However, if you are looking to expand your database and get new leads, you have to purchase or rent mailing lists. Several mailing list vendors sell lists at the rate of $30 per 1000. Mailing list costs are calculated either as per thousand or per record, similar to  cost per 1000 mails. Rates depend on the quality, the number of records, and the number of times you want to use a particular list.
Having your own mailing list can be advantageous to you in many ways. Firstly, you are saving a lot of money on purchasing mailing lists, and secondly, in-house mailing lists are both specific and relevant to your business. You can build a mailing list through your old client records, website visitors, or inquiries. With advanced automation solutions coming into the picture, you can integrate your CRM with a marketing automation API to find and extract data through website visits, social media clicks, and many other ways. Many automation APIs integrate with a lot of marketing, customer management, human resources, accounting, and other software programs to extract information and build mailing lists. Hence, marketers are able to build and use their own mailing lists. If the records are completely your own data, you don't have to pay even a penny to anyone. However, marketing automation APIs can cost you a little, which you can spread over the entire volume. Using such an API is reasonable and cost-effective.
How much do direct mail lists cost? Before knowing about the rates, you should understand that there are different types of mailing lists. Some are formulated according to certain demographics, while others are general – like residential mailing lists. There are also other kinds of mailing lists that you can purchase or rent. The difference between purchasing and renting mailing lists is that you can use the purchased lists any number of times throughout your life. In contrast, rented mailing lists are either for single or multiple uses. Be clear about the terms of using rented mailing lists as some vendors strictly allow mailing to the addresses only once.
Mailing lists are very crucial. Once you have your direct mail ready, you should know who to mail those items to. Moreover, you should mail to a relevant audience. Hence, many marketers opt for specific mailing lists like car owners mailing lists, homeowners list, vegans list, a mailing list of people between 25 to 55 years of age, and so on. Different types of businesses require different types of mailing lists. As discussed earlier, the residential mailing lists rates start at $0.03 per record, totaling $30 per thousand. Business mailing lists will cost you at least $0.46 per record or $46 per thousand. Please note that the rates differ from vendor to vendor. You can check out the rates of several vendors and then decide. Furthermore, you should also be aware that the quality of mailing lists also decides the rates per record. A high-quality mailing list with complete and deliverable addresses is likely to cost you more.
Format Costs
Direct mail campaign costs start to get expensive due to this element. The type of direct mail you use and its size can dictate the cost of direct mail significantly. Moreover, the paper stock and coating option you select for your mailers also affect costs. A small postcard requires less amount of paper and ink. Hence it costs less.
On the other hand, a multiple-page letter can cost you quite more. But, small direct mail items are not as effective as the bigger sizes, which makes selecting the format a difficult choice for marketers. Don't worry; there are various ways in which you can control direct mail marketing costs while also selecting a format that can fulfill your marketing objectives.
Firstly, know your options.
Postcards are the most common type of direct mail. Simple ideas can be easily communicated through postcards, and they are also your most cost-effective choice.
However, if you want to send out a more personalized and detailed direct mailpiece, choose letters. They can contain multiple pages to justify your messaging.
Self-mailers are also very cheap as they don't require any envelopes. They are lightweight and easy to design, print, and mail.
Other options include oversize envelopes. They are typically large-sized and hence very expensive.
Even in postcards, you get various sizes to select from.
Take care to stay within the USPS-stated dimensions in order to keep direct mail pricing low. Standard postcard postage rates start at $0.36, whereas letters can cost you $0.55 per piece. Unusual or square-shaped envelopes cost $0.75 per piece. These rates are subject to change as per the weight and format. We will discuss the postage in detail further.
Personalization Costs
Having selected a format and size, you need to consider your personalization options now. Unpersonalized direct mail is likely to be cheaper than targeted and personalized direct mail. It is because there is no variable data printing (VDP) involved when you send out direct mail pieces in general. If you need each of your mail items to be personalized with customer details, offers, and more – you have to go for VDP (which can be quite expensive). The personalization rates are often calculated as direct mail cost per 1000 as it is difficult to ascertain the rate of personalizing a few mail items.
You can include pURLs and other such personalization features to produce unique direct mail items that are an excellent success booster. Personalized mail can be expensive, but you don't have to pay anything extra for it if you use PostGrid's direct mail automation solutions.
Variable data printing costs can be lowered by reducing the size of your direct mail or shipping to a smaller mailing list. If you don't want to make adjustments on these things and still want to reduce your mailing campaign cost, using an automated mail solution is your best bet.
Printing Costs
The cost of direct mail marketing also greatly increases due to the printing charges. Clearly, the more items you print, the more you pay. Printing charges can also cause the direct mail cost per piece to increase noticeably. Typically, the printing costs can range from $0.05 to $2.00 per piece. Heavier mail pieces will cost you more, whereas lighter pieces are cheaper to print. Many printers offer discounts for printing in bulk. Hence you should always conduct bulk direct mail marketing campaigns if you are focused on cutting the mailing costs.Let us understand what constitutes printing charges – page count, paper size, paper stock, ink, number of sides, number of elements per side or per page, colors, color density, coating, finishing, and binding. Hence, you can see that more than one small thing can affect your direct mail marketing costs to a considerable extent. You should discuss these things with your printer in advance and get quotes from multiple printers. Consider the type of printers used by these printing vendors and the time taken to print.
The actual cost of printing can differ from printer to printer. Some of the easy tricks to reduce costs are: choose single-sided printing with fewer colors and select a type of paper that is less white or is recycled.
Furthermore, the number of mail items you order for printing is the most important factor in determining printing charges.
If you are a high-ticket product seller, you probably want to use a bigger paper size with glossy finishing. It will cost you more, but it is the best option to deliver your messages. However, if you are a fast-food joint, sending out small postcards can do the job. Therefore, printing costs can vary from business to business as per their products and services, budget, and marketing objectives.
Postage Costs
Postage might be the most expensive element of your direct mail marketing cost. It is a variable cost and directly depends on the volume of mailing. However, bulk mail also attracts bulk discounts. Hence, you need to use the logistics element smartly and carefully to grab the best rates.
Your distribution charges not only depend on the number of mailing but also the size, weight, dropping point, speed of delivery, and destination. You need to stay within the USPS size and weight guidelines to avail of low rates. Otherwise, the rates are relatively higher. Moreover, the rates of different mailing options offered by the USPS differ considerably. Therefore, take care to know about all the options and their rates in advance before selecting anything.
The cost of direct mail service can get very high due to the postage involved. You can control the remaining elements, but the USPS pretty much fixes postage rates. You can choose any other courier service, but they are very expensive. So, if you want to keep direct mail advertising costs under control, it is advisable to mail through the USPS.
First-class mail is expensive, but it comes with priority processing and speedy delivery. A first-class postcard and letter cost $0.35 and $0.50, respectively. Your letters and postcards should fall within the USPS size dimensions and other guidelines. And you can get huge discounts on bulk mailing. The delivery is completed within 3 to 4 business days. Marketers use the standard mail option to cut down direct mail advertising costs. Also known as marketing mail, this option is open only for direct mail marketers. The rates for sending through this mail option start at $0.19 per item and depend on the format and size. Flats are sent at a minimum rate of $0.22. Benefits like fast delivery and priority processing are not available in this option, but it is still a good way to go – in case you want to control direct mail cost. A lot of marketers avail options like dropshipping, pre-sorting, and commingling to get further discounts. These options can really help you reduce postal charges drastically.
The USPS rates keep fluctuating sometimes, so you should always check out the rates just before you mail. Using the first-class option is easy, but your letters and postcards should fall within the USPS first class mail specifications. If you want to keep postal charges to a minimum, you should take care of these specifications and mail them in bulk. This way, you can attract huge discounts and also reduce the mailing cost per piece. In case the postage is the heaviest and most expensive element on your direct mail marketing cost, you can rather conduct an EDDM campaign. Every Door Direct Mail (EDDM) cost includes everything from designing and printing to mailing. The USPS offers EDDM mail options at rates varying between $0.28 and $0.34 per piece. EDDM is the most affordable option for conducting a direct mail campaign.
Using Automation
Direct mail is a cheap option compared to the direct mail cost per 1000 with other marketing strategies. However, factors like printing charges and postage can make it expensive, which is why it is suggested to use automation solutions like PostGrid to eradicate the concept of fixed and variable costs. Such solutions offer all-in-one rates that include everything altogether. There is no headache to calculate costs separately or contact different agencies and vendors to design, print, and ship. Using a direct mail API also offers a lot of advantages like tracking, dashboard control, data security, in-built templates, and more.
Imagine a scenario where you are manually doing everything and let us calculate the cost per 1000. Let the designing and copywriting fees be $100 each. Assuming you are sending mail to 1000 recipients, you need a mailing list with 1000 addresses, costing $300. Every item's printing rate is $0.30 on average, totaling $300 for 1000 pieces. The postage starts at $0.35 for small, standard-sized postcards. Hence, the cost for shipping 1000 postcards will be $350. Add up everything, and the final direct mail cost will be $1,150.
So you can see that you need to spend a minimum of $1,150 for even a small postcard marketing campaign. On the other hand, by using marketing automation – you can get a lot of customizations at almost the same rates. Maybe you will also save some dollars here and there.
PostGrid's print and mail automation solutions can help you keep costs under control and conduct efficient campaigns. Send direct mail postcards, letters, invoices, checks, and other documents with minimal effort and increased accuracy.
Ready to Get Started?
Start transforming and automating your offline communications with PostGrid
SIGN UP
REQUEST A DEMO