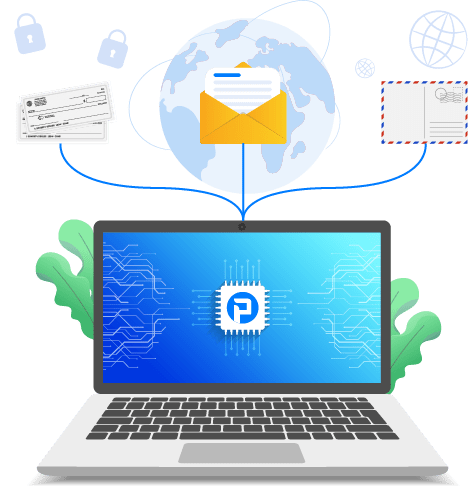 How Can Modern Direct Mail Maximize Credit Unions Marketing Efforts
Direct mail marketing is something that can help credit unions reach their prospects personally. It fills up the spaces that digital marketing can't patch due to spam emails, ads, and thousands of posts that customers might scroll through – even without having a look. In short, direct mail does what digital marketing can't. It encourages personal bonds and long-term relationships.
Direct mail marketing can indeed get expensive due to the designing and printing costs and the postage to mail the collaterals. However, modern direct mail is targeted, personalized, and measured – making it cost-effective and highly responsive. The modern twist in this old-school medium has made it an excellent marketing tool. Credit union direct mail marketing is all about knowing the customer needs and demands – for reaching out to them with the most relevant offer.
Banks and credit unions can take help from a credit union branding agency to understand this marketing medium better and get the most out of it. An eye-catching direct mail item with a thoughtful message can induce responses and engagements easily. The tangibility of direct mail gives a special feel to it that most people miss out on in the digital world.
Ways in Which Modern Direct Mail Can Maximize Credit Union Marketing Efforts?
How can modern direct mail maximize credit union marketing efforts? To answer this question, we have mentioned some easily doable practices that a credit union ad agency can adopt to engage more and more people and drive conversions.
Incorporate Direct Mail With Digital Marketing
One of the best credit union ideas for direct mail marketing is to combine it with digital marketing. Digital marketing may seem cheap, but you will need to make some investment to get the desired number of responses.
On the other hand, a thoughtless, stand-alone direct mail campaign may not give any results. Credit unions, these days, are not doing great with Millenials. It is because young people are looking for technology everywhere. When credit unions decide to go digital while still using direct mail to give it an emotional touch, it is bound to win over millennials.
Initiate omnichannel marketing campaigns, wherein your direct mail takes your customers to a landing page where they can know more about your brand. It is likely that people complete the desired CTA when you show them the same offers online as well as offline. Moreover, it also widens your brand visibility. Digital efforts with direct mail marketing can really boost up responses and engage more people.
Make Your Direct Mail Stand Out
Your competitors have already thought about all the credit union marketing trends. Although there is a lack of competition in direct mail marketing, there is still a need to make your direct mail highly attractive and attention-grabbing. Cut through the crowd and present something to your audience that they haven't seen before. Obviously, they must have received thousands of brochures before receiving yours. But, make your mail item so creative and unique that it leaves an everlasting impression.
Credit unions can grow their memberships by expanding their reach with a lot of expertise and creativity.
PostGrid's direct mail platform enables you to get as creative as you want, in terms of everything from the type of the collateral, its size, shape, and content to its design and graphics.
Make your offer interesting and let it be the most eye-catching content in your entire mail piece.
Using high-quality paper and bright colors along with professional templates can really get your message across.
Include relevant images, tables, and graphs to better communicate your message and draw people's attention.
Target and Personalize
Identifying your target market is important. Direct mail marketing for banks and credit unions should be highly targeted and personalized. Segment your mailing lists according to various demographics like age, gender, annual income, lifestyle, preferences, location, and more.
Knowing which segment to target in advance can push up your direct mail campaign's success rate right from the beginning. It is pointless to send a direct mail piece with offers for education loans to the working class – which is why EDDM might not work for credit unions marketing. Similarly, not everyone wants to buy a vehicle or mortgage their house.
The first step in planning direct mail for credit unions is to know your market and then target audiences accordingly. PostGrid's direct mail program can help you build and use targeted mailing lists easily and accurately.
Another way is to find prospects that are actively looking for loans that come under your niche. A number of online tools can help you make a list of such leads whom you can target. This step also boosts your chances of getting high engagements. After acquiring or building segmented mailing lists, it is time for you to focus on personalization. Use personalization as a marketing catalyst and only include what is relevant for a particular group of people.
For example, you have a targeted list of people who are looking for a car loan. Design your direct mail accordingly. For instance, you can shape your mailpiece like a car and include your car loan interest rates in bold letters.
Add everything that your customer needs to know at the first instant and direct them towards your website or nearest branch for more information. This is how targeting and personalization work – reaching out to the right people with the right offer at the right time.
A hyper-personalized mail has the potential to drive responses and inquiries. Communicate the benefits of banking with you and tell customers about the different things you can provide them. Do you offer mobile banking? If yes, let your audience know.
Always Keep In Touch
Credit union marketing firms know the importance of staying connected with your audience at all times. Of course, you should conduct direct mail for credit unions on occasions like branch opening and new offer launches. Having said that, it is also important to stay in touch with your customers when nothing significant is taking place.
For example, keep sending promotional materials from time to time about credit card discounts, privacy notices, revised interest rates, newsletters, policy changes, regulation updates, and other such things. This way, your current members shall remain informed. You can also send these things to your prospects and target audience to keep them engaged in some way and induce memberships.
PostGrid can help you design, print, and mail brochures, postcards, envelopes, and self-mailers with its direct mail automation API and platform. Send event-triggered direct mail based on a user's website activity. This step will also help you keep in touch with people who visit your website or are engaged on your social media handles.
Even after precise targeting, some people might not respond at the moment due to various reasons. But following up and staying connected can convert such prospects into customers at some point. Credit unions can continuously get memberships using such methods. You should check out some credit union marketing plan examples for knowing how constant communication can be the key to getting a huge number of responses.
Track Everything and Use the Analytics
Your credit union direct mail marketing campaigns may be conducted once a year or every second month. But, how are you going to measure the results? How are you going to know if the business you are attracting is due to a specific campaign? The answer to this question is tracking results.
Tracking helps you know how your campaign is performing and what you can do to improve it. Credit union marketing firms should try combinations of different offers, colors, collaterals, CTA, and credit union marketing plan templates to see what works best for their credit union.
Your CTA could be a mobile app download, requesting a callback, following your social media handles, visiting and signing up on your website, or visiting the nearest branch. See what your audience is responding to. You can track these responses by using QR codes – which after getting scanned, takes them to your website or social media pages to complete the CTA. Alternatively, you can also include pURLs or promotional codes to track and measure your campaign's success.
Make your landing pages compatible with all kinds of devices.
Create a unique toll-free number to track and record calls.
Train your employees who are supposed to receive these calls. They should be fully aware of the mailer and its offer and should be able to guide the prospect further.
Integrate address autocomplete and verification to reduce the number of keystrokes on your landing pages and record the correct addresses. This step encourages the prospects to fill in their details and request a callback. PostGrid offers real-time address verification and auto-complete features to fulfill this requirement.
It is difficult to ascertain your credit union's best marketing strategy unless you have tested and measured it. You can combine direct mail marketing for banks with digital tactics like call tracking and website analytics to accurately track engagements and draw out results. Keep calculating your ROI after every campaign to draft proper campaign analytics that you can use for your further credit union direct mail marketing campaigns.
Add Inducing Offers
Email marketing for credit unions is diminishing with the increase in spam emails and reduction in click-through rates. Even though these emails have very exciting offers for your customers, they might never be able to see them at all. Popular programs like Outlook and Gmail also separate emails into different categories like promotions, updates, and even spam.
It takes 2 seconds for your prospect to delete an email or move it to spam. Bank direct mail marketing can help you with this problem. It can communicate your offers to your target audience much more effectively. An eye-catching direct mail is sure to be picked up and opened by your customer.
Make sure to include prompting offers in your mailpiece – so that customers are excited about completing the CTA and availing of that offer. Credit cards with offers like a small cashback or discount on plane tickets can attract a huge number of responses. Give your customers their time's worth by adding such exciting offers against a clear CTA.
Another technique that you can use with your offers to drive conversions is timing your offer. While designing loan and mortgage direct mail letters, you should align the offer with the current market demand.
For example, the perfect time to advertise student loans is spring, as a lot of students start applying during this time. You can also make your offers time-sensitive, like "Sign up within two days to get a low-interest rate of 6%." The creation of urgency can help you get more conversions. A super-quick application process can also act as an offer for your customers.
Why Should Credit Unions Conduct Direct Mail Marketing Campaigns?
Bank direct mail campaigns are well-designed, targeted, and highly engaging. Credit unions provide services that are beneficial to both themselves and their customers. Moreover, they tend to advertise only to the relevant people as they have various loan and mortgage options ideal for different classes of people. Direct mail credit union posters can help back up their marketing and sales efforts significantly. There are a number of reasons why direct mail for credit unions is effective.
Build Brand Reputation
Direct mail for credit unions can help them to build brand image and increase visibility in the market. When it comes to financing, people look for a trusted and well-reputed brand to deal with. Your credit union can gain the trust of your audience only when they know it well. It can be accomplished by increasing your visibility among people and informing people about your brand and the various details that people would like to know, for example – the services you provide, interest rates, loan programs, internet banking options, and more. Bank direct mail advertises to the relevant people and keeps them updated about the bank and credit union policies and services.
Attract Deposits
For any financial institution's success, people must invest in them by way of deposits. Credit union direct mail marketing can help attract deposits from a huge number of people. It is an excellent way to communicate personally with your target audience and inform them about banking benefits when done with you. By highlighting the prime benefits in your direct mail, you induce people to open an account with you and start saving and investing. Direct mail offers a personal touch and forms a connection between you and your customers. This connection greatly helps in driving conversions.
Get New Memberships
Along with getting people to bank with you, there are other ways you can get them to engage with you. New members are essential for the credit union's growth. They keep the operations running smoothly and seamlessly. Credit union ideas for direct mail can attract new memberships and convince people to choose you as their financial partner. Another powerful way towards your success is growing member referrals. Once more, direct mail can help you form a wide referral network and expand your operations every day.
Grow Loans
Loans are the backbone of a credit union. The down payments and premiums through loans are one of the main sources of income for these institutions. Hence, getting more people to avail loans with your credit union is absolutely required. A credit union ad agency can help you conduct successful campaigns that motivate people to avail loans. It depends on the design and messaging of your mail. A relevant message with an attractive design can help in driving conversions to a huge extent. Auto loans, personal loans, home-equity loans are all different types of loans and are suitable for different types of people at different life stages. Direct mail helps you narrow down your market and advertise specifically to the relevant mailing lists.
Increase Use of Services
Credit unions need loyal customers who are ready to bank with them for the long term. Sending direct mail to your existing customers can help induce them to use the full suite of services you offer. Many customers have deposit accounts or have taken out a loan with you but aren't availing of the other services. You need to keep your customers engaged and increase your range of services. Prompting a deposit account-holder to invest in fixed deposits is an example of moving customers from one service to another. It's helpful for your business's growth.
Credit Unions Direct Mail Marketing Examples
Want to improve the ROI from your credit union marketing? Make sure to include the right type of collateral as it makes the first impression on your customers. There are a lot of options for you to select from:
Die cuts: If you want to promote a special offer, use die-cut cards. Furthermore, you can use die-cuts for giveaways. These designs are attention-seeking, and the special promotions can be highlighted easily through them.
Coupons: You can simply design, print, and mail small coupons as part of your direct mail campaigns. Coupons can encourage people to enter the code and download an app or sign up online. You can include offers like credit card discounts as terms of using the coupon. Otherwise, you can simply ask people to bring the coupon to the nearest branch to avail of an offer.
Contests: You can send contest flyers to your prospects, offering them an opportunity to win exciting prizes like vacation getaways, barbeque grills, and iPads. Credit unions can ask their prospects to open a deposit account to enter the contest. The offers mentioned above are high-end, so make sure to conduct such contests only when you are conducting a large-scale campaign, and you have the necessary budget. Elsewise, you can also include things like coffee-makers as prizes if you have a relatively low budget.
Magnets: Sending a personalized note with a magnet is an excellent marketing example. It draws people's attention easily and also tends to act as a constant reminder about your brand. Your mail recipients can stick magnets on their boards and refrigerators — giving good exposure to your brand name, contact information, and product details.
Live Checks: Live checks are like pre-approved loan offers for certain customers. Banks and credit unions often send live checks in the mail to induce people to cash them and avail their loan options.
Scratch-offs: Scratch-offs are also a smart marketing tool to boost responses. Unlike a contest, scratch-offs make everybody a winner, as everyone who scratches it off and uses the code becomes eligible for getting a prize. It could be a $10 gift card or loan discount.
Google Maps: Inserting a map from your prospect's residence to your branch is an applaudable way of showing just how easy and convenient it is to reach you and avail your services. Such mailpieces are also eye-catching and grab the attention of the recipients easily.
What Can PostGrid's Direct Mail Automation Platform Do For You?
Automating direct mail campaigns can make everything easier, faster, and convenient for you. Moreover, automation also helps get better results and an improved ROI. You save a lot of time, effort, and money on planning, designing, printing, and distributing. PostGrid's print and mail platform can help you automate everything altogether by just making a couple of clicks.
Plus, you can conduct a campaign from anywhere without searching for printers, paying a graphic designer, or carrying your mail items to the post office. Simply integrate your CRM with Postrid's API and make a few selections according to your needs. We can get you started in no time. Some useful features of PostGrid's print and mail network include:
Integration capabilities
In-built templates
Print options
Mail fulfillment
Real-time tracking
Address autocomplete, standardization, and verification
Campaign analytics
Easy-to-use dashboard, and so much more.
Wrapping Up
Direct mail for credit unions can work effectively through personalization, mailing lists segmentation, creativity, and automation. A thoughtful copy backed up with eye-catching graphics can make any direct mail item successful.
PostGrid's print and mail automation platform can help credit unions and banks automate their direct mail campaigns to boost engagement levels and drive conversions.
Ready to Get Started?
Start transforming and automating your offline communications with PostGrid
SIGN UP
REQUEST A DEMO