Direct Mail for Account-Based Marketing (ABM)
Account-based marketing (ABM) is a method of targeting some high-value companies and drafting marketing strategies. It is mainly used for B2B marketing. In this method, a company is treated as an account.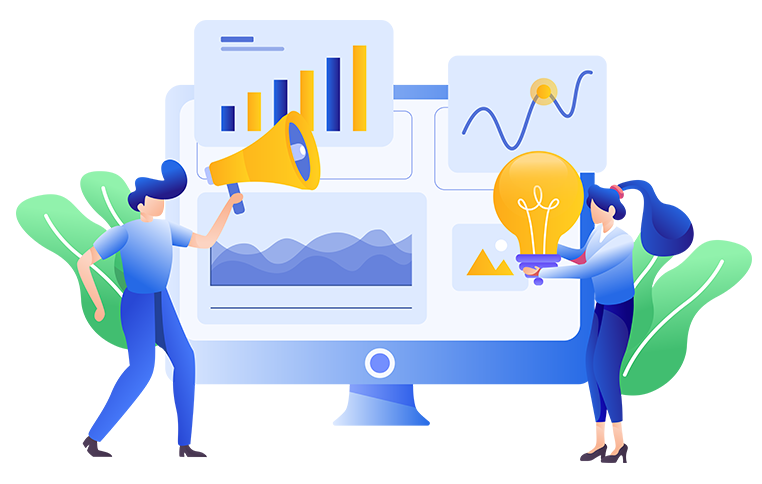 Accounts are approached with targeted, personalized, and compelling content designed precisely according to their preferences and tastes. This type of marketing focuses on accounts that are likely to buy their products or services because their needs match the brand's solutions. Also, marketers take care to find accounts that have the budget to invest in their company. Hence, account-based marketing is the process of identifying and shortlisting high-value accounts that are most likely to be converted into customers and then marketing directly to them.
PostGrid helps you to achieve these objectives with complete automation and no hassles.
Direct Mail to Boost Account-Based Marketing
Direct mail is the most popular way to start with your ABM activities. It provides a base for marketers to move ahead. PostGrid's direct mail automation platform and API can help you easily incorporate direct mail campaigns into your ABM plans. Direct mail services are excellent marketing pieces to capture your account's attention and prompt them to take the desired action, like requesting a demo. These direct mails are a must-have in all your ABM activities, as they are always successful in creating personal bonds with people and having a deep psychological impact on their minds.
Different Approaches Towards ABM Direct Mailing Campaigns
Different companies have different approaches to their high-end accounts. Sometimes, an ABM direct mailing campaign is tailored to just one account, and at other times, all the targeted accounts are covered together under one campaign.
One-to-One Account Approach
The one-to-one approach is used for targeting the decision-makers of only one account. All the designs and plans of a campaign will only be tailored to this one account in this approach. The influencers of this account are also targeted. Basically, all the people related to just one company are targeted, and the campaign helps reach out to all of them simultaneously.
This approach can also be called the bottom of the funnel approach because it is generally used when the account already knows about your company but is yet to finalize a deal. Here, the direct mail campaign acts as a great catalyst to speed up the closure of a transaction. Using high-end collaterals is truly valuable for accounts at the bottom of the funnel, as there are assured returns.
Oftentimes, you will get one person from an account who is ready to try your company's products or services. However, the deal has to be signed and closed by many others who are yet to be convinced. Therefore, all the people in this account and their individual personalities are researched. It helps in designing highly personalized marketing collaterals for each one of them. The one-to-one approach greatly helps in creating the same impression about your brand in the minds of all the people in a particular account. It speeds up the process of approvals and closures. The goal is to either set up a final meeting or directly close a deal.
Ideas for direct mail: High-tech devices, branded watches
One-to-Few Accounts Approach
Under the one-to-few approach, there are some targeted accounts that are grouped together to conduct an ABM direct mail campaign. Rather than focusing on just one account, marketers focus on a group of accounts. Companies adopt this approach when they don't have adequate time and budget to conduct highly personalized one-to-one marketing. This approach can be used for accounts in the middle of the marketing funnel.
PostGrid's automation software helps with variable content printing, wherein you will be able to target more than one account and still keep it personalized. You can select a direct mail piece of your choice and get variable printing done on it. Personalized letters or notes will help compliment these collaterals. The one-to-few approach is mainly adopted to get the attention of many accounts under one campaign at reduced costs. While selecting these accounts, care should be taken that they are in some way, already aware of or engaged with your brand.
Ideas for direct mail: Coffee mugs, desserts, hand bands
One-to-Many Accounts Approach
The one-to-many approach is used for targeting several high-value accounts all at once. It is also known as the blanket approach in ABM. All the targeted accounts are listed, and one common campaign is planned for reaching out to every account on that list. This approach is perfect for accounts at the top of the funnel. Marketers use it to convert high-value accounts into prospects. It is the very first stage to educate and inform about your brand to accounts, whose budget and needs fit your solutions. Personalization is taken care of in this approach as well. However, the personalization methods are more simultaneous as compared to methods used in the one-to-few approach.
For instance, you have shortlisted a list of 450 accounts that have requirements similar to your solutions and the budget to spend on those solutions. You may not be able to reach out to all of these 450 accounts with the one-to-one approach right at the beginning. Hence, you will plan an ABM direct mailing campaign that will cover all of these accounts in one go and help convert these accounts to prospects. It is focused on spreading awareness, facilitating cold calls, and warming up the accounts.
Ideas for direct mail: Brochures, key-chains
How to Send and Track Direct Mail as Part of an ABM Campaign
Direct mail strategies are really effective when used the right way, as part of a larger ABM campaign. However, there are certain things to know while sending direct mails in order to get more channelized and productive results.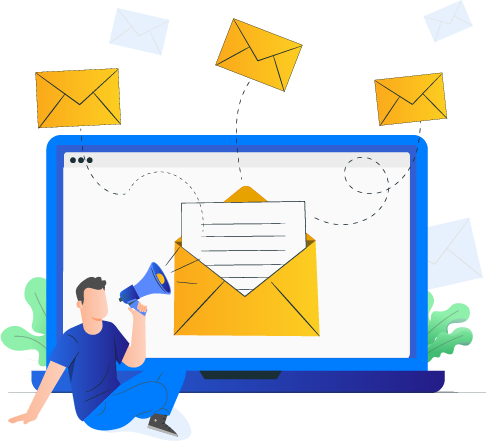 Keep Everything Highly Personalized
Personalization is the most important part of sending ABM direct mail. ABM is all about targeting high-value accounts and sending them personalized collaterals and messages. It is done with the intention to gain the attention of a specific person within an account. The aim is to target the people within that company who are either the influencers (operational) or the decision-makers (administrative).
Personalizing a marketing piece with a person's name and the number is not enough. You will have to do deeper research and know about their pain points, preferences, choices, needs, and lifestyles. For example, if you are targeting the Head of Sales Department of XYZ company, you will have to know a little about him. Make him the highlight of the direct mail. If he likes traveling, send him a travel kit with a personalized note that asks him to visit the mentioned URL. This way, you will be able to connect with him and leave a productive impact personally. Send something useful and impressive.
Integrate Your Digital Efforts With Direct Mail
Even when you are targeting only a few accounts, rather than mass marketing, it is highly recommended that you integrate offline efforts with online marketing channels. You can run simultaneous omnichannel campaigns to complement your direct mails. This step altogether can give powerful results to level up your ABM strategies.
Suppose you send a personalized watch to someone with a note that has your company vision imprinted on it. The watch box and the letter both have your brand logo. If you combine it with emails, targeted social media posts, and messages, that person is likely to recall your direct mail. Add the same message on all channels so that they remember it and are induced to take action, like setting up a meeting. Using an automated platform like PostGrid, you can also be notified when your prospect has visited your website. These notifications can help you combine your channels and use them at the right time.
Be Bold and Clear
Your messages and gifts should be clear and straightforward. In ABM direct mail marketing, you focus only on high-end accounts. Hence, keep it thoughtful and simple, but include a direct CTA. Offer them something, and ask for a CTA in return. The CTA can be bold and upfront. The entire purpose of sending direct mail is to get maximum conversions. So, a clear request is a must. You can send some dummy products stating that real ones will be sent in exchange for an action.
Create a scenario that prompts actions and conversions. Be completely open about what you want and what you can give in return. Cut to the chase and interact. At the same time, also focus on creating a personal bond with your accounts.
Aim to Be Creative
Along with personalization, creativity is also needed to design a perfect direct mail piece. Opening your package should not create a sense of anonymous marketing in the minds of people. It should rather be appealing and eye-catching – something that is pleasing to see and fun to use.
You can research and gather some pain points of your prospect and present them in a creative way. Further, you can add – how your solutions can solve their problems. There has to be storytelling in the way the direct mail piece is presented. PostGrid has a lot of in-built designs for you to use, along with a template editor to customize according to the requirement. It makes it easy for you to get innovative and thoughtful. You can also go out of the way and include video messages in your brochures or gift boxes.
Align Sales and Marketing
Marketing and sales teams need to work very closely together in ABM direct mails. This alignment is done to bridge all the time and action gaps between the marketing and sales activities. ABM is a strategic and structural way of advertising. The marketing team will initially design and send direct mail pieces as part of an ABM. As discussed in earlier points, it has to be highly personalized and creative. Once the mails are sent, the sales team can get in touch with the recipients to discuss the further business. It takes away the awkwardness of cold calls and gives the sales team some context to work with.
Always Follow-Up
In order to get responses, keep following up for as long as you can. With integrated marketing and highly targeted interactions, it is absolutely possible that you will not have to follow up too much for a conversion. But you will always have to keep in touch. Keep reminding them about your brand through online channels as well as other offline methods, like calling. There can be digital advertisements complimenting the campaign, yet personal follow-ups are totally necessary.
For example, you send branded t-shirts to people related to your target account. You can always email or call to confirm receipt. Constantly be in touch until it is the right time for the sales team to take over and create conversions.
Never Forget Your Already Converted Accounts
Repeat business is very valuable for every company. To get repeated orders, you will need to repeat campaigns for your accounts, which are already your customers. Never make them feel left out once a transaction is completed. In ABM, the high-value accounts are always kept on top priority. Keep your marketing content short and straightforward. These repeat campaigns need not be expensive. It is all about showing your gratitude and retaining these accounts.
Many marketers provide an engaging and fun first-time experience and then fade away after the business is done. It is the wrong approach to marketing. Always tend to your existing customers. This time you will not even have to be compelling. Simply send thank you cards or thank you letters using personalized data, showing that you care. You can also send brochures or catalogs, informing them about your new launches.
Measure Performance
Tracking your ABM direct mail's performance is just as important as monitoring the progress of any other form of marketing. With PostGrid's API, you can easily integrate your system and trace every direct mail piece's success. Our platform can help you to include personalized URLs, phone numbers, QR codes, or specific hashtags on all direct mail pieces. You can quickly track the performance of a campaign using these personalized contact details. It also helps to drive your offline accounts to your online channels.
PostGrid's automated platform will help you start to end, plan and send the direct mails, and then track its performance. It will be presented to you in the form of reports and campaign insights. You can always use these reports to make your ABM activities better and more fruitful.
How to Make ABM Direct Mailing More Effective Using PostGrid's Automation Platform?
ABM is a highly strategic way to focus on target accounts and push them towards conversions. Hence, all the thoughts and efforts must be directed in the right direction. PostGrid's direct mail automation platform will help you target your accounts successfully. You can easily plan and automate your direct mail campaigns and accelerate the performance of your ABM.
Customized Templates
You need to be very creative with your texts and design in ABM direct mailing. PostGrid can help you easily create designs and layouts to fit in with your marketing messages perfectly. There are a lot of templates for you to select from. Also, you can add, remove, or modify designs with a few clicks. Thus, it is very simple for you to get customized designs quickly. You can make changes in the blink of an eye and get your designs ready in minutes.
Brands need to take care of various customizations and personalization while targeting their high-value accounts. Our platform helps them get it all done smoothly.
API Integration
PostGrid's API allows you to integrate with your CRM. By integrating your system, you will be able to automate triggered direct mails easily. Event-triggered direct mails are very useful to conduct your marketing activities at the right time. It is complicated to track the activities of your accounts manually and act accordingly. Hence, you can use our API to keep a record of your account's activities and send triggered direct mails. This step will help you to take the best advantage of every opportunity that comes your way.
Automated Printing and Mailing
Save time by automating your printing and mailing processes with PostGrid. Our platform accepts orders of all types and sizes. You can send anything from one plain mug to thousands of highly customized gift boxes. This flexibility helps you to quickly get started with your campaign without wasting lots of time in planning.
You can get plenty of printing options according to your budget and requirements. Automated printing helps you quickly navigate through all your options and choose the optimum one. Besides printing, PostGrid also offers automated mailing. You will just have to select a mailing option and let the platform handle the rest of the work.
Detailed Tracking
In ABM direct mailing, the marketing and sales teams are aligned to keep all the activities consistent. Companies can achieve this consistency when they have proper reports and details of all the activities that are being held. PostGrid's platform can help you to track and keep detailed reports on every activity. This step will enable you to align all your marketing efforts. You will be able to make follow-ups at the proper time and do everything systematically.
Some Great Examples of ABM Direct Mail Campaigns
It can be a little tricky to decide on the marketing collateral you want to send as direct mail. There are several direct mail ideas to incorporate into your ABM strategies.
Pizza-Nars
Pizza-Nars, as the name suggests, are a combination of pizzas and webinars. A company had used this idea and sent pizzas to their top accounts. The pizza box also contained a personalized note with a URL that insisted on enjoying the pizza as they attended the webinar—several other marketing teams later adopted this idea.
The specialty of this example is that you don't have to restrict yourself to pizzas. You can conduct lunch and learn with anything like coffee or any other dish according to your account's preferences. Try to research and find out your account's tastes and choices. Accordingly, you can plan and conduct a direct mail campaign, wherein you can send a food item with notes having personalized messages. It is a great way to get your accounts to attend your webinar and pay attention to your brand. Make sure to present compelling content throughout the webinar.
Empty Boxes
Marketers have been widely using empty boxes in their ABM direct mailing campaigns. These empty boxes could be an apple watch mini-box or an iPad mini-box. You can send these boxes to your top-tier accounts and ask them to set up a meeting in exchange for the gadget that was supposed to be inside that box. It's a smart way to grab your prospects' attention and induce them to take action.
You don't always have to include expensive things to use direct mail in your ABM activities. A well-drafted proposal hidden inside an eye-catching package can also be good enough.
View-Masters
Another fantastic way to spark interest among your accounts is the nostalgia hit. View-masters were exceptionally famous in the 1980s, but most people still remember them. They are made of picture wheels with images of different things. Marketing teams use view-masters to present pictures of their products creatively.
The view-masters were also coupled with some handwritten notes asking accounts to visit their website to get more details on their products. A company adopted this idea and got excellent responses.
Personalized Comics
Personalized comics may seem far-fetched, but they are a great way to divert your account's attention from everywhere else and pull them towards your mail. This idea can be used for the prospects at the bottom of the funnel. The idea is to collaborate the account's pain points with your brand's solutions and turn them into a comic. An animated comic poster with eye-catching graphics and texts is sure to impress your potential customers and make them take action.
Pinatas
Marketing teams of various companies sent candy-stuffed pinatas to their prospects. The package also included printed testimonials and some details about the brand. The pinata was designed to be very colorful and attractive. You can send small-sized pinatas in the one-to-few approach of ABM marketing. Elsewise, you can send bigger ones to the prospects or customers with whom you would like to adopt a one-to-one approach.
Direct mail for account-based marketing is a smart and strategic way to reach out to your targeted accounts. There are many approaches to it that can be easily incorporated by your brand. Additionally, PostGrid's direct mail automation software helps you plan your direct mail campaigns effortlessly and make your ABM efforts a grand success.
Ready to Get Started?
Start transforming and automating your offline communications with PostGrid
SIGN UP
REQUEST A DEMO