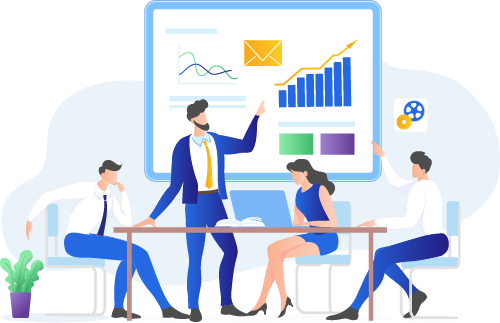 Cost of Writing, Issuing & Printing Paper Checks for Businesses
You may be surprised to hear paper checks are still a prominent thing in this modern digital world, but it is. Paper checks are still considered one of the most reliable payment methods, a practice that has been around for centuries. In particular, the USA has a keen liking for paper checks and is the nation with the largest percentage of issuance of paper checks.
But there's another side to the story. In hindsight, paper checks are a major expense for business enterprises. Though business enterprises don't prioritize this certain expense, it's quite huge and needs to be carefully monitored. Any neglect of this and the business may see the profit margins drop down lower than their estimate.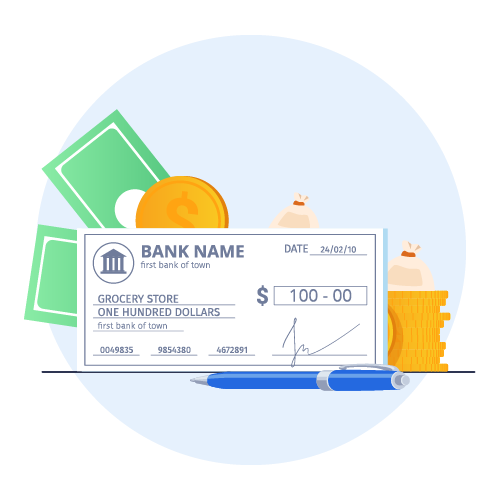 We here look into the aspects of how paper checks eat up a large chunk of revenue of an organization and why it's time you change your perception towards traditional means of issuing paper checks.
Sending Paper Checks Is Not the End of Process but a Mere Beginning
A major viewpoint that propelled paper checks towards prominence was the assumption that these are free or costs pretty minimal. That is not entirely true if you factor in the overhead expenses that go into the issuance of paper checks. A lot has changed over the years. Now checks have become a sensation for payments due to the introduction of MICR checks. But that's yesteryear's glory, and a lot of benefits are now outweighed by staggering costs brought by paper checks.
A recent estimate from Bank of America suggested that a paper check can cost your business around $4 to $20 per check. And that's without factoring in the costs like labor charges, working hours dedicated to making the check, material costs, and other charges levied by banks. Another estimate from the Wall Street Journal suggested business enterprises spent an average of $25k on check materials, human resources, postal charges, bank charges, and more per month. Issuing a paper check may seem like the end of the work cycle, and you can put your feet up for a job well done, but it is here where the real thing starts.
So is it time to move ahead with time and let go of paper checks, or are there ways to reduce the expenses on paper checks? Hopefully, some methods can minimize the costs, and it's something we'll discuss further down below.
The Logistics of Issuing Paper Checks
There is a huge procedure that needs to be completed to process paper checks successfully. And this procedure comes at a price.
Let's take a look at the common process of issuing paper checks:

But the task isn't complete here. Here's what happens after the check is issued:
If you look at the process above, you'll reckon it's a simple end-to-end process for accounts payable. But therein aren't mentioned the overhead expenses that go with the issuance of paper checks. Those expenses are the one that swells the costs for business. We will discuss the detailed cost structure of issuing paper checks in the next heading down below.
The True Cost of Paper Checks
Labor Cost
Labor cost is not something that is taken into consideration while counting the cost of paper checks. But the staff-hours spent by the staff should be taken note of. An accountant who has his work cut off by preparing accounts, finalizing checks, taking it to the CFO or the Manager for signature, and running to the bank to submit them dedicates hours to this work. All those hours are expenses for the company.
It is estimated that around $13k* is spent monthly on labor costs to process an average of 5000 checks a month. If it's a large enterprise with thousands of checks, the cost of labor can be mammoth. A strategically designed way can help relieve this load and cost on the company and utilize its working hours for other productive works.
*Note – We have also taken the cost of accounting software into the labor cost.
Material Cost
With such a large scale of check processing to be done, the need for materials is quite high. A firm or business organization needs envelopes, stamps, check paper, printer, and ink for printing the checks. Taking into consideration an average of 5000 checks a month, it will likely cost $3.5k.
Many companies also outsource the printing and mailing to know print and mail API and platforms that do it for a minimal amount compared to the in-house handling costs of issuing paper checks.
Bank Fees
The concept of checks being free is completely off the boil. Even if you were to discount the costs associated with the overheads like labor and material, bank charges would eat a large chunk. Banks use the details like the MICR line on check to process the checks electronically. But they charge fees for all these. Banks' major fees are imaging fees, paid check fees, positive pay fees, check reconciliation fees, and more. These charges alone can reach up to $4k a month. And we've not yet included costs like bounce charges and return of checks. These can add further expenses to the previously mammoth total.
Adding these three major expenses will lead to a total of $20.5k a month to process 5000 checks. That's a huge dent in the company's profit scale.
The Commodity of Paying With Paper Checks
The popularity of checks has waned quite a bit in the last decade or so. But it's still the major player for payments. There are still plenty of business enterprises that prefer checks as the absolute mode of payment. As per the stats, over half the bill was paid in the USA via check in the last decade. If you delve deeper, you'll see that the number rises to 76% for small business enterprises. But why is it such a revered commodity still today?
It can be down to the reliability of the checks and the reputation it has made. The concept still running around the states is businesses that accept e-payments or other modes will accept the checks, but it is not the same for the reverse scenario. This makes checks the ever-acceptable form of payment to conduct business.
Checks also provide the benefit of extra liquidity for businesses. Since check takes time to be cleared, businesses can use the money for those extra days and attain extra liquidity benefits. There was a time when check processing used to take over ten days, but with the development of the MICR line, the processing time was reduced to 3 to 7 days. Still, those 3 to 7 days can mean quite a lot for business enterprises needing instant liquidity options.
6 Myths Regarding Traditional Issuance of Paper Checks
Our business is going just fine
This is a widespread phenomenon among business enterprises. Most of them are satisfied with the way things are working and don't look for ways to improve the business or cut down the cost. But when you look into the matter further, you'll see how much you're losing out by staying with the conventional paper check model. You can opt to shift to new modes of payment options or cut down on the mail printing costs by using different strategies. That will save you reasonably well and give you savings that can be invested in other business streams.
Checks are free and secure; other platforms cost fees
What if this was the exact opposite of the real truth, and you've been living in a myth all these days. Although check issuing might seem free of cost, there are plenty of overhead costs associated with it in the form of labor, material, bank fees, and more. Adding these all up swells the price to pretty high. They are secure, and that's something we cannot argue. But still, the security options like the MICR line are already outdated for the present day, and other platforms offer better security.
Our clients and suppliers prefer checks
Many business enterprises say they are bound by checks because their suppliers only accept check payments. It's just a pragmatic approach. Businesses that have moved on with time and adopted new practices and strategies have seen a surge in their business deals coupled with a reduction in the payment cycle period.
We can't deal with multiple systems for each payment
There is a misconception that adopting new practices or adding any other mode of payment will create a mess for the accounts department. People often associate adding a new payment method with an added burden that will increase the company's cost and work. But you don't have to. A carefully planned strategy will help you build the right platform to send and accept multiple payment modes like paper checks, ACH, debit and credit cards, e-check, and more. This strategy will also help you to get a consolidated view of the entire payment proceedings.
We can't afford the cost of partnering with a check printing firm
That certainly won't be an issue for you. You can always associate your existing platform with a new payment gateway or go for a check and mail printing firm that can provide a user-centric experience via the use of check API and platforms. They provide ease of use for printing and mailing checks, and costs are pretty low. They come with features like on-demand bulk printing, a customized dashboard, and guides about reading the MICR line on a check and printing the authenticated code on the check paper. Many businesses have opted for these options and have seen their expenses reduce down substantially.
Data breaches may happen with outsourced check printing and mailing
On the surface, companies may cite this as a prominent reason why they stick to in-house printing and traditional methods and are happy to burn the cash. But with the advancement of technology, many check and mail printing platforms and API have developed. They can integrate well with your requirements and provide the utmost data privacy.
4 Strategies to Reduce the Cost of a Paper Check
Although we can talk at length about how digital payment mode is on the rise and how they reduce the costs for business enterprises, paper checks will still be a thing in the future. It's one of the easiest and reliable payment instruments supported all over the world. So rather than going all guns ablaze on paper checks, we can find an alternate solution to reduce and manage paper check printing costs. A rightfully planned strategy can help you optimize paper check printing and save thousands of dollars every year. Here are some of the strategies that you can follow suit:
Tie-up with Professional Check Printing and Mailing Firm
Numerous check printing firms specialize in providing quality checks at a fraction of the cost that you normally incur. These firms help reduce the cost of printing the checks and provide ancillary services like printing and mailing these. They come with built-in templates for designing, outsourced printing options, easy-to-use software, and more. This will substantially reduce your cost of paper checks and mailing them and the time associated with it.
Purchase bulk amount of check printing materials
Another strategy to reduce the cost of printing paper checks is to purchase the required materials beforehand in bulk. Purchasing a bulk amount of stuff like ink, paper, envelopes may seem like a large cash outlay in the beginning but will help you to reduce the cost of printing the check overall. The initial outlay will give way to lesser cash outflow at later stages.
Negotiate with your Home Branch of Bank
If you're well bent ongoing with the paper checks, then this might seem a good way to reduce the cost of paper checks. Although the rulebooks don't show this option, you can effectively negotiate with the bank to waive certain costs helping reduce the overall cost of issuing a paper check. Just call in a meeting with your home branch's bank executive and see if there's anything that can be done.
Develop a hybrid system of issuing a check
With the advancement in technology, checks themselves have had a mini evolution of some sort. Many checks are now being issued digitally, which can help eradicate the material expenses of printing and mailing paper checks. Although digital checks aren't fully used in all business circles, it's making their way into the mainstream. As a business owner, you can consider this and build a hybrid system of issuing paper and digital checks both as per the need.
Finding the Right Check Printing and Mailing Partner for Your Business
One of the best ways to lessen the costs of check printing and mailing is getting the right check and mail printing service provider. This will help you continue using the paper checks without creating a dent in the company's profit margins. Various companies are offering these services in the market. But finding the best among them might be a tough task.
Look for a company that can provide the right features, integration with your platforms, and reliability. These are the quintessential things to go for while outsourcing and partnering with a check and mail printing company. One such prominent name in the industry is PostGrid, with a great feature list and support system. You can get access to everything from check writing to printing of MICR number on the check, stamping, mailing, tracking, and more. They also allow you a smooth processing of mails to make sure you don't have to worry about the processing time and transition in between. Their API and platform make your work easier and help you gain on those extra shelling that your business was losing due to the high costs of sending paper checks.
Ready to Get Started?
Start transforming and automating your offline communications with PostGrid
SIGN UP
REQUEST A DEMO