Using the Correct Canada Address Format
Ever felt stuck around questions like, How to send a letter to Canada from the USA? How to format an address in Canada?
Sure you did- In fact, we all did at some point when sending a mail to Canada!
Canada mailing addresses are a little similar to the US ones, but there are a few specific differences. Addressing an envelope or package going to Canada differs slightly from writing domestic addresses.
To start with you should first understand the differences between the USPS and Canada Post mailing address formats. Both these postal organizations have their set of addressing guidelines and tips.
Understanding how to read Canadian addresses can help you get your mail delivered to the right person and on time. Make sure to verify your details before you continue mailing internationally.
In this article, we will walk you through the different types of Canada Post address formats. Also, we will cover how to write Canadian addresses and send your mail.
Keep reading!
Components of a Canada Mailing Address
Like US addresses, a Canadian postal address should have at least three lines to make them deliverable.
If your address does not have three lines, you probably don't have the complete details. Or there are chances that you are using the wrong format.
Mentioned below are a few components to include when writing Canadian mailing addresses:
Recipient's Name
Write the recipient's full name in capital letters on the first line. Use a suitable prefix, such as "Mr.," "Ms.," "Mrs.," "Dr.," etc., followed by the name.
It is mandatory to mention the recipient's name on the first line unless you are mailing a business. In this case, you can write the company name instead.
Moreover, it is better to write the concerned recipient's name even while writing business addresses—so that you can direct the mail to the right person within a company.
For example, you want to mail a person named Mr. William, who is the HR head of XYZ company having 50 employees. If you skip writing his name on the first line, your mailpiece might reach the wrong recipient within the firm.
Hence, be upfront and write the recipient's full and correct name to begin your address.
Again, like US addresses, you can start writing in the middle of the envelope.
Additional Address Details
You can add an extra line to your mailing address if there is something that you wish to add.
Sometimes, you may need to include the department name within an organization, like the sales and marketing department, purchase department, etc.
Also, you can add the person's designation as additional address details. All this information makes the delivery process more precise.
Take care to add these extra details on the second line —below the recipient's name. Also, you should include this line only when it is needed or necessary.
Civic AddressIn the US, we mention the street address on the second line. It carries the apartment or unit number along with the street name.
Similarly, the Canada address format requires you to mention the civic address on the third line. If you don't add any secondary address details, write the civic address on the second line.
Remember that there are several street types like alleys, avenues, parkways, drives, etc. They all have an abbreviation that you must use in your civic addresses.
Find below some examples:
| | |
| --- | --- |
| Street Types | Abbreviations |
| Boulevard | BLVD |
| Center | CTR |
| Range | RG |
| Orchard | ORCH |
| Expressway | EXPY |
| Road | RD |
| Street | ST |
| Passage | PASS |
| Highway | HWY |
| Point | PT |
| Avenue | AVE |
| Crossing | CROSS |
| Plateau | PLAT |
| Mountain | MTN |
| Line | LINE |
| Turnabout | TRNABT |
| Meadow | MEADOW |
| Grounds | GRNDS |
| Route | RT |
| Townline | TLINE |
| Harbor | HARBR |
*The above list is not exhaustive.
You should also mention the correct street directions, like N, S, E, W, NW, SE, SW, NE, etc.
If you want to mention the apartment or suite number, you can use the following abbreviations:
Apartment: APT
Unit: UNIT
Suite: SUITE
You can follow the following Canada street address formats:
101 JASPER AVE SW
25-108 CEDAR ST
SUITE 5 BIRCHMOUNT RD
Municipality Name and Province or Territory
The following line should consist of the city or municipality name. But, a single city may have more than one municipality functioning in the area.
Canada has a total of 3,573 municipalities. So, be sure to write the correct name.
Leave a space after the city name and write the province or territory where your address belongs. Write their abbreviations instead of the name—exactly like US addresses.
Here's the list of all provinces and territories in Canada with their 2-digit abbreviations:
| | |
| --- | --- |
| Province or Territory Name | Abbreviation |
| Alberta | AB |
| New Brunswick | NB |
| British Columbia | BC |
| Nova Scotia | NS |
| Prince Edward Island | PE |
| Saskatchewan | SK |
| Manitoba | MB |
| Quebec | QC |
| Newfoundland and Labrador | NL |
| Yukon | YT |
| Nunavut | NU |
| Ontario | ON |
Postal Codes
Before we continue discussing how to format Canadian addresses, let us talk about Canadian postal codes.
The mailing address format Canada needs you to write the postal code on the same line as the city and province.
You need to leave two spaces after the province abbreviation before writing your postal codes.
Unlike the ZIP codes in the US, postal codes are alphanumeric and have six digits. Postal codes follow the format ANA NAN, wherein A is an alphabet and N is a number.
They are divided into two broad segments: Forward Sortation Area (FSA) and Local Delivery Unit (LDU). The FSA defines a major geographical location, whereas the LDU identifies small delivery units.
Find below an example for better reference: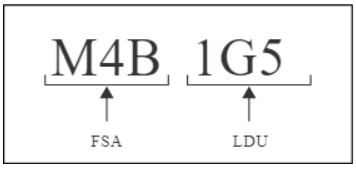 Every province and territory has a code letter that makes the first character of the FSAs. Here's a list of these code letters:
| | |
| --- | --- |
| Geographic Area | First Character of FSA |
| Newfoundland and Labrador | A |
| Nova Scotia | B |
| Prince Edward Island | C |
| New Brunswick | E |
| Eastern Quebec | G |
| Metropolitan Montreal | H |
| Western Quebec | J |
| Eastern Ontario | K |
| Central Ontario | L |
| Metropolitan Toronto | M |
| Southwestern Ontario | N |
| Northern Ontario | P |
| Manitoba | R |
| Saskatchewan | S |
| Alberta | T |
| British Columbia | V |
| Northwest Territories/Nunavut | X |
| Yukon | Y |
In the above example- M4B 1G5, it is clear that the mail is going to Metropolitan Toronto.
Similarly, the other characters also help postal services deliver your mail to the exact destination.
So, the whole line should look something like this:
MONTRÉAL  QC  H1A 0B7
Country Name
If you send your mail from Canada to a Canadian address, you need not write the country name. But, you should always write the destination country's name for international mailing.
While using the Canada mailing address format from the US, you should write the word "CANADA" on the last line.
It doesn't matter how many lines you use in your USPS Canada address format, mention the country name at the end.
Here's a Canada address example to help you understand better:
MR KEVIN DIAS
978 ARGYLE ST N
HALIFAX NS B3J 2B3
CANADA
If you don't know the correct postal code or province, you can check the Canada Post website. But, you may or may not get the details you are looking for to write the correct mailing address.
Hence, PostGrid's USPS and Canada Post address lookup helps you verify any address you want.
Also Read:
UK Mailing Address Format
Return Addresses
Many people ask the mail services questions like- Is writing a return address necessary? Should I write the sender's address while mailing to Canada from the US?
The short answer is yes. Including a return address on your envelope or parcel is beneficial in many ways.
Firstly, it increases the authenticity of your mail. When a person gets a mail piece with the sender's information printed on it, they are likely to trust the mailer. Also, if they want to reply back to you via mail, the return address makes it easy to do so.
Apart from that, the return address assures that the mail is returned to you in case of non-delivery. It is especially crucial when you are mailing transactional and compliance documents.
If the item does not have the sender's address, the postal services can discard it. Plus, your mail might end up in the wrong hands in some worst-case scenarios. Hence, it is advisable to write a return address on every mail piece you send.
Now, you might think about the Canada envelope address format for a return address. The good news is that you need to follow the USPS address format for your return address since you are mailing from the US.
Here's an example of the US mailing address format:
MARILYN ARMSTRONG
60 10th AVE
NEBRASKA CITY, NE 68410
Place the return address on the top-left corner of your mailpiece. Make sure to differentiate between the return and mailing address correctly to avoid confusion later.
Collect Accurate Data with our powerful Address Verification API
Let us help you cleanse, correct, and standardize your database without disrupting your workflow.
REQUEST A DEMO
Addressing Tips and Guidelines
Now that you know how to address a letter to Canada, you should be aware of some other addressing guidelines.
Below are some tips that can help you address your items correctly:
Write using uppercase or block letters.
Avoid using the # sign. Instead, you can use a hyphen wherever needed—like between the apartment and street number.
Use the correct abbreviations as discussed above. Never write the full name of provinces and territories because it can lead to delivery failures.
Separate both parts of the postal codes with a space. In this case, refrain from using a hyphen.
The standard address format Canada suggests leaving at least 0.6 mm or 15 inches of space on every side of the envelope.
You can leave a maximum of 35 mm between the top of the envelope and the mailing address. Plus, take care to leave at least 10 mm on all the other sides of the label or envelope.
Find below the  image of a standard envelope to help you understand better: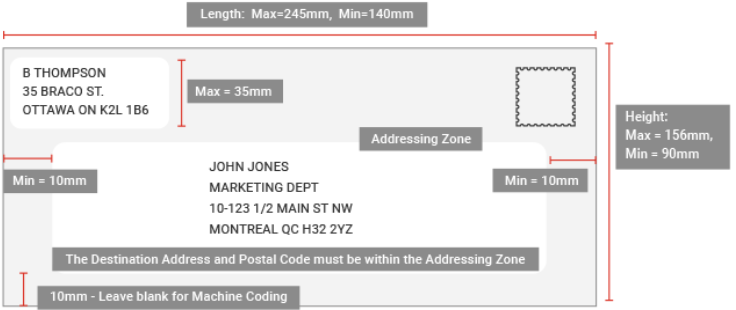 On large envelopes, leave a minimum of 50 mm from the bottom of the envelope.
If you want to insert your logo or other graphics on the face of your envelopes, place it towards the left of your mailing address.
Try to print addresses rather than write them as you can avoid any potential handwriting misinterpretation.
It is crucial to use the correct Canada address format as the addresses are read by automated sorting equipment.
If the address does not fit the standard format, it can lead to several delivery issues.
Also Read:
What Is Transliteration?
Different Types of Canada Post Mailing Address Formats
There are several different types of Canadian addresses. Hence, there are also many different Canada Post standard address formats. Find them below:
Civic Addresses
The most common type of Canadian address is a civic address. You can add the recipient's name on the first line and civic address on the second line.
Write the city, province, territory, and postal code on the third line. Then, mention "Canada" in the last line, and you are good to go.
If you need to mention any extra address details, you can write them below the recipient's name.
Here's an example of a Toronto Canada address format:
RACHAEL LEFEBVRE
HR DEPARTMENT
87 DANFORTH AVE
TORONTO ON M4K 1M8
Civic Addresses in Rural Areas
Most rural areas in Canada also use civic addresses with rural postal codes. Find below an example:
ARIA BOUCHARD
4 FIRST AVE S
BIG VALLEY AB  T0L 1K0
Postal Box Address
PO box addresses are a little different than civic addresses. Instead of writing the street address, you need to write the Post Office box number.
Start your PO box address as usual with the recipient's name.
On the second line, write the postal box number and station information.
The third line can be written in the same way as well- mention the municipality name, province or territory, and postal code.
Below is an example of the Canada Post PO box address format:
AUSTIN ADAMS
PO BOX 4600 STN B
COURTENAY BC V9N 0A7
However, you may add the civic address line as well. But, this line should always be above the PO box address line as the sorting equipment reads the addresses from the downside up.
Rural Route Addresses
You may ask how to format addresses in Canada with rural route identifiers.
Rural route addresses have the rural route identifier and the station information on the second line. The remaining lines can be written in the same way.
Find below an example:
HANNAH JOSEPH
RR 6 LCD MAIN
IQALUIT NU X0A 0A1
General Delivery Addresses
The full address format Canada for general delivery addresses consists of:
Recipient's name
The station information and general delivery identifier
City, province, and postal code.
Below is an example for your reference:
AMY GILLIES
GD STN P
CALGARY AB  T1X 1G4
Military Addresses
Below are  all the components that you should include while writing military addresses:
On the first line, write the rank, initials, and full name of the recipient.
Then write the mess or section number.
Mention the name of the unit, operation, or ship on the third line.
Write the PO box number along with "STN FORCES."
On the last line, write the city, province, territory, and postal code.
Here is an example:
MS MILEY BROWN
MESS #19
HMCS CALGARY
PO BOX 5048 STN FORCES
VICTORIA BC V8P3R2
If you want to write bilingual addresses, simply add a black vertical line separating the two of them. Other address placement guidelines should remain the same.
How to Send a Letter to Canada from the USA?
Above, we discussed how to address an envelope going to Canada. But, you should also know about the different options that the USPS offers to send something to Canadian addresses.
You can use the following USPS services to mail to Canada:
Global Express Guaranteed
Priority Mail International Canada
Priority Mail Express International
Airmail M-Bags
First-Class Mail International
First-Class Package International
The postage for standard-sized postcards and letters begins at $1.30. You can use First-Class Mail International to send letters weighing up to 3.5 ounces.
If you mail to Canadian addresses frequently, you should consider buying Global Forever stamps. These stamps never expire, so you can send mail to international locations at any time without worrying about the changes in Canada's postal rates.
Typically, deliveries to Canadian mailing addresses take about four to seven business days. But, it depends on which mailing class you select.
If you need to send something urgent, you can select Priority Mail Express International. But, it can take up to 20 business days for your mail to arrive if you choose options like First-Class Package International.
You need not go to the Post Office to send an envelope or parcel to Canada. The Canada Post website has an online customs form that you can fill out. Plus, you can buy packaging items and stamps online.
Avoid sending items that exceed the weight and size dimensions as prescribed by Canada Post to save on surcharges. Also, use the correct Canada address format international to avoid unnecessary trouble like lost or returned mail.
The best way to prevent such issues is to use PostGrid's address verification API. It can help you verify your mailing addresses in advance so that you can mail confidently.
Furthermore, PostGrid also standardizes all addresses so that they are formatted properly.
Features of PostGrid's Address Verification API and Software
PostGrid's address verification services can help you with your question- how do you write a Canadian address?
In fact, they allow you to write all domestic and international addresses in the proper format.
You can access our services through our address verification software or API. Either way, you can get access to fully-validated and standardized Canada address lists.
Below are some of our features that can help you mail accurately:
International address validation: PostGrid can validate international mailing addresses of about 240 countries across the globe. Hence, you can get started with us irrespective of where you want to mail or which mailing lists you want to verify.
SERP certified: Our API and software use Canada Post's authoritative database to ensure that all your Canadian addresses are formatted perfectly.
Bulk verification: You can verify hundreds and thousands of mailing addresses altogether.
NCOA: Millions of people move every year to Canada. Hence, PostGrid uses the National Change of Address (NCOA) datafile to cross-check all the addresses.
Fuzzy matching: Our address verification tools can identify and correct spelling, spacing, capitalization, typos, or other issues in your mailing lists. They can also add postal codes and missing details to your addresses.
PostGrid for CASS Certified Address-Matching & Verification
We're the direct mail & data- quality experts! And, we're always ready to help you collect accurate mailing addresses.
SIGN UP
Conclusion
We hope that this blog can help you understand how to mail a letter to Canada. By following the correct formats, you can ensure that your items arrive on time. PostGrid can assist you in the process and make your work a lot more cost-effective, speedy, and efficient.
Want to verify your Canada mailing addresses in advance to save yourself from future hassles? Sign up now to get in touch!
Ready to Get Started?
Start transforming and automating your offline communications with PostGrid
SIGN UP
REQUEST A DEMO