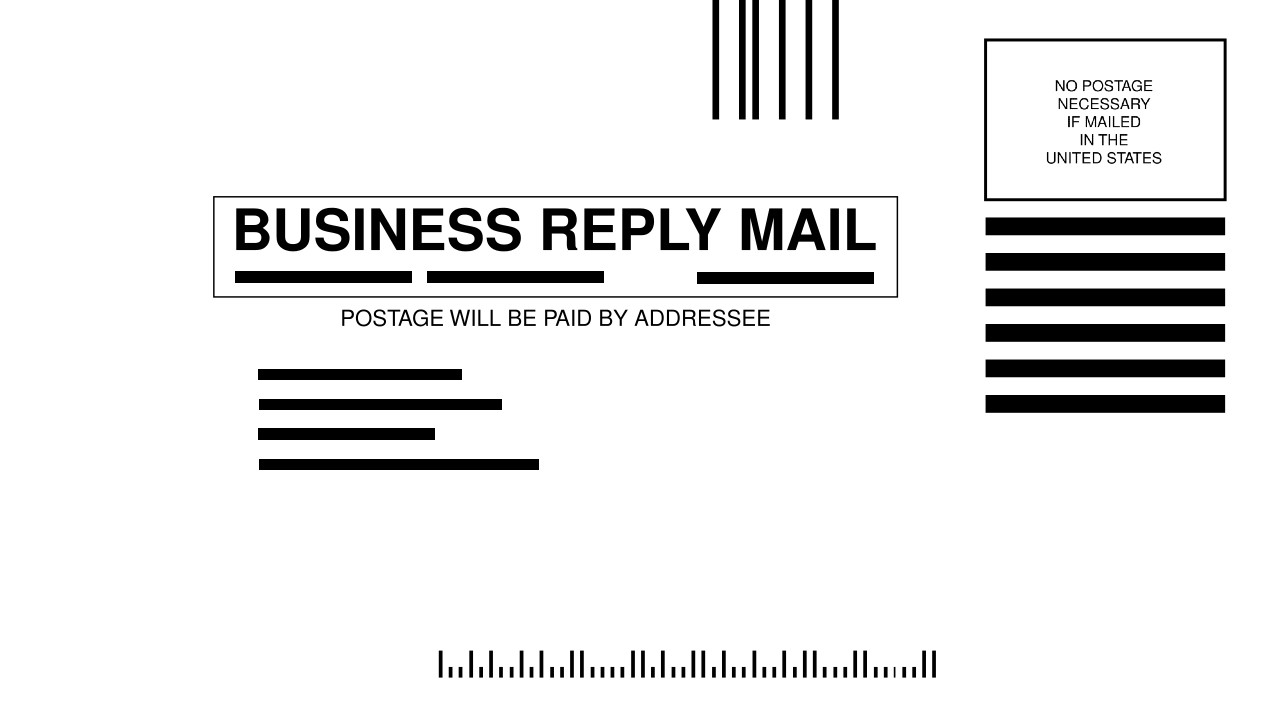 Business Reply Mail (BRM): The Key to Increase Direct Mail Responses
To increase direct mail responses, you should design a solid response mechanism. One way to do that is using Business Reply Mail (BRM). BRM is sent along with direct mail collateral to prospects and customers. The purpose is to encourage them to respond to the mail.
It is a program by USPS allowing prospects to reply effortlessly using. The recipients can drop off the envelope or postcard in the mailbox. There is no need to affix a stamp or write down the return address as these things are already taken care of.
You do not have to prepay the postal charges. Only pay for the responses returned by customers. This way, you can use BRM even when customer responses aren't guaranteed. But, the companies must acquire a business reply mail permit.
Marketers can use BRM as a strong CTA. Similarly, researchers can send BRM to get more responses to their surveys. Magazine publications can send BRM postcards for subscribers to renew their subscriptions. Hence, BRM is used by almost all industries.
Adding more to this, BRM is strictly regulated by the USPS. You can consult your nearest post office about the addressing methods, design options, suitable formats, etc.
The USPS also offers International Business Reply Mail (IBRM) service. It is a boon for global companies with customers all over the world.
Sending business reply mail has several benefits, but the details are complicated. In this blog, we have simplified the same. So, keep reading and dive into the depths of BRM. Here, we will help you to make your BRM- related processes as easy as possible.
Let's start with the basics:
What Is Business Reply Mail?
Business reply mail is a service introduced by the USPS to facilitate mail responses. It allows you to prepay postage on behalf of your customers or prospects.
BRM is popularly used alongside direct mail campaigns. It is a way to increase engagement and get more responses from the recipients.
You can use various formats for sending BRM like:
Postcards (sent individually or attached with other direct mail items )
Letter-size envelopes
Mailing labels
Businesses must send BRM pieces as per the business reply mail requirements. The USPS has the right to reject your mail items if they don't fit with their specifications. Or, they might charge you extra for the same.
So, how to send business reply mail?
What does the complete process look like?
Also, do you need a stamp for business reply mail?
Let's find out!
Types of Business Reply Mail
There are many different USPS business reply mail types. You can select one according to your budget and needs.
Basic Business Reply Mail
Companies expecting to receive less than 925 responses annually can use this option. It is ideal if you conduct only a few small-scale campaigns in a year.
You can send basic BRM with both First-Class Mail and Priority Mail items. Basic BRM envelopes and cards are pre-printed and prepaid. However, you need to pay only for the returned responses.
You need an annual permit to send basic BRM. So, the overall business reply mail rates include the:
The annual permit fee.
And the postage for returned items.
Most businesses use this option when they aren't certain of the number of responses. Once you start receiving more replies, you can update from basic to high-volume BRM.
High-Volume Business Reply Mail
If the number of responses exceeds 925 pieces, the high-volume option is more ideal. It can help you get discounted rates.
Again, you can send high-volume BRM with First-Class Mail and Priority Mail. All BRM mail items under high-volume BRM are pre-printed and prepaid.
You need to open an Advance Deposit account to cover your postal charges.
It means that you open a USPS business reply mail account and make a deposit in advance. The postage for all returned mail pieces is automatically deducted from this account.
There are three types of postal charges involved, and they are:
To begin with, pay the annual permit fee.
Next up is the annual account maintenance fee.
Apart from that, you also need to pay the postage for returned mail.
Having a high-volume BRM account can be a little expensive, but it is worth it. You can get more responses and make your campaign a success. Hence, you can compensate for these postal costs with the increased ROI.
Basic Qualified Business Reply Mail (QBRM)
If you want to skip paying the annual permit fees, you can opt for QBRM. But, you need at least 875 responses annually for getting a QBRM permit.
Your BRM mail items must be compatible with the USPS size and weight requirements. They must also be compatible with the USPS automated sorting machines.
Get discounted business reply mail prices for QBRM. They are quite low as compared to BRM.
QBRM permit holders are not required to pay any permit fees. You only need to pay the annual account maintenance fee.
Like high-volume BRM, you need to open an Advance Deposit account to send QBRM. You also need to avail a ZIP+4 code from the post office, as it is a must for efficient sorting.
You can only send your mail items through First-Class Mail for using QBRM.
High-Volume Qualified Business Reply Mail
This option is available only for companies that mail in bulk. The expected responses for high-volume QBRM are more than 42,981 quarterly.
Your QBRM mail items must be compatible with the USPS sorting equipment. And, you also need to follow the size dimensions. You need to avail a unique barcode and ZIP+4 code. QBRM can only be sent along with First Class Mail items.
An annual account maintenance fee is chargeable to your Advance Deposit account. Apart from that, you are also entitled to pay a processing fee quarterly. You can pay for any three consecutive months, as per your time frame.
High-volume QBRM offers the lowest per-piece rates possible.
Should I apply for a BRM or QBRM permit?
In reality, it isn't your choice whether you use BRM or QBRM. It depends on your mail items. Also, the compatibility of these items with the USPS sorting equipment matters a lot.
QBRM mailings are very cost-effective. But, you can apply for a QBRM permit only when your mail items fit the business reply mail guidelines.
Moreover, you need to send out direct mail in large volumes to expect a large number of responses. Not all companies can mail in such huge quantities and acquire a BRM permit.
Some businesses opt for a BRM permit as it is more flexible to use. You can also choose the same, as you are not bound to send mail items that are compatible with the USPS automated machines. And, there is no pressure to send large volume mail.
Another thing to note is that all QBRM mail items have Intelligent Mail Barcodes (IMBs). These barcodes combine routing and tracking information with the ID code of the company.
In some cases, even standard BRM items are required to have IMBs. It is a subjective matter. Consult your post office for understanding more about IMBs.
Some vendors are incapable of printing items that are automation-compatible. And, you cannot follow the post office business reply mail requirements by yourself.
Once you talk to a postal worker and understand your eligibility, you can move ahead and apply for a permit.
Courtesy Reply Mail (CRM)
CRM is used for guaranteed responses like invoices and bill payments. You don't need any permit to send CRM, hence there are no permit fees involved.
CRM envelopes and cards are pre-addressed and pre-barcoded to assure mail deliverability.
The customer has to affix the stamp and pay for the postage to return your CRM envelopes.
Metered Reply Mail
Metered reply mail is best for small businesses that expect limited responses.
Unlike other options, there are very few restrictions on sending metered reply mail. You can pair it with:
First Class Mail
Priority Mail
Priority Express Mail
Media Mail
Library Mail
Affix the right postage on your envelopes as metered reply mail is prepaid by the sender. Get the barcodes and Facing Identification Marks from the post office for free.
Note that the annual permit and account maintenance fees are non-refundable.
How to Apply for a BRM or QBRM permit?
Once you have a permit, you can give the permit number to your direct mail solutions provider. They will print and mail your BRM pieces along with your direct mail collateral. If you are handling the design yourself, consult a Mailpiece Design Analyst (MDA).
We will get to that later. Let us first understand the process to apply for a permit.
Only the USPS can issue and authorize business reply mail permits. You cannot take a shortcut and apply elsewhere.
To begin with, you need to fill out two forms: PS form 3615 and PS form 6805. You can apply by filling The PS form 3615 to get a mailing permit and create an account with the USPS. The PS form 6805 helps you get the validation and approval required for a BRM permit. It also helps you avail a ZIP+4 code.
Submit the annual permit fees (if applicable) for your BRM account along with the forms. In some cases, you are given an Advance Deposit account at the issuing post office.
You are required to produce two personal identifications. (at least one of them should have your photograph on it)
Applying for a BRM permit is tricky. You can visit your nearest post office that looks over BRM applications and renewals. These offices are called Business Mail Entry Units (BMEUs) and they can help you. Locate such offices online through the USPS website.
The other option is to open an EPS account to renew permits and manage your Advance Deposit account.
For some BRM types, you need to avail a ZIP+4 code from the post office.
What is a ZIP+4 code and why do you need it?
Earlier, there were only 5-digit ZIP codes used for delivering mail. Later on, the USPS introduced 9-digit ZIP codes, also called ZIP+4 codes.
Their purpose is to increase the speed and precision of deliveries. ZIP+4 codes identify addresses by the exact building or street. They also decide the exact delivery route for the mail delivery.
By getting a ZIP+4 code, you narrow down the process of getting returned mail items delivered to you.
Business Reply Mail Costs
The USPS business reply mail postage rates differ according to the type. These rates also differ as per the mail weight and format.
Basic BRM: The cost per response for letters and flats weighing up to one ounce is $0.83. The same cost applies to parcels.
High-Volume BRM: The costs of business reply mail start at $0.091 for mailing in high volume. It is the lowest BRM cost. And, it is applicable for letters and flats weighing up to one ounce as well as for parcels.
Basic QBRM: For sending basic QBRM, you need to pay as low as $0.07 per response. However, the rates increase with increasing weight. Also, items that aren't automation-compatible cost way more. You can use automated reply mail to design acceptable mail items.
High-Volume QBRM: It is the most affordable option for sending business reply mail. Every response returned for 1-ounce letters and flats cost you $0.014 only. The same rate applies to parcels, irrespective of their weight. If you know how to get business reply mail permits, you can easily avail of these low rates.
Let's get to the permit and account maintenance fees.
The annual permit fee to get a basic BRM permit is $235.
The annual permit fee to get a high-volume BRM permit is also the same. But, you need to also pay a sum of $710 as an annual account maintenance fee for every postal facility you use.
For acquiring a basic QBRM permit, the annual permit fee is nil. You have to pay an account maintenance fee of $710 annually. If you have an account with more than one postal facility, you need to pay $710 for each of them.
The same costs apply to high-volume QBRM. Apart from that, high-volume QBRM account holders also need to pay a quarterly fee of $2,405 for any three consecutive months.
All About the Payment Options Available
You can then pay all your BRM-related fees through the various online BRM tools.
The available payment options are:
Credit card
An Enterprise Payment System (EPS) account. (earlier known as the Centralized Account Processing System (CAPS) account)
As the name goes, the EPS account enables you to pay all your postal charges via a single platform. This way, you can streamline your payments.
There are more benefits of having an EPS account like online management of services. You can explore the different USPS products and services altogether.
You can create an EPS account at https://gateway.usps.com/. Once your account is activated, you can pay your BRM fees through it.
You further have three options to pay:
Payment Upon Delivery
If you choose this option, you can pay after delivery. In this case, you would only need to acquire a permit beforehand. The remaining steps are completed upon delivery.
You can pay by meter strip, cash, or check. The postal worker either visits your address, or you can visit the post office and pick up your mail.
Advanced Deposit Account
As discussed earlier, you need to open an Advanced Deposit account to send QBRM. You can open this account by visiting your local post office.
There is no separate fee to open this account. Although you need to make a deposit before you can start sending BRM.
The business reply mail postage for incoming mail gets automatically deducted from your account. These deductions are made before delivery.
Advance Deposit Trust account
You need not open an Advance Deposit account if you have an Advance Deposit Trust account.
An Advance Deposit account is dedicated to BRM mailing. It is handy at separating BRM charges from the rest.
The Advance Deposit Trust account is used to pay for all your due postal fees. Address change notifications and other postal charges are deducted from this account.
You can choose to operate both these accounts simultaneously.
Guidelines for Business Reply Mail Layout
The layout of the envelope has several aspects such as return address, barcode, permit number, etc.
Confused where you should insert a business reply mail return address? Let us get to the details.
Business Reply Mail Legend Box
The first part of your envelope is the Business Reply Mail Legend Box. This box is placed above the address, right in the center of the envelope.
Insert the words "BUSINESS REPLY MAIL" in all caps inside the box. These words should be at least 3/16" in height.
Below these words, mention the mail type (eg. FIRST-CLASS MAIL) and your permit number. Also, mention the address of the issuing postal facility. Include the city name and state abbreviation (eg. MADISON, WI).
The box should be visibly enclosed using lines.
Postage Paid Line
Insert a line that says "POSTAGE WILL BE PAID BY ADDRESSEE" under the Business Reply Mail Legend Box. It is important to write this statement on your business reply mail envelope to show that it is a BRM item.
Company Address and Logo
Next up is your address, also referred to as the return address. The distance from the address to the bottom edge of the envelope should be between ⅝" and 2-¼".
Include the complete mailing address including the permit holder's name. (individual or company name)
The USPS address format should be strictly followed for better deliverability. Here's how you can write:
DYLAN HOPKINS
STARWAY GALLERY LTD
52 34TH MANHATTAN ST
NEW YORK CITY NY 10008-9696
Some companies opt to print their company logo instead of their company name. If so, make sure that your logo is at least ½" tall. Also, ensure that it doesn't interfere with any other aspects of the envelope.
Facing Identification Mark (FIM)
FIMs are postal barcodes used for computerized mail processing. They include vertical bars printed on the envelope's top right area.
You can either print an FIM B or an FIM C pattern. FIM B patterns are printed without barcodes and FIM C patterns are printed with them. You need to print them on all BRM letter-size envelopes and postcards.
The FIM area is a clear zone and should only contain the FIM pattern. The bars must be between ½ -¾" high and at least 0.03125" wide.
Postage Imprint
Print a postage endorsement saying "NO POSTAGE REQUIRED IF MAILED IN THE UNITED STATES." Place this line inside an endorsement box formed by lines. It should be printed no further than 1-¾" from the right border of the envelope.
Horizontal Bars
Print a series of bars below the postage endorsement line we discussed above. These bars should be horizontal and evenly placed. They should be uniform in size and at least 1" in length.
The thickness can range from 1/16-3-16". The bars should not go beyond the delivery address line, above the last line of your address.
Intelligent Mail Barcode
The intelligent mail barcode includes a series of tall and short vertical bars. They represent the ZIP+4 codes and are also referred to as the IMBs.
Locate them towards the bottom-left corner of the envelope or inside the address block.
This area should contain only the barcode. The maximum length of this area should not exceed 4-¾".
Get Help to Design Your BRM Items
Many companies wonder what a USPS business reply mail template looks like. For starters, the USPS website does offer some templates for you to use.
If you want to do everything yourself, keep these standard guidelines in mind:
Avoid writing on the label or envelope.
Do not use tapes for affixing labels.
Place your labels squarely on the upper-right corner of envelopes.
Refrain from using window envelopes.
The return address must be printed within the borders of the OCR read area.
The USPS doesn't design barcodes, so you can contact their Mailpiece Design Analysts (MDAs). They can suggest vendors where you can get your mail barcodes designed. Also, MDAs can analyze your templates for USPS acceptability.
There's another way for you to get your pieces designed. Try PostGrid's automated print and mail services. There is no need to visit the post office, contact an MDA, or take care of any guidelines yourself. You can get everything done swiftly.
PostGrid offers several pre-built professional templates for business reply mail pieces. It can also assist you in printing and mailing your direct mail collateral with BRM pieces.
In short, you can get your design, print, and mail all done in one place. The returned responses are also mailed back to you accurately and on time.
Marketers often find it difficult to handle print and mail processes by themselves. But, PostGrid excels at handling BRM mailings. It can design your business mail reply envelopes along with your direct mail pieces.
PostGrid also makes sure that all these items are printed in high quality. And, all mail items are delivered to the right addresses.
Wrapping Up
Including BRM items with your direct mail collateral makes it simple to respond. This way, customers can act on your offers promptly. In turn, companies can get the desired number of responses and maximize their ROI.
Handling a BRM account can be overwhelming. Even after you acquire the permit, there are other processes like using IMBs and ZIP+4 codes. If you don't take care of these things, you might lose your permit.
But, when you work with an expert, you can prevent such things from happening. Moreover, you need not spare your precious time to manage logistics.
Some of the BRM benefits include:
Better response rates
Increased engagements
Improved brand image
Added awareness
You can use automated business reply mail to get the best out of these benefits. PostGrid can help you get your BRM or QBRM permit. It can also help you make regular payments to your account and handle your mailings. You don't have to go anywhere or fill out any forms.
Handle your complicated BRM mailings efficiently. Let PostGrid's print and mail API handle your BRM mailings, while you focus on other important areas.
Ready to Get Started?
Start transforming and automating your offline communications with PostGrid
SIGN UP
REQUEST A DEMO