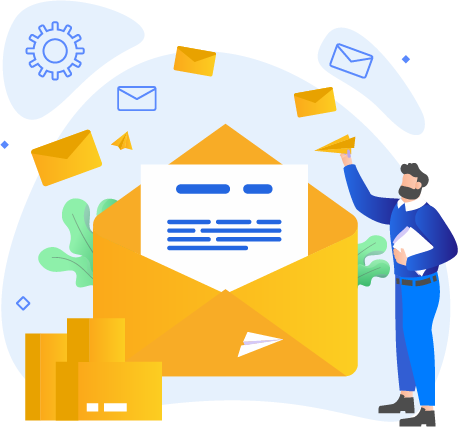 Bulk Mail Service or Mass Mailing Services
Send Bulk Mail or Mass Mailing using PostGrid
Looking for Bulk Mailing Services? PostGrid's direct mail automation can help you send on demand mass mails to your custom list (no limits to the contact list). Our bulk mail service platform is designed to send on-demand mails (letters, postcards, or checks) to one recipient or millions of recipients within a few minutes of designing or importing templates with our easy to use platform.
Here are the siimple steps to send bulk mails using PostGrid:
Step 1: Sign up to our platform for free
Step 2: Upload your contact lists
Step 3: Design your template using our template editor or import your ready made template
Step 4: Schedule your mail to send at a future date or you can simply send anytime
Step 5: Attach your credit card or pay by ACH for high volume orders
Note: We can offer the lowest per-piece pricing for high volume bulk mails. Simply provide us what rates you are getting from our competitors and we will provide you the lowest or lower rates by tapping into our network of commercial print partners across multiple countries.
What is Bulk Mail?
Bulk mail, also known as mass mail or bulk mailing, refers to the practice of sending a large number of physical mail pieces, such as letters, postcards or self-mailers, to a large group of recipients all at once. This is typically done to promote a product, service, or event, or to communicate important information to a large audience.
Bulk mail can be sent through the postal system at discounted rates compared to standard postage. To qualify for these rates, the mail must meet certain requirements, such as being sent to a large number of addresses, using specific types of envelopes or boxes, and using certain types of sorting and addressing.
Bulk mail is sorted and delivered in bulk to the recipient addresses by the postal service. It is a cost-effective way to reach a large audience, but it can also be perceived as spam if the recipient has not explicitly agreed to receive the mail. As a result, it is important to follow best practices for bulk mail, including obtaining permission from recipients and using clear and accurate addressing and labeling.
Read more: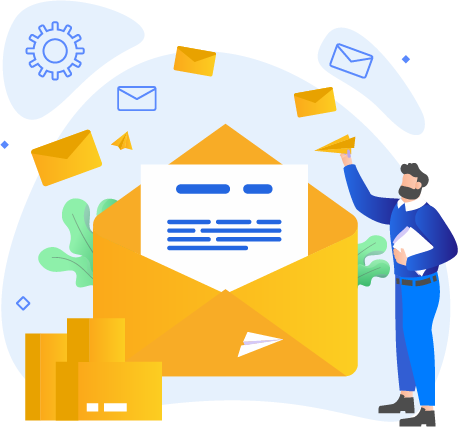 Bulk mailing or mass mailing is only for those businesses that mail out hundreds and thousands of direct mail items on a regular basis. They can avail themselves of the bulk mail rates in a number of ways, such as presorting and adding Intelligent Mail Barcodes (IMBs), which we shall discuss further. Many people refer to bulk mail as USPS marketing mail, but there are also many other types of mail that you can send in bulk.
Benefits of Bulk Mailing
Lower Per-Piece Rates
One of the most important benefits of mass mailing services is low postage rates. Whenever you mail in large quantities, you are bound to receive highly discounted rates from the USPS. This, in turn, can save you a lot of money while conducting direct mail campaigns.
Bulk mailing reduces the cost per piece significantly. Therefore, you can spend more on designing and copywriting and still be able to avail yourself of lower per-piece rates. It is also one of the many reasons why businesses use bulk mailing services and conduct large-scale campaigns.
Demographics Targeting
It is easier to target certain demographics like age, income level, gender, location, marital status, etc. when you mail in bulk. For example, if you are a women's wear boutique, you can target all the women in a particular town or city at once.
Bulk mailing allows you to target a complete market segment altogether. It can help businesses target better and advertise smartly. Such a combination of demographic targeting and bulk mailing campaigns can boost responses and drive conversions easily.
Flexibility
Marketers can be flexible enough to select any type of mailer format, such as postcards or oversized envelopes. You can print and mail in any numbers without any upper limit restrictions.
Easy Testing
Testing different direct mail items get easier with bulk mailing. Companies can add several types of layout and color combinations and also test their offers, copy, and CTA, through bulk mailing. Since you have a large campaign size to work with, you can combine different designs and see what works best for your brand.
Positive ROI
Increased responses followed by an improved ROI can be accomplished by mailing in bulk. It allows you to cover a large audience at low bulk mail costs, thereby improving your ROI considerably.
Minimum Volume Requirements for Bulk Mailing Services
In order to qualify for bulk mailing, you need to meet the minimum volume requirements as stated by the USPS. It depends on the type of mail option selected. You can send out direct mail items that do not meet these requirements, but you can't avail of any bulk discounts in that case.
A minimum of 500 pieces are required for sending first-class mail.
At least 50 pounds or a minimum of 200 pieces of direct mail are required for sending USPS marketing mail.
A minimum of 200 pieces are required for sending Every Door Direct Mail (EDDM). There are no minimum requirements per ZIP code.
Minimum 300 pieces are required for sending carrier route mail or presorted mail in bulk.
Please note that the minimum volume requirements should be fulfilled for every mailing campaign and are not dependent on the time period, such as monthly or yearly.
Types of Mail and How to Choose One for Mass Mailing
Direct mail marketers can send out postcards in huge quantities using bulk postcard printing and mailing solutions like PostGrid. For marketing purposes, personalized letters also make a great direct mail choice.
Postcards
Postcards are small and compact. They can deliver your marketing messages accurately and efficiently. You can announce events, and product launches, invite members, promote your brand, thank customers, and conduct giveaways through postcards.
Postcard marketing is already a cost-effective option; mailing postcards in bulk to a targeted audience can help to get an excellent response rate. From small 4" x 6" postcards to oversize postcards, you can use them to stand out from the crowd and make an impact.
Using bulk postcard mailing solutions, marketers can create and conduct direct mail campaigns affordably and effortlessly.
Letters
Personalized letters are attention-grabbing and can fetch good business. Marketers can enclose them in oversize envelopes to further get the attention of their prospects. Customized envelopes are also eye-catching and appealing. Mass mail services can help you print and mail letters in bulk.
Once you are done selecting the type of direct mail, you have to select the mail option through which you will be sending out your direct mail pieces. The USPS provides marketers with several mailing options. You can select either one of these options that can best fit your bulk mailing needs. Commonly, mass mailing services offer three different types of mail options: first-class mail, marketing mail, and EDDM.
First Class Mail
If you are looking up "bulk mailing services near me," make sure to also enquire about their first-class mailing solutions. First-class mail is an excellent option for sending direct mail pieces to any part of the country.
All first-class mail prices are flat rates depending on the weight of the mail. It doesn't matter if you are sending something to a place that is 50 miles or 5,000 miles away. Postcards, letters, parcels, and flats that weigh under 13 ounces can be sent as first-class mail.
Marketing Mail
Normally, marketing mail, as the name suggests, is used to send out marketing materials such as newsletters, flyers, and circulars. If you know how to send bulk mail flyers, you can avail the benefits of marketing mail. It enables marketers to send mail weighing up to 16 ounces. International mail cannot be mailed as marketing mail.
EDDM
EDDM is a great choice for small business owners, local restaurants, and realtors. It doesn't require the marketer to have a mailing list as the USPS can cover an entire ZIP code or neighborhood for you. All you have to do is select your mail item and the targeted area. EDDM enables you to send mail items of about 3.3 ounces. The rates are very reasonable, and mass printing and bulk mailing services make it even more affordable.
Bulk Mail Weight and Size Restrictions
There are certain USPS restrictions regarding the size and weight of the mail pieces being sent as bulk mail. Though these size and weight guidelines are the same for low-volume mailings as well, sticking to them can help you get bulk mail rates.
First-class mail postcards should be rectangular and should be at least 3.5" x 5". They should not exceed 4.25" x 6". The thickness of these postcards should range between 0.007" and 0.016".
First-class mail letters should be at least 3.5" x 5" x 0.007" and should never exceed 6.125" x 11.5" x 0.25". All first-class mail items should weigh below 13 ounces.
Direct mail items sent as USPS marketing mail can weigh anything less than 16 ounces. The dimensions must not exceed 12" x 15" x 0.75". Pieces that weigh more or do not fit in these dimensions are sent as parcels.
Popular EDDM postcard dimensions are 6.25" x 9" (standard), 6.25" x 11" (large), 8.5" x 11" (jumbo), 12" x 15" (oversize).
All EDDM postcards and letters should either be greater than 6.125" in width or 10.5" in length on one side. None of the sides should exceed 12" in width or 15" in length.
Bulk Mail Rates
Bulk mail rates mentioned by the USPS are only valid for domestic mail. International mail does not receive any bulk discounts from the USPS. However, if you use bulk mailing services, they can help you fetch discounts for both domestic and international mailing.
First-class mail items are sent out at a bulk rate of $0.38
Marketing mail is much cheaper as it costs only $0.19 per piece for bulk mailing
EDDM bulk rates also amount to $0.19 per mail item
There are several ways to reduce your postage rates and get huge mailing discounts, especially for bulk mail.
How to Avail Bulk Mail Discounts?
For getting bulk mail discounts, you should be eligible for mailing in bulk. Marketers are required to apply for a USPS bulk mail permit, which is an essential requirement to send direct mail items in bulk through a single postal facility.
The USPS Business Mail Acceptance Unit accepts bulk mail permit applications. It should be the same unit where you will be submitting your bulk mail for distribution. The postage can be paid in any of the following three ways:
Precanceled Stamps
Precanceled stamps can be purchased for presorted mail, both first-class and standard mail. The purchase price is much lower than other stamps, making them one of the best ways to avail of bulk mail discounts. If there are any differences between the purchase price and the postage rate, they can be paid later at the post office.
Postage Meter
There is more than one benefit of using metered postage stamps. You can print them yourself and save a lot of time and money. Faster delivery, extra savings, and convenience are among the various advantages. Using metered postage, marketers can mail in bulk in a hassle-free manner.
Permit Imprint
To qualify for using the permit imprint option, all your mail items must weigh the same. It is good for bulk mailing, but you need to have an "advanced deposit account" for using this option. Basically, it is a way to pay your postage by printing the postal information on the mailer instead of affixing any stamps. The postage is prepaid and deducted from your account. As compared to other postage payment methods, permit imprints offer huge bulk mailing discounts.
Permit imprints can be printed as part of your mail design. There is no specific software needed for printing them out.
Other Ways to Avail Mass Mail Discounts
1. Presorting
Presorting direct mail items according to their ZIP codes before mailing is another way to avail of bulk mail discounts. It is essential that all the items that are presorted are of the same size. The USPS offers discounts for marketers that drop off their mailers after presorting them correctly. The idea behind giving such discounts is to encourage marketers to do this task by themselves, which saves the postal workers' time and speeds up deliveries.
However, not all marketers are able to presort their direct mail items as it requires a lot of effort and time. Hence, it is advisable to use bulk printing and mailing services that can help you with this task, thereby helping you get discounted postage rates on your high-volume shipping.
2. Automation
Automation refers to presorting bulk mail and using IMBs with the help of a print and mail automation API or platform. Automation rates are highly discounted and yet another way to reduce postage costs on bulk mailing. However, there are several automation bulk mail requirements that you need to fulfill for availing of these rates.
The minimum volume requirements must be fulfilled
Every mail item must have an IMB with the delivery point routing code mentioned clearly in the clear barcode zone or the address block
All the mailing addresses must be CASS-certified and verified within the last 180 days
All addresses must be complete and include correct ZIP+4 codes
The shape and size of all direct mail items must be similar
Marketing mail items should not weigh more than 3.5 ounces
How to Get the USPS Bulk Mail Permit
Before sending out bulk mail, you need to avail the USPS bulk mail permit. It should be issued by the USPS, and vendors offering bulk printing and mailing services can help you get one. You need two different permits for sending presorted first-class mail and marketing mail. Marketers need to pay the annual mailing fee for the same.
In the case of marketing mail, you can get your annual mailing fee waived by printing "full-service" barcodes on your direct mail pieces. You also need to submit all your mailing documentation to the USPS electronically. However, if you are doing all these things by yourself, sometimes it is simply cheaper to pay the annual mailing fee.
After availing of the permit, you would be given a USPS "mailer ID" number, which is different from your permit number. This mailer ID is useful while preparing barcodes.
As discussed above, you need to have an account with the post office for using permit imprints. The account can be opened by paying a one-time fee called the permit imprint authorization fee. You can then deposit funds to this account online and use them whenever required.
Marketers can apply for the bulk mail permit online. However, if you wish to get your annual mailing fee waived, you need to visit the post office and fill out the USPS form 3615.
You can visit your nearest post office to complete these procedures. Make sure that this post office accepts bulk mail. If you apply online, you still need to select a nearby post office where you are going to drop off your mail items.
Non-profit organizations and charities can avail themselves of nonprofit postage rates. They are even lower than the general bulk mail rates. However, you need to get approval from the USPS for availing of these rates. Nonprofits can get the USPS form 3624 from the post office and get the bulk mail permit easily.
How to Send Bulk Mail?
Having figured out the type of mail, mailing option, and discounting options, it is now time for you to decide how to send bulk mail. There are two ways to go about bulk mailing, either you do everything by yourself or you can take the help of mass printing and mailing services.
DIY Mass Mailing
The very first step is to design or draft your direct mailer. It should contain some eye-catching graphics and must have a compelling CTA. Moreover, the copy should be personalized and persuasive. Your direct mail design decides your campaign performance to a great extent.
Next up, you need to prepare a mailing list. Make sure that the list is updated and verified as per the USPS database. If you want to receive automation bulk mail rates, you need to use CASS-certified addresses.
Find a bulk mail printer to get all your direct mail items printed altogether. You can get quotes from several different printers and then select one based on the offered printing quality and rates.
After these steps are complete, marketers are expected to acquire a bulk mailing permit from the USPS using the steps mentioned above. Please note that there is no mailing permit required for conducting EDDM campaigns.
The next step is to pay for the postage. You can either pay through permit imprints, precanceled stamps, or postage meters.
For getting bulk mail discounts, you need to presort your mail items according to ZIP codes.
The last step would be to carry all the mail items to the post office from where you have availed of the USPS bulk mail permit.
PostGrid's Bulk Printing and Mailing Services
PostGrid's bulk printing and mailing solutions can help you with all the things listed above. Every step can be completed in an automated manner, without you having to visit the post office even once or look for ways to avail yourself of the bulk mail discounts. PostGrid's direct mail automation API can help you with the following things:
1. Designing
Designing a direct mail piece requires some graphic designing skills and creativity. With our in-built templates, you can save a lot of time and start designing your mailers speedily. You can also add customizations like personalized texts and your brand logo.
2. Preparing Mailing Lists
In case you have a mailing list, PostGrid can help you verify and validate your mailing addresses accurately. If you do not have a mailing list, we can help you build one. Additionally, you can create highly targeted mailing lists segmented according to several demographics.
3. Printing
With PostGrid, there is absolutely no need to find a bulk mail printer. PostGrid has partnered with several printing vendors that can print your bulk mail in high-quality and exactly as desired by you.
4. Presorting
Presorting can be a huge task. Many companies do not have the time and resources to presort their mail items, which is why they simply don't. Hence, availing of bulk discounts gets difficult. But, using PostGrid's automation API, marketers can get their direct mail items presorted automatically.
5. Availing of a Bulk Mail Permit
You don't have to go to the post office, fill out any forms, or pay an annual mailing fee. PostGrid can help you mail in bulk without you having to do any of these things. The rates are all-in-one, and no hidden fees are included.
6. Paying Postage
We now know that there are three different ways to pay postage for bulk mail and get discounts. However, all these ways can be difficult to be used on an everyday basis. Paying postage through either of these methods is time-consuming and requires a good amount of mailing knowledge. PostGrid's bulk print and mail solutions can solve this problem for you and get it all done easily.
7. Mailing Fulfillment
In the DIY method, you have to carry all the direct mail items to the post office. But, when you use PostGrid, you can skip through this step too. PostGrid offers complete printing and mailing fulfillment. You just need to select your campaign size and mail type. The remaining steps can be completed automatically through a few clicks.
Other than the abovementioned steps, PostGrid also provides you with real-time tracking, periodic reporting, campaign insights, and much more.
Frequently Asked Questions
Wrapping Up
Bulk mail is mail sent in large quantities for marketing purposes. There are various ways to send bulk mail, and the USPS has several options for marketers to reduce their overall postage costs and avail of huge discounts.
Direct mail marketers can take advantage of such discounts and mail in bulk. In fact, mass printing and mailing solutions like PostGrid can help them with everything from presorting to including IMBs, so that businesses can mail efficiently and save a lot on their postage costs.
PostGrid's automated direct mail API can help you design, print, and mail in bulk altogether at all-in-one rates.
Ready to Get Started?
Start transforming and automating your offline communications with PostGrid
SIGN UP
REQUEST A DEMO