15 Bank Marketing Ideas to Boost Your Brand Reputation and Revenue
The traditional bank marketing ideas are mundane and require creativity! Financial organizations use the best advertising strategies to survive the competition and engage customers.
With Chase Bank's no-card ATMs and digital-only banks like Revolut, taking a unique approach toward marketing is a must!
The US has at least 4,844 commercial banks as of December 2022! 
Financial institutions need robust bank campaign ideas to stand out from the competition and motivate more people to join them.
These plans can help expand their client base and increase deposits! Luckily, the increasing use of fintech enables banks to integrate high-tech ideas like chatbots, gamification, rewards programs, and more!
This article discusses the top 15 creative marketing ideas for banks to improve cashflows and spread awareness. Let us begin!
What Is the Significance of Bank Marketing?
Banks require long-term and trustworthy customer relationships to function and grow! They can fulfill this goal by onboarding new clients properly and improving their service quality.
Their bank advertising ideas help increase visibility among local audiences, motivating them to visit the financial institution and open an account!
Bank marketing serves several purposes, including
Gaining people's trust and confidence
Acquiring new leads
Taking prospects ahead of their client journeys
Maintaining brand reputation, and
Since many people have multiple bank accounts, getting them to stay with your institution is challenging. However, you can alter the game with community bank marketing ideas and win clients.
Top 15 Creative Marketing Ideas for Banks to Use in 2023
Your firm can employ multiple campaign references to create a marketing mix to suit your requirements! We have added 15 ideas below to give you a headstart:
Launch Local Bank Marketing Ideas
Customers search for banks online before visiting or creating a checking account!
A study revealed that mobile searches for the keyword' banks near me' rose by over 60%.
It indicates the significance of location-based bank advertising ideas that help organizations capture local markets.
Here are some campaign examples for your reference:
Create a GMB listing: Google My Business listings help you appear on the Search Engine Results Page (SERP) whenever someone searches for banks nearby. It boosts your local bank marketing ideas and lets people learn about your institution!
Use of local keywords: Keywords play a prominent role in improving your SEO! Try adding specific keywords resonating with your location, like 'Banks in Pasadena' or 'Banks on 5th Avenue in California.'
Update your company information: Clients rely on multiple sources, like Yellow Pages, BBB, and FourSquare, to search for financial firms. They must carry the same address and contact information as your website to help Google rank you. Thus, update your details frequently as one of your top bank campaign ideas to spread local visibility!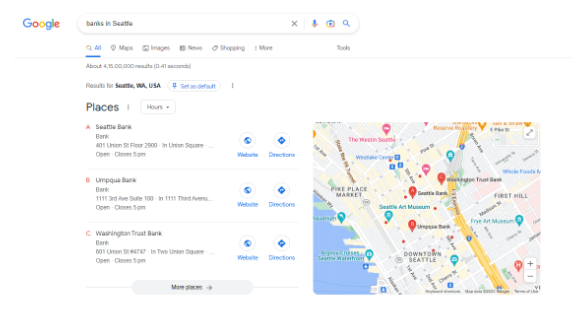 Source: Google Search
Re-Engage Clients With Direct Mail
It is crucial to stay in touch with your customers to make them feel that you value them. And direct mail is an excellent tool to achieve this objective.
This traditional channel can help you execute creative marketing ideas for banks and ensure high performance!
It has a median ROI of 29%, making it one of the most effective marketing ideas for banks and other financial institutions!
PostGrid's direct mail API enables you to prepare and send customized mailers to your relevant audience! You may place orders for one or a million items, and PostGrid ensures they reach the correct destinations on time.
Our 2-business day SLA allows banks to conduct successful campaigns without wasting time. Also, PostGrid's data security standards and other features help automate all mailing processes without hassles.
Conduct Retargeting Programs to Connect With Website Visitors
96% of website visitors quit the page without conversion. Including retargeting among your creative bank marketing ideas can help reduce this ratio and convert more clients!
Use the Adwords or Facebook tracking feature to retarget people who visit your website. Send personalized content depending on the pages they view to address their concerns. It lets them educate prospects that you provide products and services similar to their needs, enabling you to convert them!
Your retargeting marketing ideas for banks can work well using automated solutions. The best part is you can auto-set these campaigns and let them do the heavy lifting as you onboard more clients!
Retargeting programs let you reinstate your messaging on several platforms. This practice increases visibility and motivates potential clients to take action.
Please list your website visitors and add them to your marketing list. It helps extend your database to execute different bank marketing ideas and boost deposits.
Leverage Strategic Partnerships
When speaking of community bank marketing ideas, you have endless opportunities because you can partner with any business. The only thing to consider is whether the company shares similar values and serves the same client base.
For instance, Bank of America collaborates with Bullseye Global Real Estate Partners LP in New York to help clients finance home loans!
Similarly, you may partner with credit card companies, real estate professionals, car dealerships, and other businesses to expand your exposure. These collaborations are among the top marketing ideas for banks because they mutually benefit both parties!
But how to approach a firm to propose a partnership?
The first step is to send a professional direct mail letter! These traditional bank campaign ideas allow you to spell out your requirements from the company and what you can offer in return. Include a compelling CTA and add your contact details to further the conversation.
Sending occasional postcards and business letters are excellent bank advertising ideas to reach clients and other companies. If you require assistance, PostGrid can help plan and conduct your campaign using automated solutions at competitive rates!
Release Educational Content
Posting informational data on your website lets you highlight your finance sector knowledge. It redirects people to your posts when they look for details online, making content marketing one of the most prominent bank marketing ideas in 2023.
Please note that less than 40% of banks have a proper content marketing strategy!
Thus, you have the benefit of less competition! Use this fact to make your website the primary source of financial information and hook your audiences.
Blogging: Start a blog section on your website as your top bank advertising ideas, and use it to release frequent data and other content. Offer expert advice via blogs, answer commonly-asked questions, and create comprehensive guides.
Newsletters: Develop monthly newsletters and invite customers to subscribe. Provide value via eBooks, whitepapers, case studies, and more to help people learn from your website.
Quizzes: You may use creative bank marketing ideas like quizzes and contests on your website to engage visitors. Add intriguing offers that drive more people to participate countrywide.
Your community bank marketing ideas can succeed when you:
Deliver an excellent user experience
Focus on fonts, colors, and imagery
Make your content consistent and easy to read
Tie your CTAs with your services to convert leads.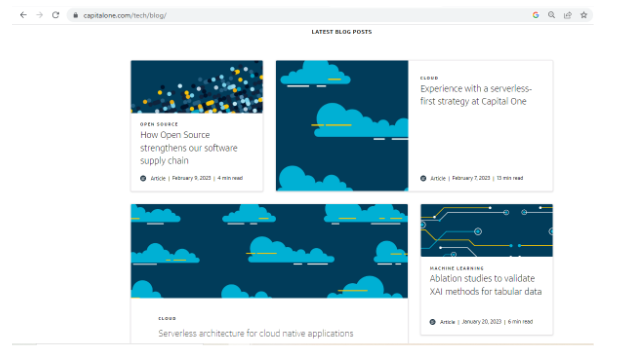 Source: https://www.capitalone.com/tech/blog/
Consider Demographic Targeting
Demographic data is vital for community bank marketing ideas because it allows you to tailor your offers. You may use customer data, like
Age
Gender
Annual income
Location
Preferences
Banking history
Online browsing behavior
The number of children
Profession
These details add value to your bank marketing ideas and empower you to deliver relevant services. For instance, you can target millennials to sell home loans. Since people from this age group actively purchase houses, focusing on advertising your services to them can be fruitful.
Another example is how you use online history to launch your creative bank marketing ideas or campaigns. If someone searches for personal loans online, using this data to send personalized offers can help accelerate conversion.
PostGrid's direct mail services help banks compile custom mailing lists. They can draft prospect data from scratch and send customized mailers to expand their client base.
Provide Top-Notch Customer Service
Banks have a customer service satisfaction rating of 3.84 on a scale of 5.
After learning this score, we know what you may think—it is too low!
Yes! Most clients would like to improve their banks' service, leading to low retention. Employing creative bank marketing ideas to treat them better can help rectify the situation!
Also, acquiring new customers is 5x more expensive than retaining them! Systematic community bank marketing ideas allow you to prioritize customer experience from the onboarding stage and appreciate your clients!
Send thank-you letters: TD bank launched a customer appreciation campaign with the hashtag #TDThanksYou to showcase itself as a client-friendly firm. You may also run bank marketing ideas to make clients feel special and drive high engagement!
AI chatbots: Installing chatbots on your website helps customers resolve their queries faster. They also make your site more interactive and let people know you are always available. AI bots are among the top bank advertising ideas in 2023 as technology continues to dominate all sectors.
Provide financial assistance: Curate tailored advice for people who want to open savings, brokerage, or fixed deposit accounts. Ensure clients always get adequate help to make informed decisions. Offering financial assistance makes them rely on your brand, improving your reputation in the market.
Benefit From Gamification
Many banks leverage gamification to engage prospects and clients in an interactive and fun manner! They use creative bank marketing ideas to entice people and push them to open an account.
Gamification involves using the elements of game playing, like creating rules, keeping scores, or hosting a competition. Banks typically develop apps regarding different subjects to help people learn while having fun.
One example is Wells Fargo which is always ahead of its bank advertising ideas to appeal to its clients! It developed a mobile application to promote money-saving among its customers. The app lets people save by cooking meals at home or buying items at discounted prices. Then, they can transfer the savings directly to their accounts.
Create an app for customers to sign up and get credit card rewards.
Develop tools to promote your bank campaign ideas by allowing clients to manage their budgets.
Provide financial planning tools to new parents or couples.
Share news, tips, expert opinions, and more on your website. Allow visitors to collect points each time they share the articles with others.
Manage Your Customer Data
The most creative marketing ideas for banks revolve around your databases. We often forget about personalization because of technological advancements, like social media tools and online banners.
But you may use your database to understand your prospects' requirements in detail and nurture leads. It helps you deliver more timely and relevant messages to make the most of your bank campaign ideas and platforms.
We understand it can be hectic to update your data frequently, which is why PostGrid offers address verification to all clients. Use our capabilities to autocomplete and validate your customers' delivery addresses, helping you send marketing and other mail to the correct addresses.
Create Visual Content
Videos can generate higher traffic and more engagement! They help you offer more positive customer experiences that enable them to remember your brand and associate with it!
54% of customers expect more visual content from businesses they follow!
Incorporate videos into your community bank marketing ideas to let people grasp your content faster and remember it for longer! You can use several strategies, including-
Promo videos: Record short promotional videos ranging from a few seconds to two minutes. Add valuable content that makes people wait and watch!
Demo videos: Enhance your bank advertising ideas with demonstrations to explain your services to clients. Break down complex terms for your audience, list their pain points, and offer relevant solutions!
Customer Testimonials: Record your long-term and loyal clients and ask them to share their banking experience. It helps new customers know what to expect from your firm and adds value to your bank's marketing ideas and strategies.
Feature your staff members: The best bank campaign ideas occur when you feature your team. It gives clients a glimpse of your work culture and allows them to relate to your values.
Share finance advice: Try to get a celebrity expert to discuss financial topics with your audience. Educating your clients is one of the most effective ways to improve your brand image and increase profitability.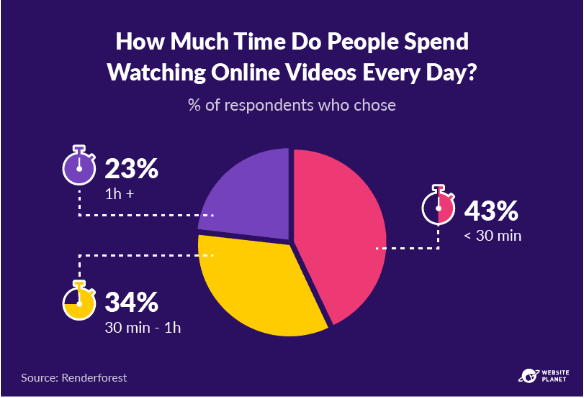 Source: https://www.websiteplanet.com/blog/video-marketing-statistics/
Improve Your Lobby Ambience
Making the premises customer-friendly is one of the most underrated marketing ideas for banks and other finance firms. Most people wait in the lobby to meet a loan officer or deposit money. You may make this experience fun for them and help them choose you repeatedly!
Experiment with different bank advertising ideas, from providing coffee in their lobby to instructing your staff to be respectful. Some institutions use digital signage with catchy headlines and bright imagery to grab visitors' attention. Place it at busy checkpoints where people can wait and watch your tutorials, videos, offers, and more!
Your signage can include content like traffic updates, local weather, transportation routes, and short how-to's. It helps people engage with something while they wait for their turn, enabling you to enhance your branch experience.
Using bank marketing ideas that improve your physical presence can help increase foot traffic and branch popularity. More people will line up when your existing customers spread word-of-mouth publicity and recommend your bank to others!
Reward Existing Customers for Engagement
Introducing a rewards program for your existing clients is one of the most effective ways to give back to the community and thank people! You may use it as one of your most creative marketing ideas for banks to encourage customers to become members and stay with your brand forever!
Here are some examples:
Credit Suisse: This financial services company has the Bonviva Rewards Shop to let users earn points for every credit card purchase. The number of points they can gain depends on their package type.
Wells Fargo: It offers the Go Far Rewards program as one of its bank marketing ideas to appreciate clients. The organization provides four categories, travel, gift cards, online auctions, and merchandise. Customers can contribute points to the Red Cross or share them with another user.
Capital One: The Purchase Eraser is one of the most effective marketing ideas for banks to reward travel enthusiasts. Users earn miles for every purchase and redeem them for travel-related purchases with unlimited cashback.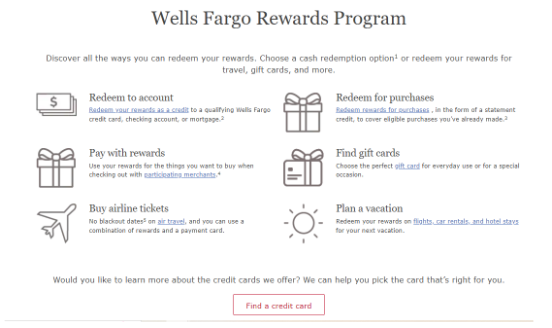 Source: https://www.wellsfargo.com/rewards/
Highlight Your Success Stories
Banks can document their clients' success stories over the years to highlight how they help people in various situations. They can use these examples to improve their community bank marketing ideas and showcase expertise.
For instance, Allstate started the 'Worth Telling' program to share real-life stories and interviews. It features people who succeeded in their businesses or made their dreams come true using the bank's financial assistance.
These stories help people connect with your organization. They relate with your existing customers and want to join the community. Thus, always include your clients and their experiences in your bank marketing ideas to get the best results!
PostGrid can help you print tailored letters and postcards for your bank campaign ideas featuring your client testimonials. You can also add QR codes or pURLs that redirect them to your online videos, increasing your website traffic and combining channels!
Spread Brand Awareness On Social Media
Your bank advertising ideas must include social media to reach a broader audience and ask them to try your brand!
With nearly 90% of US banks on social media, this strategy is critical to beating the competition.
Social media marketing allows you to promote your services to an active audience. It lets you keep up with your client's expectations and provide timely news.
However, please remember that your page should be fun and educational to engage people. Technical terms and traditional posts can slower your reach, killing the purpose!
You may extend your bank campaign ideas by
Creating additional content apart from promo posts
Posting regularly
Following platform-specific guidelines, and
Preparing for negative reviews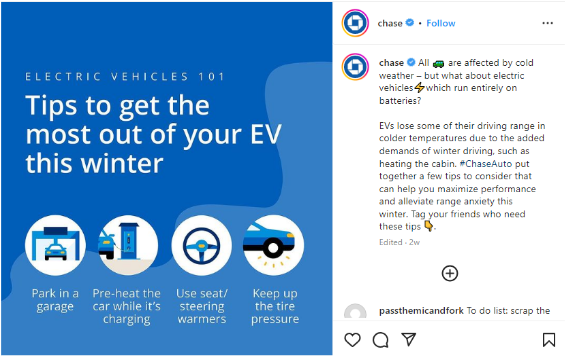 Source: https://www.instagram.com/p/Cn2h6kfv2Hm/?hl=en
Automate Your Functions
Spreadsheets can help when your client base is minimal. But in today's time, with every bank serving thousands and millions of customers, it is a far-fetched idea.
You require a CRM to automate your day-to-day tasks and streamline departments. We count automation as one of your bank marketing ideas because it can be a game changer.
For example, you can automate your direct mail campaigns with PostGrid. Our API integrations also let you combine offline and online channels on your favorite CRM, simplifying your bank advertising ideas and increasing efficiency!
How Does PostGrid Help Banks Market Their Services?
Our automated direct mailing solutions enable banks to send effective mailers at every stage of their customer lifecycle.
For example, they can use our pre-built templates and draft eye-catching postcards for potential clients. Since postcards get a response rate of 4.25%, banks can use these tools to launch their bank advertising ideas and generate authentic leads.
Moreover, they can print and mail onboarding letters to new customers under their creative marketing ideas for banks to reduce the churn rate. PostGrid allows banks to send welcome mailers to remind clients of you and give them something tangible they can save.
Other marketing use cases PostGrid provides are
Re-engaging postcards with tailored offers
Credit card proposals
Service sheets
Newsletters
Business letters
B2B letters for corporate customers
Holiday postcards
Branded statements and notices
Announcement postcards
Event invitations
One of our clients used PostGrid for their bank marketing ideas to acquire new leads. They aimed to motivate people to open a fixed deposit account with them for a helpful credit card offering various shopping discounts!
This bank launched a bulk mailing campaign of 5,000 letters to communicate its offer to its audience. PostGrid helped them draft and print their items within two business days, according to the SLA. It also automated the distribution process, guaranteeing accurate deliveries to make their bank campaign ideas become successful!
This campaign was a massive success, with over 2,800 responses and 1,200 conversions in only a few days. 
PostGrid saved the client 70% of their campaign costs, helping them increase their ROI more!
Request a demo to discuss your requirements and learn more about automating your bank marketing ideas!
Ready to Get Started?
Start transforming and automating your offline communications with PostGrid
SIGN UP
REQUEST A DEMO