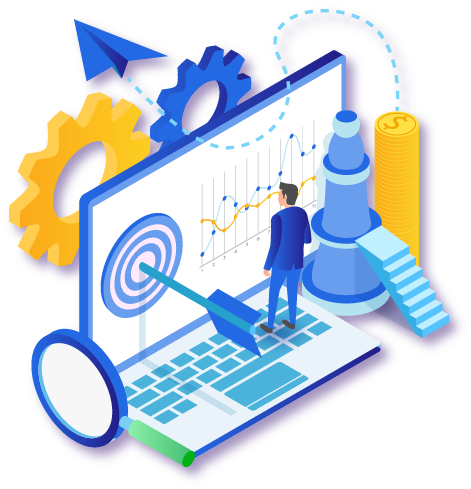 What is an Automated Direct Mail? And How You Can Use It For Your Company! [Updated for 2023]
Automated direct mail removes the manual processes involved with mailing out physical mails such as postcards, letters, and marketing materials typically via an automated direct mail platform, which also enables you to integrate direct mail into the rest of your automation tools and trigger campaigns.
Automated direct mail is the new face of traditional direct mail. It works through an automation platform where everything from designing and printing to packing and mailing is done online – without any manual intervention. Traditional direct mail marketing demanded weeks of planning and took another few weeks to be conducted. Moreover, it was impossible to track these direct mail items' progress and use the outcomes to improve marketing campaigns. Direct mail automation software can help you do direct mail marketing as quickly and efficiently as digital marketing. It is as easy as sending out emails.
What is Direct Mail?
Direct mail is any type of physical mails or print mail materials like postcards, letters, newsletters, flyers, personalized mails, and other sales and marketing collateral.
What is Direct Mail Automation Software?
Direct mail automation software allows companies and marketing teams to automate the process of sending physical mails such as marketing postcards, and letters, or transactional mails such as account statements, invoices, welcome letters etc. Using direct mail automation software, companies can plan and deliver mail campaigns similar to email marketing or marketing automation software.
Basically, direct mail automation integrates with a marketing tool to collect accurate details and use them in designing efficient direct mail campaigns. Digital engagements, triggers, and other personalization tools can be easily incorporated into your direct mail campaigns using automated direct mail. It is a Saas program with features like editing tools, personalization options, setting triggers, bulk-mailing, tracking, reporting, and CRM integration.
Benefits of Using Direct Mail Automation
There are many benefits of using direct mail automation that makes it an absolute must-have for all companies.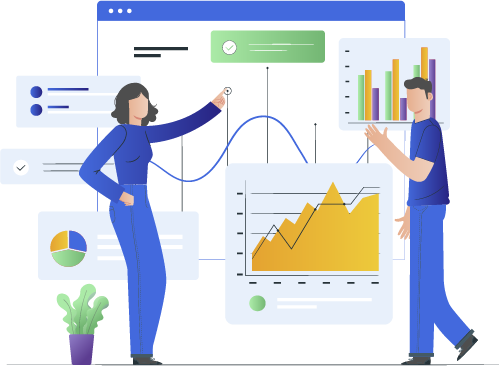 Avoid Manual Effort and Wasted Time
Traditionally, direct mail marketing required a lot of time and effort. There were weeks spent merely planning and collecting resources for conducting a direct mail campaign. Furthermore, everything was either done manually or semi-manually. Importing data in PDFs or CSV files for designing and addressing can be classified as semi-manual. In contrast, loading papers in the printer, sorting all the direct mail, labeling them, folding, stuffing envelopes, and attaching stamps are long and manual processes. These tasks can eat up much of your employees' time and turn your office space into a dungeon of papers, stamps, envelopes, sticking gum, and other required materials.
Direct mail automation can come to your rescue as it can instantly shift all your manual processes to an online platform. A direct mail automation platform can help you skip over the part where you handle the inventory – saving a lot of time, resources, and effort.
Test and Analyze
Marketers can now test all their marketing strategies one by one and collect results on how their audience reacts to a certain marketing campaign. This step can enable them to test and analyze everything. Businesses can measure their campaign performance accurately and incorporate these results into their future marketing campaigns.
Direct mail automation gives them the ability and flexibility to test various types of content, marketing collaterals, and offers – to check people's reactions. They can use these market research outcomes to improve their overall advertising efforts. Direct mail marketing is an excellent tool to conduct market research, and direct mail automation can drastically improve its performance. Collection of tangible results for presentation and planning by marketing teams is now possible.
Drive Offline Audience to Online Channels
Companies that operate online can capture their offline audience through direct mail automation. Similarly, offline businesses can drive people to their online pages for better publicity and awareness. For instance, food trucks have social media pages and a website, wherein they keep posting about their whereabouts and updating their menu. These food trucks can use direct mail automation to connect with their customers constantly through online channels. Online shops can also send direct mail to their customers to prompt transaction completions or promote new products.
A direct mail automation platform like PostGrid can integrate with your CRM to enable you to send direct mail to the right people at the right time.
Customize Everything
All your direct mail pieces can be customized using automation. Manually, making a small change at any level of a direct mail campaign can take many days or even a week. Marketers and designers need to collaborate, discuss everything, approve changes, and then go ahead with the customizations. It is a lengthy, time-consuming, and tiresome process.
Automated direct mail can be customized easily and speedily over an automation platform. Everything from the font to the background can be customized within minutes. PostGrid's direct mail platform also allows you to build your own HTML templates. Hence, you can design artwork for any collateral and modify it anytime.
Send Triggered Direct Mail
Event-triggered direct mail campaigns are important for making the best use of marketing opportunities. Companies can conduct triggered direct mail campaigns for various occasions like:
Website visits
Abandonment of shopping carts
Special days of loyal customers (birthdays, anniversaries, etc.)
Triggered mail can also be sent to target old customers who haven't purchased in a while. You simply set triggers on the direct mail automation platform. The automated platform can complete everything from printing to mailing on your behalf. Direct mail automation is very advantageous in terms of engaging the relevant audience for getting better results.
Data Building and Management
PostGrid's direct mail platform can help you build new mailing lists. You can also segment these lists according to various demographics for targeted marketing. When direct mail pieces are sent manually, companies either use their own data or purchased mailing lists. Both these types of data are prone to errors, duplication, spam, and other issues. It is also difficult to ascertain whether the addresses in these lists are deliverable. PostGrid's direct mail automation tool can help you standardize and verify all your addresses to increase mailing efficiency. It can help you update your data from time to time, leading to an accurate data management system.
Improve ROI
Capturing people's trust and inducing them to buy one's products or services is the prime job of direct mail. However, traditional direct mail marketing requires more investments than it can return – due to low accuracy, returned or lost mails, inability to track, and wasted time. Automated direct mail does not demand huge investments or long manual hours. With a smart direct mail automation network, companies can save a lot on designing fees, inventory management, printing costs, and high postal rates. Additionally, speed, accuracy, and quality induce people to respond – increasing your overall ROI.
Reduce Marketing Costs
It is a notion that direct mail marketing takes up most of the marketing budget. It is true in cases where companies spend huge amounts on designing their direct mail, getting them printed at top-notch quality, and shipping them altogether. Using direct mail automation, you can get everything done at the lowest costs possible. With PostGrid's in-built templates, you can design your own direct mail collaterals without hiring a design team. Outsourcing your printing and mailing tasks can help you cut down additional costs and maintain efficiency.
PostGrid's print and mail system has partnered with trusted print and mail vendors who are experts in their respective fields. Moreover, a direct mail automation system can fetch you good postal discounts. Hence, your marketing costs can be easily controlled.
Types of Automated Direct Mail
There are many different types of direct mails, viz., marketing, transactional, and compliance, that a company needs to send. Some direct mail pieces are meant to increase sales, and some are meant to fulfill merely a transactional need. Either way, you can print and send high-quality direct mail accurately and speedily with the help of PostGrid's automated direct mail platform.
Letters
Letter envelopes are available in various sizes. You can choose among them – depending on the amount of information you want to communicate and your objective behind sending the letter. Typically, business letters are average in size, neither too big nor small. They fulfill the purpose at affordable rates. Oversized letters give 6.6% more responses than normal-sized letters.
However, the postal rates are slightly higher for bigger sizes. Companies can also send self-mailers – that are letters sent without any envelopes. It helps keep the costs under control. Letters are very personal direct mail pieces and can be used for business and marketing purposes. For advertising, you can add customized backgrounds to your letters and personalize every aspect of your direct mail.
Flyers
For connecting with people through short and concise messages, flyers are sent out as direct mail pieces. Flyers are usually of a standard size, but with PostGrid, you can make all types of changes. Business organizations use flyers as promotional materials to inform their audience about offers, discounts, upcoming events, or other things. Unlike brochures, flyers remain unfolded. You can make them creative by adding eye-catching graphics and colors. Flyers are either printed on both sides or just one.
Brochures
Brochures are foldable collaterals with texts and images filling up all sides. They are usually used to give more information as compared to flyers and postcards. Brochures have more space – enabling companies to use them for displaying charts, pie diagrams, tables, or including customer testimonials and examples. These mail pieces allow you to segment all your content neatly and highlight every section with equal importance. Brochures are great marketing collateral for companies who want to engage their customers by giving them a lot of details in an extremely creative way.
Postcards
Postcards are the most cost-effective type of direct mail. Postcard marketing has been used by many companies in many different sectors for a long time. They are small or mid-sized direct mail that is visually appealing and can communicate your message in the least words possible. These words constitute a short and clear marketing message that helps businesses get responses. Postcards are capable of inducing people due to their attention-seeking and pleasing factors.
Catalogs
Catalogs are complete product guides as they contain the information and images of all the products of a company. They are used to give customers full-proof information on everything so that they can decide for themselves. Businesses with many products or deals in various verticals use catalogs to present them all together in one place. Catalogs can drive valuable responses and conversions with their all-in-one feature. Well-designed catalogs are likely to get more attention from the recipients. They can browse these catalogs in their free time. Basically, catalogs are the offline alternative for window shopping.
Invoices
Getting timely payment mostly depends on a company's invoice management system. Invoices are required to be drafted and sent on time. Many companies struggle with these tasks due to time constraints and other factors. Moreover, it can be a really hectic task to draft, print, and mail invoices every now and then. PostGrid can help you to integrate our platform or direct mail API with your accounting software. It enables you to import the required details to draft your invoices speedily. You can auto-populate all the fields and label every invoice accurately. An efficient infrastructure to print and mail invoices to the right addresses on time can help companies keep their cash inflows running. You can also send follow-up direct mail to remind creditors about their dues.
Statements
Statements are also documents that need to be sent at the right time. They form a big part of transactional communication for a company. Banks need to print and mail bank statements to their customers. Similarly, healthcare providers send medical statements to their patients. Companies in other sectors like finance, utility, and retail also send transactional statements to their customers. These statements can also be customized to promote a brand and build a reputation.
Checks
A lot of businesses today still use offline modes of payment like checks. Certified and cashier's checks are used for sending in the mail. PostGrid's print and mail automation network allows businesses to send checks safely, accurately, and on time. You can also customize your checks to turn them into branded marketing collateral. Simply add your logo to leave your mark on all your checks. There are a lot of other customization options to make your checks attractive. This way, you can complete your payments and conduct brand advertising – both at the same time.
SWAG Items or Dimensional Mailers
You can brand and mail any item that you want. SWAG items usually consist of caps, water bottles, bags, diaries, pens, stress balls, keychains, or even high-end products like MacBooks. You can get artwork designed that fits your collateral. PostGrid's direct mail automation platform can help you create artworks suitable to be printed on dimensional mailers. These SWAG products have perfect open rates, and the responses are very high. They are ideal for sending to targeted accounts or old customers whom you wish to re-engage. You can send a personalized note along with a dimensional mailer to make your audience feel special. A thoughtful note included along with an interesting and useful SWAG item can really help get the people's attention and prompt them to take action.
Features of a Direct Mail Automation Platform
Automated direct mail usually has a lot of features that help make direct mail easier and faster.
Scalability
Direct mail automation tools are scalable. PostGrid's direct mail platform can process any number of direct mail at the same time. It has the ability to scale according to your requirements. You can add an unlimited number of contacts, templates, messages, users, customizations, locations, and you can order any number of direct mail pieces. Our automated direct mail system can handle on-demand and bulk mailing both accurately. It helps you to conduct direct mail marketing campaigns of any size. An automation platform should be able to grow with your increasing needs. As your company grows, it is likely that you would want to send out more numbers of direct mail items. Hence, automated direct mail has the scalability feature to help you expand your marketing efforts tirelessly.
Detailed Campaign Analytics
Your direct mail automation tool should allow you to measure your campaign performance in detail. Detailed analytics regarding your campaigns can help you with the exact number of responses and conversions. It is very useful in planning your next campaign. Furthermore, you are able to keep a record of every direct mail item that is sent. With the help of PostGrid's dashboard, you can get a consolidated view of your campaigns and details about every individual collateral's performance. Companies can calculate their estimated ROI beforehand using these reports. This step enables them to determine the budget and size of their campaign.
CRM Integration
CRM integration is one of the most helpful features of automated direct mail. It allows you to integrate your CRM and accounting software with the direct mail automation platform. You can get separate views for every customer – useful for personalizing direct mail to make it more impactful. Besides, you need not manually enter any details on your direct mail automation tool. CRM integration facilitates the quick import of information. Basically, all the required information is available for you in an integrated manner.
Marketing Templates
You can save your designs on this platform easily. It is accessible for you at all times. Marketers can either use different marketing templates for different campaigns or maintain consistency by keeping the basic template similar and adding some customizations to it. In both ways, PostGrid's automated direct mail solutions can help you design and use professional templates to suit your marketing needs.
Personalization
Variable data printing is used when you change the images, texts, graphics, and other elements to be printed on your direct mail pieces in order to personalize them. For example, to print and mail invoices – the basic layout will remain unchanged, but the billing and customer details will be different for each invoice. Variable data printing makes this step possible. PostGrid's print and mail network help you personalize every direct mail item according to its type, purpose, and requirements.
Per-Piece Tracking
Automated direct mail can be tracked very easily as all the details are readily available for you on the direct mail automation platform. You can track every single direct mail piece individually if required. PostGrid's direct mail automation tool allows you to track your direct mail from the moment they are mailed till the time they are delivered. Even after the deliveries, all records are stored for your reference. This real-time tracking feature helps you have better control over your direct mail pieces. Moreover, there are fewer chances of delays and misplacements. Unlike traditional direct mail, you can check the exact status of your automated direct mail – without any estimations and guesswork.
Cross-Channel Marketing
Direct mail automation happens when companies shift their manual direct mail marketing tasks to an online automation platform like PostGrid. This platform is able to promote and smoothen cross-channel marketing. Businesses can easily conduct digital marketing campaigns and direct mail campaigns to get more responses and conversions. All these tasks can be done in an integrated way using automated direct mail. Cross-channel marketing always yields better engagement ratios as a wider audience is covered, and the same content is presented on a number of channels to increase visibility everywhere.
Industries and Sectors That Can Benefit From Automated Direct Mail
Healthcare institutions require direct mail automation to print and mail medical documents like bills, medical statements, discharge summaries, test reports, and other documents that are required to be sent to the patients. Such printing and mailing of medical documents is regular work for healthcare firms. Hence, a direct mail automation platform can help them to automate the entire process and focus on their primary tasks. Moreover, they can easily conduct direct mail marketing campaigns to advertise their services and create brand awareness.
It is very difficult to convince people to invest somewhere. When it comes to finances, people are very cautious about their decisions. Automated direct mail makes direct mail marketing effective for financial services providers. Banks, insurers, credit card providers, and other financial companies can use direct mail frequently as part of an ongoing marketing and sales strategy. PostGrid's direct mail automation platform can help these companies send out informative, direct mail to their audience to create confidence among people and induce them to use their services.
Online companies like eCommerce brands can benefit from automated direct mail in terms of advertising, new product promotions, and re-engaging people who have abandoned their shopping carts. A lot of people are not aware of their brand because they are not into online shopping. These brands can use a direct mail automation system to print and mail thoughtful, direct mail pieces that can drive their offline audience to their online shops. They can also send event-triggered mail items using automation.
Nonprofits and charitable organizations depend on donors and volunteers. It is not always easy to find people who are ready to volunteer or donate to their organization. Direct mail is an effective marketing technique to reach out to people and prompt them to make a donation. Automated direct mail helps them send direct mail collaterals at low costs and by investing very little time. Furthermore, they do not need to hire additional people for the job as there is no manual work involved in automated direct mail.
Public Relations
Marketing agencies or PR firms have to conduct marketing campaigns very often. For direct mail marketing, they can use an automation platform to get the work done efficiently and swiftly. They can also focus on the content, design, time of the campaign, and other factors to make sure that they receive a high number of responses. A direct mail automation tool can help them with all these tasks in a unified manner.
Educational institutions also use direct mail marketing as a routine way to advertise themselves. However, they no longer need to get jobs, like designing, printing, packing, and mailing, done through their staff members. Direct mail automation can free up their employees' schedules and help them concentrate on other areas of business.
Other Industries
Retail industries, print media publications, gyms, social clubs, restaurants, real estate service providers, and other types of companies also can use direct mail automation. It can help them to conduct any size of direct mail campaigns or simply send out transactional and compliance documents.
Large-scale businesses use direct mail automation to facilitate bulk mailing, performance tracking and aligning of sales and marketing strategies. They can also use account-based direct mail marketing to target high-end accounts. Automated direct mail can be highly personalized to fit these requirements and drive conversions effectively.
Medium-sized and small-scale businesses can be benefited from direct mail automation in terms of low costs, no manpower, mailing accuracy, postal discounts, and increased ROI. These businesses have to focus on their day-to-day operations and cannot afford to pay so much attention to finding printers, hiring a designer, and tracking every direct mail item separately. PostGrid's direct mail automation facilitates seamless printing and mailing with lots of customization and personalization options.
Wrapping Up
Automated direct mail can help make direct mail marketing so much easier and better. Earlier, many companies hesitated to use direct mail for marketing due to lengthy processes and wastage of time. But now, direct mail automation has changed the scenario. More and more businesses are using an automation platform like PostGrid to automate their direct mailing activities and improve their ROI noticeably.
PostGrid provides automated direct mail solutions for all types and sizes of companies. To know more about our smart features – SIGN UP NOW.
Ready to Get Started?
Start transforming and automating your offline communications with PostGrid
SIGN UP
REQUEST A DEMO