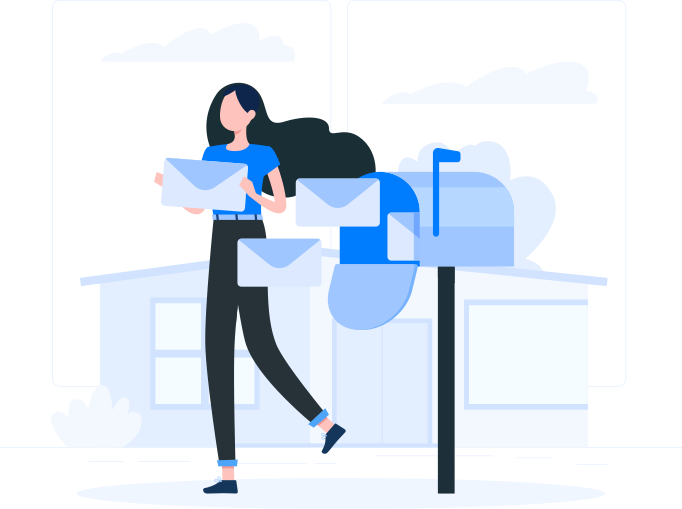 How to Write Address & Mail to a PO Box for Business
We are all familiar with street addresses. We use a standard format of contact information in any postal mail we send, be it letters, postcards, or even packages. Businesses and organizations often prefer mailing to a PO box. In fact, in some cases, it may even be the only option they offer. Therefore, it is quintessential that anyone who uses direct mail regularly, especially businesses be well-informed about how PO boxes work and how they can affect your direct mail campaigns. It is also necessary for businesses and corporates to understand the difference between mailing to a PO box and a regular mailing.
In this article, we discuss what a PO box address is, how to write a PO box address, how businesses and corporates can use them for growing their business, and more.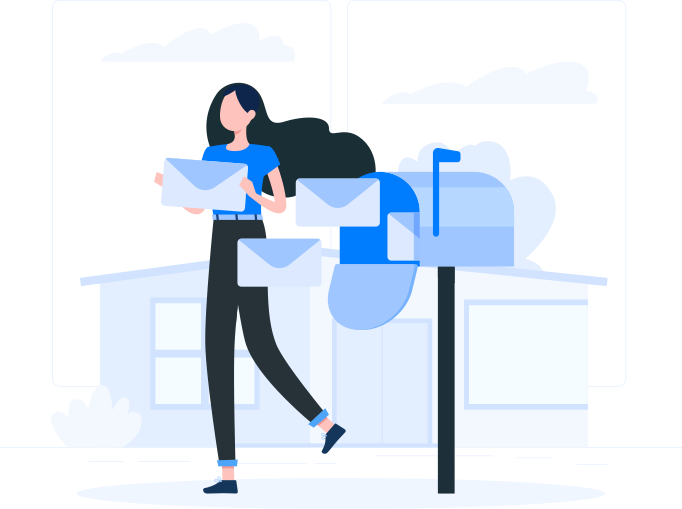 What is a PO Box Address?
Have you ever noticed the numbered boxes in a post office? Ever wondered why these boxes were there and what their purpose was? The boxes are used by organizations, businesses, corporates, and even individuals to keep their postal mail. The addressee can then go and collect their postal mails from their respective post offices or, more accurately, their PO boxes.
The PO box mailing address is essentially the address of these numbered boxes at a post office. Typically, a PO box address is a two-to-five digit number that denotes the postal box's location.
Businesses or individuals rent the PO boxes to have their postal mails sent and stored at the post office, which they can then collect at a later point. The upsides?
Receiving your mails directly at the post office makes it more secure than regular mail. It is also faster than regular mail, and it even allows the addressee to have an alternative mail address. Such a facility is ideal for anyone who does not want their postal mail sent to their home or business address. It offers a great deal of convenience and privacy to the person receiving the postal mail.
How to Write a PO Box Address
Writing a PO box address is not something complicated. In fact, if you know what to and where to write it, you are pretty much sorted. However, you will be surprised at the number of people who are not aware of what exactly a PO box is or how it is different from a regular address when writing the address.
There are a couple of things that you should know about before filling out the address or providing the contact information needed for the postal mail like certified mails sent to a PO box. Below we discuss the steps you need to take before sending out a postal mail to businesses or individuals who rent a PO box.
Step 1: Write the Recipient's Address in the Middle
the address is written in the correct position, which is in the middle. So the best practice when writing an address to a PO box is strat write the address in the center. Write the first and last name of the recipient in the first address line and make sure that the company/organization name is written right below the recipient's name. Once you've done this, you need to write the PO box number.
You can do this by writing "PO box" followed by the 2-5 digits code/number. It is best if you leave out any punctuations as it will help simplify the filtering and screening process for the USPS. Finally, on the last line, write the ZIP code, city, and state of your destination.
However, wrong or invalid addresses can result in undelivered or returned letters, which can cost you a lot of money. Here are a few simple steps of how to address a PO Box:
The Right Format:
Jeff Colby
Colby Corps & Co
PO BOX 1122
Atlanta GA 30303
Please note: The USPS prefers you to leave out the punctuations as it simplifies the process of scanning, sorting, and filtering.
Writing Down the PO Box Designations- The Don'ts
If you are writing the address and notice that the PO box number is written with a designation, like BIN, CALLER, and more, omit such edits immediately on the envelope. For instance:
Instead of writing BIN M
Always Write PO BOX M when addressing an outgoing letter or even a mail
Step 2: Provide the Return Address
Your postal mail's return address must be written on the upper left-hand corner of the package or cover. As a business or corporate company, you must always include the return address on the postal mails you send out because it informs the addressee about who you (the sender) are and because to get the mails back if the mail goes undelivered. This is important because this gives you valuable insight into the postal address database of your company.
Also Read:
How to Return Mail to Sender?
The postal address database of a company can be filtered using an advanced address verification tool like PostGrid that offers deliverability of a whopping 99.99% through the wide network of trusted delivery partners across the USA.
However, this is not always the case because sometimes, despite the system's accuracy, there may still be cases of undelivered postal mails, and the return addresses allow you to get a comprehensive idea of this data and may even help you reestablish your relationship with the customer.
Step 3: Affix A Valid Stamp
Add a stamp or even a prepaid shipping label at the upper corner to the right to cover the delivery costs. Try to make sure that the postal stamp is not overlapping the address or any other information related to the delivery. You can use a calculator to add up the cost of your letters or even ask the post office for further assistance.
Additionally, you might need to submit additional postage charges or fill out a few custom forms when planning to send direct mail internationally. Also, you can submit these forms online before shipping when planning on how to address a letter to a PO Box.
Step 4: Double-check the Address
The next step involved in writing a PO box address is double-checking the address that you have written on the postal package or cover. Although this may sound like a no-brainer, you will be surprised how many companies make the mistake of ignoring this step. It is arguably the most commonly made mistake by businesses/companies that use advanced address verification tools because they often rule out the possibility of an undeliverable address altogether.
Even if the address verification is completely accurate, you must not ignore the fact that there is always a chance for human error to occur unless the process is entirely automated using advanced tools like PostGrid.
Suppose a business uses an address verification tool for getting accurate addresses and the address text is copied onto the envelope/postcard/package, in this case, there is a chance the address is not copied entirely or accurately. Such mistakes could go easily unnoticed if not subjected to a double-check.
Therefore, you need to look through the addresses written on the envelopes carefully. This process can be included even for a fully automated system as a safeguard against unprecedented errors. After you have checked the delivery and return addresses, you have them taken to the post office to be sent to the country's PO boxes.
Abbreviations & Periods:
We know that you might be wondering about the abbreviations or periods. Can't we use it now?
The answer is that it is better not to use Abbreviations or periods when addressing a PO BOX.
According to a standard format suggested by the USPS, you must omit all periods (along with the commas) and use standard abbreviations when writing the address. For Example:
Instead of:
VANYA SCOTT,
P.O. BOX. 2233
Atlanta, GA, 30303
Write:
VANYA SCOTT
PO BOX 2233
ATLANTA GA 30303
Easy, right?
Positioning the PO Box Number
When sending postal mail to a PO box address, certain things must be kept in mind, and we have already discussed the steps on how to address mail to a PO box. However, another aspect that you should consider is positioning the PO box number in the address block.
Typically, the address block consists of all the lines that we see in an address, and how you write it can directly affect your mail's handling efficiency. How?
Well, an address written in the correct format is easier to sort and be forwarded, and hence they end up being the first one to go, whereas the one using the wrong format may get chucked to be sorted later.
Always begin a mailing address with the recipient's name and, as mentioned before, make it roughly centered on the envelope. Next to the name comes the business title, and then comes the post office box number. You can include the rest of the details like city, state, and ZIP code in the final line. It doesn't matter if the post you are sending is a domestic one or an international one.
Make sure that you write the address in the relevant format. Align each line of the address to the left in accordance with USPS standards. It is also best if you can use capital letters for all words as well as abbreviations to avoid any unnecessary confusion.
Do not forget that you should avoid using commas and periods while writing the address. Use the same format for writing the return address and, as mentioned before, position it in the top-left corner of the envelope.
 Also Read: What are the Last 4 Digits of ZIP code?
The Working of PO Boxes & its Requirements
When dealing with postal deliveries made to PO boxes, especially in large numbers that are often seen in businesses and corporate houses, it is always best to understand how a PO box works. This does not mean that the management of PO boxes is complicated or resource-heavy, but there are some rules and regulations that apply to PO box addresses. Below we discuss the basics of PO boxes, how they work, and the specifications of packages or posts made to them.
How do PO Boxes Work?
As we have already discussed, a PO box is basically a storage place in the post office's lobby area for postal mails, which the recipients use for storing their postal mails away from their personal or business addresses. Access to these PO boxes is secured through a key or a combination lock. Furthermore, the PO boxes are accessible to their owners 24/7, making it easier for businesses and individuals to access their postal mails regardless of what time it is.
A person can opt to rent a PO box in any post office of their choice, but businesses and individuals choose a PO box address that is nearest to their location. However, this flexibility of choosing the PO box location can come in handy in some cases where the direct mail is managed by a third party. It allows that person to easily access and manage the postal mail for a company for an individual that he/she is working for.
Businesses or companies should be aware that PO boxes are not the best choice for receiving high volumes of postal mail; neither do they support private shipping carriers like UPS, FedEx, and Amazon. If you were thinking of coming up with a system that would incorporate USPS and private shipping carriers through a PO box address, that is not going to happen, at least for the time being.
Apart from this, you should also note that certain limitations exist when it comes to the size of the package sent to a PO box address. The PO boxes are built in a specific dimension, and it goes without saying that they can not possibly hold anything larger than their size. Suppose the mail does not fit into your PO box. The recipient will then have to collect it directly from a window clerk. This is not desirable for most people as it is significantly less convenient, and therefore, it is always best to follow the apt package sizes for your PO box postal deliveries.
The following table shows the five major PO box sizes that are widely used today.
| | | |
| --- | --- | --- |
| PO Box Size | Dimensions | Use |
| X-Small  | 3″ x 5 1/2″ x 14 3/4″ | Generally used for holding 2 rolled magazines or similar-sized documents or 10 to 15 letter-sized envelopes.  |
| Small  | 5″ x 5 1/2″ x 14 3/4″ | Generally used for holding 5 rolled magazines or similar-sized documents or 10 to 15 letter-sized envelopes.  |
| Medium  | 11″ x 5 1/2" x 14 3/4″ | Generally used for holding packages wide enough for large magazines and envelopes stacked flat. |
| Large | 11″ x 11″ x 14 3/4″ | Can be used for holding packages as big as two shoeboxes or accommodate 10-15 letters. |
| X-Large  | 22 1/2″ x 12″ x 14 3/4″ | The biggest PO box is best suited for parcels and flat rate boxes. |
PO Box for Business and Corporate Use
As stated from the very beginning, the PO boxes are often employed by businesses and corporate houses all around the US. From startups to financial organizations to online companies, use the PO box facility for various reasons. Writing addresses by hand seems impractical for businesses with a lot of incoming and outgoing mail. You can use a printer to create address labels to improve address readability and reduce your workload efficiently. Below we discuss these businesses and how they make the most out of PO boxes.
Startups
Many startups turn to PO boxes for the postal mail requirements because it allows them to keep their home address private, which is understandable since most of them do not have the luxury of affording an office space or simply because they prefer not working in a closed-up environment.
Apart from this, using a PO box address can also give their business, which is most likely in its infancy, a sense of professionalism to an outsider. You should keep in mind that some of the world's largest corporates today, including Apple, Google, and many others, started their journey from a garage.
So, PO boxes are the way for you to go if you are a business owner who's just starting their business venture without a proper business address for official communications. The PO boxes enable you to communicate with your business partners and potential customers through postal mail while creating an impression that you are a well-established business.
Financial Organizations
Financial organizations, including debt collectors, banks, insurers, and others, use PO boxes when they are sending critical communications rather than using a regular street address.
Financial organizations like banks and insurers prefer this mode of communication because it is one of the most secure communication methods. The PO boxes being located inside an actual post office are much more secure than your average street mailboxes.
Furthermore, the postal mails sent to a PO box address are also significantly faster, making it ideal for sending and receiving urgent documents. Almost every document sent from a financial organization is important, and PO boxes are the most suitable choice. The best practice to adopt when sending vital or confidential documents/notices are to opt for a PO box mailing.
Online Businesses
eCommerce businesses and similar digital enterprises don't necessarily have a physical business address. eCommerce business owners and digital enterprises usually use the online medium for all purposes, including marketing, but that does not mean that they don't receive postal mails or send them out to their customers.
On the contrary, they receive regular print communications, and for this, they need a legitimate business address or contact detail. Again, this is where the PO box jumps to the rescue and provides secure storage for their official communication. Hence, eCommerce businesses and digital enterprises need to apply for a personal box in their closest post office.
Business Owners who Travel Frequently
There are many entrepreneurs and business owners who practically live out of their suitcases because they are frequently traveling. For someone like that, it is next to impossible to get their postal mails in time, or they may never receive them at all too. Meanwhile, having their postal mails sent to a PO box presents you with the opportunity to receive their mails and packages whenever they need them.
Furthermore, PO box security also plays a vital role in people opting for PO box addresses because it enhances the mail's privacy and security when you are far away from home or a permanent address.
How to Improve Legibility & Efficiency of Your Postal Mails
As a business or a corporate house, you are expected to receive and send a lot of postal mails, and to write these addresses by hand is very impractical.
Furthermore, there is also the risk of the receiver or the USPs people not being able to read the postal mail, which can eventually lead to a fall in deliverability. Therefore, it is quintessential that you consider using a printer for making address labels. Not only will this greatly improve the readability of your postal packages but also significantly boost workload efficiency.
This can be accomplished by using the Click-N-Ship feature in case you have a USPS account. You can further use it for buying stamps and setting a preferred language for international customers.
You can also make use of advanced address verification tools like PostGrid for easily automating these tasks and have your postal mails directly sent to their destination. This will also aid in giving you a chance to polish your image as a professional one. However, the most vital thing accomplished by PostGrid is that it saves you more time which you can now use for growing your business.
Conclusion
PostGrid can polish your professional or brand image, gives you time to spend expanding your venture, and saves you heaps of money by cutting down the additional costs throughout the process.
PO boxes are unique from your typical street address. Even writing a PO box address is different from a normal postal mail sent to a person's home or office. The use of proper format or practices when writing the address can affect its efficiency, and you need to be aware of this.
Businesses and corporates who send out a large number of postal mails need to make sure that they don't make careless mistakes when it comes to PO box mails. The best way to go about PO box mailing is to implement a fully automated print mail postal service like PostGrid. With a system like PostGrid, you no longer have to worry about the address format going wrong or not using capital letters as the system takes care of practically everything.
Ready to Get Started?
Start transforming and automating your offline communications with PostGrid
SIGN UP
REQUEST A DEMO